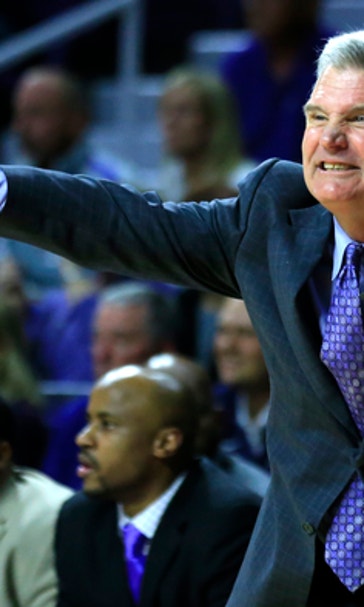 Iowa St withstands 2nd half charge to beat K-State 87-79 (Feb 15, 2017)
February 15, 2017

MANHTAAN, Kan. (AP) Before Wednesday night, Solomon Young had just one start for Iowa State and a scoring average of just 3.4 points a game.
Young's second start was one for the books.
The freshman scored a season-high 18 points on 8-of-10 shooting and grabbed 12 rebounds to lead the Cyclones to an 87-79 win over Kansas State.
Deonte Burton added 17 points, Naz Mitrou-Long Long had 16, Monte Morris 15 and Matt Thomas 14 for Iowa State (16-9, 8-5 Big 12).
Young's previous career high was 12 points against The Citadel and seven rebounds against Mississippi Valley State.
''We talked about it in the scouting report that their bigs help the weak side for blocked shots,'' Young said. ''So always stay in position to get the weak side rebound.''
Barry Brown had 21 points for Kansas State (16-10, 5-8) with Wesley Iwundu adding 16 with 13 rebounds.
Iowa State built a 19-point lead and led 42-26 at the half before withstanding a furious second half rally from the Wildcats, who got as close as six.
''We played very tentative, very casual on the defensive end,'' Kansas State coach Bruce Weber said. ''They (Iowa State) are a veteran group. They made some tough shots. Once you get a couple of them going, the big kid (Solomon) just killed us.''
After shooting 34 percent (12 of 35) in the first half, Kansas State shot 58 percent (18 of 31) in the second. An 11-0 run got them within striking distances, 49-42 with 12:27 to play, but the Cyclones pushed the lead back to 15.
Twice the Wildcats got within six, the last time with 4:09 to play, but in the final 1:03 Iowa State was 11 of 12 from the foul line. The Cyclones made 18 of 22 free throws in the second half to finish 22 of 26 for a seven-point advantage.
BIG PICTURE
Iowa State: The win was two in a row in Manhattan for the Cyclones, who last did that in 2000 and 01.
Kansas State: The Wildcats have now lost three straight games at home.
STAT OF THE NIGHT
With the loss to Iowa State, Bruce Weber now has a lower winning percentage (52 percent) than Jim Wooldridge had in his last three seasons at Kansas State.
INJURY REPORT
Kansas State forward DJ Johnson was limited after sitting out against West Virginia on Saturday. Johnson played 11 minutes and was held scoreless on 0-for-2 shooting.
UP NEXT
Iowa State hosts TCU on Saturday.
Kansas State travels to Texas on Saturday.
---
---