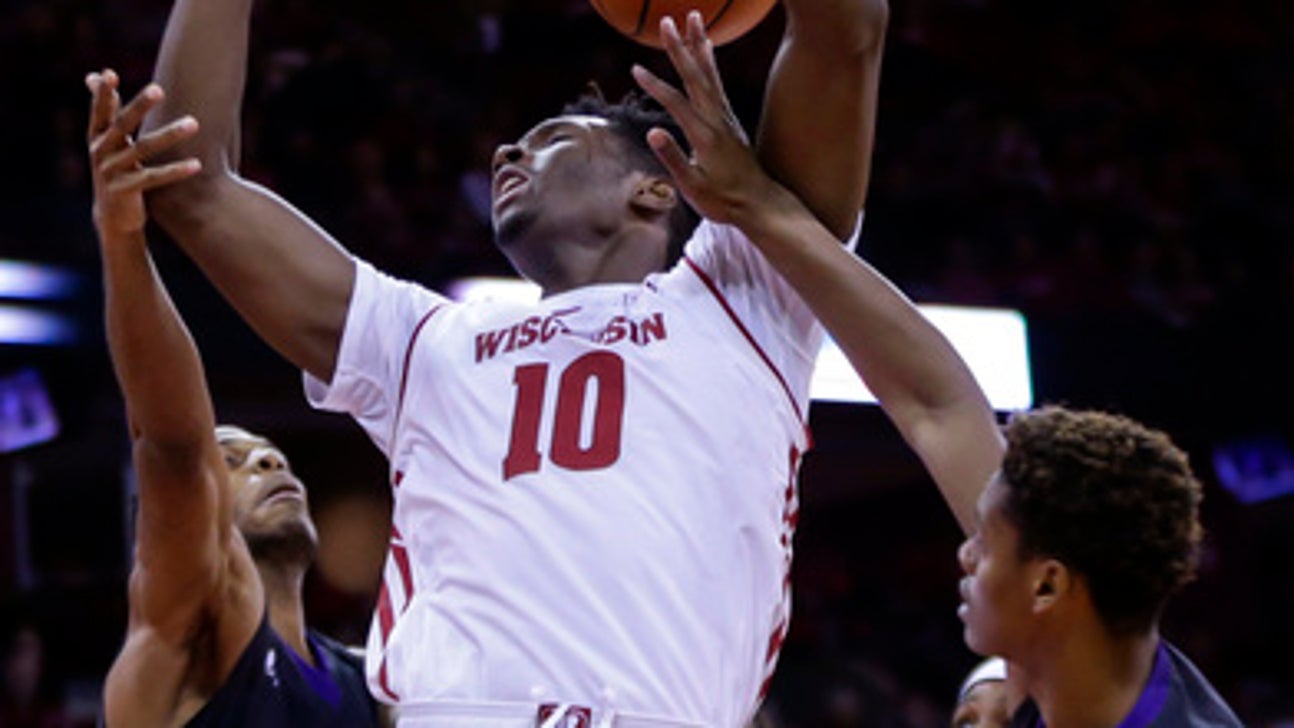 Hayes has 17, No. 16 Wisconsin rolls over Prairie View A&M
Published
Nov. 27, 2016 5:23 p.m. ET

MADISON, Wis. (AP) Nigel Hayes was 5 of 5 from the field on Sunday. Notably, none of those shots came from outside.
Hayes, who has struggled with his 3-point shot this season, was dominant inside as he scored a season-high 17 points to lead No. 16 Wisconsin to a 95-50 win over Prairie View A&M.
Asked about his concentration on working inside, Hayes insisted he just wanted to work on layups.
''A lot of criticism comes from people who don't know basketball well,'' he said when asked about his shot selection this season. ''If you look at my shots, they're very good shots.''
Hayes has hit just 29 percent of his 3-point attempts this season, and the Badgers (5-2) haven't been much better, knocking down 31 percent of their shots from behind the arc coming into Sunday.
But with Prairie View A&M (2-5) starting only one player listed as taller than 6-foot-4, the Badgers didn't need much of an outside game.
They outscored the Panthers 42-18 in the paint and outrebounded them 44-26.
While Wisconsin couldn't find its shooting touch from outside, it more than made up for that with an efficient offensive performance elsewhere. The Badgers hit 24 of their 32 two-point attempts and were 20 of 27 from the free-throw line.
Hayes, who was 7 of 8 from the free-throw line, was one of six Wisconsin players to score in double figures. Ethan Happ had 12 points and 13 rebounds, Bronson Koenig and Zak Showalter each scored 11 points, and D'Mitrik Trice and Khalil Iverson had 10 apiece.
''This is an example of how efficient he can be and how efficient we can be when we don't settle for jump shots at times, don't settle for early threes and really attack the paint,'' Wisconsin coach Greg Gard said of Hayes.
Prairie View A&M coach Byron Smith said the Panthers were hampered without starters Shay'rone Jett, who he said has an academic issue, and Admassu Williams, who has a knee injury. Both are listed at 6-8 and would have given the Panthers more of an inside presence.
Zachary Hamilton led Prairie View A&M with 15 points.
''They were just too good,'' Smith said of Wisconsin's ability to neutralize the Panther's 2-3 zone. ''You just try to mix it up to do some different things and show them down a little bit.''
BIG PICTURE
Prairie View A&M: The Panthers lost their previous three games against the Badgers by an average of 33 points. Trailing 19-16 after the first 7 minutes, 30 seconds constitutes progress.
Wisconsin: No offense, Panthers, but this was just a tuneup for Wisconsin in between the Maui Invitational and No. 18 Syracuse.
POLL IMPLICATIONS
This isn't the kind of win that impresses voters. Wisconsin is still looking for a signature win, but the season is young.
1,000-POINT CLUB
Hayes and Koenig, both seniors, were honored before the game for scoring more than 1,000 points in their careers. Koenig crossed that mark with 21 points against Tennessee on Monday. Hayes, who has now scored 1,418 points in his Wisconsin career, is one of only four Badgers to score more than 1,000 points, grab more than 500 rebounds and dish out more than 200 assists. He has 595 rebounds and 237 assists for his career. Wisconsin didn't hand out balls to commemorate scoring accomplishments under former coach Bo Ryan.
UP NEXT
Prairie View A&M: Sunday's game was the first of seven for the Panthers on the road. That swing continues Saturday at Houston.
Wisconsin: The Badgers host No. 18 Syracuse on Tuesday, their third game of the season against a ranked opponent.
---
More AP college basketball: www.collegebasketball.ap.org and https://twitter.com/AP-Top25
---