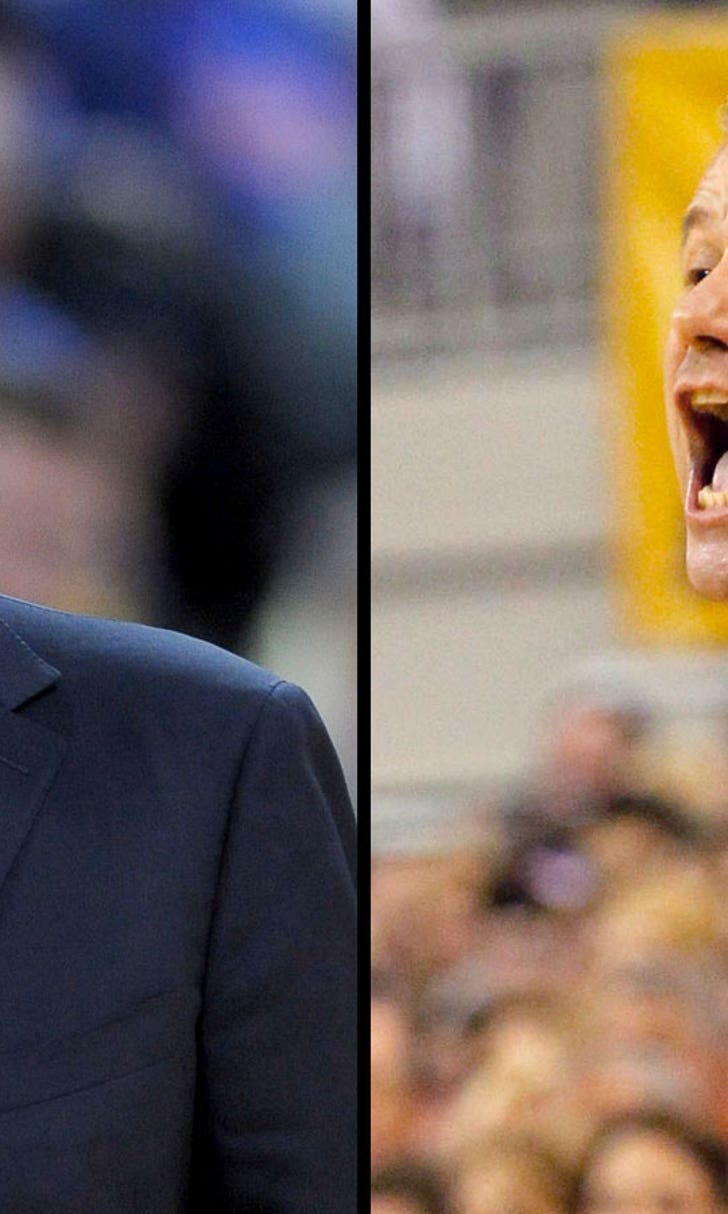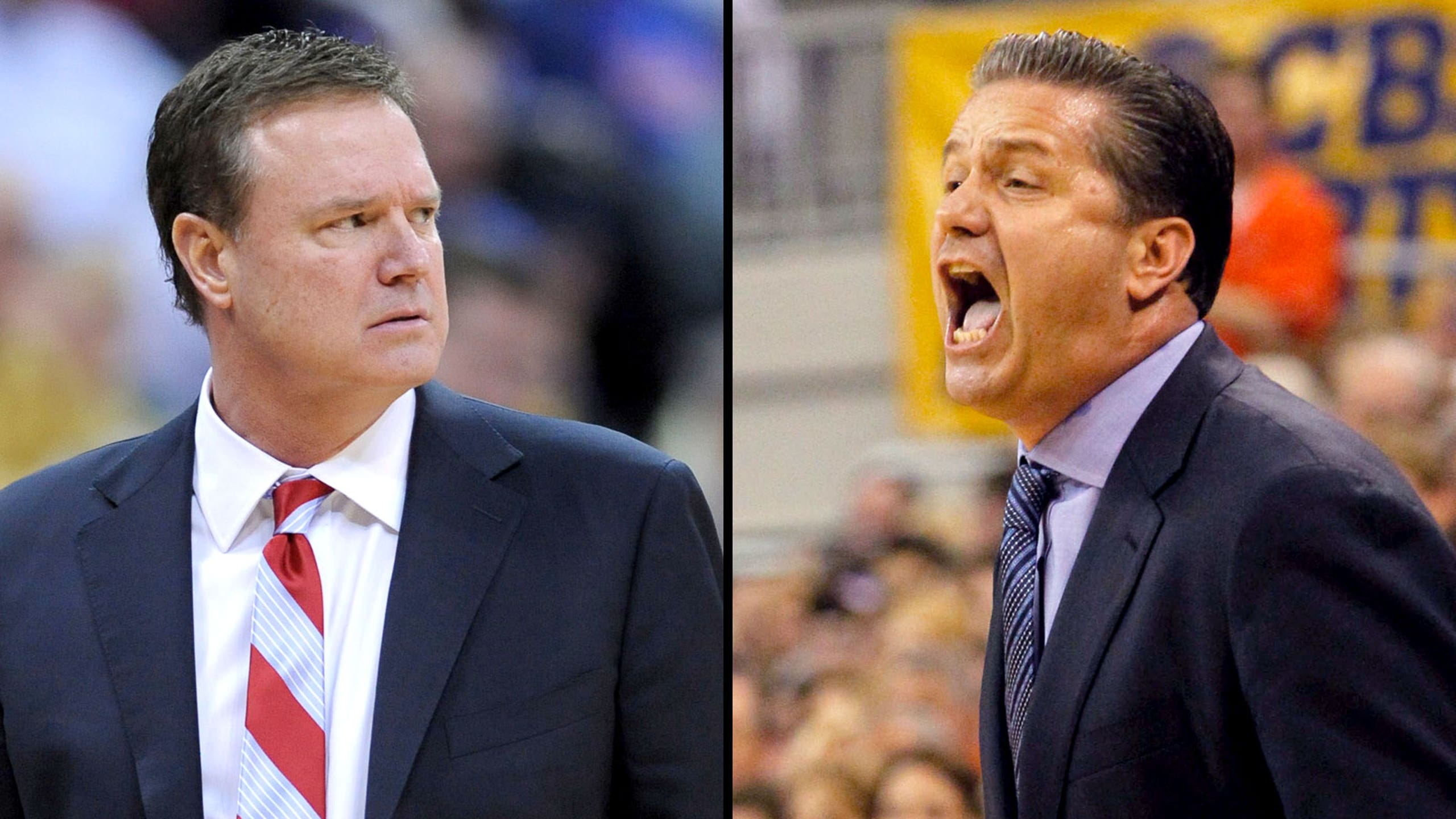 Get your game faces on — it's time for season's first doozy
BY foxsports • November 18, 2014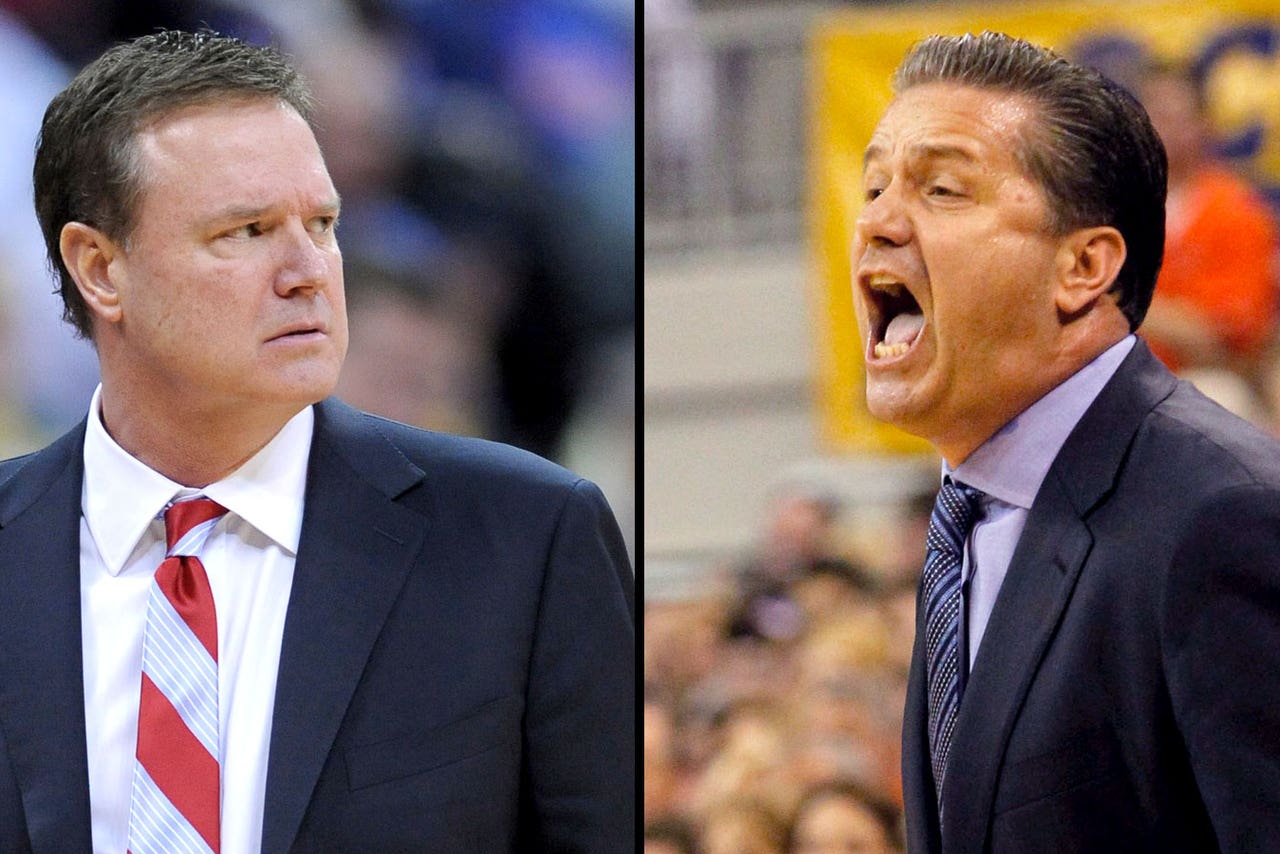 The last time John Calipari and Bill Self met, the former earned his first national title and the eighth in Kentucky's illustrious history.
There's sentiment Calipari's current group are a lock to deliver No. 9 for the Wildcats.
Calipari can notch his 600th win Tuesday night when his top-ranked team faces Self and No. 5 Kansas in an early season showdown of the nation's winningest programs at the Champions Classic in Indianapolis.
These coaches have met three times, with Calipari winning the last two -- including a 67-59 victory in the 2012 NCAA championship.
Kentucky (2-0) is the odds-on favorite to win it all this season with twin guards Aaron and Andrew Harrison and forward Alex Poythress returning while Trey Lyles leads another group of heralded freshmen.
"This team needs to be challenged to see where we are, and this is going to be one of those kinds of games," Calipari said.
The Wildcats were unexpectedly challenged in Sunday's 71-52 home win over Buffalo, trailing by five points at halftime before holding the Bulls to four baskets the rest of the way.
"Buffalo obviously played great the first half but the second half, that was a beatdown in the second half and certainly their defense was tremendous," Self said.
Calipari inserted his second platoon, which includes Lyles and fellow freshman Tyler Ulis, to start the second half. Lyles scored five straight points to begin a 9-0 run that turned around the contest and Ulis made four 3-pointers for all of his points.
Lyles is a 6-foot-11 center from Indianapolis who will be relishing the chance to play in his hometown.
"If he plays well he will be the first player that we have taken home in my career that has played well," Calipari said. "It is possible. He could be the first."
Self's club beat California-Santa Barbara 69-59 in Friday's opener. Devonte' Graham led the way with 14 points in his Jayhawks debut while Perry Ellis added 13 and 10 rebounds.
Ellis is the leading returning scorer for Kansas, which was sloppy with 16 turnovers. That kind of effort won't cut it against a Wildcats defense that has forced 38 turnovers.
"They're long and they're going to be hard to score against," said Self, who beat Calipari's Memphis team in the 2008 NCAA tournament final. "Cal is a good defensive coach and they've got so much length."
One player the Wildcats are looking to get untracked is freshman Karl-Anthony Towns, who is 4 of 13 for 11 points this season.
"He has got to get the ball in a position where he can score," Calipari said. "He has got to play more to the scheming we are doing on offense or defense and he is not. He is kind of breaking things off."
Kentucky leads the nation with 2,142 wins and Kansas is second with 2,127.
"It'll be fun, a lot of history there," Self said. "(But) I don't think kids today think about that too much, I think they're just worrying about playing guys they got to know on the AAU circuit."
The Wildcats lead the all-time series, 21-6.
---