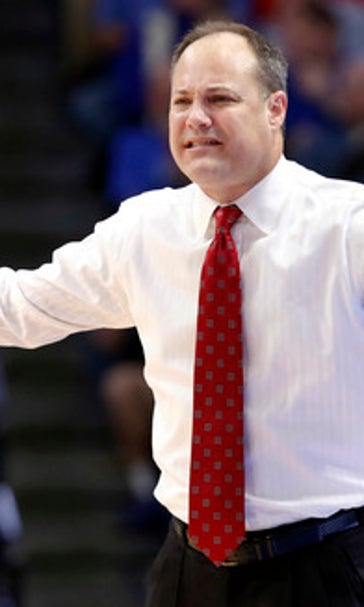 Georgia's tumble in SEC not good for coach Mark Fox's future
February 10, 2017

ATHENS, Ga. (AP) Georgia's NCAA Tournament hopes have crumbled under a wave of turnovers and close losses.
That is not good for coach Mark Fox, who in his eighth season was expected to have enough talent to finally lead the Bulldogs to their first NCAA Tournament win since 1996.
High expectations were built around forward Yante Maten and guard J.J. Frazier, who are established high-scoring starters. The lineup received a boost with the return of guard Juwan Parker, who missed last season.
Despite having those three experienced starters, the Bulldogs (13-11, 4-7 Southeastern Conference) are a disappointing 12th in the league following three straight losses to ranked teams.
Fox said Friday he has to closely watch how his players respond to a recent spree of close losses. Four of the team's last six losses have been in overtime or by no more than two points.
He acknowledged the adversity can also wear on a coach.
''It's part of it,'' Fox said. ''You've got to try and get better and try to win the next one.''
Athletic director Greg McGarity declined comment to The Associated Press on Friday, saying he wouldn't talk about Fox or the team until after the season.
After Georgia failed to make the NCAA field last season and took a second-round NIT loss, McGarity said he remained confident the program was on the rise under Fox.
Georgia has made only two NCAA appearances under Fox, taking first-round losses in 2011 and 2015.
Fox is 139-114 at Georgia and has posted winning conference records each of the last three years. His current streak of three straight 20-win seasons is the first in school history.
Ultimately, Fox needs to bolster his postseason record.
A dramatic late-season surge will be difficult for a team that has lost five of its last six games. The Bulldogs visit Tennessee on Saturday before playing four of their last five regular-season games at home.
Five of Georgia's seven SEC losses have come to the three teams tied for first in the league - Florida, Kentucky and South Carolina.
The Bulldogs lost in overtime at No. 8 Kentucky on Jan. 31 before losing by two points at No. 18 South Carolina. The frustrations continued with Tuesday night's 72-60 loss to No. 17 Florida .
The Bulldogs are 13th in the 14-team SEC in turnover margin in league games. Fox said he may slow the pace against the Vols.
''We may have to pull the reins back a little bit because that turnover number has been a problem,'' Fox said Friday.
Fox wants improved execution in the half-court offense, but he still wants his team to take advantage of fast-break opportunities.
''We have to make sure we know exactly what we're looking for and when it's not there we've got to be patient enough to get deeper into the clock,'' Fox said.
Tennessee coach Rick Barnes said the Bulldogs are ''very solid'' despite the string of close losses.
''I think they've had as much tough luck as anybody in the country,'' Barnes said, noting the Bulldogs were picked to finish fourth in the league.
''They've been competitive with everyone they've played,'' Barnes said. ''They've had some nice wins. ... We all know that Georgia is capable of beating any team in the country.''
That perception only adds to the pressure on Fox to orchestrate a strong finish.
''It's really just coming down to seizing the moment,'' Maten said. ''Getting a stop, getting a rebound, making a shot. We've gotten the short end a few times and we just have to learn from all the small things that have added up. ... I think it's multiple things, not just one thing.''
---
AP Sports Writer Steve Megargee in Knoxville, Tennessee contributed to this report.
---
More AP college basketball at http://collegebasketball.ap.org and https://twitter.com/AP-Top25
---
---