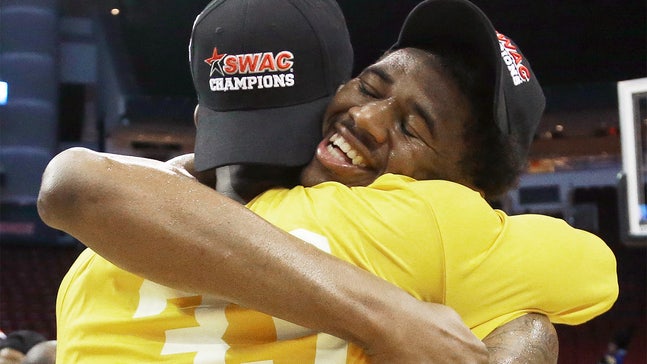 Game-winner lifts Southern to SWAC title, into NCAA Tournament
Published
Mar. 12, 2016 11:01 p.m. ET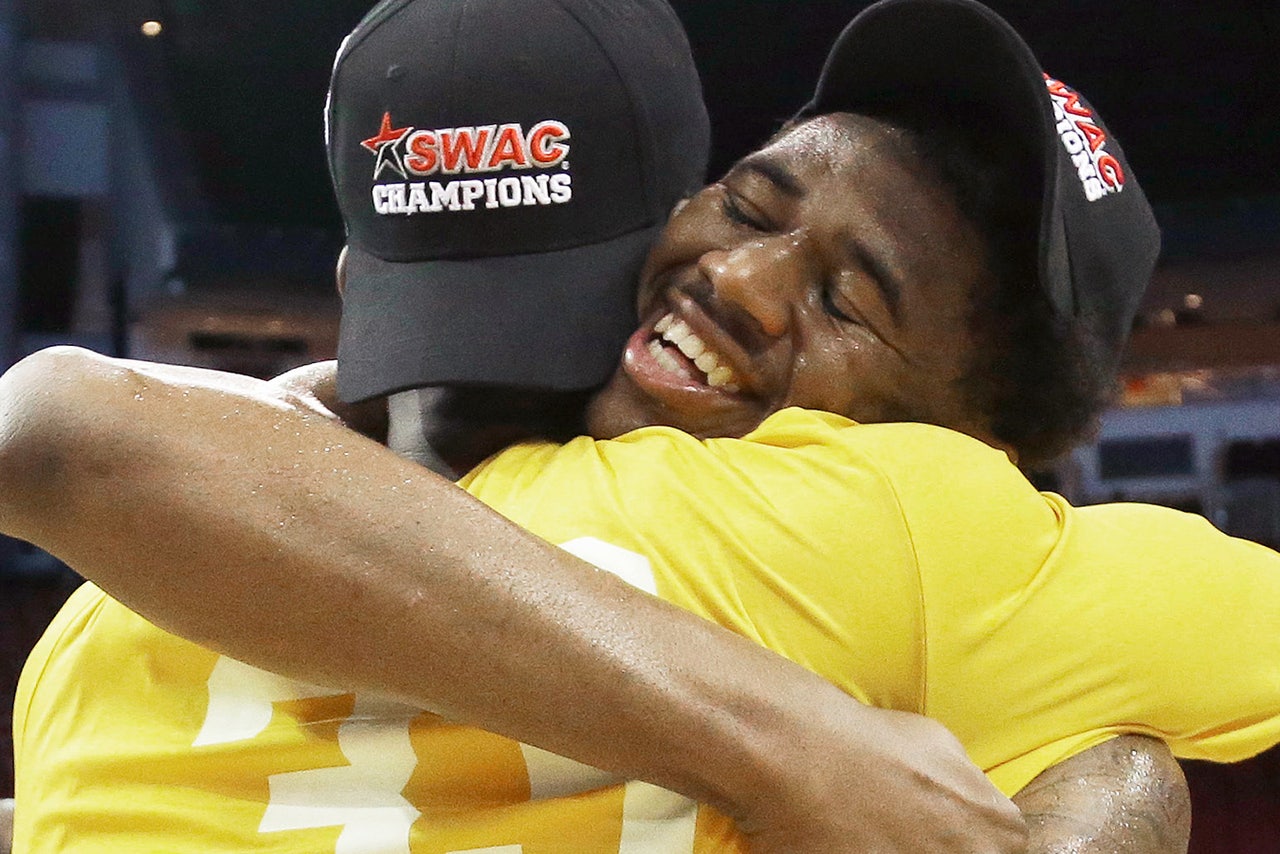 HOUSTON — Southern University coach Roman Banks didn't want to say that his team wasn't motivated in the Southwestern Athletic Conference championship game last season when the Jaguars were ineligible to qualify for the NCAA Tournament.
He did acknowledge, however, that his team had a little something extra in this year's game knowing what the prize for winning would be.
Adrian Rodgers made a jump shot with 17 seconds left to lift Southern to a 54-53 victory over Jackson State on Saturday night, clinching the Jaguars' first NCAA appearance since 2013.
Southern reached the title game by knocking off top-seeded Texas Southern in the semifinal game Friday night. The Jaguars lost to Texas Southern in the title game last season in a year in which they were ineligible for the NCAA Tournament because of Academic Progress Rates restrictions.
"I could see the difference in our practice and our mindset," Banks said. "They were a little bit more focused. You could see the extra energy and the extra push through."
Trelun Banks, who was named tournament MVP, scored 19 points for Southern (22-12), which is making its ninth trip to the NCAA tourney. He was asked what it means to get to play in the tournament with his father coaching him.
"I didn't want to do it for me," he said. "I really wanted to get it done for my dad. For the hard work and things he's been through."
It was a wild back-and-forth game that featured several lead changes in the final minutes. Raeford Worsham put Jackson State (19-15) on top with a layup with 33 seconds left before the shot by Rodgers put Southern ahead — to stay.
The Tigers had a chance to win it, but missed two shots in the final seconds.
They were very emotional after the game, with coach Wayne Brent unable to finish his opening statement because he was fighting back tears and Paris Collins resting his head on the table and sobbing for long stretches during postgame interviews.
Collins said he was responsible for Rodgers when he made the winning shot.
"It just hurts when you play that hard on somebody and one slip-up just takes the dream away," he said.
Worsham led Jackson State with 17 points and 12 rebounds.
Rodgers finished with seven points and 11 rebounds, and Shawn Prudhomme added 10 points.
The game was tied when Collins made a 3-pointer with less than two minutes left to make it 51-48.
Banks made a pair of free throws after that to cut the lead to 1 and Christopher Hyder added two more free throws to put Southern up by 1 before the layup by Worsham.
Hyder stole the ball on the ensuing possession and was fouled. He made both free throws with 43 seconds left to give Southern a 52-51 lead.
Southern hadn't scored in more than four minutes when Javeres Brent made one of two free throws with 4 1/2 minutes left to cut the lead to 48-43. It was the first of six straight points for the Jaguars, capped by a 3-pointer by Banks, that tied it at 48 with 2:18 remaining.
Jackson State trailed by 3 after a pair of free throws by Rodgers with about 8 1/2 minutes remaining. The Tigers scored the next nine points, with the first four from Worsham to take a 48-42 lead with just under five minutes remaining.
The Jaguars missed six shots during that time to help Jackson State build the lead.
Southern led by as many as eight in the first half, but Jackson State had cut the lead to 24-22 by halftime.
TIP-INS
Jackson State: Collins finished with 11 points and seven rebounds. ... Specks had eight points. ... Chace Franklin scored nine points and had a block.
Southern: Scored 16 points off 12 turnovers by Jackson State. ... Southern's bench outscored Jackson State's 15-4. ... Made four of 14 3-pointers.
CELEBRITY GUEST
Jacoby Jones, who made the NFL Pro Bowl in 2012, attended many of the tournament's games this week and was in the front row for Saturday's contest. Jones is from New Orleans, but didn't go to Southern, instead attending tiny Lane College in Jackson, Tennessee, before he was drafted by the Houston Texans in the third round of the 2007 draft.
UP NEXT
Jackson State: Expects an invitation to the CollegeInsider.com Tournament.
Southern: Prepares for the NCAA Tournament.
---
---