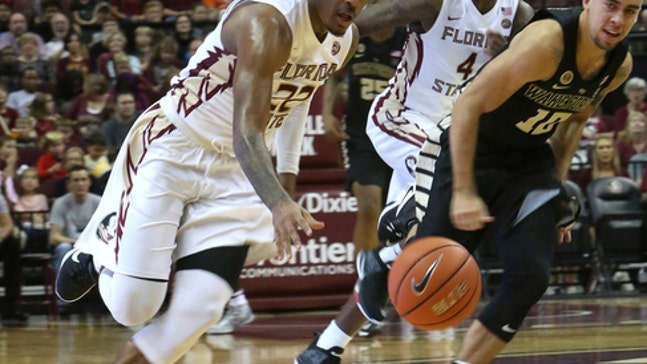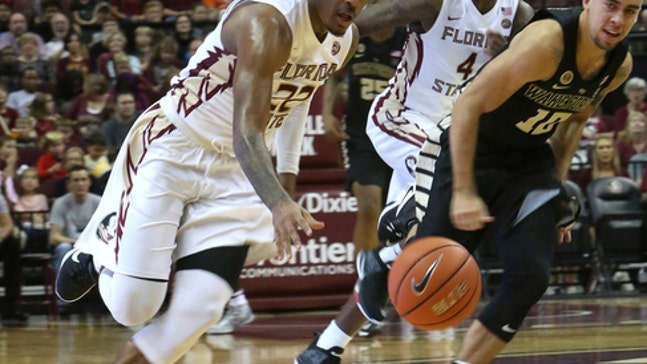 FSU father-son duo first in ACC to reach 1,000-point club
Updated
Mar. 4, 2020 12:02 p.m. ET

TALLAHASSEE, Fla. (AP) Xavier Rathan-Mayes became the 46th Florida State player to reach 1,000 career points on Wednesday. But when his layup with 15:47 remaining in the first half against Wake Forest put him at 1,001, it resulted in another, rarer milestone.
According to Florida State, which consulted with other Atlantic Coast Conference schools, Rathan-Mayes and Tharon Mayes are the first father-son duo in ACC history to each score 1,000 points in their careers. Mayes played at Florida State from 1988-90 and had 1,260 points over 77 games.
''It feels amazing. When I committed to Florida State, I wanted to do something special in honor of my dad,'' said Rathan-Mayes, who has 1,019 points in 79 games. ''Just to be in the 1,000-point club, and be the first father-son duo to do that in ACC history, it means the world to me.
''After the game I went and gave him the biggest hug and I cried because he means so much to me. He's been there for me all my life and it just means a lot to be able to make him proud.''
It was a rare display of emotion for the 6-foot-4 junior from Scarborough, Ontario, but one that didn't surprise his father, who said his son shows his emotions behind closed doors.
''I enjoyed playing, but for me this was sweeter,'' Mayes said. ''I've always pushed it in his head about trying to get 1,000 points because only 46 can say it and that's big for him.''
Rathan-Mayes has had to drastically change his game during his three years with the Seminoles. He was the first freshman in conference history to have three games of 30 points or more, including a pair of 35-point efforts against North Carolina and Miami in 2015.
The past two years, he has transitioned from shooting to point guard. After having eight games of 20 or more points as a freshman, Rathan-Mayes has had only three, but one of those came Wednesday when he scored a season-high 23 points in the No. 20 Seminoles' 88-72 win over the Demon Deacons .
''He has accepted his role of being the leader of the team from a perimeter standpoint. And I think he's doing a pretty good job at it,'' coach Leonard Hamilton said.
Mayes said the next goal he is hoping to see his son accomplish is getting the Seminoles to their first NCAA Tournament appearance since 2012. With the win over Wake, FSU has won eight straight, and at 13-1, the Seminoles are off to their best start since the 1988-89 team went 16-1.
The Seminoles are about to get into the toughest part of their schedule as five of the next six opponents are ranked , including a road game against No. 12 Virginia on Saturday.
But for now, father and son can enjoy some unique bragging rights.
''That's pretty cool. That will be our conversation between us for a while,'' Mayes said. ''I don't think we will be the last though. There are some good ones coming up.''
---
More AP college basketball at http://collegebasketball.ap.org and https://twitter.com/AP-Top25
---
Follow Joe Reedy on Twitter at www.twitter.com/joereedy
---
---