College Basketball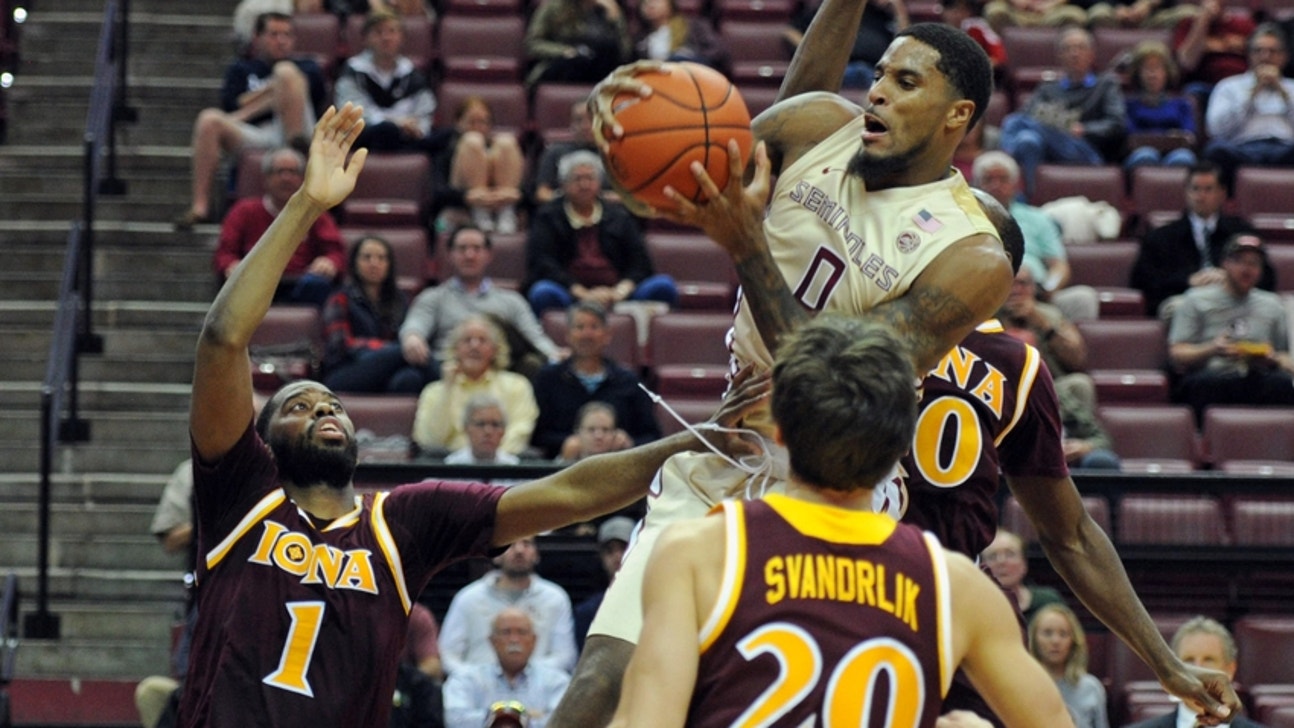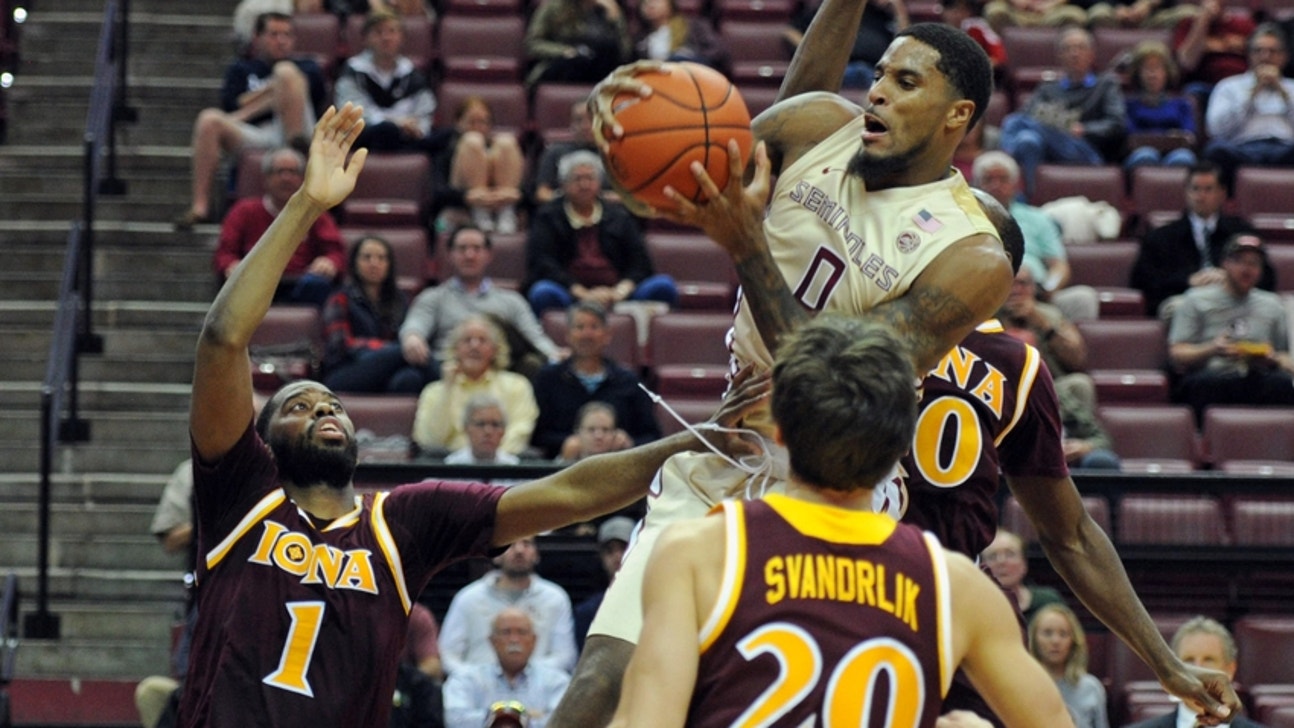 College Basketball
FSU Basketball: Top 4 Reasons Noles Have Dominated Early Season
Updated
Mar. 4, 2020 1:05 p.m. ET

Fansided, Frank Urbina/FanSided via Chop Chat
The FSU basketball team is off to their best start in seven seasons. We examine how they've been successful and ask: is it sustainable? 
Whether or not you are still on the fence about this year's edition of Florida State basketball, even the most ardent doubters must agree on one thing. And that's that so far, this season has been different than the previous four. You know, the four years in which FSU basketball missed the NCAA Tournament, and played a very ugly, very forgettable, brand of basketball.
Currently, the team boasts a 10-1 record. They have a potent offense that will only continue to improve. And despite playing a lot of first-year guys, the Seminoles have a newfound commitment to defense which had been missing for a while.
The 'Noles just got a big win against rival-Florida on Sunday. And it's a victory that could loom large with the selection committee come March.
According to ESPN, the Seminoles presently have an 82 percent chance of making the tournament. And before beating Florida, Joe Lunardi had them as a 7-seed.
That's all to say, right now, FSU is in a great place. Let's figure out how we have gotten to this point. And just to play devil's advocate, we can try to figure out whether this is sustainable or not.
Nov 25, 2016; Brooklyn, NY, USA; Florida State Seminoles guard Dwayne Bacon (4) dribbles in front of Illinois Fighting Illini guard Malcolm Hill (21) during the second half of the consolation game of the NIT Season Tip-Off at Barclays Center. Florida State won, 72-61. Mandatory Credit: Vincent Carchietta-USA TODAY Sports
Dwayne Bacon is playing at a new level
By all accounts, Dwayne Bacon had an incredible freshman year. He came into Florida State as the 11th McDonald's All-American in the program's history. He was one of the highest-rated recruits to ever sign with the Seminoles. Bacon finished his senior year rated as the 17th-best prospect in the country.
Once he hit he hardwood, he didn't cower in the face of huge expectations either. This is just part of his extensive bio on the official Seminoles website:
Averaged 15.8 points (first on the team), 5.8 rebounds (first), 0.9 steals (second) and 1.5 assists (fourth) while shooting .447 from the field (sixth) and making 32 3-point shots (fourth)…became the first freshman in school history to lead the Seminoles in both scoring and rebounding in the same season…established Florida State freshmen records for total points scored (536), points scored per game (15.8), field goals made (197), field goals attempted (441) and free throws made (110) as he enjoyed one of the most prolific seasons by any Florida State player in school history…earned Freshman All-American honors as he was named to the Kyle Macy Freshman All-American team by collegeinsiders.com…earned All-ACC Freshman Team honors as selected by both the 15 ACC coaches and the Atlantic Coast Sports Media Association
No one would have been surprised had Bacon declared for the NBA Draft after having such a standout year. But after flirting heavily with the idea, he decided to come back for his sophomore season. Bacon told the media that he did so to become a more complete player, and a better leader. So far, it looks like he made the right call.
One area that Bacon needed to refine was his three-point shooting. After making a paltry 28 percent of his attempts from three as a freshman, Bacon is currently shooting them at a respectable 38 percent clip. His overall field-goal percentage has also gone up. He's currently shooting 50 percent from the floor, up from 45 percent as a freshman.
This improvement shooting the basketball has transformed Bacon as a player, and helped the team overall. When the offense stagnates, FSU can hand the ball to the sophomore forward and ask him to bail them out. Because opposing defenses have to respect Bacon's shot, that opens up the floor for him to get to the basket.
For an example, just take a look at his drive and score late in the Minnesota game. The defense has to remain attached to Bacon, considering that he had already made two three-pointers. Because he's being played so close, he's able to use his athleticism to blow by his man and get to the rim. Observe:
Bacon is scoring 17 points per game to go along with his new sense of leadership, and improved defense (just look at him deflect a pass and still get out to contest this shot, all in the same sequence). He is a vital member of the team, and they would almost certainly have more than one loss had he bolted to the NBA. Thankfully, the Seminoles got him to stick around for another season.
Nov 28, 2016; Tallahassee, FL, USA; Florida State Seminoles forward Jonathan Isaac (1) shoots the ball past Minnesota Gophers guard Nate Mason (2) during the second period of the game at the Donald L. Tucker Center. Mandatory Credit: Melina Vastola-USA TODAY Sports
Newcomer Jonathan Isaac is the real deal
Bacon performing at a high-level is the engine that makes Florida State's offensive attack go. However, there's no way he could do it all by himself. Even players of his caliber need another guy around who can help carry the scoring load. And that's where freshman Jonathan Isaac comes into the picture.
Isaac was also a McDonald's All-American, and came to Florida State as the eighth-best prospect in the country. (Can we just mention how absurdly well coach Hamilton has been recruiting? Bravo, sir.)
And despite missing a week of action, then struggling in his return against the Gators, Isaac has been every bit as good as advertised. And then some.
He's played well enough thus far to receive early consideration as the 7th overall player selected in next year's draft according to DraftExpress (they're big fans of his). Part of that is due to his potential, which he obviously hasn't fully reached yet. But that's not to say that Isaac is some sort of project; the young forward is contributing for the Seminoles right now too.
Isaac is averaging 14 points and seven rebounds, to go along with a block and a steal per game. He's shooting the ball at an obscene 57 percent rate, which is not easy to do for a wing player. And though there were questions about his three-point shooting coming in, he's making them at a healthy 43 percent clip.
For some visual representation of how good he is, look no further. You should watch the entire highlight (it's really impressive), but specifically, the first play is a good example of his ingenuity:
Isaac is 6-foot-10, yet has the ability to sky for the rebound and bring the ball down the court himself. And thanks to his immense height and length for a perimeter player, he is able to see over his defender and feed senior Michael Ojo with the perfect entry pass. The play is subtle, but it shows how unique of a talent he is.
Here's a highlight from the Temple game that furthers my point. Isaac splits a double-team, rises for a jump-shot, and at the last moment, feeds a cutting Phil Cofer for an easy lay-in. Incredible understanding by the young freshman:
Future NBA star Jonathan Isaac was a major pull for coach Hamilton and his staff. He has been, and will continue to be, one of the main reasons behind what the Seminoles are able to achieve this season.
Nov 28, 2016; Tallahassee, FL, USA; Florida State Seminoles guard Dwayne Bacon Jr. (4), forward Jonathan Isaac (1) defend Minnesota Gophers guard Dupree McBrayer (1) during the first period at the Donald L. Tucker Center. Mandatory Credit: Melina Vastola-USA TODAY Sports
Junkyard brand of defense is (somewhat) back
One staple of vintage Leonard Hamilton-coached teams is a devotion to defense. When Florida State was having their most success, between 2009 and 2012, the Seminoles were one of the best defensive teams in the country.
KenPom has a metric known as defensive efficiency, which takes into account points allowed per 100 possessions, while being adjusted for opponent. In the four years mentioned above, Florida State had, on average, the fifth best defense in the country.
But in the four years following that? That number fell to 92nd in the country. This massive drop-off is part of what made the last four seasons so frustrating. The team continued to struggle on offense, which was no surprise, but even the once-proud defense decided to lay down. Predictably, they missed the tournament in all four years.
They aren't quite back to 2009-2012 levels, but Florida State is playing the best defense they have in years. They are currently the 45th-ranked defense on KenPom, and that number has been rising. Part of that is due to the team's depth, which we'll touch on in a moment. But another reason for this uptick is that the stars on the team are buying in as well.
Guys like Dwayne Bacon and Xavier Rathan-Mayes were used to being so good on offense their whole lives, that they didn't have to worry about the defensive side of basketball. They got a rude awakening once they learned about the difficulties of ACC basketball.
This year, both guys seem to be getting after it on both ends. I showed a clip of Bacon's improved defense earlier; here's one of Mayes:
Upon seeing two of the team's best players get after it on both ends, the newcomers had no excuse but to buy in. In particular, you can really see it when freshmen CJ Walker and Trent Forrest check into games. They both hound opposing guards all the way up and down the floor, making even a simple dribble feel like a hellacious task.
As a Florida State fan, it's been a pleasure to witness this defensive resurgence. And it's definitely going to help them once they reach their brutal conference schedule.
Dec 8, 2016; Tallahassee, FL, USA; Florida State Seminoles guard Pj Savoy (5) shoots the ball during the second half of the game against the Nicholls Colonels at the Donald L. Tucker Center. Mandatory Credit: Melina Vastola-USA TODAY Sports
Quality Depth
I'm sure all Florida State fans are sick of hearing the word depth. Every time a game is televised, we are bombarded by announcers repeating it over and over and over again. But as annoying as it is to hear about, it is equally as important to the team's chances of going far this year.
Coach Hamilton has a 12-man rotation. All of them play at least ten minutes a game. In fact, the guy getting the least amount of minutes on average is PJ Savoy, who is the team's best three-point shooter. Meaning his playing time is likely to rise as well.
Because Hamilton has this vast plethora of players to choose from, no one is averaging over 26 minutes. So once a game reaches its latter stages, FSU is playing on fresh legs in comparison to their opposition. That has already helped them pull away in the second half on multiple occasions this season.
This depth has other positives for coach Hamilton. Guys like Walker, Forrest, and Braian Angola-Rodas are only getting around fifteen minutes per game. They're all first-year players, who are accustomed to playing over thirty minutes every night from their high school (or junior college) days.
And they must know that to get more playing time, they have to give maximum effort in the limited minutes they are currently getting. That's why you see all three of them, among others, play so hard, especially on defense, when they are on the floor.
This lack of playing time that Hamilton can offer could eventually become a problem. Guys might get upset at only playing six minutes during a random Tuesday night game against Virginia Tech. But currently, it has worked out perfectly for the team. For our sake, I hope that doesn't change.
Dec 11, 2016; Tallahassee, FL, USA; Florida State Seminoles forward Jarquez Smith (23) and guards Xavier Rathan-Mayes (22) and Trent Forrest (3) and PJ Savoy (in back) and Dwayne Bacon (4) celebrate after their game against the Florida Gators at the Donald L. Tucker Center. The Seminoles won 83-78. Mandatory Credit: Phil Sears-USA TODAY Sports
Can they keep it up?
Some may still question whether this Florida State team is for real, or just a product of an extremely easy slate of games so far. Their strength of schedule is so bad that it ranks 236th in the country, according to KenPom.
But there are reasons to believe that these Seminoles can sustain their level of play. For starters, they already have a couple of "good wins" that will help them come March. They beat an Illinois team that, like FSU, is now 10-1. They also passed their first big test of the year, beating a Florida team that came to Tallahassee ranked 23rd in the country.
And even though they have played some… "not so good" teams, they've done exactly what they are supposed to do against those teams. And that's win. By a lot. Their average margin of victory this season against teams from non-Power 6 Conferences has been an absurd 30 points per contest. They've played inferior competition sure, but they've destroyed it too.
FSU's level of experience is also a positive for their potential to keep this going. The core of the team — Bacon, Mayes, Mann, and Ojo, among others — have all gone through ACC play before. They know what to expect.
They got off to a solid start last season, only to have it undone by their poor record in conference. Mayes cited a lack of togetherness and leadership on last year's team. And Bacon has seemed to step up in that role, according to the Tallahassee Democrat:
"Not trying to be cocky or anything, but I want to be the leader and lead these guys the right way. I'm not taking any [expletive] this year. I'm going to hold the guys accountable just like I want them to hold me accountable."
Leadership, scoring, experience, a tougher defense, and quality depth… these Seminoles seems to have a bit of everything. Despite a ridiculous conference schedule, which includes them playing five top-20 teams in a six-game span, this team will surprise some people.
Florida State will qualify for the NCAA Tournament, but I do have one final question of the team: how high of a seed are they going to get?
More from Chop Chat
This article originally appeared on
---
---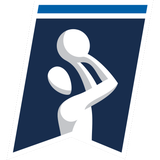 Get more from College Basketball
Follow your favorites to get information about games, news and more
---