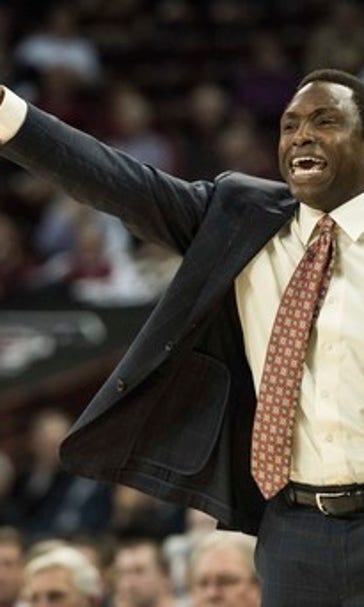 Fresh from marathon win, Alabama faces No. 15 Kentucky
February 10, 2017

MONTGOMERY, Ala. (AP) Brimming with confidence from a gutty road win over a ranked team, Alabama is preparing to face another.
The Crimson Tide hosts No. 15 Kentucky on Saturday at Coleman Coliseum trying for a strong capper to a week that began with a quadruple-overtime victory at No. 19 South Carolina.
''One of the epic games of the year against South Carolina,'' Alabama coach Avery Johnson said Friday. ''But that's not going to do us any good against a talented Kentucky team.''
The Tide (14-9, 7-4 Southeastern Conference) hadn't won at a ranked opponent's home court in nearly 13 years before Tuesday night's marathon game, which marked only the second time the program has gone to a fourth overtime.
The 90-86 victory was a strong rebound from a home loss to Auburn.
''We just battled through and persevered,'' Alabama guard Riley Norris said. ''I think we've got to watch and make sure (we're) not overconfident. But I think we're in a good spot. I think we know Kentucky's a really good team and we've just got to come in and do what we're supposed to do.''
Johnson said he put his team through longer practices and video sessions before the South Carolina game and is making unspecified changes to the home routine this week, too.
He noted the difference in attitude and approach in road wins like the South Carolina and Georgia games versus some of the losses, saying ''there's no in-between with our team.'' The Tide has less margin for error against Kentucky (19-5, 9-2).
''Really, I just want to see what type of team shows up from Alabama,'' Johnson said. ''The team that thinks they're the hunters and the hungry team or that plays on their heels and sometimes act like they don't know what to do or where to go. We'll see which team shows up.''
Alabama catches the Wildcats at a time when they've lost their last two road games - and three of five overall - while struggling to put LSU away .
They allowed 85 points to the Tigers, including 35 in the last 8:47 to lose most of a 25-point lead.
Before that, Kentucky had dropped an 88-66 road game at No. 17 Florida and coach John Calipari expects the Tide to take a similar approach.
''They'll probably go at us like Florida did,'' Calipari said. ''`Let's go right at `em, let's punch `em in the mouth, let's shoot balls and forget about missing them, just shoot and then go rebound them. Let's move the ball a little bit and make them stay in the stance long and see what they do. Throw them into some pick-and-rolls ...'
''They'll probably go off that game plan. Hopefully, we're a little different team from that game down there.''
As for Alabama, Johnson cited ''malfunctions'' at the end of regulation and a couple of overtime periods against South Carolina. He had his team working on those end-of-game situations in practice leading up to the Wildcats.
Calipari, though, was impressed by Alabama's hustle and effort against the Gameocks.
''It's unusual for me to tell you that South Carolina got beat to all those 50-50 balls,'' Calipari said Friday. ''They got beat to a lot of balls, and that just shows me that Alabama's gonna fight, they're gonna battle.''
---
AP Sports Writer Gary B. Graves contributed to this report.
---
More AP college basketball: www.collegebasketball.ap.org
---
---