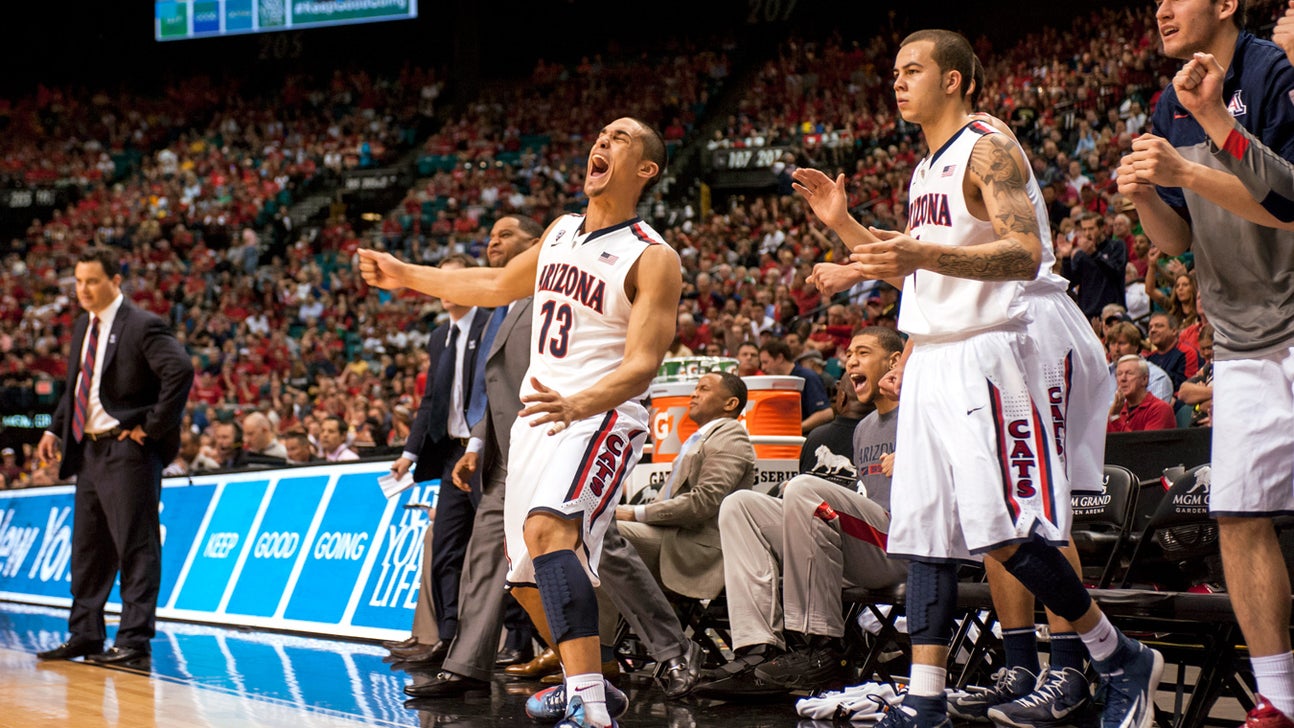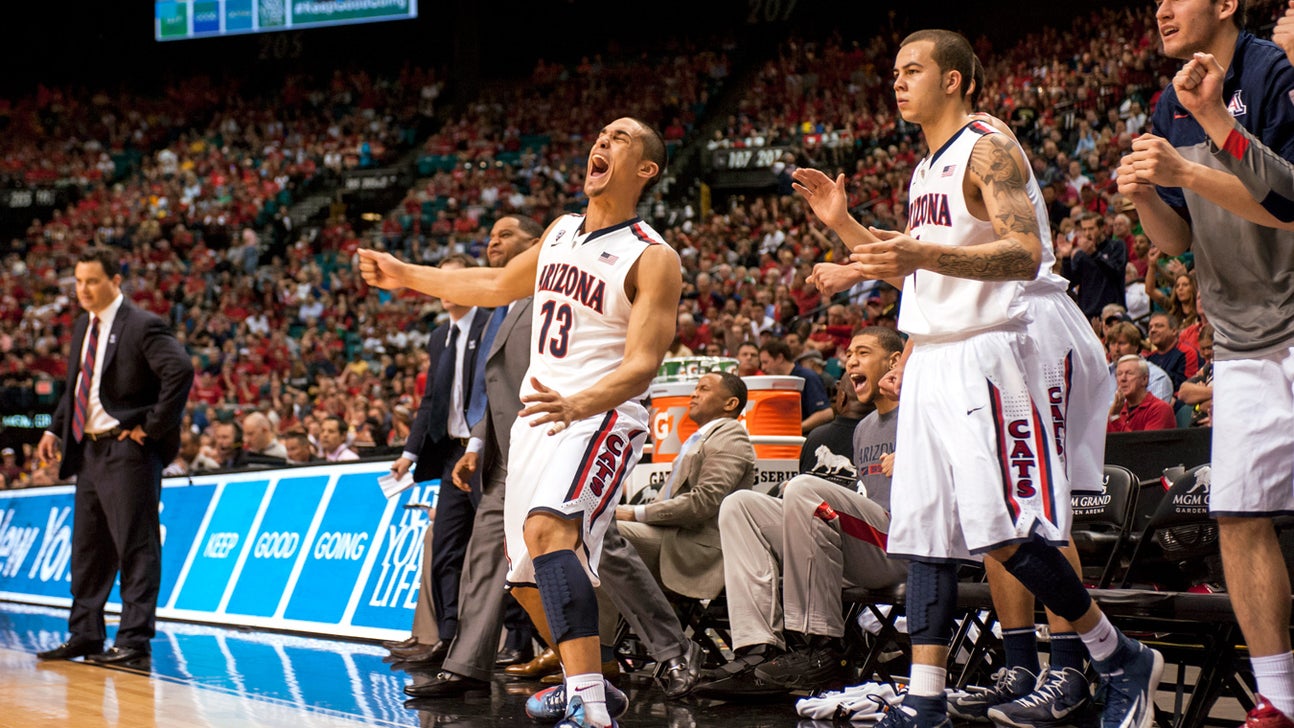 Forgrave: Arizona D-mands to be serious Dance contender
Published
Mar. 14, 2014 1:40 a.m. ET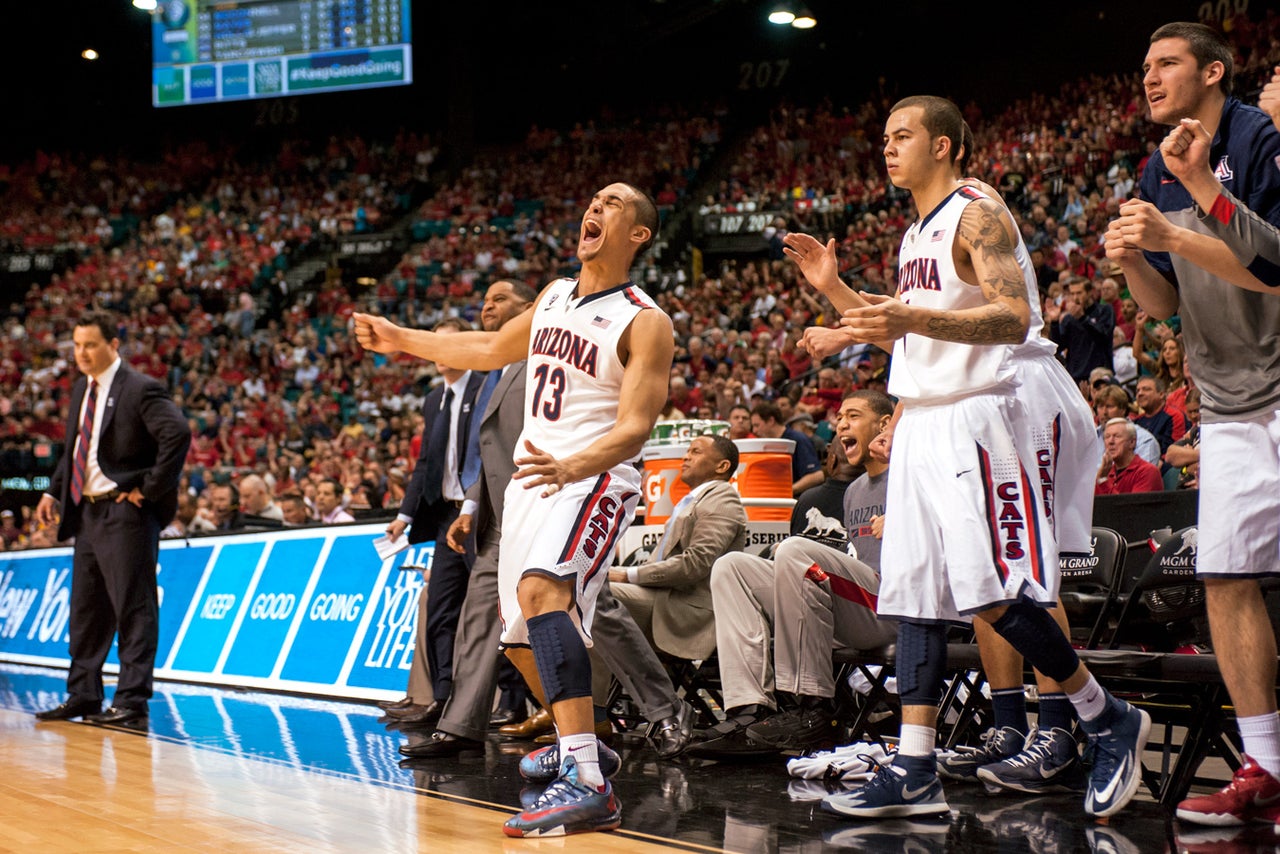 OK, fine, I get it: It was only Utah. As in, "ranks 72nd in RPI" Utah. As in, "awful non-conference schedule" Utah. As in, "no shot at the NCAA Tournament Utah," or "hasn't made an NCAA Tournament since 2009" Utah.
But still: Did you see Arizona on Thursday?
Did you see the nation's top-ranked defense turn in its best defensive performance of the year three days before Selection Sunday?
Did you see Sean Miller's smothering pack-line defense hold Utah to 13 points in the first half in what became a 71-39 whipping in the second round of the Pac-12 tournament?
Did you hear Utah coach Larry Krystkowiak say he felt deflated when game-planning for that Arizona D because he felt nothing was going to work?
Did you watch Kaleb Tarczewski man the post, Nick Johnson and T. J. McConnell buzz furiously around the perimeter and Aaron Gordon place himself everywhere on the court, with seven rebounds, two steals and two blocks in his typical stat-sheet-stuffing performance?
I did.
And what I came away with after seeing one of the Wildcats' most dominating games in Pac-12 play was this:
Fourth-ranked Arizona is one of a handful of teams that should be considered favorites going into the NCAA Tournament.
There are no elite teams in college basketball this year. There's no Louisville from last season, or Kentucky from the season before, teams that obviously were the most talented in the country, clicking at the right time and primed to win it all.
But there are plenty of really, really good teams in college basketball this year. The parity at the top of college hoops is astounding, and had Syracuse head coach Jim Boeheim saying the sport right now is the best it's ever been.
Here is a list of the teams I think should be considered the best in college hoops, the teams who ought to be tied atop the Las Vegas bookies' list of NCAA title favorites:
Arizona, of course. Florida. Wichita State. (That's not me trolling; Wichita State nearly made the title game last season, and the Shockers are a better team this season.) Louisville. On a good day, maybe Kansas, and maybe Duke.
And that's it.
(Any number of teams in the next tier could win it all — including Wisconsin, Virginia, Syracuse, Creighton, Villanova, Michigan and a healthy Michigan State — but by my guess is that they ought not be considered among the favorites.)
What's the common denominator among most of those teams?
They value the defensive end more than the offensive end.
And there's no team in the country where that's more true than Arizona.
After the Wildcats choked the life out of a Utah team that won nine games in a deep Pac-12 — a Utah team that, despite being pretty far off the bubble, still beat UCLA, BYU, Arizona State and Colorado this season — I asked a few Arizona players why I should pencil their team into my Final Four.
"Because, as everyone knows," forward Rondae Hollis-Jefferson told me, "defense wins championships, and we're the No. 1 defensive team in the country."
It's simple but true. Watch these guys play and you see a clinic in team defense.
How does it work?
"We are just going to come in here and do what Arizona basketball does," forward Aaron Gordon told me. "Play hard defense, really focus on that aspect, rebound the ball and push in transition."
"Everyone on our team is locked in to defense," center Kaleb Tarczewski told me. "There's no one who is saying, 'It's time to score.' Everyone is saying, 'It's time to lock up on defense.' That mentality really helps a lot with our team."
That mentality — the one that created the nation's top defense — stretches far past the X's and O's of basketball.
"It's our togetherness," Tarczewski said. "That really has a lot to do with it. We're just connected out there. We know where we're going to be at the right time. The whole defense moves as one unit."
What Tarczewski was referring to reminded me of Duke coach Mike Krzyzewski's definition of basketball perfection: Five fingers operating as one hand. In a very different way than this season's Arizona team, that's the plane on which Louisville's pressing defense was operating leading into March Madness a year ago. It looked like a team that couldn't be beat.
Listen to Miller talk about his team's dominating defensive performance against Utah. It sounds like Rick Pitino talking about his Louisville team from a year ago:
"Our defense just collectively was better. It's not one person. It's the group. We were in the right place at the right time and played with a lot of energy and a lot of effort."
One of the more interesting basketball statistics I've heard in recent weeks is that eight of the past 10 national champions have ranked in the top 25 nationally in both offensive and defensive efficiency. If you're a gambler, pay heed to the five teams that are top 25 in both categories on KenPom.com: Louisville, Florida, Wichita State, Virginia, Villanova.
That's it. A few other teams are close to ranking in the top 25 in both categories, including Kansas, Syracuse, Oklahoma State and, bizarrely, 11-loss Tennessee.
Arizona is not one of those teams. While first in defensive efficiency, the Wildcats rank a respectable though not dominating 34th in offensive efficiency. That's the only thing stopping me from elevating Arizona from "among the favorites" to "prohibitive favorite."
The team's Achilles heel is shooting. Arizona shoots a miserable 66 percent from the free-throw line (297th in the country) and a nearly-as-miserable 35 percent from 3-point range (128th in the country). Only 21 percent of the Wildcats' points come from 3-pointers – 309th in the country. They would seem to have the profile of the type of team that could be an early upset in the NCAA Tournament if they run into a team that's hot from three.
Except that's exactly the point. Teams don't get hot against Arizona. They can't get hot. There's no space to create a spark. The effective field-goal percentage of Arizona opponents, according to KenPom.com, is 42.3 percent, lowest in the country. It's nearly impossible to make a two against them, not much easier to make a three with athletes like Johnson and McConnell flying around the perimeter.
So after seeing that performance against Utah — and yes, it was just Utah — I plan to pencil Arizona into my Final Four. Defense, after all, is what wins championships.
Follow Reid Forgrave on Twitter @reidforgrave or email him at ReidForgrave@gmail.com.
---