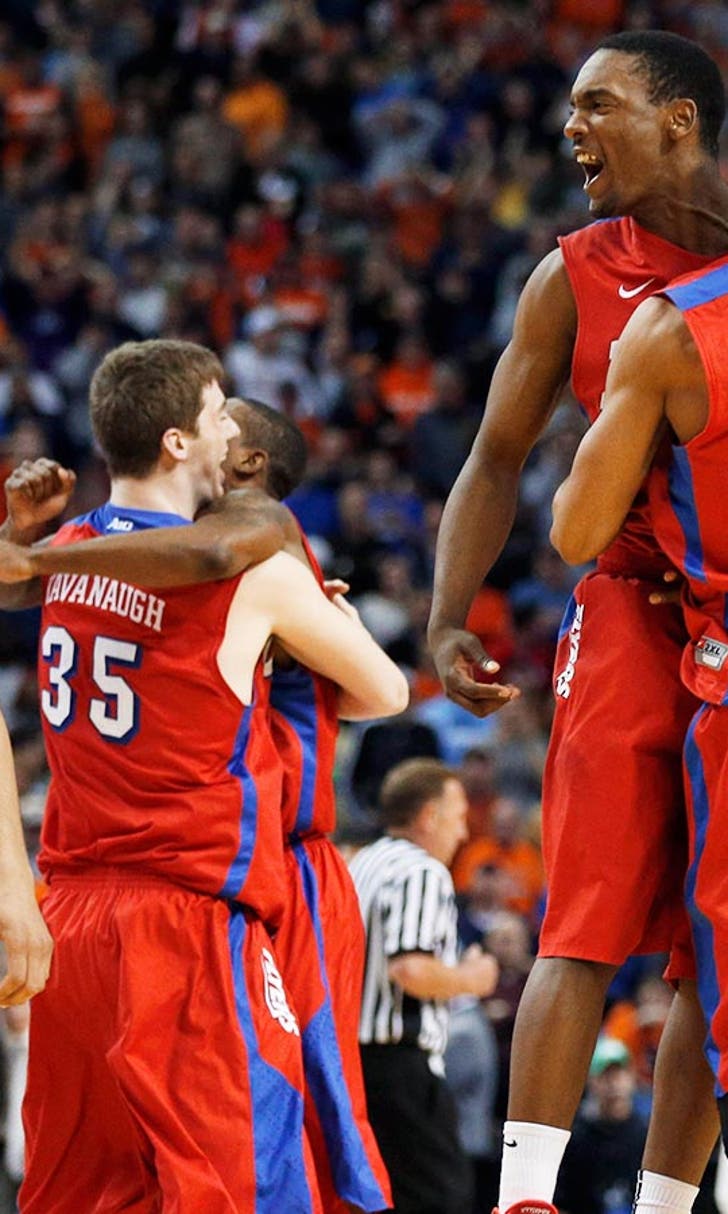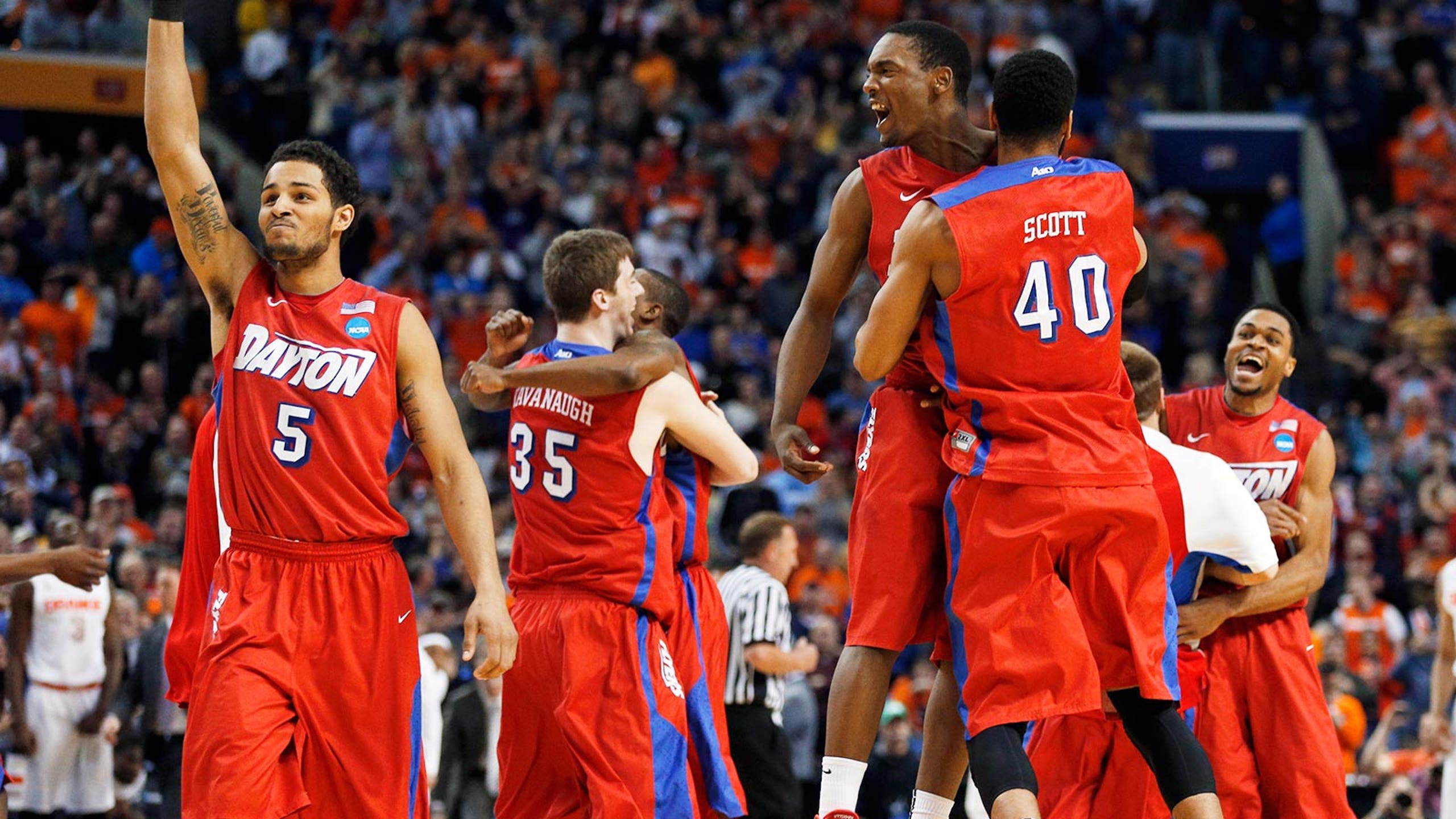 Flyers are for real! And other tournament takeaways
BY foxsports • March 23, 2014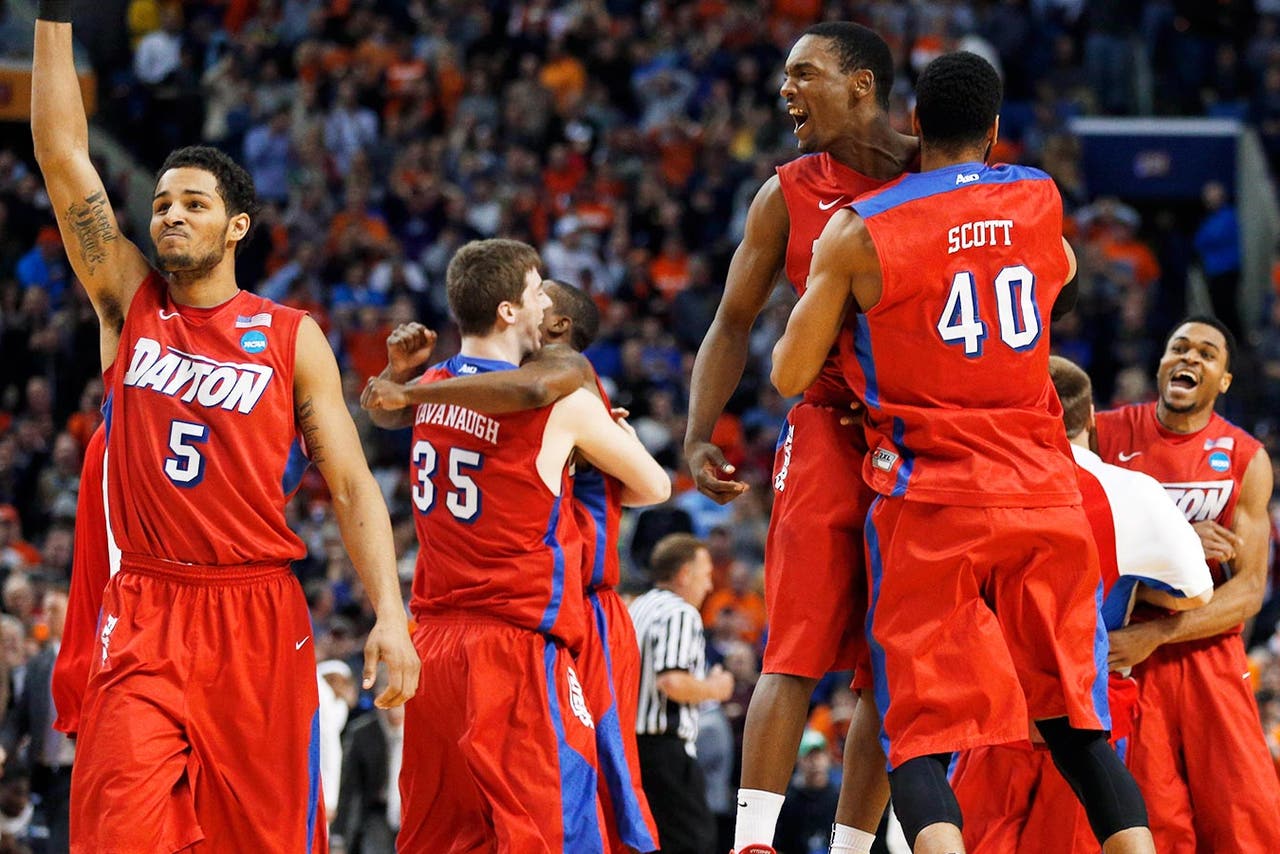 Dayton's for real!
Turns out it wasn'€™t just a case of the Flyers getting up for their opening matchup with Ohio State. These guys are genuine giant-slayers, as they proved with Saturday'€™s 55-53 win over No. 3 Syracuse in Buffalo.
Sure, the Orange hardly looked like the team that was top-ranked this season, going 0 for 10 on threes, but Dayton defended like crazy and hit clutch shots in Syracuse'€™s back yard. Dayton improved to 11-0 when holding opponents under 60 points.
You'€™re kicking yourself you didn't put Dayton in your Sweet 16. Ohio State and Syracuse were two of the biggest second-half swoon teams of the year. The Buckeyes were 15-0, then went 8-8 the rest of the regular season. 'Cuse was 25-0, then went 2-5 in its last seven before the tourney. Dayton, meanwhile, had won its last 10 games against everyone not named Saint Joseph'€™s. If anyone was ripe for an underdog run, it was the Flyers.
The No. 1 seed Gators punched their ticket to the Sweet 16 with a dominant 61-45 win over No. 9 Pitt, which beat Colorado by 29 on Thursday. Scottie Wilbekin led Florida with 21 points, including 13 in a seven-minute span of the second half. Wilbekin got the Gators back on track. After an ugly opener, they needed someone to step up, and he came up huge.
But the story of the game was that relentless, swarming UF defense, which held Pitt to 19-of-51 shooting. The star of that defense was big man Patric Young. He scored only seven points, but Pitt had no answer for him when it had the ball, as he had four blocks and also pulled down six of Florida's 14 offensive rebounds in 30 minutes.
"€œPatric in particular in the first half just couldn't finish around the basket,"€ Gators coach Billy Donovan said. "But we overcame that, and I thought our defense in particular -- both halves it was good, but I thought in the second half it really, really was good, and these guys did a really terrific job from start to finish."
If the Gators can maintain this level of play on D, nobody is going to beat them.
A win is a win, but man, the defending champs are doing it ugly. Louisville had a huge struggle against Manhattan and a very sloppy performance in Saturday'€™s 66-51 win over No. 5 Saint Louis. With Wichita State/Kentucky up next and possibly Michigan in the Elite Eight, it's tough to like Louisville in that region.
Saturday'€™s first half, both physically and on the scoreboard, felt more like a football game --€" Saint Louis didn't even reach double figures until the 3:44 mark, and Louisville wasn'€™t much better.
The good news: Luke Hancock, the Cards'€™ hero against the Jaspers and last year's MOP of the Final Four, continued his hot play in the tournament, hitting four 3-pointers and leading the way with 21 points. Plus, Louisville shot 48 percent in the second half and opened up things late after the teams were tied at 29 with 14:02 to play.
Nik Stauskas, the Michigan guard who shot his way into the spotlight as a freshman with six 3-pointers in the national championship game, showed he has grown as much as any of the Wolverines in Saturday'€™s 79-65 win over No. 7 Texas.
Stauskas not only nailed four treys en route to a team-high 17 points, but he also had eight assists with no turnovers and even flew down the lane for a furious dunk -- except he missed it. So he's still got room for improvement. But his play illustrates why the No. 2 Wolverines still are flourishing in the absence of injured Mitch McGary, who was the darling of last year's tourney.
Michigan is as steady as anyone: two double-digit wins. The first thanks to defense. The second thanks to excellent shooting. With Duke out of the way, the Wolverines have got to be thinking Elite Eight at least.
San Diego State and its top star may have flown under the national radar in the Mountain West, but Thames had the game of the day in Saturday'€™s 63-44 win over 12th-seeded North Dakota State. Thames had almost half his team'€™s points with 30, after scoring 23 in the No. 4 Aztecs'€™ tourney opener.
Thames did it all for the Aztecs in the first half. He was responsible for 23 of San Diego State's 30 points, scoring 16 and assisting on another three baskets. Thames, who was 9 of 19 from the field, had five assists and ended the comeback hopes of the Bison with a six-point spurt late in the second half.
"That kid had a couple moves where, well, put it this way, we don't have anybody that can simulate it in practice," Bison coach Saul Phillips said.
San Diego State is dangerous, if not entirely schizophrenic. The Aztecs barely get out of the second round, but then they hold the best-shooting team in the country to 44 points. They have wins over Creighton and Kansas, but a loss to Wyoming (?!). They've already played Arizona once and might get the '€˜Cats again -- just an hour or so drive from their campus.
Not to discredit the No. 2 Badgers' 85-77 win over Oregon on Saturday in Milwaukee, but the crowd was roaring for them all night. In a tight game against a very good team, that absurdly pro-Badgers crowd gave them a huge lift. The announcers even said "We're 80 miles from Madison, but we may as well be in Madison."€
Coach Bo Ryan said it was more than that: "Do you know how many fast-break points they got in the second half? Zero," Ryan said. "Oregon, one of the quickest teams in the country, so you've got to give the players a heck of a lot of credit."
No. 4 Michigan State, a popular pick to win it all, ended No. 12 Harvard's tournament run, but the Spartans had more trouble than many people expected against the Ivy League champs. Luckily, Branden Dawson scored a career-high 26 points to help the Spartans fend off a wild rally Saturday for an 80-73 victory.
"That's one thing Coach Amaker talks about, that we're not just built for the Ivy League, we're built to go past that," Harvard junior forward Jonah Travis said. "That's one of our main goals, to match up with teams like that and beat teams like that."
If the Spartans get a career night from a different player every game, they will be hard to beat. In the Spartans'€™ tournament opener, it was Adreian Payne scoring a career-high 41 points.
This is what we were afraid of with No. 2 Villanova: nice record, but a bad strength of schedule --€" 51st -- and a super-red-flag loss to Seton Hall in the Big East tournament set the table for doubters. UConn was just more battle-tested with 12 games against the RPI top 50.
Don't tell the Wildcats and Huskies that this wasn't a Big East battle. Jay Wright'€™s Wildcats brought the best out of Kevin Ollie'€™s Huskies, who may now be in the AAC but played '€˜Nova like it was back in the day. They won every category in the stat book and with Shabazz Napier on top of his game, there was no stopping them -- even when Napier limped to the sideline with an injury late in the game. He just came back in and hit an acrobatic layup to help seal the 77-65 win. Napier had 21 of his 25 points in the second half.
---