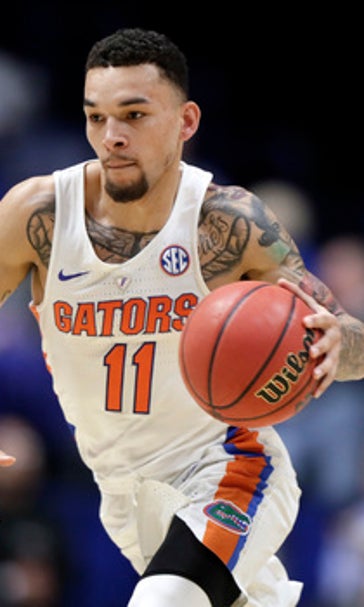 Florida guard Chris Chiozza sprains shoulder in exhibition
November 2, 2017

JACKSONVILLE, Fla. (AP) Florida point guard Chris Chiozza sprained his left shoulder in the team's exhibition opener at Jacksonville on Thursday night.
Chiozza injured his shoulder in the opening minute of the game, headed to the bench, tried to return and ended up in the locker room. He eventually returned to the bench but did not get back on the floor.
Coach Mike White said after the 88-47 victory that Chiozza will have more tests Friday to determine the extent of his injury.
''He's about as valuable to us as it gets, probably as any player is to their team in college basketball,'' White said. ''Hope it's minor.''
White said Chiozza felt pain in the shoulder joint while trying to run, so team trainers decided to sit him down for good after just two minutes of action.
Chiozza averaged 7.2 points, 3.8 assists and 3.3 rebounds last season in a backup role. The senior is expected to be the primary ball-handler for the eighth-ranked Gators this season.
Chiozza ranked second on the team with 48 steals last season and made 30 3-pointers, none bigger than his running trey at the buzzer to stun Wisconsin and send Florida to the NCAA Tournament's Elite Eight.
Teammates were stunned to see him doubled over in pain after running into a pick seconds into the game.
Fellow guard Jalen Hudson blamed himself for not calling out the pick. He apologized to Chiozza several times and kept asking him if he would be all right. Florida plays another exhibition game Sunday against Tampa.
''I think he'll be back and ready by Sunday,'' Hudson said.
Without Chiozza, Florida turned to shooting guard KeVaughn Allen and freshman Mike Okauru to handle the ball against the Dolphins.
''It was a chore without him,'' White said. ''Chris makes us go offensively and defensively. He's our best defender and he's one of the best passers in the country. It was good opportunity to evaluate without him, of course, but I would rather have not had that opportunity.''
The Gators open the season Nov. 13 against Gardner-Webb.
---
More AP college basketball: www.collegebasketball.ap.org and https://twitter.com/AP-Top25
---
---