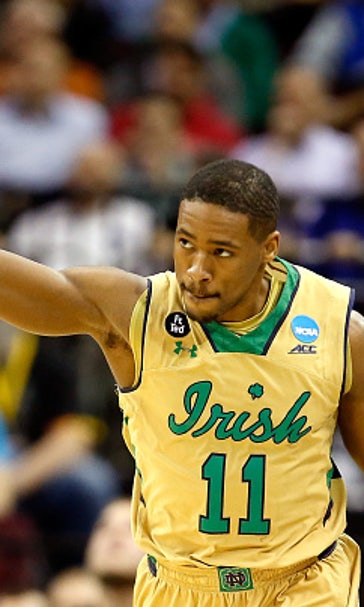 Elite Eight preview and predictions: Notre Dame vs. Kentucky
March 27, 2015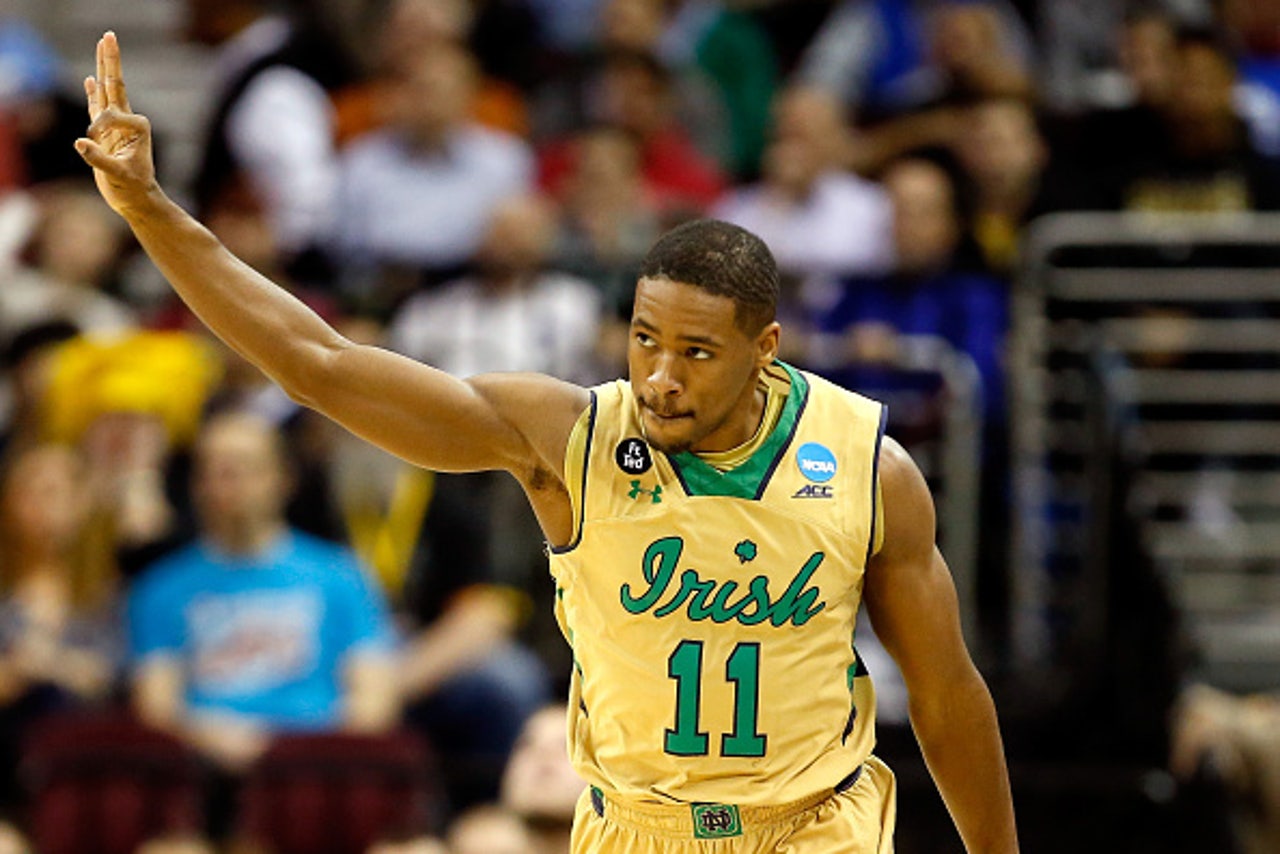 By David Fox 
Will Notre Dame's high-powered offense give Kentucky reason to worry?
Notre Dame may be the best team Kentucky has played all season.
That's worth saying right here right now since Notre Dame probably won't touch that kind of talk, not after Kentucky answered West Virginia's pre-game bravado with a 39-point beat down in the Sweet 16. Speak softly and hit some big shots, that's probably the most advisable strategy at this point.
But that initial statement is true: With the possible exception of Kansas and Louisville early in the season, Kentucky hasn't played a team as good as Notre Dame in at least four months. Certainly, Kentucky hasn't faced a team with an offensive attack as good as Notre Dame.
The Irish rank third in the country in offensive efficiency on the college basketball analytics site KenPom.com. The only other top-20 offensive teams Notre Dame has faced are North Carolina and Vanderbilt.
The Irish are in their first Elite Eight since 1979, a game Notre Dame lost to Michigan State as the Spartans continued to face Indiana State in the classic Magic Johnson vs. Larry Bird championship game.
And Notre Dame's prize for getting this far is a date with another potentially historic team.
"We are America's team," Notre Dame coach Mike Brey said. "There's no question about it. ... We've got a monumental challenge on our hands, but we play in the best conference in America. Going through the teams we had to go through in ACC play, I think has us very prepared to play against a great team like Kentucky.
No. 3 Notre Dame vs. No. 1 Kentucky
Region: Midwest (Cleveland)
Time: Saturday, 8:49 p.m., ET
TV: CBS
Announcers: Marv Albert, Chris Webber and Len Elmore
Line: Kentucky by 11
Matchup to Watch: Notre Dame's perimeter game vs. Kentucky's defense
One of the only teams to give Kentucky a scare this season was Ole Miss as the Rebels hit 9-of-17 3-point shots in an 89-86 loss in overtime on Jan. 6. Scoring around the basket and getting to the rim is near-impossible at times against Willie Cauley-Stein, Karl-Anthony Towns and the rest of Kentucky's bigs. Notre Dame will try to beat Kentucky from long range. The Irish have five players who have hit at least 40 3-pointers this season, and they'll need all of them to contribute.
Tournament Surprise: Notre Dame's Demetrius Jackson
The sophomore guard has been a valuable contributor for most of the season, but he's been huge in the Tournament. Jackson scored 20 points against Wichita State and has hit six 3-pointers in the last two games, one fewer than he had the previous six.
Notre Dame will win if...
Grant approaches 20 points and 10 assists. That would seem to be a magic number, and one Grant hit in Notre Dame's signature win over Duke on Jan. 28. Grant was a mere 3-of-8 from the field for nine points against Wichita State, but he also had 11 assists and two turnovers. Notre Dame will need a hero effort from its best player to pull the upset.
Kentucky will win if...
The Wildcats overwhelm Notre Dame with their size. The Irish have some big guards with Grant, Pat Connaughton and Steve Vasturia all standing 6-5 or taller. Demetrius Jackson (6-1) is the only regular shorter than 6-5. Kentucky counters with four regulars 6-10 or taller and three 6-6 guards.
Athlon Sports Staff Predictions
David Fox: Kentucky 80-67
Braden Gall: Kentucky 78-65
Mitch Light: Kentucky 77-65
Jake Rose: Notre Dame 78-72
More from Athlon Sports:
---