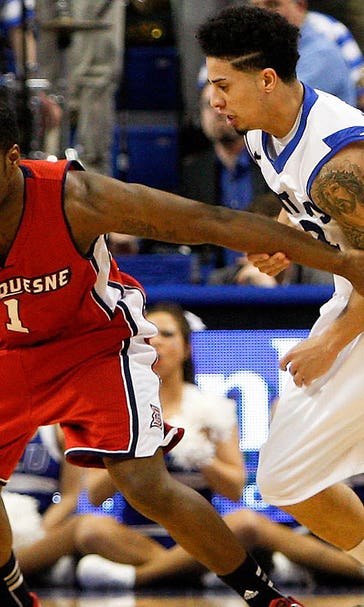 Duquesne stuns No. 10 Saint Louis, ends Billikens' 19-game win streak
BY foxsports • February 27, 2014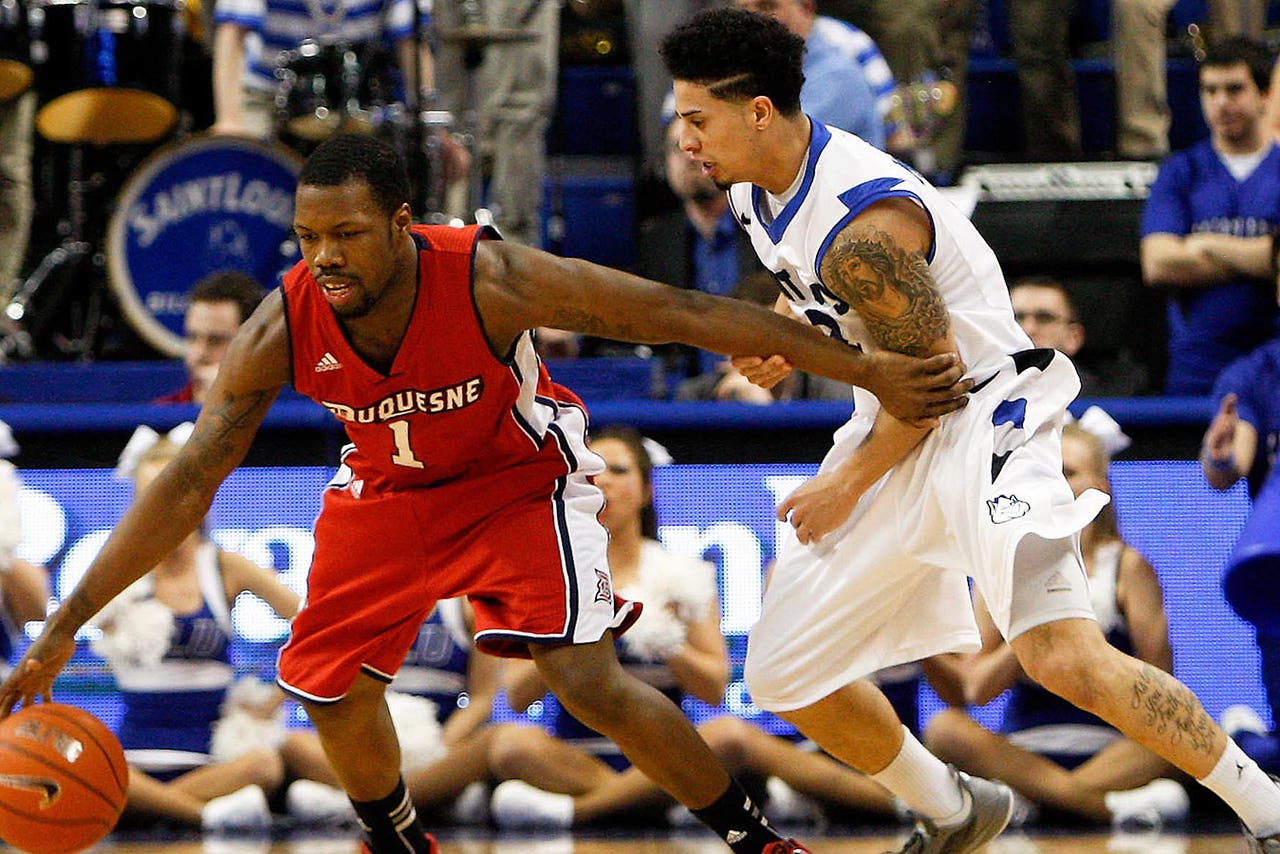 ST. LOUIS -- The longest winning streak in Saint Louis history ended Thursday night with a surprising loss at home to Duquesne. That was hardly the most disappointing part of it as far as forward Dwayne Evans was concerned.
"The streak didn't really mean much to us," Evans said. "It's a tough loss because there's a championship on the line, not just because it broke the streak."
Micah Mason had 22 points and Jerry Jones added 19, leading Duquesne to a 71-64 victory.
Saint Louis (25-3, 12-1 Atlantic 10) had won 19 straight since dropping a 70-65 decision on Dec. 1 to unbeaten Wichita State, now ranked No. 2 in the country. With a win, the Billikens could have clinched at least a tie for the Atlantic 10 regular-season title.
But it was the Dukes who looked like title contenders Thursday.
"They did a really nice job and we just didn't play well enough," Saint Louis coach Jim Crews said. "We've played well and we've been fortunate. Tonight, we didn't play well enough.
"We have no license that we're going to win. One team's going to win and one team's going to lose. Whoever plays the best (wins). That's how it is, and they played better than us."
Mason, who entered leading the nation in 3-point shooting percentage (.554), hit four of five from behind the arc for Duquesne (12-15, 4-10), which beat a top-10 opponent on the road for the first time since defeating No. 6 Bradley 73-72 on March 5, 1962.
Duquesne improved to 5-28 on the road against top 10 teams. The Dukes, who were 14-point underdogs, are 25-55 overall against teams ranked in the top 10.
Although it looked like a mismatch on paper, Jones said he and the Dukes could feel this one coming.
"Really, this team was ready to get beat and I just wanted to be a part of it and so did everybody else," he said.
Evans had 10 points and 12 rebounds for Saint Louis. Mike McCall Jr. led the Billikens with 18 points, while Jordair Jett (13 points) and Rob Loe (12 points) also were in double digits.
Saint Louis will try to rebound Saturday when it visits VCU. Crew said the team will not vary its approach after losing for the first time in nearly three months.
"We do the same thing whether we win or lose," he said. "We just try to clean up what we did wrong. We address those things we did wrong, we keep working on our fundamentals and try to get better and move on with the next team. It doesn't make a difference win or lose. Our routine is pretty much the same."
The Billikens appeared to be in good shape after Jett's layup with 13:44 remaining gave them a 42-35 lead. But the Dukes took command with an 18-2 run capped by a 3-pointer and then a layup by Jones that made it 53-44 with 7:41 left.
Saint Louis fought back and had a chance to cut it to a one-possession game with under a minute remaining. Loe, however, missed a free throw and that led to Jones' layup at the other end with 52 seconds left that made it 63-57.
The Dukes played Saint Louis tough in their first meeting, losing 76-72 at home on Jan. 22. Duquesne was up for the challenge again Thursday and showed it early as Mason hit his first two shots from behind the arc to help the Dukes grab a 13-8 advantage.
Mason was called for his second foul shortly thereafter and went to the bench, and the Billikens began to take advantage of his absence. Saint Louis went 1 for 7 from 3-point range in the first half, but Jake Barnett's 3 with 44 seconds left gave the Billikens a 29-25 halftime lead.
---