Duke-Oregon Preview
Published
Mar. 24, 2016 11:07 a.m. ET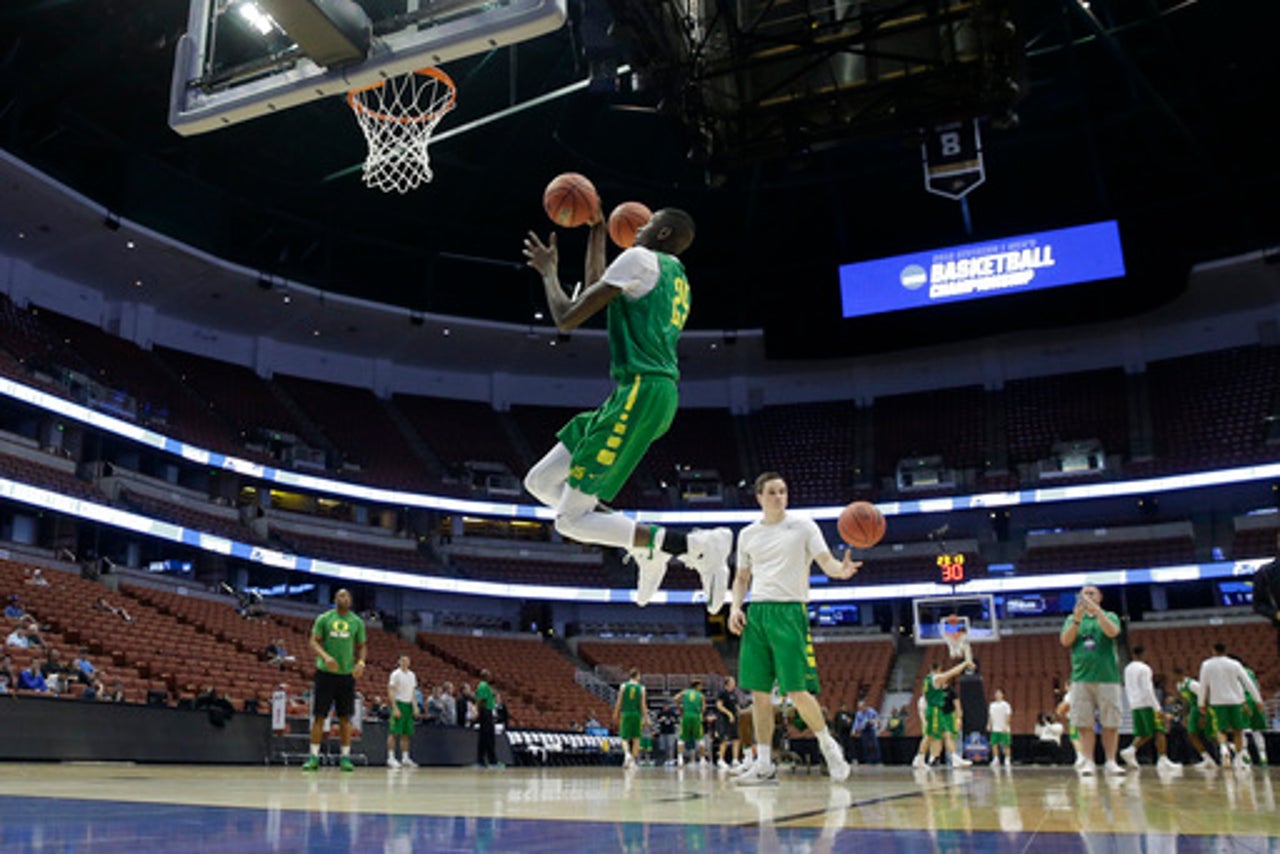 ANAHEIM, Calif. (AP) Dillon Brooks and his top-seeded Oregon Ducks have a golden opportunity to get college basketball's full attention Thursday night.
That's because their Sweet Sixteen opponent, fourth-seeded Duke, travels under the biggest spotlight in the sport.
''I know a lot of the guys are really motivated,'' said Brooks, Oregon's top scorer. ''We've been watching Duke all our lives, and once we see the lettering, `D-U-K-E,' we're going to come out there with red on our face and just really take it to them.''
After a remarkable regular season and a strong start to the NCAA Tournament, the Ducks (30-6) realize the magnitude of their date with the enigmatic Blue Devils (25-10) in the arena better known as the home of the NHL's Anaheim Ducks.
Although Oregon won the Pac-12 title and reached the NCAA Tournament for a school-record fourth straight year under coach Dana Altman, these Ducks still fly under the national radar. They get only a fraction of the attention given to their school's football program, or the West's traditional hoops powers like Arizona, UCLA and Gonzaga.
A win over the defending national champions could help to turn a football school into a national hoops name.
''Our basketball tradition is not that great,'' Altman said. ''We're working hard to improve that. This is a point in our time that we need to play well on the national stage against someone that is very good and has proven themselves.''
Altman sees Duke as ''a brand all by itself in college basketball,'' even in a year in which coach Mike Krzyzewski has only three big contributors left from last season's run to the Blue Devils' fifth title.
Duke lost four of its final seven games heading into the NCAAs, but still reached the Sweet Sixteen for the 15th time since 1998.
''I'm proud of our team,'' Krzyzewski said after practice. ''Young, kind of limited in numbers, but they've really grown tough together and earned their way here.''
With the rebuilt roster clicking around freshman phenomenon Brandon Ingram and sophomore scorer Grayson Allen, Duke has more than enough raw talent and refined scoring ability to make any opponent wary - even the deep, balanced Ducks.
''The (older) guys in our room, they've been here before and they tell us a lot of things,'' said Ingram, who scored 45 combined points in Duke's first two NCAA Tournament games. ''We know that coming into these games, everyone is going to give us their best shot. So we've had to come out with a lot of poise and battle back.''
Here are more things to watch in these schools' second meeting:
THAT FIRST TIME: Oregon and Duke have met only once before. The Blue Devils were also the defending national champions in November 2010, and they routed the Ducks 98-71 in Altman's sixth game at the school. ''I'd rather forget that game,'' Altman said. ''That was our first year, and we were not very good. They got us pretty good.''
CAN'T TEACH HEIGHT: Big men could play a large role in this game. Duke has an abundance of height with 7-footer Miles Plumlee, the 6-foot-9 Ingram and the 6-10 Chase Jeter, while Oregon shot-blockers Chris Boucher and Jordan Bell can alter any team's plans to attack the basket. ''I always wanted to play against Duke growing up,'' said Bell, a native of nearby Long Beach. ''That was my goal coming into college, just to play them at least one time. It's great that I get to play them at home.''
SURVIVE AND ADVANCE: Don't turn off the TV if one team takes a big lead. Both teams proved their tenacity last weekend when they overcame late-game trouble to reach the Sweet Sixteen. Duke blew 24 points of a 27-point lead against underdog Yale before holding on for a 71-64 win, while Oregon trailed Saint Joseph's by seven points in the final minutes of a 69-64 comeback victory.
ONE ON SIX: Oregon is the only Pac-12 team left in the tournament after the conference's embarrassing flop last week, while the ACC still has six teams left in the field. The Ducks don't feel any pressure to carry the banner for their conference, however. ''We haven't done well, and that's fair,'' Altman said. ''But I think the future is really good for our league.''
---
AP College Basketball website: http://collegebasketball.ap.org/
---