Don't be shocked if Wichita State 'plays angry' again
BY Reid Forgrave • November 2, 2014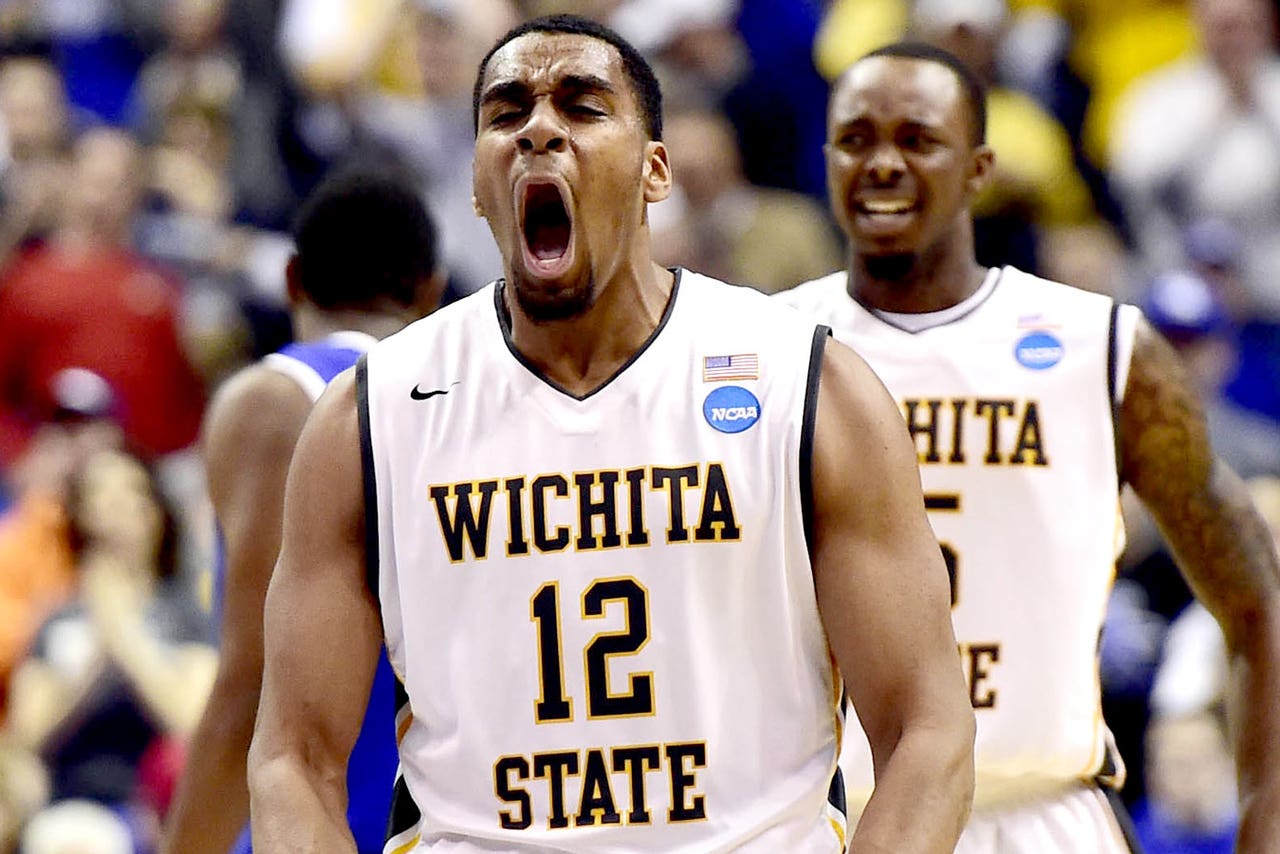 WICHITA, Kan. – Gregg Marshall was running late. A light had gone off in his car's dash, so on a recent fall day he had to stop at the dealership on the way to Charles Koch Arena. The dealership gave his car a quick diagnostic test then sent him on his way: All was well, at least for now.
There always seem to be forces, both real and perceived, allied against Marshall. On his first day on the job as Wichita State's head coach seven years ago, he went to visit a recruit from the previous regime – and the recruit had a heart attack on the practice court and died as Marshall looked on. Last season, the Shockers were placed in an utterly unfair NCAA regional bracket, which means the first undefeated team entering the NCAA tournament since UNLV in 1991 would have to beat the following teams to make a second consecutive Final Four: Kentucky, then Louisville, then either Duke or Michigan. The Shockers lost to Kentucky in one of the best games of the NCAA tournament.
As Marshall settled into his office, he was still angry, seven months later: "The bracket was a joke – everybody knows that," he said.
That anger is part of the chip on Marshall's shoulder that makes Wichita State basketball one of the most successful programs in the country the past few years. On Marshall's desk is a proclamation from the mayor of Wichita, where the city renamed a street "Play Angry Place" in honor of the Shockers basketball team. "Play Angry" has been Marshall's motto for years. His teams play angry in games; ask anyone who has gone one-on-one with lockdown defender Tekele Cotton, a senior on this season's best-in-America backcourt. They play angry in practice, too, D-ing up against teammates as if it were the Final Four.
"That's one thing about playing here: People look at our guys as so well-coached because they defend," assistant coach Steve Forbes said.
They even play angry in interviews.
It's an us-against-the-world mentality that's often cliché in sports. Everyone seems to adopt that mentality as fuel: The media is against them, the fans are against them, the referees are against them. They gotta prove the world wrong. They're backed against the wall, and they have to claw their way out. Everyone wants to paint themselves as an underdog, ready to overcome adversity. Blah, blah, blah.
Except that in Wichita, it's a little more real. This is a gritty university in a gritty city, home to manufacturing and aircraft and the Shockers, one of the grittiest programs in college hoops. Marshall has built his recent success off mining the juco market – for guys like Carl Hall, a key big man on the Final Four team, and Cleanthony Early, who was drafted by the New York Knicks in the second round in June – and recruiting diamonds in the rough, players like Ron Baker and Fred VanVleet, who were ignored early the recruiting process but blossomed into potential NBA draft picks.
It's a team that, in the blueblood-dominated world of college hoops, generated no shortage of debate at the end of last season as the Shockers headed toward the NCAA tournament as an undefeated one-seed. Was the true story line "undefeated is undefeated and you can't argue with that," which is what I always believed? Or was the story instead about Wichita State's easy path, 111th in the nation in strength of schedule?
"We were a divisive force. You had to pick a side," Marshall said. "You had to say, 'Well, they're pretty good.' Or, 'That's a joke, they don't play anybody, the league's terrible, this and that.' For us it was the perfect storm: The league was young, the league was down a little bit."
Not to mention that archrival Creighton had just left the Missouri Valley Conference, plus the Shockers lost two old schedule-strengthening strategies – the Mountain West Challenge and the BracketBuster game – in the same season.
There it was again: Outside forces allied against the Shockers. The strength-of-schedule question didn't play well nationally, even though the Shockers did beat four eventual NCAA tournament teams in their non-conference schedule, plus a couple other teams that were right in the NCAA tournament mix. Some speculated that the Shockers' placement in the NCAA tournament's Region of Doom was a punishment for a weak schedule –the ultimate test to see if they really had what it took.
After 2013's Final Four followed by 2014's historic undefeated run to the NCAA tournament, there's one question bubbling around Wichita as a new season approaches: How do you top that?
"That's been the theme around here," Marshall said. "That's what folks in this community are talking about. Somehow we've gotten better each and every year. Everyone has their own gauge of what's a successful season and what's not. I like to put a lot of stock in the regular season. It's a four-month test compared to how well you do in the postseason. To me, the body of work you do in four months is just as important and indicative of a quality or not-so-quality season as what you do in three weeks – or maybe even in one day."
The Shockers will play a tougher non-conference schedule this season. They'll have Memphis, a talented team that could win the American Athletic Conference and is surely considered a tournament team. They'll have Utah, a dark-horse team that could finish second in the Pac-12, and Seton Hall, which has one of the best freshman classes in the nation. In the Diamond Head Classic in Hawaii over the winter holidays, they could have any of three tournament teams from last season: Nebraska, George Washington and Colorado. They'll have Tulsa and St. Louis, two tournament teams from last season, plus Alabama, who had been considered a likely tournament team entering last season but ended up falling short.
What I'm excited about in Wichita this season is that backcourt. I'm serious when I say it might be the nation's best: VanVleet is a first-team All-American candidate, Baker is getting NBA buzz, and Cotton, with his ability to ruthlessly defend four positions, could be the national defensive player of the year. Remember that the past two teams to win it all – Louisville in 2013, UConn last season – had the best backcourts in the nation. Evan Wessel, a good shooter and intense defender, should start at power forward. Darius Carter, a junior college transfer who is LeBron James' cousin, returns to bring a big, athletic body to the frontcourt.
What I'm worried about, though, is this team's frontcourt depth. It lost a lot from last season. Three newcomers – freshman Rashard Kelly, Estonian freshman Rauno Nurger, and Kenyan juco transfer Tom Wamukota – will compete for serious minutes.
But there's one thing I'm sure of in Wichita this season: Whether it's real – like people ripping on their schedule, or getting another raw deal in tournament seeding – or simply made up in the name of motivation, there will be forces allied against the Shockers. And Gregg Marshall will absolutely eat it up.
Email Reid Forgrave at reidforgrave@gmail.com, or follow him on Twitter @reidforgrave.
---