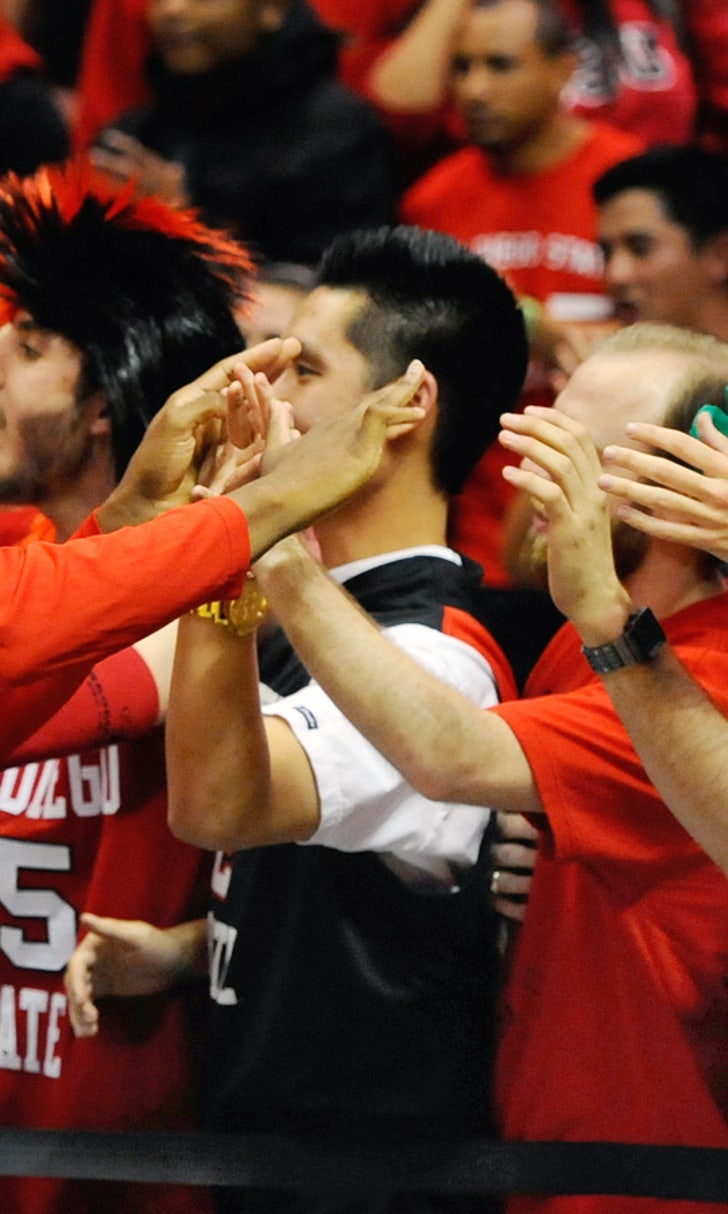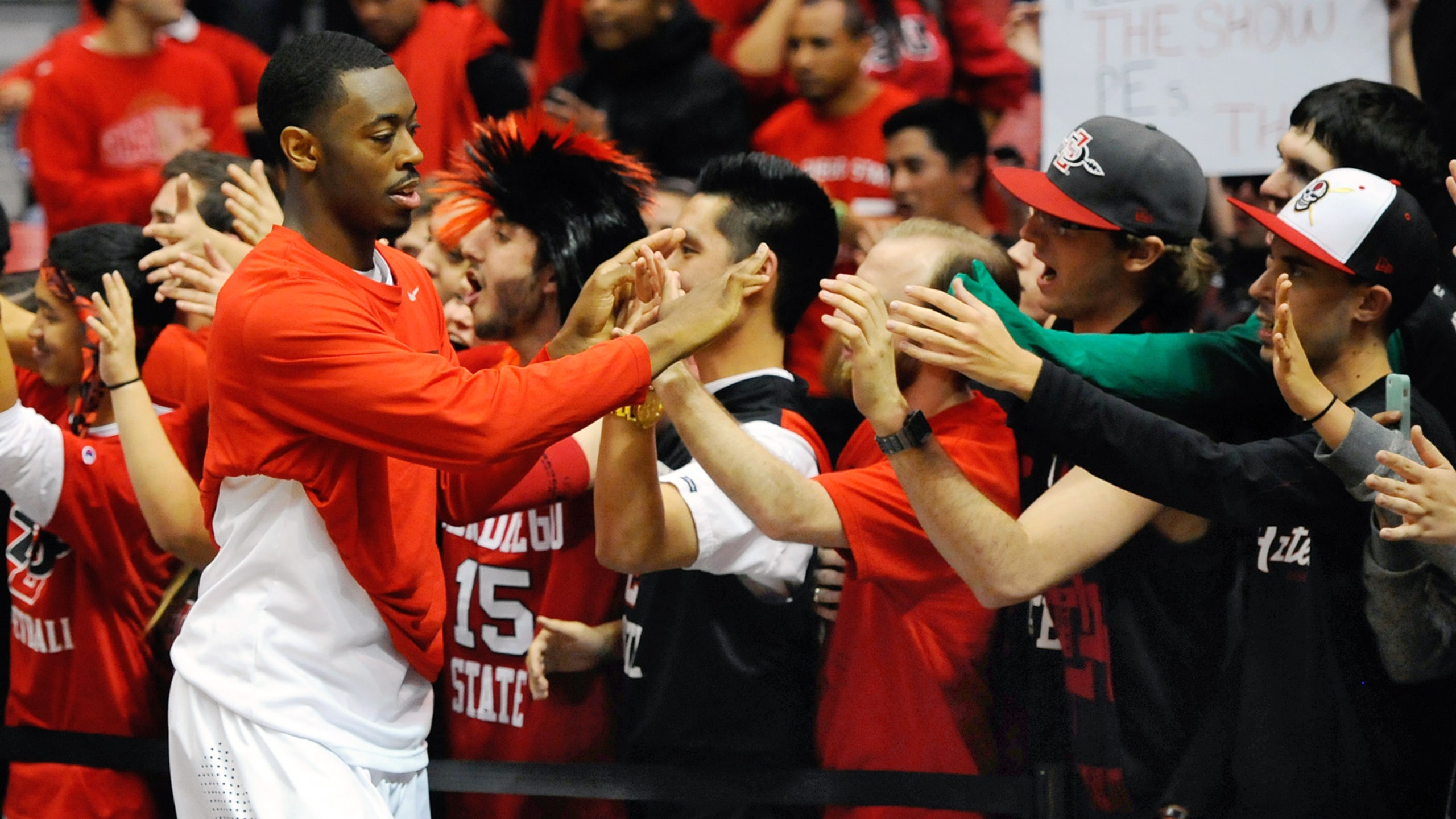 Defense helps No. 6 San Diego State roll past Utah State
BY foxsports • February 19, 2014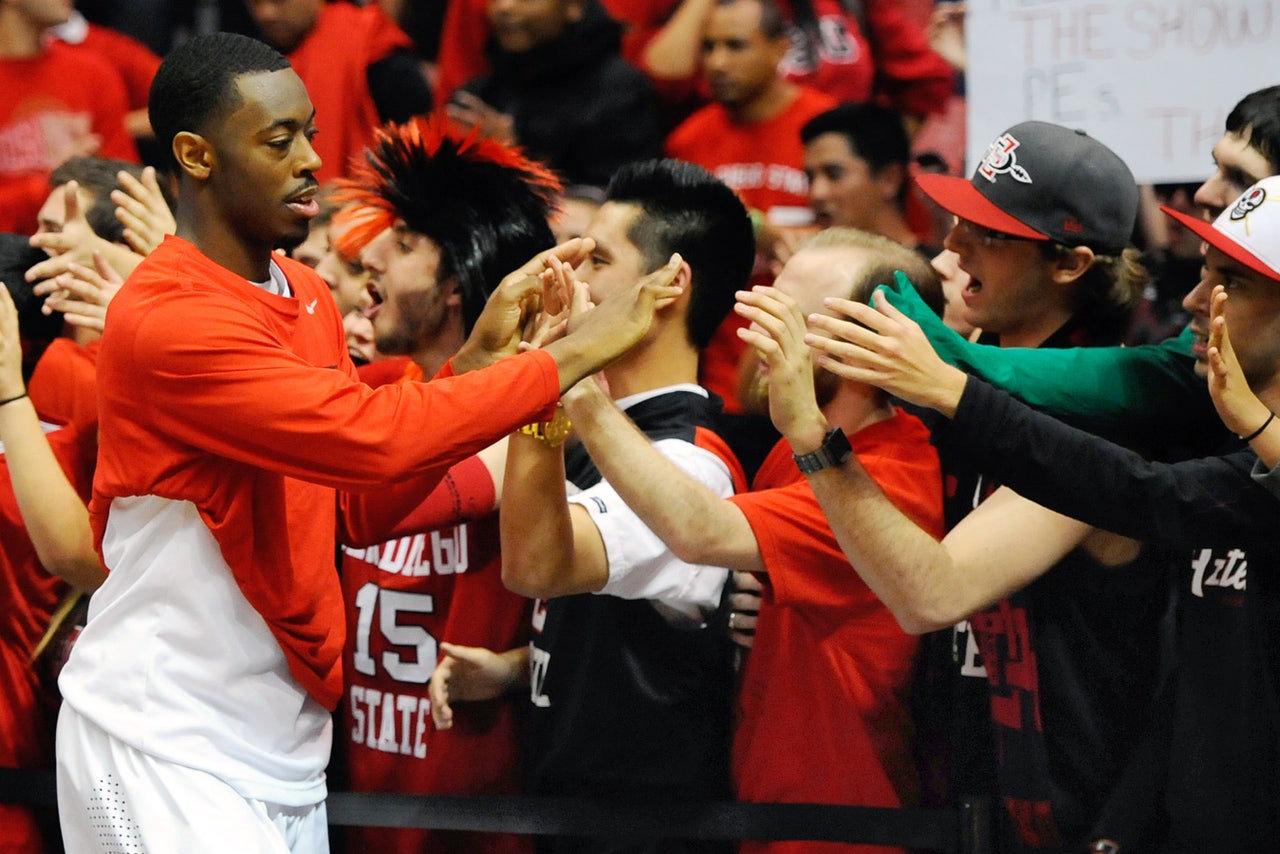 SAN DIEGO -- With Utah State out of the way, the No. 6 San Diego State Aztecs can concentrate on their big showdown Saturday night at New Mexico.
Matt Shrigley scored 15 points -- including four 3-pointers -- and San Diego State used a stifling defense to beat Utah State 60-45 Tuesday night, the Aztecs' 12th straight home victory.
Josh Davis added 12 points and Skylar Spencer 10 for the Aztecs (23-2, 12-1 Mountain West Conference), who play their much-anticipated first game of the season against New Mexico on Saturday night. The Lobos (19-5, 10-2) are in second place in the MWC going into their game at UNLV on Wednesday night. The Aztecs and Lobos finish the regular season at San Diego on March 8.
"We just had to come out and get a win," said point guard Xavier Thames, who was held to a season-low four points. "We didn't want to make a statement or anything. We just wanted to come out and compete hard and we did that for 40 minutes."
Utah State (15-11, 5-9) would have tied its season-low of 42 points if not for a 3-pointer by Viko Noma'aea with 29 seconds left. SDSU held the Aggies to 34 percent shooting. SDSU led by double digits since 10:56 in the first half and scored the last 10 points of the game.
"This was a good win against a good team that didn't play well tonight and we had a lot to do with it," SDSU coach Steve Fisher said. "What they did in our first game, coming off screens and making shots, they shot 52 percent they were 9 of 18 from 3-point range, we took away from them tonight. We made it hard for them to get good looks and that can wear on you. We're very proud of how we competed and played. I'm very, very pleased with how we played."
Utah State coach Stew Morrill couldn't say the same thing.
"We could have come in here and played well and lost," Morrill said. "We didn't. We came in here and played poorly and lost. Their defense is very good. They gave us very little. They were long and tough on the boards."
The previous high for Shrigley, a redshirt freshman, was 14 points against San Diego Christian on Nov. 20.
"I think I played well. I just wanted to go out and compete like our coaches always say, and play hard. ' Shrigley said. His teammates "were getting me the ball in the right situations. The corner was open and X was able to get me those wide-open shots."
SDSU was playing one day after dropping one spot in The Associated Press Top 25. It lost at Wyoming a week earlier, its first defeat since Nov. 14, at home to Arizona. The Aztecs rebounded by beating Air Force at home on Saturday night.
Jarred Shaw and Spencer Butterfield scored 10 points apiece for Utah State.
Utah State pushed the Aztecs into overtime at Logan on Jan. 25 before losing 74-69. The Aggies shot 60.9 percent in the second half of that game.
San Diego State took control early, holding Utah State scoreless for nearly six minutes while going on a 12-0 run that included two 3-pointers by Shrigley for a 16-5 lead. After Shaw made a layup, Shrigley hit another 3.
San Diego State quickly pushed the lead to 32-14, getting a three-point play and a layup from JJ O'Brien, a bucket off a rebound by Winston Shepard and a layup and two free throws by Thames.
The Aztecs led 35-22 at halftime.
"They're really good defensively," Butterfield said. "They're in the Top 10 in the country for a reason -- they play tough defense. They've got some tall guards and they're all very athletic."
---