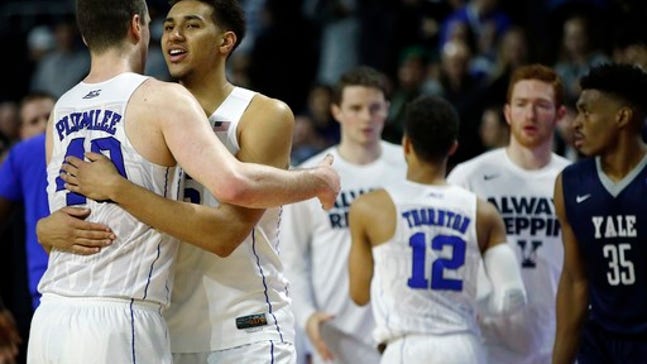 Defending champ Duke back in Sweet 16, beats Yale 71-64
Published
Mar. 19, 2016 9:27 p.m. ET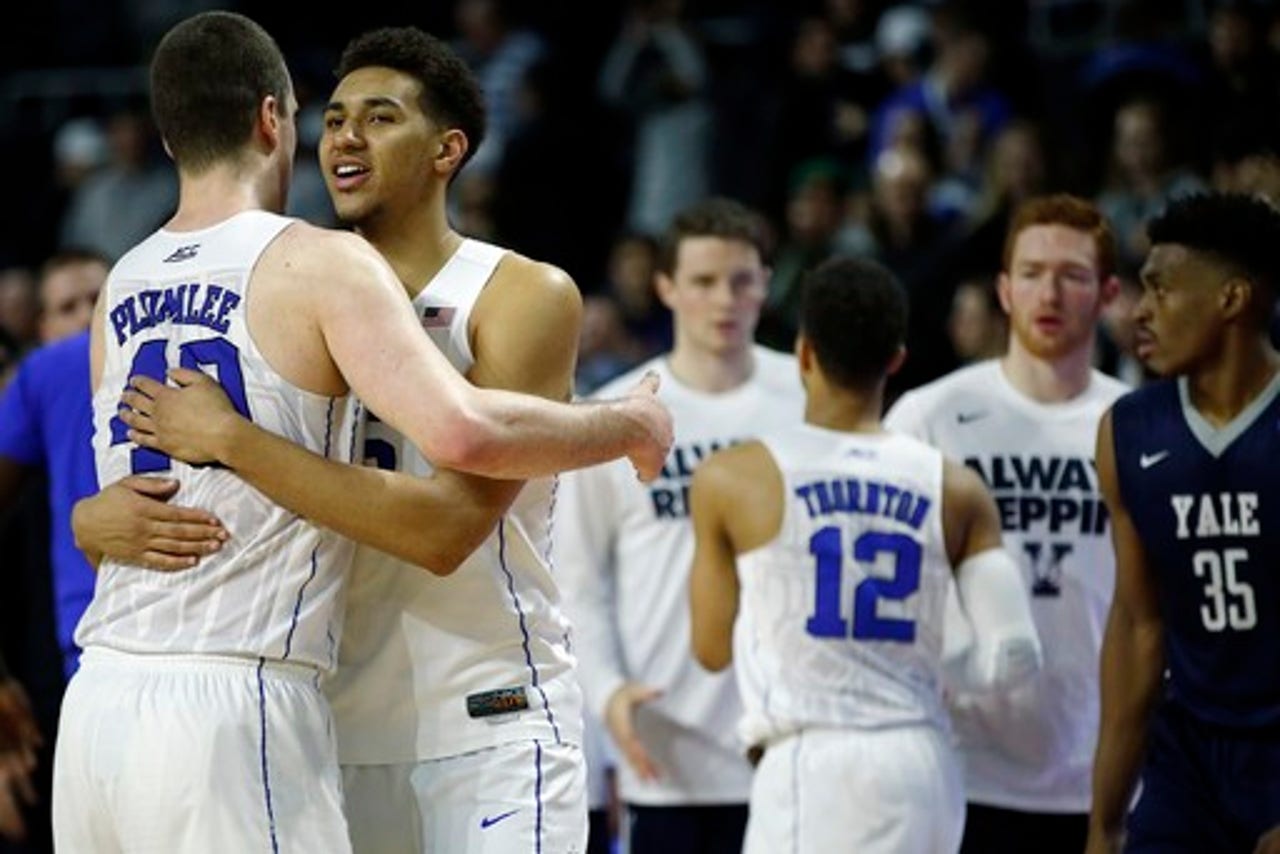 PROVIDENCE, R.I. (AP) Grayson Allen had 29 points, including five 3-pointers, to help Duke fend off a furious rally by Yale and advance to the Sweet 16 with a 71-64 victory on Saturday in the NCAA Tournament.
Brandon Ingram added 25 points and five rebounds for the defending champions, who will play the winner of top-seeded Oregon and St. Joseph's.
The West Region's No. 4 seed, Duke led by as many as 27 points in the battle of the brainy schools before seeing that dwindle to just three points with less than a minute to play.
Yale came close to forcing a needed turnover, but eventually had to foul. Duke connected on four of its final five free-throws to close out the game.
Brandon Sherrod led the 12th-seeded Bulldogs with 22 points. Justin Sears added 12 points and 11 rebounds.
Yale used a 15-0 run to cut what had been a 23-point halftime deficit to 54-47 with 11:38 left. Duke, which sizzled early offensively, missed eight consecutive shots during the spurt.
Duke then lost some of its rebounding presence when big man Marshall Plumlee had to go to the bench after being called for his fourth foul with just under 9 minutes to play.
Yale got the lead all the way down to 60-53 on a dunk by Sherrod before Plumlee was re-inserted into the game.
Allen scored on a layup, and then after a Bulldogs' turnover, Ingram got free and drilled a 3-pointer from the wing that got the lead back up to 65-53.
Yale kept chipping away and a tip-in by Justin Sears off a missed free throw by Sherrod made it 67-64 with just 39 seconds to play.
Leading 69-64, Duke missed on a one-and-one opportunity, but Yale couldn't capitalize on its next possession.
Allen was fouled and he calmly knocked in a pair of free throws.
Yale came out energized and briefly took a 13-12 lead.
That momentum was short-lived.
The Blue Devils hit seven of their first 10 shots and went 9 for 15 from the 3-point line in the half as it opened up as much as a 27-point lead.
Duke spread out the Bulldogs on defense and took care of the ball with only two turnovers.
Yale did get some open looks on its end, but couldn't match Duke's accuracy. The Bulldogs were just 1 for 11 from beyond the arc in the opening 20 minutes.
TIP-INS
Yale: Outrebounded Duke 42-28. Lost for only the second time this season when outrebounding its opponent. The Bulldogs entered the game 21-1 when winning the rebounding battle.
Duke: Ingram has made 3-point field goal in 28 consecutive games. ... Saturday's win was Mike Krzyzewski's 90th in the NCAA Tournament.
UP NEXT
Duke: plays the winner of St. Joseph's and Oregon in the Sweet 16 on Thursday.
---
The AP's college basketball page: www.collegebasketball.ap.org
---
Follow Kyle Hightower on Twitter at http://www.twitter.com/khightower
---