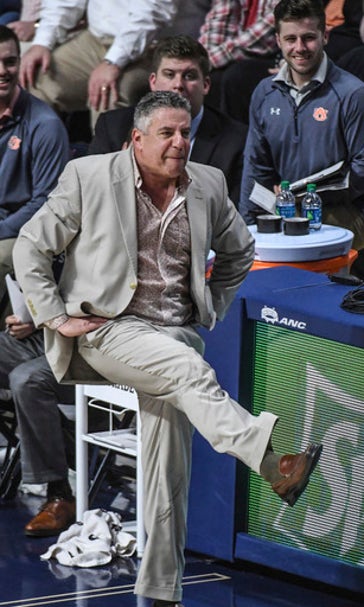 Davis, Ole Miss rally after halftime to defeat Auburn (Feb 11, 2017)
February 11, 2017

OXFORD, Miss. (AP) Mississippi guard Terence Davis did not start Saturday's game against Auburn, but the sophomore guard proved he knew how to finish it, scoring 26 second half points as the Rebels bounced back from a 23-point second half deficit to defeat the Tigers 90-84.
''In the second half, I just played strong,'' said Davis, who finished 11 of 13 from the field and added six rebounds despite three fouls.
Ole Miss (15-10, 6-6) also needed 12 consecutive free throws in the final 1:17 to seal it, including 10 by Deandre Burnett, who finished with 18 points. Cullen Neal scored 20 points off the bench and Sebastian Saiz added 10.
''We play segments where we look like a really good basketball team,'' Mississippi coach Andy Kennedy said. ''In the second half, we threw caution to the wind and I have players that have faith that they could somehow get it done.''
Ronnie Johnson led Auburn (16-9, 5-7) with 18 points, while Mustapha Heron and Danjel Purifoy added 16 and 12 points, respectively. Heron's 3-point shot gave Auburn a seemingly insurmountable 52-29 lead with 18:13 left.
''This is the most disappointing loss in my two and a half years at Auburn,'' said Auburn coach Bruce Pearl. ''What else can I tell you? It's my most disappointing loss here. The difference is at our place, they shot 23 free throws and made 19. Today they shot 23 and made 21 (in the second half).''
The Rebels led 78-71 on a Davis layup with 2:08 left, setting up 12 consecutive free throws, 10 by Burnett and a pair by Justas Furmanavicius, to seal it. The Rebels finished 27 of 31 (87 percent) from the free throw line and 29 of 66 (43 percent) from the field.
Auburn was 33 of 69 (48 percent) from the field, 13 of 30 (43) from 3-point range, including 4 of 6 by Johnson. The Tigers were only 5 of 8 from the free throw line and had 20 turnovers.
BIG PICTURE
Auburn: The Tigers have lost 10 straight in the series, stretching back to 2012. The Tigers had first half runs of 13-0, 12-0 and 10-0 to build a 47-27 halftime lead. Along with 18 points, Johnson added 8 assists and 3 steals.
Ole Miss: The Rebels have won three of the last four starts. Ole Miss is 108 of 128 (84 percent) from the free throw line in the last five games. The only other time the Rebels rallied from a 23-point deficit to win was 2010 against Alabama.
RESERVE FIREPOWER
Neal's 20 points off the bench, included the go-ahead 3-point shot, 70-69, with 5:06 remaining. Neal hit 3 shots from 3-point range, added a team-high five assists and finished 7 of 7 from the free throw line.
UP NEXT
Auburn hosts No. 17 Florida Tuesday.
Ole Miss hosts LSU on Tuesday.
---
---