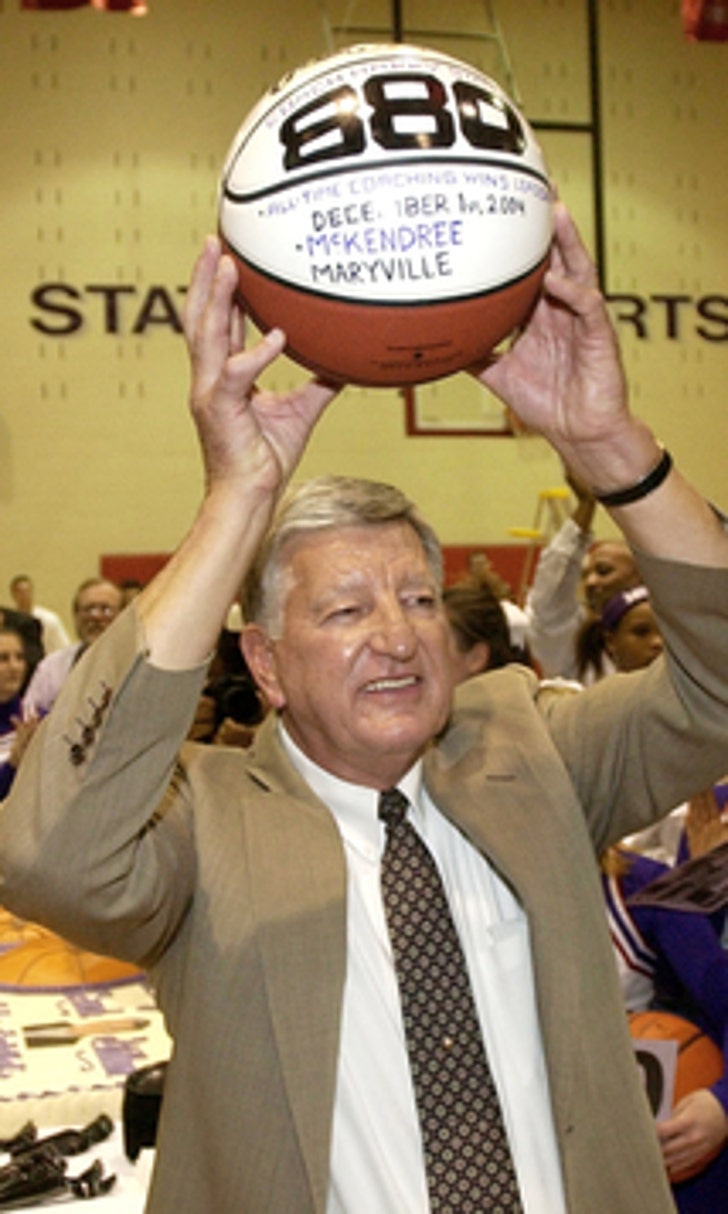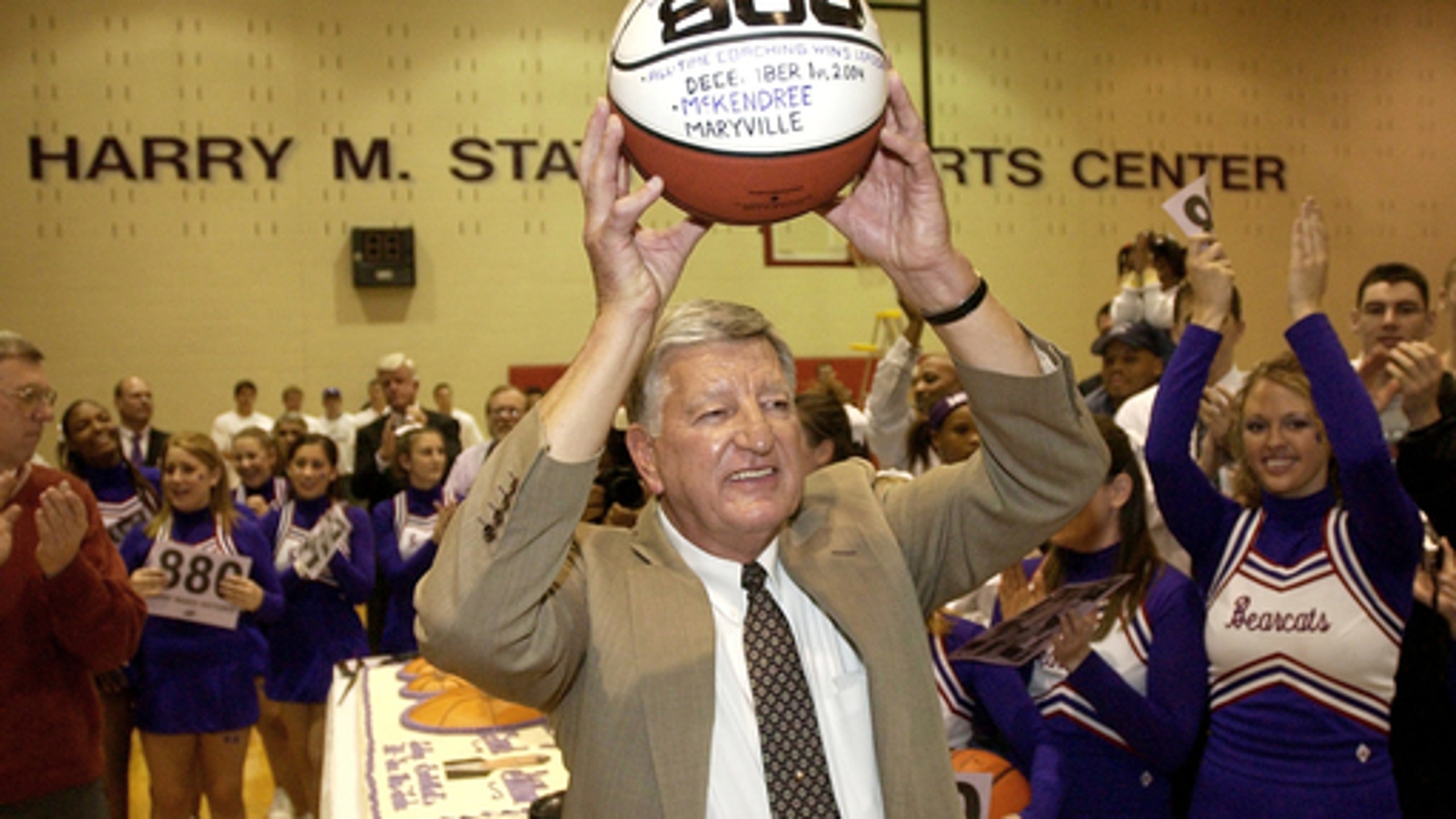 Correction: Statham's Milestone story
BY foxsports • February 4, 2016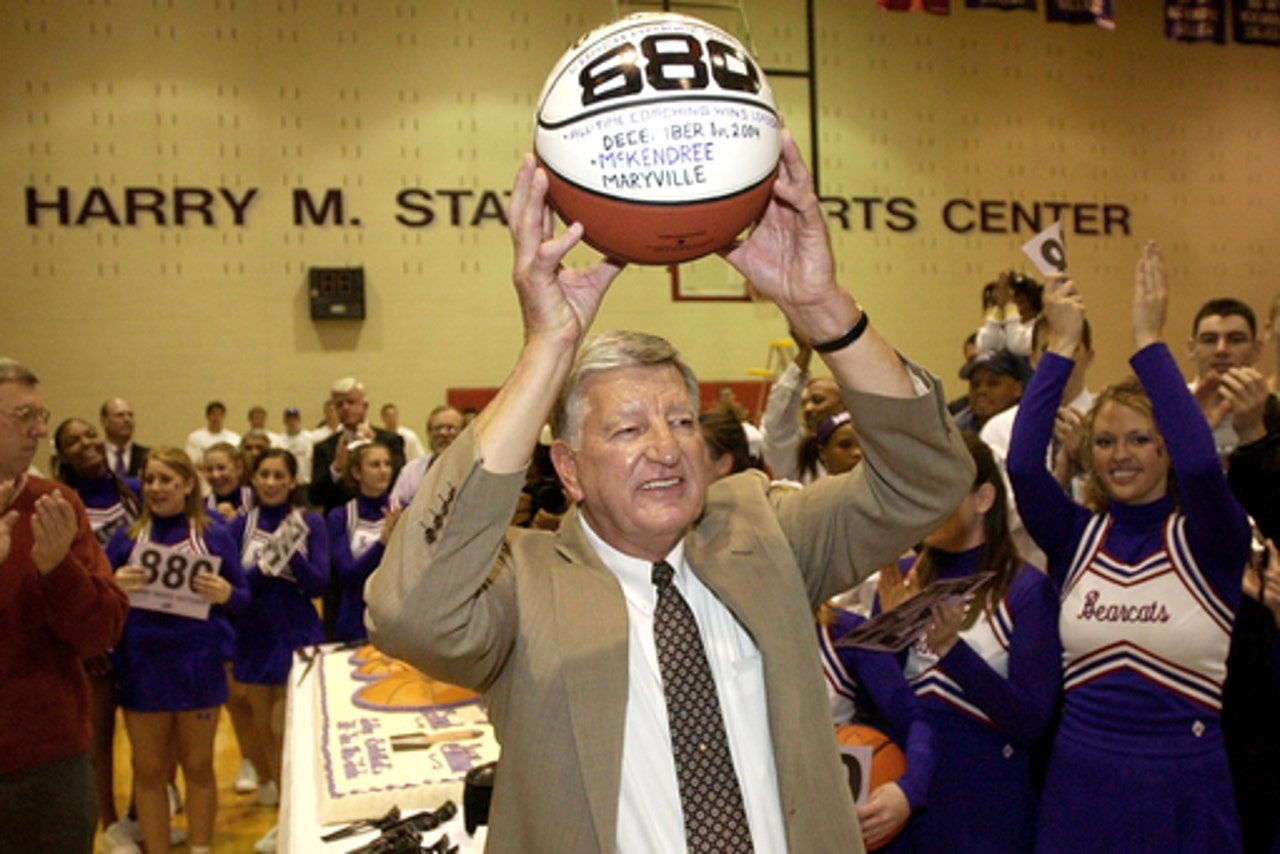 LEBANON, Ill. (AP) In a story Feb. 3 about McKendree coach Harry Statham, The Associated Press erroneously reported his overall record. It is 1,098-475.
A corrected version of the story is below:
McKendree coach just 1 victory away from college record
McKendree University coach Harry Statham has won 1,098 games in 50 seasons
By R.B. FALLSTROM
AP Sports Writer
LEBANON, Ill. (AP) - Fifteen commemorative basketballs, one for each of McKendree University's appearances in the NAIA national tournament, line a high shelf to the left of Harry Statham's desk.
On the wall behind the 78-year-old coach, who arrives just before 10 a.m. for another typical day in a most untypical career, is a plaque celebrating his 600th victory. That seems long ago now.
The mementos are touchstones from a marathon career that's been richly rewarding yet unassuming, the base of operations since 1966 just a few miles and a handful of stoplights off Interstate 64 in southern Illinois. Statham has won 1,098 games in 50 seasons and the next victory will break a tie with Tennessee women's legend Pat Summitt for most ever by a coach at a four-year school.
Statham has done it all without becoming the star attraction. He often dresses comfortably casual in a purple wind breaker, school colors for the Bearcats. He answers calls with a flip phone. He brings a sack lunch to work.
''It's not about me, it's about this season, this team, how we're doing, how we're building,'' Statham said. ''I feel bad personally if we don't win a game or two that we maybe should have won because there's too much attention on that particular thing. It'll happen.''
It's happened before.
Statham received a hand-written note from Summitt when he joined her in the 1,000-win club in 2009. He got a half-hour congratulatory call from Dean Smith in 2004 after passing the North Carolina great for men's coaching wins. None of it is going to his head, not after so many games (1,098-475 overall).
''It's gone quickly, it's really gone fast,'' Statham said. ''It's recruiting, it's the next game, it's the next season and it just kind of rolls over.''
Paul Funkhouser starred for Statham's first teams, was the first of three Statham's products to be drafted by pro teams and then coached under Statham another 15 years. He will always see the 1966 version of his coach wearing white socks with hair cropped short, upbeat while promising nothing but opportunity to kids.
Funkhouser was confident he could predict what the coach would be dining on at his desk, too - lunch meat or peanut butter sandwich, raisins, a cored apple.
''You know if he wanted to, he could have moved on a long time ago,'' said the 67-year-old Funkhouser, now a financial planner in nearby O'Fallon. ''He hates the spotlight. When he says it's about the players, he really means it.''
Certainly, the sudden uptick of interest is a point of pride. Yet Statham wants to get the latest milestone out of the way so all of the focus can be on a school trying to make its mark in NCAA Division II.
Guard A.J. Schmidt, a senior co-captain, said the coach addressed the victory countdown pretty much in passing before the season.
''He made people that weren't aware of it, aware of it,'' Schmidt said. ''We've talked about it some as we've gotten closer, but he's downplayed it about as much as anybody could.''
Statham said he told players he was going to mention it ''one time and then forget it.''
The milestone is motivation for opponents, too. McKendree missed its first chance at victory No. 1,089 at home Saturday in a loss to Lewis.
''This thing right now, everybody is on top of it,'' Statham said. ''All of the teams we're playing are very much aware, and that makes it even tougher.''
The move up in class has been difficult for a school accustomed to so much success with 40 postseason appearances under Statham, including 10 NAIA tournament appearances in a 12-year span from 1999-2011.
McKendree is 10-9 overall and 3-8 in the Great Lakes Valley Conference entering Thursday's game at Missouri-St. Louis. The first three seasons after the move up, the school was a combined 27-51 playing in one of the top Division II conferences in the country.
Players detect no letup in enthusiasm or passion from their coach.
''It's been so positive,'' Schmidt said. ''He's always optimistic, always hungry for the next one.''
Statham clearly remembers his first victory, in his first college game, over Westminster. He works out several times a week, cardio and lifting, and gives every impression he'll be around to see this thing through well past win No. 1,089.
''I don't like losing, nobody does, but you've got to understand it's going to take a little time,'' Statham said. ''There's not many miracles out there.''
---