LSU Tigers
LSU Tigers
Collins scores 24, Alabama beats LSU, 81-66, with late surge (Jan 14, 2017)
Published
Jan. 14, 2017 7:44 p.m. ET

BATON ROUGE, La. (AP) Alabama guard Corban Collins insists he wasn't out to prove LSU should have made more of an effort keep him.
He only played like it.
Collins scored a season-high 24 points against the school where he began his college career and Alabama defeated reeling LSU 81-66 on Saturday.
''I have the utmost respect for this university,'' Collins said of LSU, saying he appreciated the program that ''took a chance'' on him coming out of high school. ''I just came out here just wanting to have fun. ... It was a great feeling being back here again; it's an even better feeling leaving out of here with a victory.''
Collins is a post-graduate transfer who spent his freshman season with the Tigers in 2012-13 and played at Morehead State for two seasons before closing his career this season at Alabama. Against the Tigers, he was 7 of 11 from 3-point range after going just 2 of 10 from deep over his previous three games combined.
Alabama coach Avery Johnson called Collins' performance ''unbelievable.''
''He made shots for us. He kept us calm,'' Johnson said. ''What we saw tonight is why we recruited him. We knew we needed 3-point shooting. We knew we needed leadership and ball-handling.''
Riley Norris, who'd made just 4 of 18 shots during his previous three games, scored a season-high 20 points, including back-to-back 3s that broke a 56-all tie as the Crimson Tide (10-6, 3-1 Southeastern Conference) dominated the final five minutes for its fifth victory in six games.
Duop Reath had 12 points, nine rebounds and three blocked shots for LSU (9-7, 1-4), which has lost three straight and five of six.
Antonio Blakeney scored 11 points, nearly seven points below his team-leading pace this season, and then went down with a right ankle injury with a minute to go.
LSU coach Johnny Jones said he was unsure how severe Blakeney's injury was. Beyond that, Jones tried to set a hopeful tone coming out of his team's latest lopsided loss.
''Everybody's disappointed. Certainly, winning's important,'' Jones began. ''We've just got to make sure we have some fighters in this group with the right mindset, mentality and attitude.''
Donta Hall scored five of his 13 points on two dunks and a free throw during Alabama's late surge.
Skylar Mays added 12 points and Aaron Epps 11 for the Tigers.
TURNING THE TIDE
Alabama, which shot only 28 percent (9 of 32) during the first half, trailed or was tied with LSU for most of the game, but shot 51.6 percent during the second half and hardly missed a shot down the stretch.
The Tide also scored 25 points off of 18 LSU turnovers and turned 15 offensive rebounds into 13 second-chance points.
LSU's Jones said his team's turnovers ''were the difference in the game.''
NO REST FOR REATH
The 6-foot-10 Reath fouled out down the stretch after playing 32 minutes.
''I wish we could find more areas to have an opportunity to rest him,'' Jones said. ''If we have to stretch him to those minutes then he's probably not as effective as he could be, but he's given us a lot and he's a fighter.''
BIG PICTURE
Alabama: The Crimson Tide has won seven of its last 10 with two of its three losses coming against opponents who were ranked at the time (Oregon and Florida). If Collins, who'd hit just three of 16 shots in his previous three games, and Riley can perform more consistently as they did at LSU, Alabama could enjoy considerable success during the remainder of its league slate.
LSU: The Tigers are desperate just to become competitive again in their own league. LSU has lost each of its last three conference games by double digits, with two of those games at home. It only gets more challenging if Blakeney's injury sidelines him a while.
UP NEXT
Alabama: Returns home to host Missouri on Wednesday night.
LSU: Visits Auburn on Wednesday night for the first of two straight road games next week.
-----
More AP college basketball: www.collegebasketball.ap.org and https://twitter.com/AP-Top25.
---
---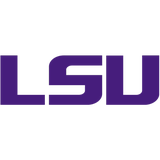 Get more from LSU Tigers
Follow your favorites to get information about games, news and more
---