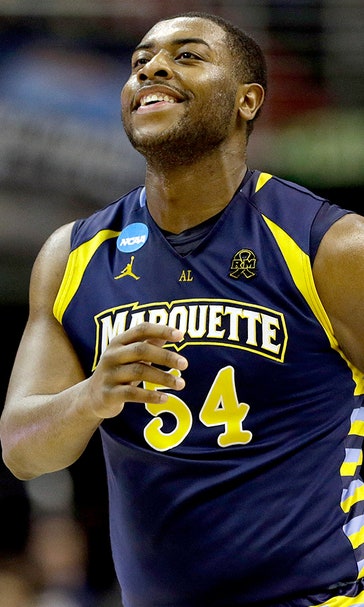 Buzzworthy: Unlikely Marquette star makes Big East fun
BY Reid Forgrave • November 13, 2013
MILWAUKEE — The first time I saw Davante Gardner step to the free-throw line, I thought the Marquette student section was joking.
"€œAUT-o-MAT-ic!"€ chants rained down.
Come on, I thought. Dude is listed at six-foot-eight, 290 pounds, a guaranteed brick if I ever saw one.
Then, sure enough: Swish, swish.
And a big smile from Gardner.
As the new Big East searches for its identity, it will rely on players such as Gardner -€" a senior on a typically star-less Buzz Williams team but one of the biggest fan favorites in this developing league -€" to define what this conference will be.
There are plenty of unique characters who give this new league as much flavor as any other. Doug McDermott might be Creighton'€™s player of the year candidate, but it€'s do-it-all sixth-year wing Grant Gibbs who is the team'€™s glue guy, and the basketball-savvy crowd in Omaha knows and appreciates this.
Butler'€™s Roosevelt Jones -€" whose season-ending wrist injury this summer dealt nearly as big of a hit to the Bulldogs'€™ chances as Brad Stevens'™ departure to the NBA -€" is a bulldog of a 6-4 forward with the heart of a lion that makes him play as if he'€™s 6-10; the Butler crowd knows he represents the very definition of Butler hoops. A talented St. John'€™s team is filled with characters -€" always-smiling NBA-skilled big man Jakarr Sampson, son-of-a-preacher Gods'€™gift Achiuwa, Nigerian shot-blocking machine Chris Obekpa -€" but it'€™s the enigmatic, passionate scorer D'€™Angelo Harrison who has captured this fan base'€™s heart. Semaj Christon is Xavier'€™s NBA talent, but I wouldn'€™t be surprised if Matt Stainbrook, a 6-10 center who has lost nearly 50 pounds since transferring from Western Michigan, is the one Musketeers fans fall in love with this year.
Still, my No. 1 character in a league filled with them is Gardener, the big dude with the silky smooth shot and automatic demeanor. He'€™s a guy who is tough enough to have dislocated an ankle and popped it back in himself but who is down-to-earth enough to play "€œCall of Duty"€ with Marquette fans. ("€œCall of Duty"€ name: SmooveGuy54.)
Gardner is a gentle giant for the Golden Eagles. When I visited him in Milwaukee this summer, people around the program told me how Gardner came into school quiet and reserved but has since come out of his shell and turned into a team leader.
Williams'€™ squad lost its two best players from last season'€™s Elite Eight run (Vander Blue and Junior Cadougan), yet the team is once again primed to find itself at the top of the Big East. How? It'€™s because of players like Gardner. Williams'€™ teams always seem to add up to greater than the sum of their parts. You don'€™t expect Gardener to make 15 free throws and drop 25 points in his season debut, but that'€™s exactly what he did Friday. He'€™s a YMCA-style player who simply sneaks up on you.
We'€™ll get to Gardner in a minute. But first, let'€™s discuss how these Buzz Williams teams always seem to exceed expectations. All this team did last year was win about a million close games on the way to being tied for the Big East regular-season title (with eventual national champion Louisville and NCAA tournament two-seed Georgetown) and make the Elite Eight. Yet no single player stood out from last seasons'€™s group. Marquette just seemed to always play stout defense, stay in every single game and show its heart in the final minute when it mattered most.
Everyone I'€™ve talked to inside of Marquette basketball points to one thing that makes these guys play like a tougher, more workmanlike team than any other: the Buzz Williams preseason boot camp.
A two-week stretch every October is where, Marquette players say, this team is formed. Williams has them split into teams and run series of timed sprints, down-and-backs of various lengths. This is where leaders emerge on these teams; it'€™s also where the sounds of vomiting are frequently heard. Complete the two weeks and you'€™ll receive a boot camp T-shirt. These shirts are nearly as prized among these players as a Big East trophy.
Which brings me back to Gardner, my favorite character in the new Big East. Can you imagine him running wind sprint after wind sprint, keeping up with this team'€™s speedy guards? Why in the world would he submit himself to the torture?
"€œI knew Buzz was going to push me as hard as I can,"€ Gardner told me over the summer. "€œSometimes in high school, I'€™d take plays off just to catch my breath. I'€™d sit and watch. Now every play I'€™m going really hard. ... When I first got here, Buzz was always on me, telling me to get in shape, waking me up at 5 or 6 a.m. for workouts, working out three or four times a day."€
That first year of boot camp, Gardner wanted to quit. Williams puts a bell in the middle of the floor. Ring that bell and you'™re done for the day; you also won'€™t get a T-shirt. Gardner wanted to ring that bell almost every day.
"€œIt was hell,"€ he said.
But he made it through, he got the T-shirt, and he dropped from about 315 pounds to about 295 in about two weeks.
The coaches have stayed on him. That first season, Gardner texted coaches his food intake every time he ate. It'€™s easy for opposing fans to heckle Gardner for his weight; it'€™s also uncouth and unkind and ignores Gardner'€™s achievement. So many of us struggle daily with weight, but how many of us are able to work our tails off to lose that weight -€" then compete at a level of Division 1 basketball that'€™s high enough to warrant consideration as a dark-horse All-American candidate?
"€œAt first I don'€™t think Buzz ever thought I'€™d make it here,"€ Gardner said.
And perhaps that'€™s why Gardner is so beloved by Marquette coaches and fans. He plays better than the sum of his parts. He'€™s overachieved. Like Marquette, people always consider him an underdog; like Marquette, he just always seems to win.
That'€™s why, when Gardner steps to the free-throw line this year and the student section begins their chant, he doesn'€™t mind. He kind of likes it. He'€™s automatic, SmooveGuy, nice and easy. And he knows Marquette is his kind of place, a school he fits like a glove.
Follow Reid Forgrave on Twitter @reidforgrave or email him at ReidForgrave@gmail.com.
---
---