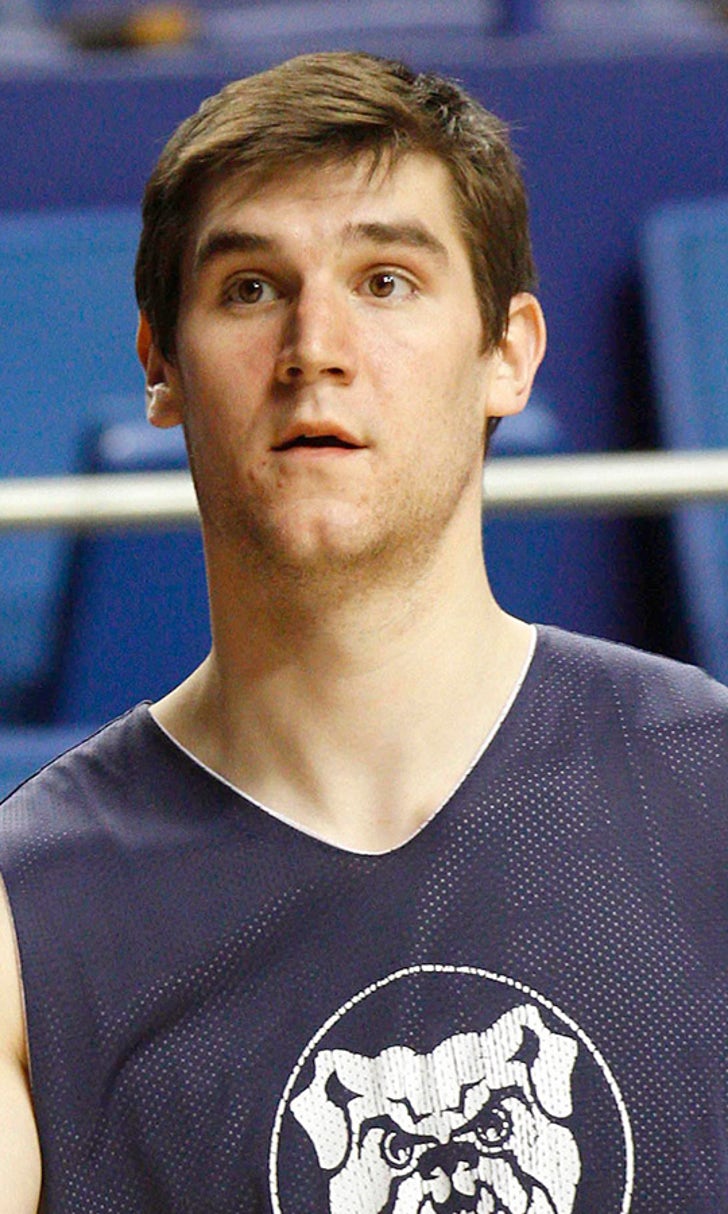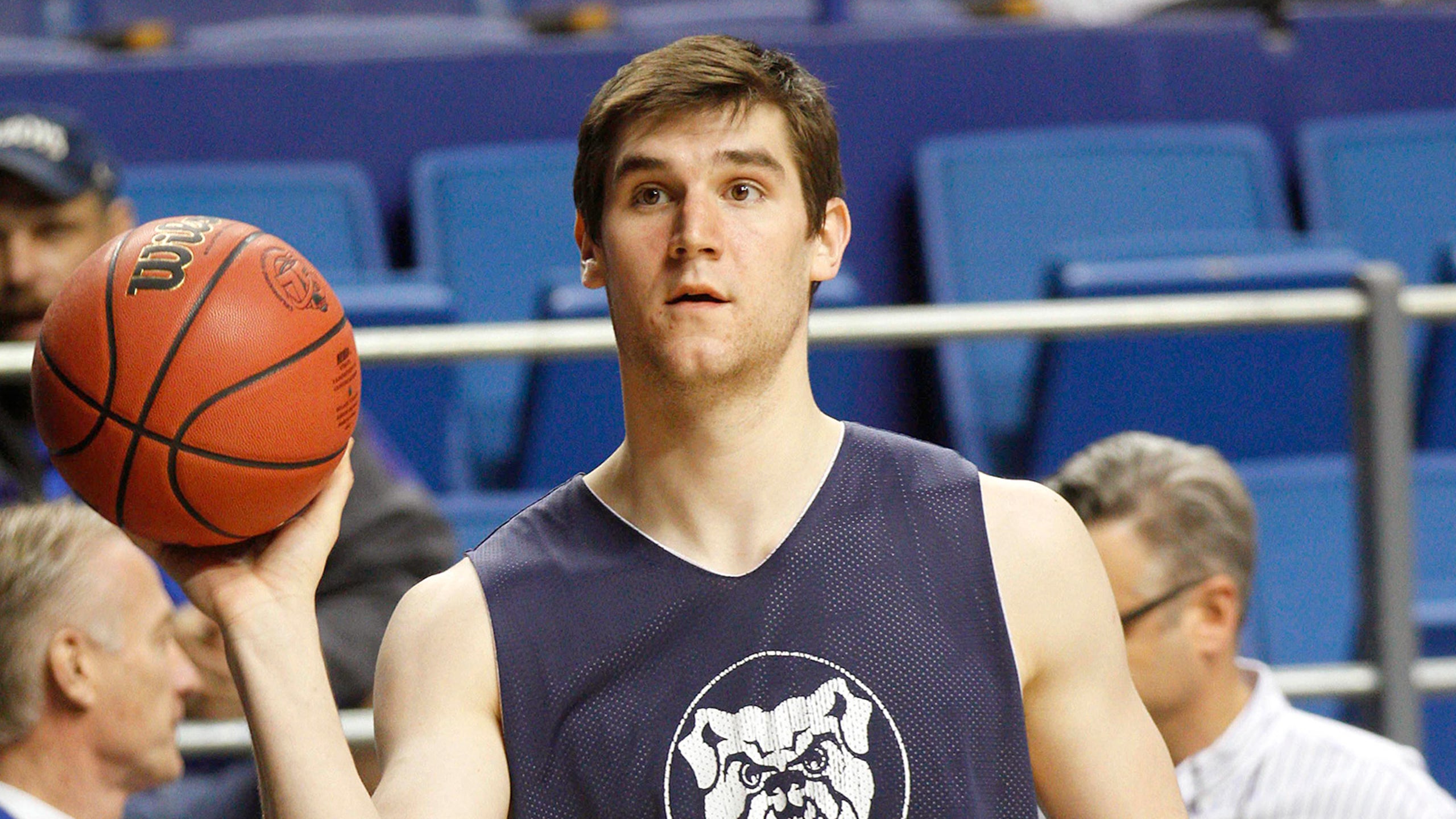 Butler basketball rallying around cancer-stricken Andrew Smith
BY Reid Forgrave • January 11, 2016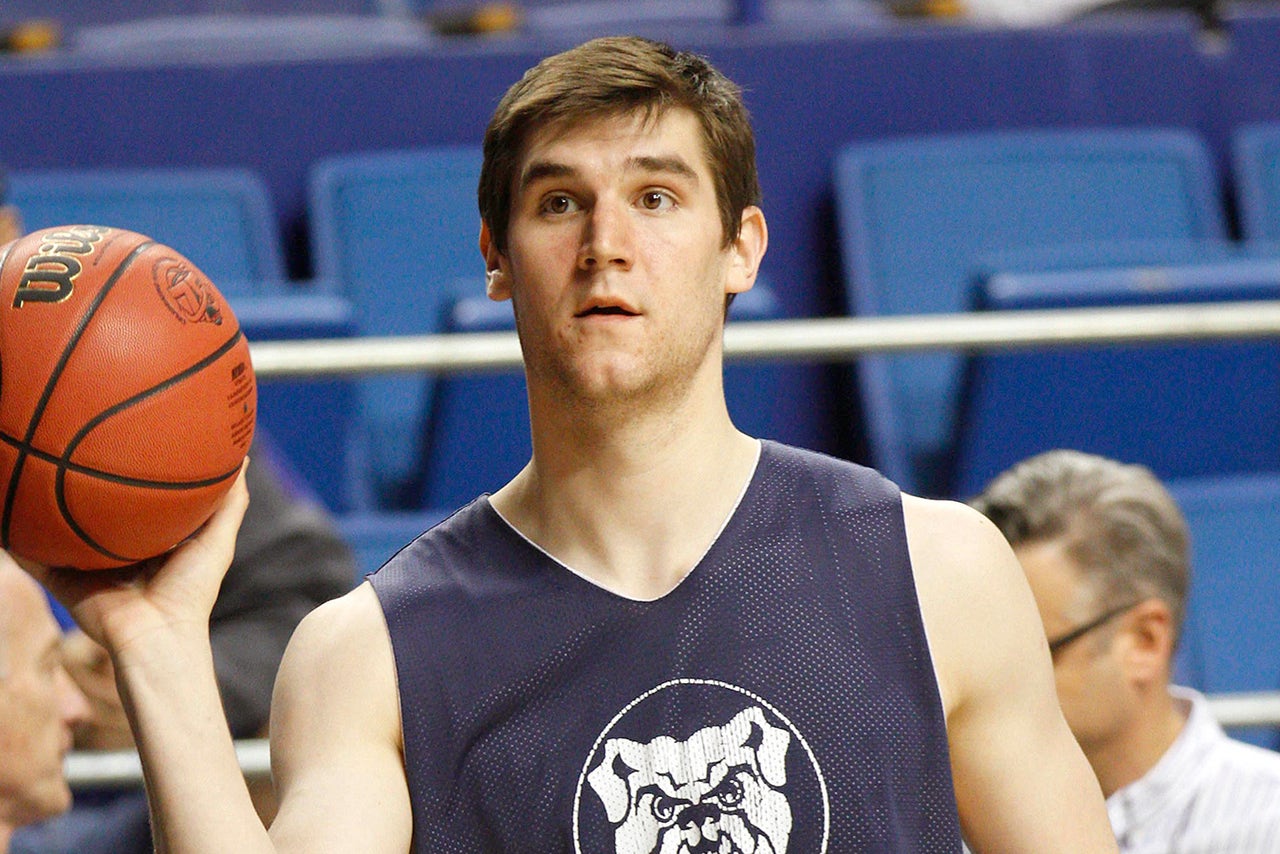 INDIANAPOLIS – It may be one of the most difficult asks of the human spirit: to stay positive despite the creeping assault of a relentless, life-threatening disease.
Yet that is what we have seen in the Butler basketball community in recent months as former Bulldogs big man Andrew Smith, a contributor for Butler's two Final Four teams, faces the recurrence of a cancer that now has him on the brink of death.
"I can't wrap my head around the fact that there is nothing left to do for Andrew except tell him how much I love him, hold his hand and be with him for every second we have left together," Samantha Smith, the wife of the 25-year-old Smith, wrote on her blog on Sunday. "The doctors tell me death is imminent and that Andrew is going to die from this disease. There are no treatments, no clinical trials … there is nothing left to do."
The remarkable part of the Smiths' two-year battle with non-Hodgkin's lymphoma and an aggressive form of leukemia is how Smith's wife has documented his consistently positive spirit in the face of this disease. It is a spirit that has touched so many in and around the tight-knit Butler basketball community, from students who this fall held a bone-marrow registration drive in Smith's honor to Boston Celtics head coach Brad Stevens, Smith's coach at Butler, missing an NBA game last week to visit with his former player in the hospital.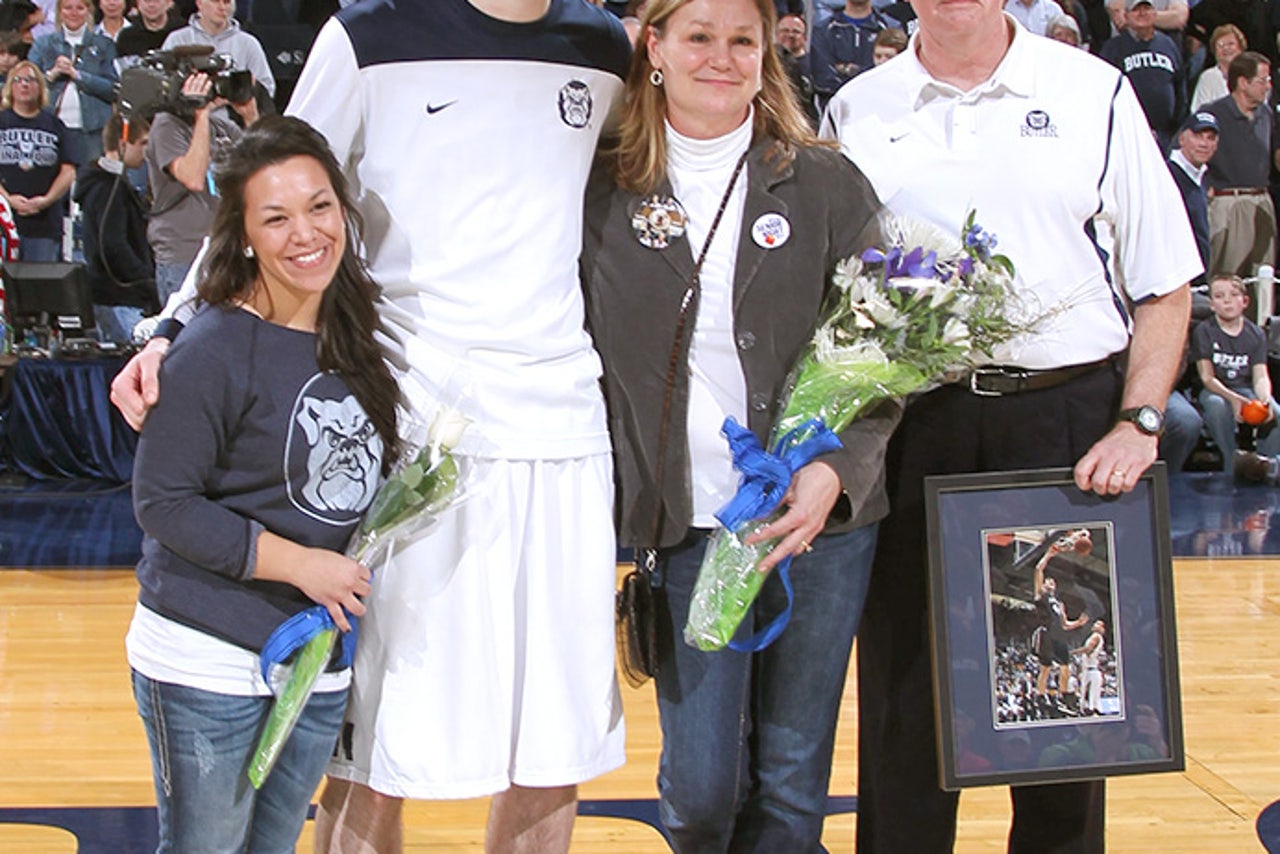 In 2013, Smith posed with his family at Butler's senior day. Saturday, he'll be the focus of Butler's Stay Positive Day.

Saturday at Hinkle Fieldhouse, the Bulldogs will face St. John's, and the day will be dubbed Stay Positive Day. It's an event that aims to raise $25,000 for Smith's family through an organization, Stay Positive, that was founded by former Butler student Eric Day, a two-time cancer survivor.
A year ago, both Smith and former Butler player Erik Fromm, who lost his father to cancer, spoke to the crowd during media timeouts at that season's Stay Positive game. Smith's cancer has since recurred, so Day is dedicating Saturday's event to Smith.
Here's how the 24-year-old Day came to found this organization. When he was a college freshman, he started experiencing headaches. Doctors were initially confused, then a CAT scan revealed a mass in the middle of his brain. It was cancer. He had a stroke. The stroke paralyzed the left side of his body. He was in a coma for 23 days at an Indianapolis hospital. He had radiation and went through rehab. Stevens, then the Butler head coach, visited him at the hospital and brought him a basketball signed by the entire team – a team that would end up going to its second straight Final Four. Smith's autograph was on that ball. In many ways, that ball was an inspiration to Day.
During Day's sophomore year, the mass returned to his brain. He took the spring semester off of school. During sessions of radiation at a hospital in Bloomington, Day met a 6-year-old girl, Allison Williams, who was battling stage four cancer. She had a tracheotomy in her windpipe, so the two communicated by signing. As the college sophomore with cancer played with the 6-year-old girl with cancer, she changed his outlook on life.
"I can only control my attitude," he said. "We'd play hide-and-seek. We'd play tag. We'd play on the swingset. And she was always so cheerful. For how bad I am, there are so many people worse off. It just put things in perspective."
Day's cancer is now in remission, but he won't be considered cancer-free for 11 more years. He has written a children's book, "Stay Positive," and founded this organization. He sells wristbands that say "Stay Positive" and have the inscription "G3" – Give God Glory. Photos of Andrew Smith on his wife's blog often show him wearing the wristband -- which has also been on the wrists of all sorts of famous people, from Indianapolis Colts coach Chuck Pagano to members of country music band Lady Antebellum.
On Saturday, Butler students will sell those bracelets for $1 apiece. McKenzie Evans, the girlfriend of Butler shooting guard Kellen Dunham, helped make posters and bookmarks with three of Smith's favorite Bible verses. The posters will be on sale for a minimum donation of $5. Day is also raising money for Smith and his family online.
Day will speak to the crowd about his organization and his mentality and about trying to stay positive for Andrew Smith despite Smith's dire diagnosis. When I talked with Day this week, he said he wasn't sure what he'll say. Smith may still be battling for his life come Saturday, or the cancer may have already taken it. Day knows one thing: When you are in the throes of losing someone to such a vicious disease, it's difficult to see the light at the end of the tunnel. The aim for Saturday's game is to see that light.
"Look at the positives, at how many people he's impacted," Day said. "It's a message we all can live by."
And as Smith fights for his own life, it's a message he and his wife appear to be living by as well.
"What the doctors tell me (does) not change my prayers," Samantha Smith wrote Sunday on her blog. "I still pray every waking moment for a miraculous healing. I ask that is your specific prayer, as well. I ask that we all pray for God to reach down and touch Andrew's body and rid it of this absolutely vicious disease. I ask that we all pray that God would remove all of the bad and replace it only with good. …
"I ask for prayers for his miraculous healing – and soon. I ask for strength and peace. … God has granted us miracles before in Andrew's life, He has saved it once before, and we pray and plead that He does it yet again."
Follow Reid Forgrave on Twitter @reidforgrave or email him at ReidForgrave@gmail.com.
---