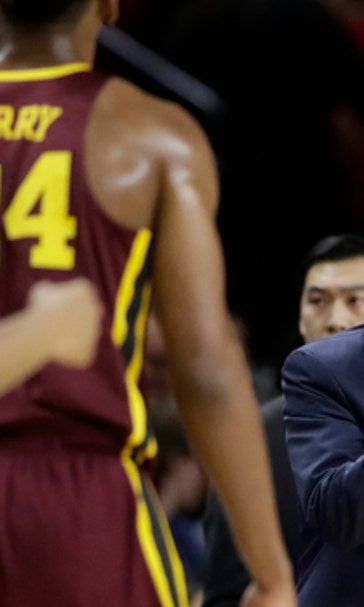 Bubble Watch: Izzo's Spartans still shoring up NCAA resume
February 24, 2017

RALEIGH, N.C. (AP) Michigan State and Tom Izzo have repeatedly made March the Spartans' month with strong finishes and Final Four runs. The Spartans are having a tougher time locking down their NCAA Tournament spot and building late-season momentum this time around.
Michigan State (17-11, 9-6 Big Ten) has won five of seven but likely still has work ahead to ensure a Big Ten-record 20th straight NCAA trip.
''I just plan on us figuring out a way,'' Izzo said this week. ''If I'm talking about it, there's five other Big Ten teams talking about it, there's four or five ACC teams, there's three or four SEC teams. I mean, there are so many teams that are 6-8 to 8-6 around the country that everybody's in the same boat.''
The Spartans - with seven Final Fours under Izzo, most recently in 2015 - started with a No. 12 preseason ranking in the Top 25 despite significant personnel losses that included national player of the year Denzel Valentine. But they fell out before December while playing a crushing schedule that included losses to Arizona, Kentucky, Baylor in the Battle 4 Atlantis tournament and Duke.
Michigan State also lost twice to 14th-ranked Big Ten leader Purdue, and lost at home in December to a Northeastern team that sits at No. 131 in the RPI.
Michigan State is No. 43 in the RPI and No. 52 in KenPom rankings after Thursday's win against Nebraska. The Spartans were slotted as No. 10 seeds in recent ESPN, CBSsports.com and USA Today projections, putting them at the back end of at-large bid candidates.
Michigan State hosts No. 16 Wisconsin on Sunday then visits Illinois and No. 24 Maryland before playing in the Big Ten Tournament. The Spartans will also have the challenge of playing without senior guard Eron Harris after losing him to a knee injury.
''I think there's going to be a lot of things that happening in these last two weeks,'' Izzo said. ''We've just got to take care of as much of our business as we can and see where that takes us.''
ON THE RISE
Dayton: The Flyers (22-5, 13-2 Atlantic 10) entered Friday's game at Davidson with seven straight wins since falling at VCU. Dayton is 10-4 against RPI top-100 teams and sits at No. 24 in the RPI.
Middle Tennessee: The Blue Raiders (24-4, 14-1 Conference USA) have lost once since Dec. 21 and are 32nd in the RPI with wins against Southeastern Conference teams Vanderbilt and Mississippi. The goal now is to continue bolstering the resume so a stumble in the league tournament doesn't end their NCAA hopes.
Minnesota: The Gophers (21-7, 9-6) looked like a lost cause with five straight losses to end January, but they've won six straight since - including 89-75 at No. 24 Maryland on Wednesday. They also sit at No. 15 in the RPI a year after an eight-win season.
Syracuse: Just when the Orange was drifting into higher-risk category, John Gillon banked in a 3-pointer to beat No. 10 Duke on Wednesday. Syracuse (17-12, 9-7 ACC) had lost three straight games but now has three home wins against top-10 teams (Florida State and Virginia were the others) despite a No. 76 RPI. Winning Sunday at No. 7 Louisville couldn't hurt.
FADING HOPES
Alabama: The Crimson Tide (16-11, 9-6 Southeastern Conference) hurt themselves with Thursday's 60-55 home loss to Georgia. They've lost four of seven in February, with two wins coming against LSU and Missouri teams that are a combined 3-27 in the SEC.
TCU. The Horned Frogs (17-11, 6-9 Big 12) have lost eight of 11, though first-year coach Jamie Dixon deserves credit for getting a long-struggling program in the discussion for its first NCAA bid since 1998.
Utah. The Utes (18-10, 9-7 Pac-12) have lost four of seven, including Sunday's loss to an Oregon State team that was 0-14 in league. The Utes - 84th in RPI - are 1-9 against RPI top-100 teams.
Wake Forest. The Demon Deacons (16-12, 7-9 ACC) pass the eye test as a tournament team behind sophomore big man John Collins, an ACC player of the year candidate. But they lack a top-shelf win to put them comfortably over the line - and they're running out of time to get it. The Demon Deacons (40th in RPI, 33rd in KenPom) are 1-9 against RPI top-50 teams entering next week's visit from No. 7 Louisville.
---
AP Sports Writer Larry Lage in East Lansing, Michigan, contributed to this report.
---
Follow Aaron Beard on Twitter at http://www.twitter.com/aaronbeardap
---
More AP college basketball: http://collegebasketball.ap.org and http://www.twitter.com/AP-Top25
---
---