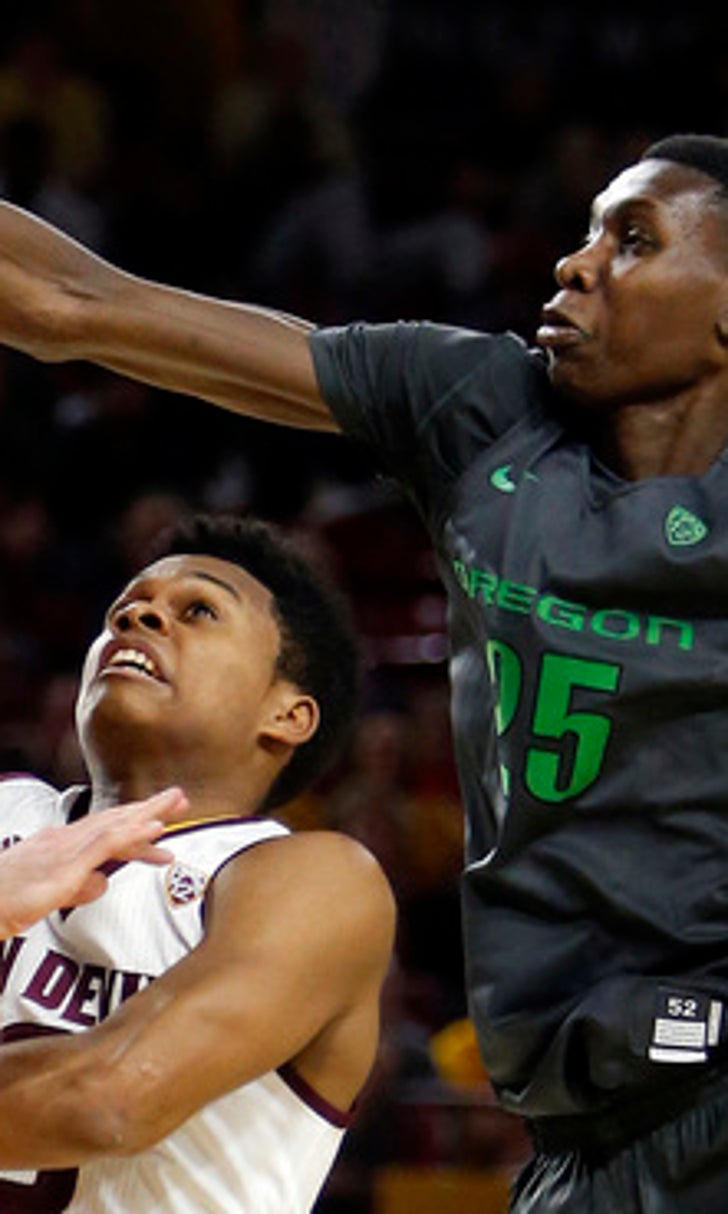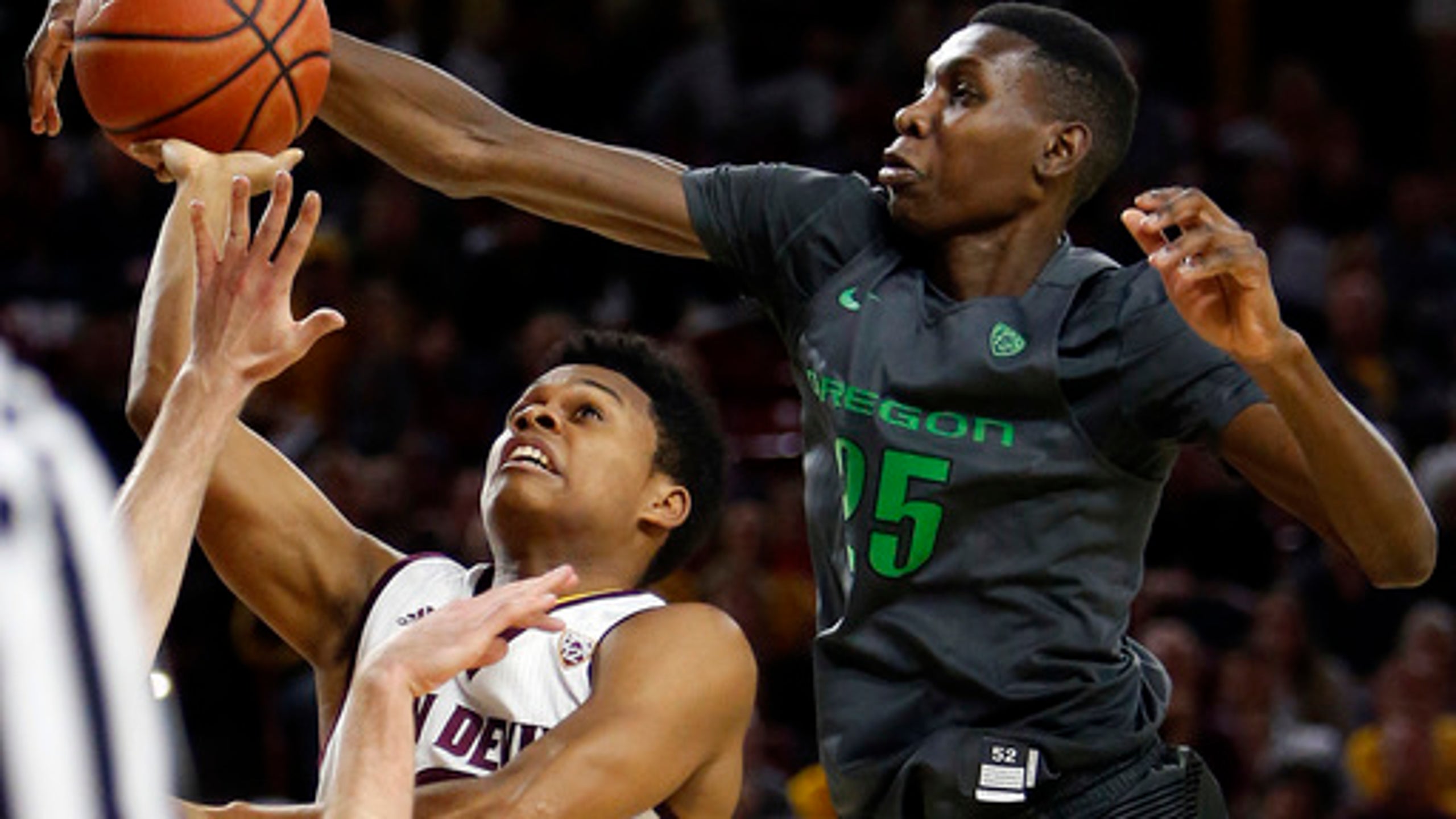 Boucher's career-high 26 lead No. 23 Oregon past Arizona St
BY foxsports • February 1, 2016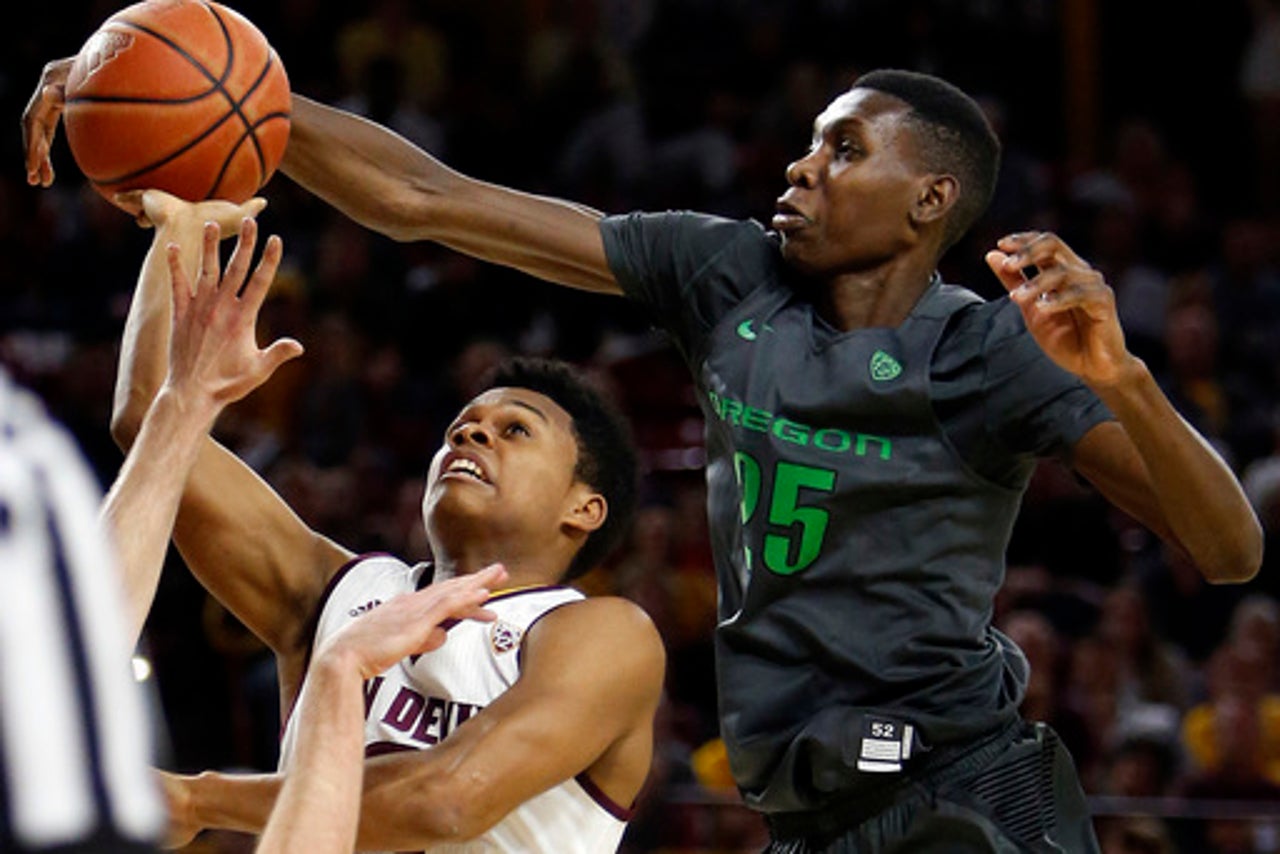 TEMPE, Ariz. (AP) Chris Boucher is in just his fourth year of organized basketball, and Sunday night was the best yet for Oregon's 6-foot-10 stringbean forward.
He scored a career-high 26 points, grabbed 10 rebounds and blocked seven shots and the 23rd-ranked Ducks took sole possession of first place halfway through the Pac-12 season with a 91-74 victory over Arizona State.
''Unbelievable game,'' Oregon coach Dana Altman said. ''He really, really changed the game. He was super tonight.''
Dillon Brooks added 18 points and Tyler Dorsey 16 for the Ducks (18-4, 7-2), who won their fourth straight and seventh in the last eight games. Oregon is ahead of four teams at 6-3 in conference play.
''We put ourselves in a good position winning these two games,'' Oregon's Elgin Cook said. ''But it's a real deep league. We just don't want any slip-ups.''
Boucher was the national junior college player of the year last season at Northwest College in Wyoming and transferred to Oregon despite never playing an organized game until age 19. He's listed as a senior but has appealed to have another year of eligibility restored.
In this one, he hurt the Sun Devils from inside and outside, sinking a career-best four 3-pointers in eight attempts and swatting away repeated Arizona State drives at the rim.
''Boucher is a lot tougher than he looks,'' Sun Devils coach Bobby Hurley said. ''... He was flawless with his shooting. He was driving it, he was dunking it, he was blocking shots. He's a big-time player.''
Obinna Oleka scored 17 points and Gerry Blakes 15 for the Sun Devils (12-10, 2-7).
Oregon completed a sweep of the Arizona teams in the desert. The Ducks ended No. 18 Arizona's 49-game homecourt winning streak with an 83-75 win in Tucson on Thursday night.
Altman warned his team of a possible letdown after such a big win.
''He was like, `You know, if we lose to Arizona State it doesn't matter if you beat Arizona,''' Boucher said.
The coach said it helped that the team had an extra day off to get over the Arizona victory and ready for the Sun Devils.
''This is one place where the schedule did us a favor I thought by giving us an extra day,'' Altman said.
Leading just 37-36 at the break Sunday, Oregon scored the first seven points of the second half from the foul line and the Sun Devils never caught up again.
Three-pointers by Kodi Justice and Blakes cut the Ducks' lead to 53-50, then Boucher sank consecutive 3s, Brooks made two free throws and scored inside and a 12-2 run put Oregon up 65-52 with 8 minutes to play.
Tra Holder's 3 cut the lead to 70-63 but Arizona State could get no closer. A technical foul on Hurley for complaining on a foul call resulted in Dorsey sinking three free throws to put the Ducks up 73-63 with 4:57 left.
Hurley wasn't happy with the free-throw discrepancy. Oregon was 29 of 38 at the line, the Sun Devils 14 of 17.
''The free-throw differential killed us,'' he said. ''Thirty-eight and 17 (attempts). They outshot us at the free-throw line by 15 and the final score was 17.''
The Ducks jumped to a 13-0 lead but Arizona State outscored them 23-7 over the next 8 1/2 minutes to take a 23-20 lead. There were four ties and three lead changes in the first 20 minutes.
''The way that they really separated themselves was with their athletic ability, their length and their ability to create turnovers with that,'' Hurley said, ''and also they were able to block shots.''
TIP-INS
Oregon: Ducks were 9 for 9 at the foul line in the first 1:45 of the second half. ... Boucher's previous career high was 18. ... The Ducks last swept Arizona and Arizona State on the road in 2012. ... Dillon reached double figures for the 16th time in his last 17 games. ... Oregon had more turnovers in the first half (eight) than they did the entire game at Arizona (six).
Arizona State: Sun Devils had won five of the previous seven meetings in Tempe. ... Arizona State's 59 percent shooting percentage Thursday night against Oregon State was its highest in a Pac-12 game since 2013.
UP NEXT
Oregon: hosts Colorado Thursday night.
Arizona State: at Washington Wednesday night.
---