Arizona State Sun Devils
Arizona State Sun Devils
Arizona State outlasts Cal State Fullerton 102-94 in 2OT
Published
Nov. 6, 2018 11:55 p.m. ET
TEMPE, Ariz. (AP) — Luguentz Dort was nervous in his first collegiate game and it showed. Shots clanged off the rim, so did free throws, he got sped up.
Once Dort shook off those early-game jitters, he shot himself into Arizona State's record book.
Dort had 28 points to set a freshman opening-game school record and grabbed nine rebounds, helping Arizona State outlast Cal State Fullerton 102-94 in double overtime Tuesday night in both teams' season opener.
Dort was 1 for 7 from the floor in the first half, but came alive after halftime, making 8 of 15 shots. He scored on a three-point play off a putback with 2 minutes left in the second overtime to put Arizona State up 95-89 and played well defensively most of the night.
"I was a little nervous and I talked to coach Hurley and the other coaches, and they told me to calm down, the game would come to me," Dort said. "The second half, everything was good for me."
Playing its first game with a new lineup, Arizona State got off to a slow start, traded baskets with Fullerton in the second half and made big plays in the overtime periods to open Bobby Hurley's fourth season with a win.
Kimani Lawrence added 16 points and had a key rebound in overtime for the Sun Devils.
"I thought it was great the way we battled," Hurley said. "We faced a lot of adversity, have a lot of things to clean up and get better at. But I'm proud of the way the guys battled to stay in the fight and get into a victory.
Arizona State did most of its damage on the glass. The Sun Devils had 16 more rebounds and scored 19 second-chance points off 20 offensive boards, helping offset a 26-for-44 night at the free-throw line.
Kyle Allman had 35 points and Khalil Ahmad 31 for the Titans, who played without starting forward Jackson Rowe.
"Our guys competed. I was proud that they competed," said Fullerton coach Dedrique Taylor, a former Arizona State assistant. "We set the standard, so now it's can we maintain that moving forward, that is the biggest thing for us."
Arizona State reached the NCAA Tournament a year ago behind a trio of senior guards who turned the Sun Devils into Guard U. Tra Holder, Kodi Justice and Shannon Evans II all graduated and now Arizona State has become Big Guard U, with a bigger group of guards to go with added size and depth on the front line.
The Sun Devils' new lineup was put to the test right away against the Titans, who have nearly everyone back from a team that reached the NCAA Tournament for the third time in program history.
Both teams seemed to have the first-game jitters, Arizona State more than Fullerton.
The Sun Devils needed more than 4 1/2 minutes to score, missing their first nine shots before Romello White hit a jump hook.
The Titans were only marginally better and the Sun Devils put together a couple of short runs while building the lead to nine.
Fullerton rallied behind Ahmad, who had 11 points to pull the Titans within 34-31 at halftime.
"It's college basketball," Taylor said. "You're going to have first-game jitters."
BIG PICTURE
Cal State Fullerton lost, but played well until the second overtime in a hostile road environment.
Arizona State's new lineup withstood a stiff test from a good team filled with veteran players.
KEY REBOUND
Lawrence had arguably the game's biggest rebound with 1:45 seconds left in the first overtime. With the Sun Devils trailing by four, Lawrence swooped in to grab Dort's missed free throws and was fouled. Lawrence hit his two free throws to give Arizona State an opportunity to tie it.
"We practiced that this week," Lawrence said. "It's a little play we've got to get the offensive board we draw up. It worked every time in practice and I had confidence it would work in the game."
UP NEXT
Cal State Fullerton hosts West Coast Baptist on Saturday.
Arizona State hosts Long Beach State on Friday.
---
---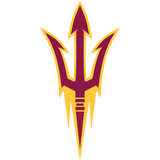 Get more from Arizona State Sun Devils
Follow your favorites to get information about games, news and more
---