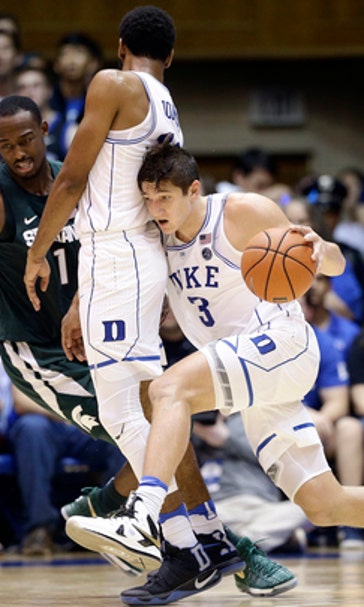 Allen leads No. 5 Duke past Michigan State 78-69
November 30, 2016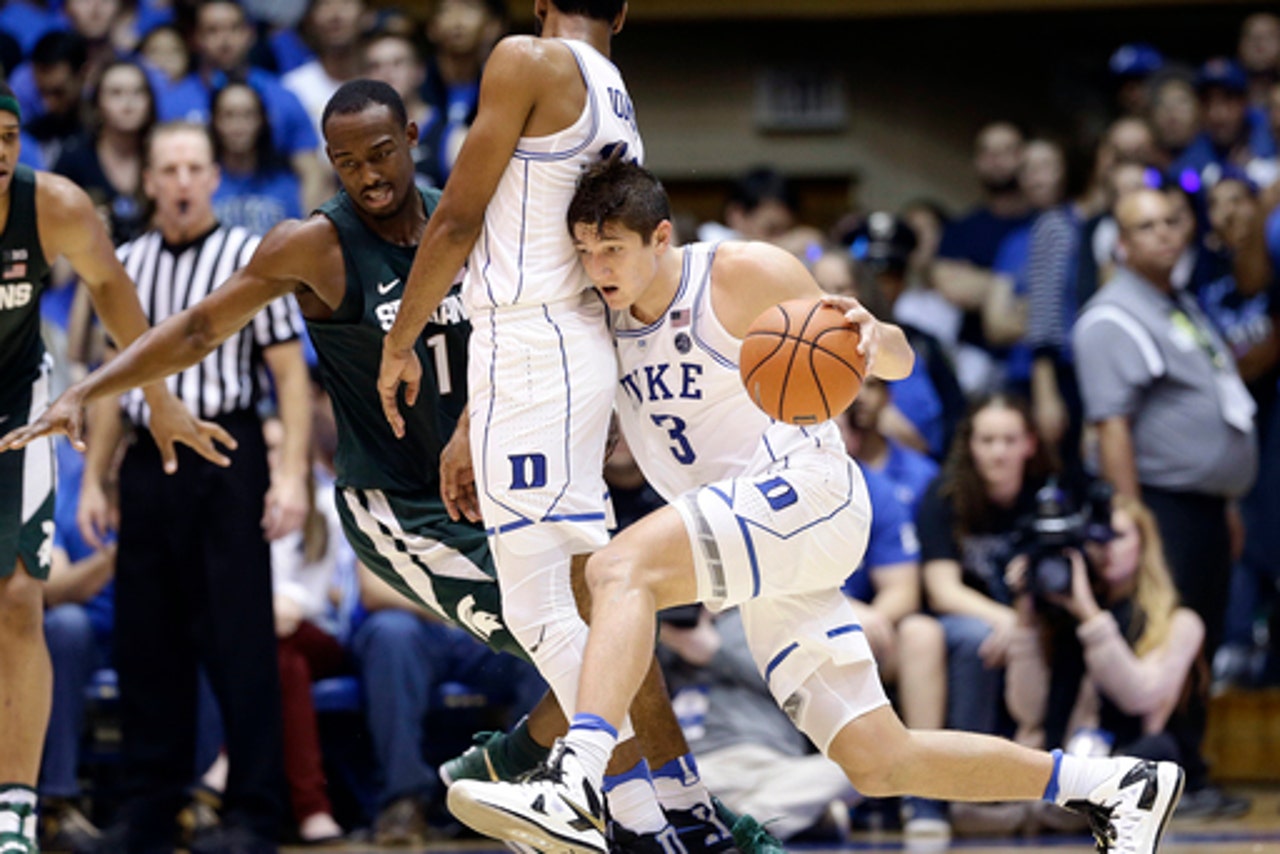 DURHAM, N.C. (AP) Grayson Allen keeps putting up huge numbers for No. 5 Duke. Imagine how much more impressive they might be if he were healthy enough to practice.
Allen scored 24 points, Luke Kennard added 20 and the Blue Devils beat Michigan State 78-69 on Tuesday night in the ACC/Big Ten Challenge.
Allen has been dealing with lingering foot injuries for the past two weeks, with coach Mike Krzyzewski saying he hurt his toe before the Penn State game on Nov. 19 and limped through the Rhode Island game the next day. He checked out of the Appalachian State game early three days ago when he reinjured the toe.
''Grayson does not practice one second,'' Krzyzewski said. ''So when he's out on that court, it's a gutty performance. ... That kid has played unbelievably, and he's limping.''
Amile Jefferson had 17 points and 13 rebounds while freshman Frank Jackson finished with 11 points and keyed a timely 11-0 run for the Blue Devils (7-1), who won their fourth straight despite shooting just 27 percent from 3-point range.
Eron Harris scored 14 points for Michigan State (4-4). Playing their first game as an unranked team since March 2015, the Spartans had 18 turnovers - ''Too much AAU ball, not enough college ball,'' coach Tom Izzo said. Star freshman Miles Bridges was held to 11 points - six fewer than his team-leading average - on 4-of-13 shooting.
''I didn't think Miles played as hard as he's been playing,'' Izzo said. ''He'd been playing hard, and just got caught standing around.''
Neither team led by more than four before the Blue Devils broke a 48-all tie by reeling off 11 straight points, a run that coincided with a series of Spartan slaps to the floor - one of Duke's trademark moves.
Seconds after Bridges gave the floor a firm slap, Jackson blew past the Michigan State guards for a layup that gave Duke its largest lead to that point, 55-48, with just under 13 minutes left.
''I guess it didn't work for them,'' Jackson said. ''I just tried to stay aggressive.''
BIG PICTURE
Michigan State: Izzo has admitted he might have overscheduled these Spartans, whose four losses have all come to teams ranked 16th or better in the current AP Top 25, with the last two coming against top-10 teams. They've only played twice so far at the Breslin Center, but at least they won't have to leave East Lansing again until Dec. 27.
''We've been through the gauntlet, no question about it, but we competed almost to the end,'' Izzo said. ''I'm going to build on this.''
Duke: Allen was just 7 of 21 shooting in 37 minutes, and the Blue Devils needed major minutes from him because they went just six deep - the five starters, plus Chase Jeter. Injured freshman forwards Harry Giles, Marques Bolden and Jayson Tatum once again took part in pregame warmups with varying stages of intensity. Krzyzewski says Tatum had ''a good workout,'' Giles ''just needs some contact'' and Bolden ''is moving along.''
''Every team's season is a little bit different,'' Krzyzewski said. ''We just have to run our race the way we're running it, and eventually, hopefully, we'll get all those guys.''
POLL IMPLICATIONS
This is the kind of victory that will keep the Blue Devils in the top five, and in all likelihood, keep them near the top of the RPI.
STAT LINE
Krzyzewski said Matt Jones ''had a spectacular 2-point performance tonight.'' The Duke senior was just 1 of 7 from the field and missed all six of his 3-pointers to finish with two points - but keyed the defensive effort that locked down Bridges. ''When you're all about winning, you're really important, and Matt Jones is only about winning.''
UP NEXT
Michigan State: The Spartans get some relief from their brutal early season schedule and begin a run of five manageable home games Saturday when they play host to Oral Roberts.
Duke: The Blue Devils wrap up their four-game homestand Saturday with a visit from Maine before returning to New York to face No. 24 Florida on Dec. 6.
---
Follow Joedy McCreary at http://twitter.com/joedyap.
---
More AP college basketball: www.collegebasketball.ap.org and https://twitter.com/AP-Top25.
---