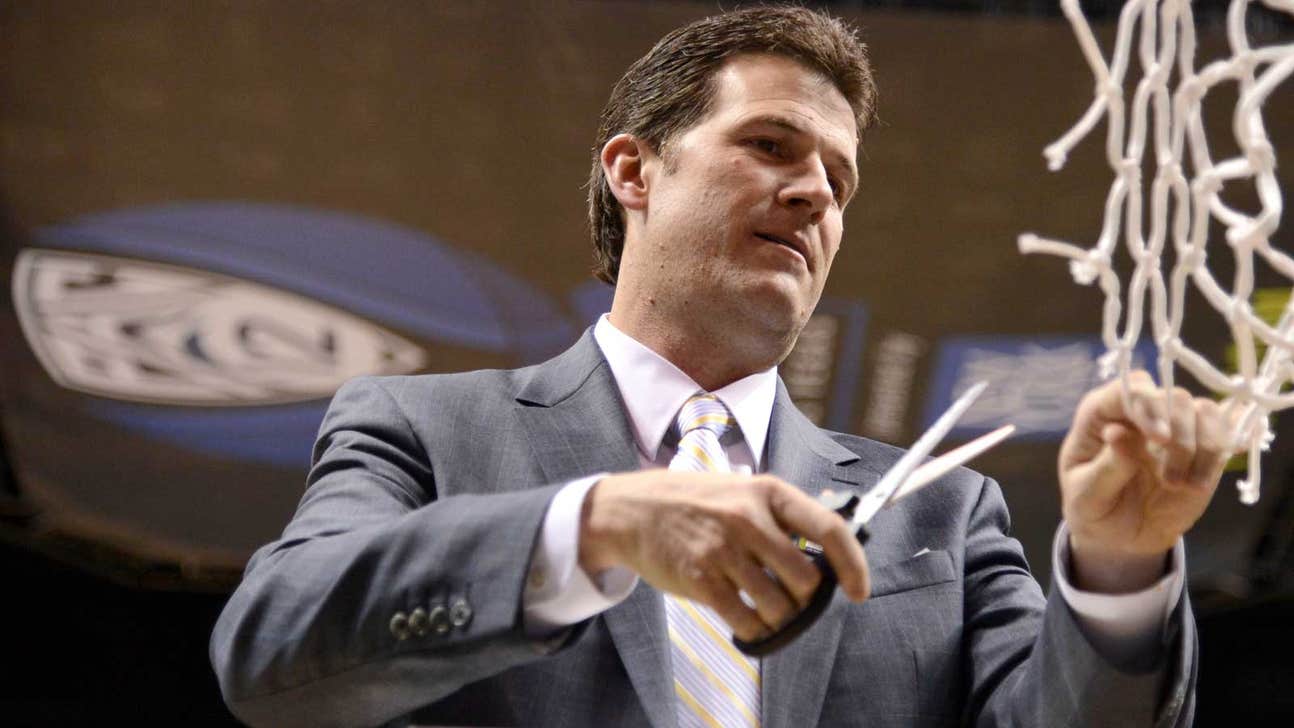 Alford brought fun-damental change, and a Pac-12 title, to UCLA
Published
Mar. 15, 2014 11:23 p.m. ET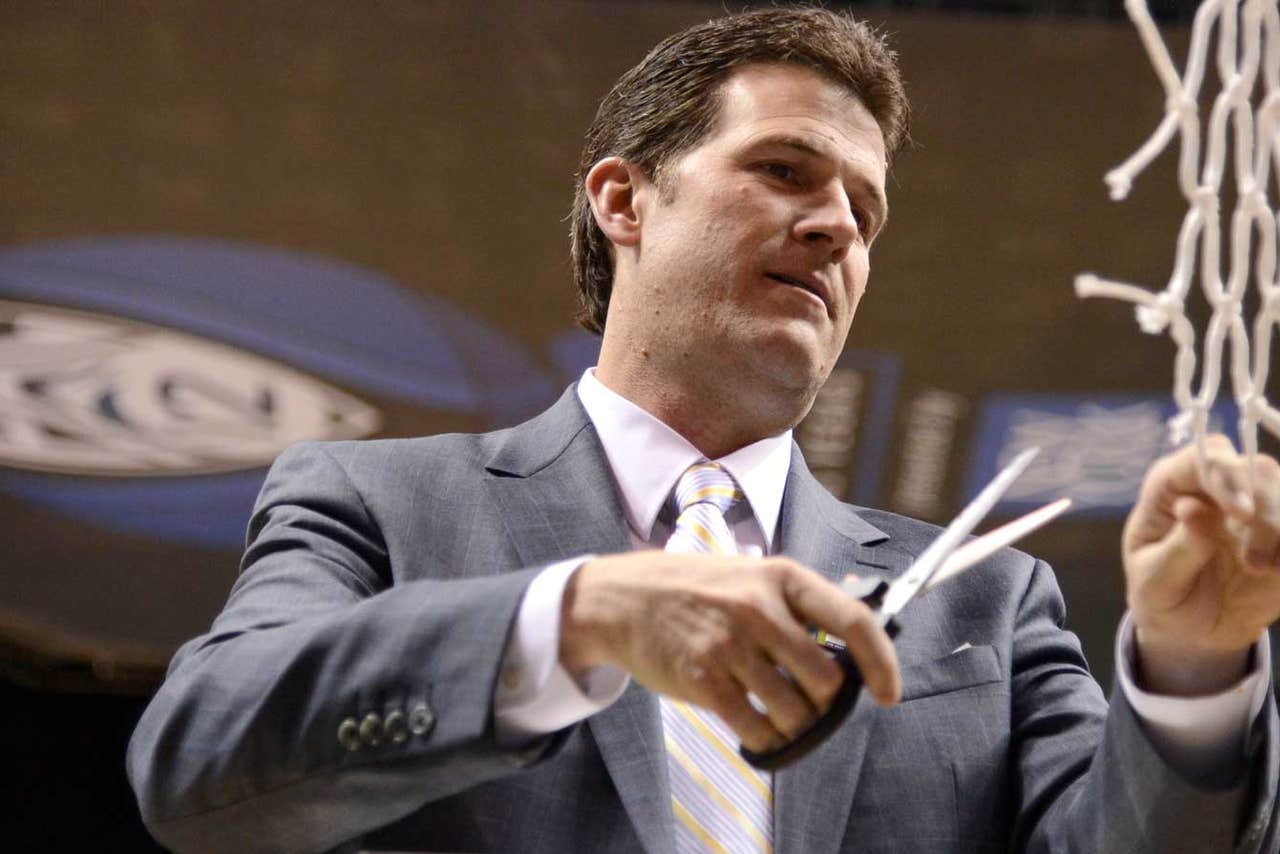 LAS VEGAS -- Long before first-year head coach Steve Alford guided UCLA to its first Pac-12 tournament championship since 2008 on Saturday in one of the finest college basketball games all season, he invited his team to his new house in the valley outside Los Angeles.
It was summer, and players, coaches and managers all participated in a backyard Olympics: Pass the orange, three-legged race, balloon toss. And then Alford and his assistant coaches dug into two buckets filled with water balloons and pelted their players with them. It was fun. And at UCLA, fun was different.
Why am I bringing up this seemingly insignificant offseason moment after UCLA earned its signature win in the Alford era, a beautiful, hard-nosed, back-and-forth 75-71 victory in which the Runnin'€™ Bruins scored more points on No. 4 Arizona's top-ranked defense than any other team had all season?
Because what Alford started the moment he set foot in Westwood was a total culture change, a shift from a plodding, uptight, coach-focused system to a system of basketball that's more free, more fast-paced, more fun.
That's what we saw come to its full fruition on Saturday in Las Vegas: A team that still was having fun while playing one of the toughest teams in the land.
I wrote about the backyard water-balloon fight at the beginning of this season because I thought Alford got a raw deal from the press the moment he signed on at UCLA. Fellow media types thought the up-tempo basketball that athletic director Dan Guerrero was trumpeting actually wasn'€™t Alford's calling card at New Mexico (That, however, was a very shortsighted view of his coaching career).
Fellow media types focused intensely on a nearly decade-old scandal from Alford's Iowa days when he defended a player who was accused in a sexual assault. Fellow media types portrayed Alford --€" unfairly, in my view -- as prickly, as a bad hire, as the guy who wasn't Brad Stevens or Shaka Smart.
Once the initial storm clouds cleared, Alford set to work. The point of his work was to remind his team that basketball was fun. He kept preaching that all season.
But a change in culture can take a while to really stick. At the end of the regular season, UCLA dropped three of five games, including a bumbling season finale at 218th-in-RPI Washington State. The Bruins had fallen prey to the monotony of a 31-game, 100-plus-practice season. Alford could see his players weren'€™t having fun.
So instead of panicking in the face of his team's stumbles, Alford took his players into the locker room at Pauley Pavilion before the Pac-12 tournament started. He popped in a video compilation of highlights from this season. He showed his team clips of them running, of them dunking, of them scoring, of them smiling --€" clips of them having fun.
"Coach told us to have fun,"€ Jordan Adams, who scored 19 points, including the game-winning 3-pointer on Saturday, told me. "€œJust have fun and see where it takes us."
No offense to Ben Howland, Alford'™s predecessor and an excellent coach in his own right, but I can't imagine the Drill Sergeant of Westwood focusing on fun before the conference tournament.
And that's how UCLA has been playing ever since, culminating in Saturday'€™s masterpiece, one of the most fun games of this college basketball season.
The Bruins came out gunning, getting open shots in the first half like few teams have against Arizona all season. Less than six minutes in, UCLA was up 14-3. Less than 12 minutes in it was 31-23. Only three clutch 3-pointers by Gabe York kept Arizona in the game. At half it was 43-40 UCLA. The Bruins had shot 58.1 percent, 20 percentage points better than Arizona'€™s average defensive field-goal percentage of 38.2 percent.
Here's some context for the 43 points UCLA had at halftime: The game before in the Pac-12 tournament, Colorado scored 43 points on Arizona all game. The game before that, Utah scored 39.
"€œThe first 10 minutes of the game (UCLA) generated a lot of points by the pace of the game through transition,"€ Arizona head coach Sean Miller said afterward. "€œIt shocked us and knocked us back."
But a defense like Arizona'€™s doesn't stay knocked back for long. After those first 10 minutes, Arizona again looked like the best defensive team in the country. A little over four minutes into the second half, Arizona took its first lead since it was 3-2. Aaron Gordon locked down defensively on Kyle Anderson, who still ended with a stunning 21-point, 15-rebound, five-assist performance. The pace slowed. Nick Johnson started hitting 3s for Arizona.
With about eight minutes left in the game, I felt like I'd seen this before: The momentum was swinging Arizona'€™s way. That tenacious halfcourt defense just grinds down teams. Arizona was going to win.
So I started to write this story: That UCLA played as close to a perfect game as you could against the nation's best defense, and the Bruins should take pride in that, even if they came up short. I wrote that Arizona was the class of Western basketball, perhaps the class of all of college basketball.
I wrote, essentially: Good job, good effort, UCLA.
But UCLA didn'€™t give up. With 2:31 left in a tie game, Travis Wear, in what might have been the hustle play of the year, chased the speedy Gordon for a loose ball that Adams had batted away from Johnson, grabbed the ball, slid toward the baseline and all in one motion called a timeout --€" a play that had the UCLA bench whooping and hollering.
And with a little less than a minute to play and the game still tied at 68, Alford called another timeout.
"Coach came in smiling,"€ Anderson said afterward. "And he said, 'Hey, we'€™re going to go two-for-one --€" we'€™re going to go down here and score, and we'€™re going to go down and get a stop.' "€
In the huddle, Alford called his play. "How about 'Money?'™ "€ he said, naming one of the players'€™ favorite plays. The players cheered and jumped around in the huddle. Alford laughed. They would go for a quick shot so Arizona wouldn'€™t have the ball with less than 35 seconds to go and a chance at the last shot.
In their tensest moment of their biggest game of the year, Steve Alford's Bruins were having fun.
Anderson got the ball and dribbled at the top of the key. Adams came off a screen. Anderson hit him with a pass outside the 3-point arc. Adams jumped and stroked a 3 with a defender in his face. I thought he got fouled, but no foul was called.
"œI'€™ve been watching Jordan (Adams) shoot the ball since I was 11 years old, and I saw him get his feet set and I knew it was going in," Anderson said afterward in the locker room, the freshly cut net hanging around his neck, wearing the tournament championship T-shirt.
"€œIt shows how tough we are. It wasn'€™t all jokes and laughing (in the huddle). I wasn'€™t laughing for sure. But I saw coach Alford laughing about it. He trusted us. It made it a lot easier on us."
Should UCLA have won this game? Honestly, probably not. Arizona is the better team, one of a handful that can lay claim to being the best in the nation. The crowd was 90 percent-plus Arizona fans, and Arizona hadn'€™t lost in a home environment all season. If Arizona hadn'€™t gone 6-of-16 from the free-throw line --€" its Achilles heel -- UCLA never would have walked away as champ.
But UCLA did walk away as Pac-12 champ. And leading into the NCAA Tournament, the Bruins' stock is rising. They are playing their best basketball of the season. They are locked into having fun. They'€™re playing winning basketball loose, free and fun, the type of basketball that was Alford's goal when he pelted his players with water balloons nearly one year ago.

Follow Reid Forgrave on Twitter @reidforgrave or email him at ReidForgrave@gmail.com.
---