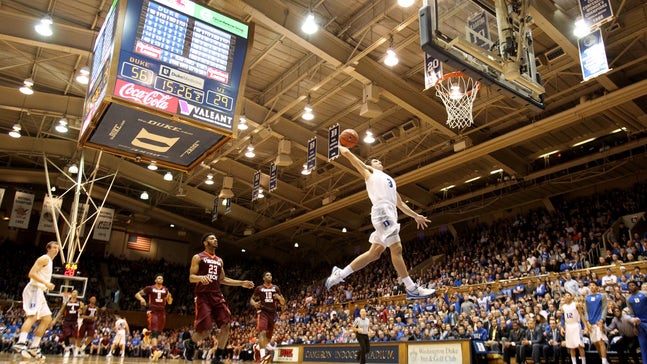 64 fascinating facts about the 64 NCAA tournament teams
Published
Mar. 16, 2016 7:59 p.m. ET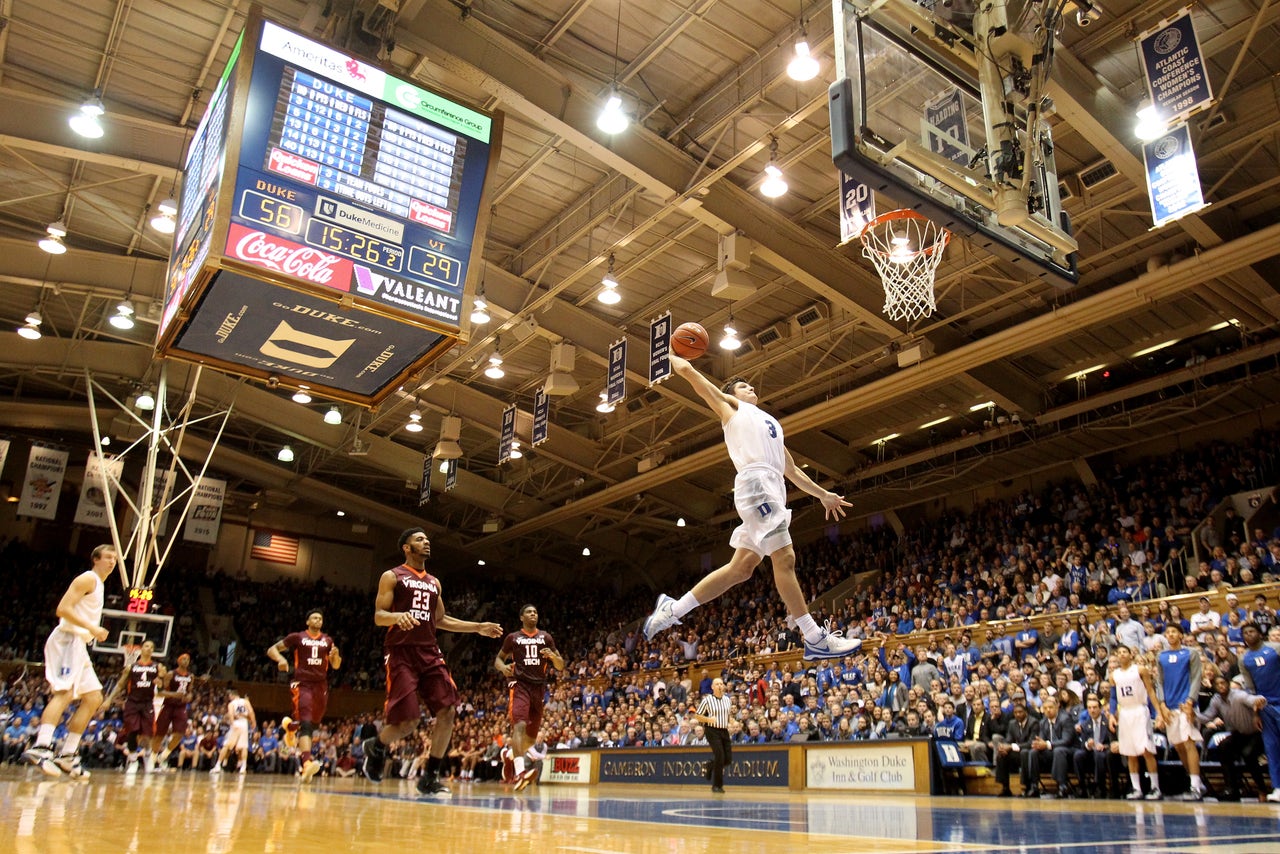 1. Yale — I don't know if you've heard, but Yale is in the Ivy League.
The eight Ivies are all ranked in the top 15 of the U.S. News & World Report college rankings, thus making it a challenging and rigorous admissions process. Those who fail it will end up at Duke.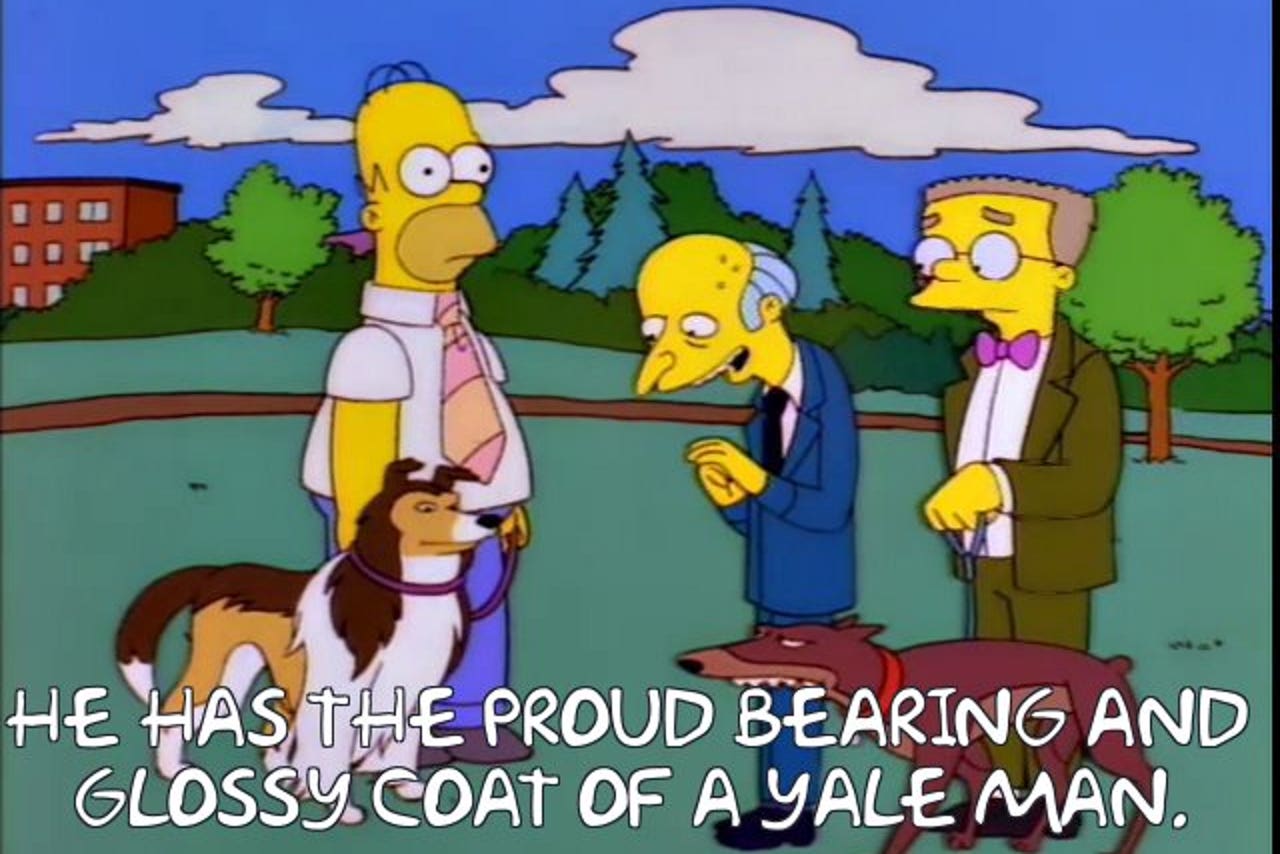 2. South Dakota State — The team's nickname is the "Jackrabbits."
SDSU will be playing the Terrapins of Maryland. Doug Gottlieb is calling that game. These three pieces of evidence guarantee that there will be a "tortoise and hare" reference before the first TV timeout.
3. Wisconsin — A quick read of The Princeton Review lists might make an impressionable college senior interested in going to Madison.
Wisconsin appears on every party list: biggest beer schools (No. 1), bigger liquor schools (No. 9), schools that have "Half Baked" replaying constantly on Netflix (No. 2) and biggest party schools (No. 3). That must have made the first half of this season a lot more bearable.
4. Baylor — It's the only school in the tournament to appear on one of Princeton Review's "non-party lists."
(Photo by Fiona Goodall/Getty Images)
The Waco university is No. 18 on the list of schools with the least interest in booze.
5. Oklahoma — The Sooners have one of the most conservative student bodies in the country.
Again, this according to Princeton Review. Oklahoma came in at No. 20. Other tournament schools on the list are Texas A&M (No. 3) and Baylor (No. 15). No schools in the tournament are among the most liberal unless — hold on, let me check — no, Sarah Lawrence didn't make the tournament, so that holds up.
6. Utah — When a Utah player gets an assist on a pass to a scoring player, the whole process involves two Utes.
7. Seton Hall — Even Seton Hall doesn't seem to know why it's called Seton Hall.
In an otherwise comprehensive 13-paragraph history of the school available on its official website, Seton Hall makes no attempt to explain why it's called Seton Hall. After some more research, I discovered the founder named it after his aunt, the first American-born saint, Mother Elizabeth Ann Seton. You start a school and can name it anything and choose your aunt? I mean, Tom Selleck is just sitting right there, his mustachioed face just calling to have a college named after it.
8. Colorado — In 2012, school administrators shut down the annual 4/20 celebration by having workers spread smelly fish fertilizer on the quad.
Hey, bud, what's your problem?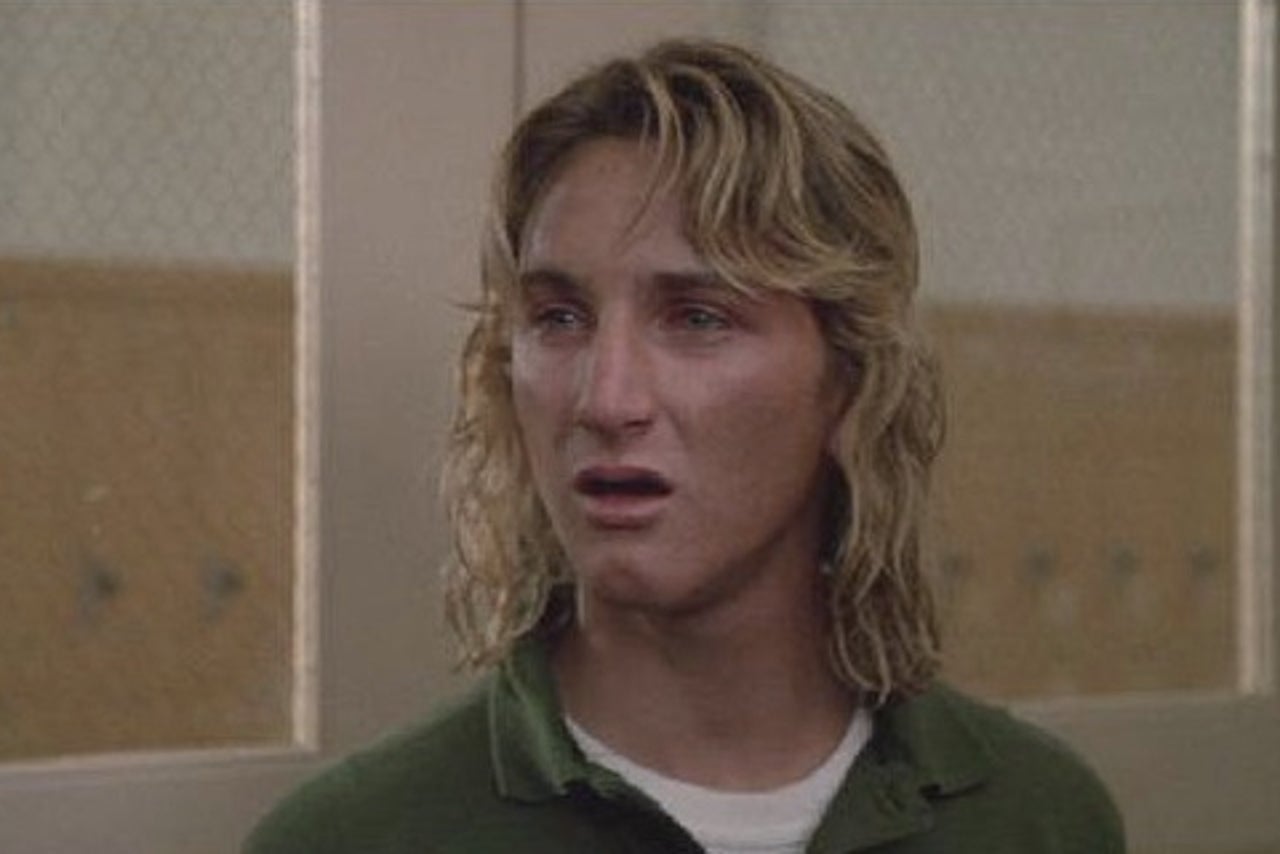 9. Oregon State — Only three schools with "State" in their name have won the NCAA championship,
Yes, that'll be the reason the Beavers don't win the title. (Those schools, BTW: Ohio State, Michigan State and North Carolina State.) 
10. Oregon — The Ducks won the first NCAA championship all the way back in 1939. 
During the game, the trophy, which was sitting on a courtside table, split in half after a player crashed into the table. On a separate note, neon lights and colors were invented 29 years earlier. Why do you ask?
11. Iowa — The seventh-seeded Hawkeyes have the worst seed for any team that appeared in the AP's final Top 25.
Fittingly, they are ranked No. 25. Two teams are seeded higher than Iowa but aren't ranked: Texas and Notre Dame. And who says the media has a big-boy bias? 
12. Syracuse — The school's motto is "Knowledge crowns those who seek her."
Shoot, if Jim Boeheim had incentivized his old players with that line, maybe he wouldn't have had to sit out nine games this season.
13. USC — Tom Selleck graduated from USC.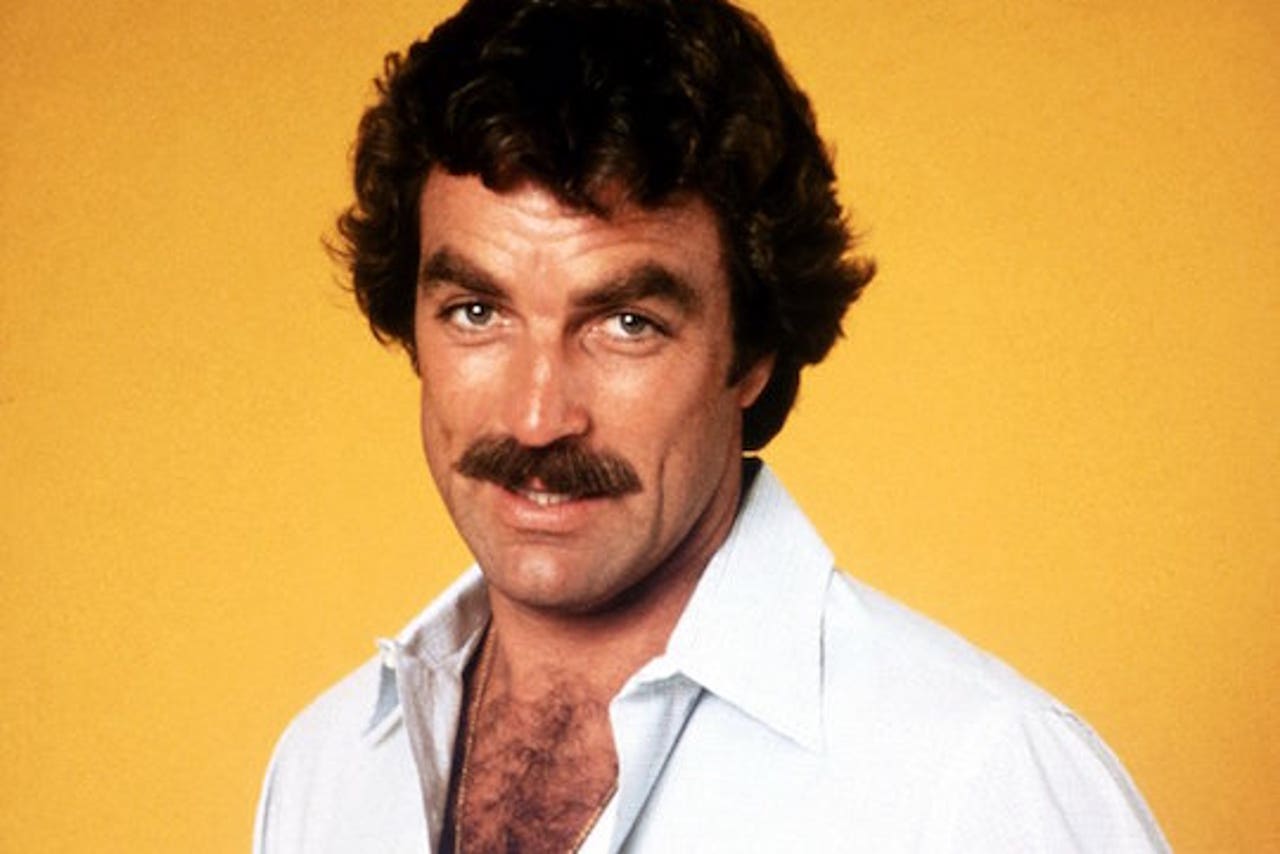 His mustache graduated magna cum laude. Selleck was there on a basketball scholarship. Oh yeah, Magnum P.I. can ball, yo.
14. Texas A&M — In 1980, the Aggies played a tournament game in which neither team scored a point in the first overtime (and that's not even the craziest part).
So, a second-round game against Carolina was deadlocked at 53 at the end of regulation. At the end of overtime the score was, miraculously, 53-53. (We're guessing "somehow" means "Dean Smith's four-corners offense.") But even though that's a record, it's not the weirdest part of the story. In the second overtime, Texas A&M scored a (still) record 25 points to finish with a 78-61 win. That 17-point overtime margin is also still an NCAA tournament record.
15. Indiana — The final shot of the first "One Shining Moment" was Keith Smart's baseline jumper to beat Syracuse in the 1987 title game. 
The first player to be shown over David Barrett's awesome, treacly tune was Florida's late, great Dwayne Schintzius.
16. UNC-Wilmington — From 1979-86, UNCW was coached by Mel Gibson. 
Yes, that was actually the coach's name. I'm just going to leave that one right there. 
17. Stony Brook — The school has had five different team names and currently has the stupidest of them all.
Those names, in chronological and, coincidentally, best-to-worst order: Soundmen, Baymen, Warriors, Patriots and Seawolves. The current name was created in 1994 because the school's president wanted excitement for the team's move to Division I. He could have just hired Mel Gibson.
18. Florida Gulf Coast — Dunk City's student housing looks like a Florida country club Donald Trump probably belongs to.
19. Michigan State — The Spartans played in the highest-rated college basketball game of all time.
Back in 1979, when a guy named Magic played another guy named Bird in the national championship, almost 40 percent of the televisions in the U.S. were tuned into the game on NBC. It is still the highest-rated basketball game of any kind (though it has been surpassed in viewers because the audience was smaller back then). 
20. Villanova — Speaking of ratings, the Wildcats have their own bragging rights when it comes to viewership.
There always seemed to be this theory that Cinderella was bad for the TV business. Everybody likes first-round upsets but when it comes to the Sweet 16, it's time for "real" basketball. Nonsense. Villanova's upset of Georgetown in 1985 is the second-highest-rated game ever, N.C. State beating Houston is No. 4 and the Final Four games involving George Mason and VCU put up great numbers as the early (thus lower-rated) games in their respective years.
21. Virginia — UVA offers the course "ENSP 3860 Game of Thrones."
Soft-core nudity, gruesome injuries, sexual scandal and raging battles with neighboring factions, all with the goal, sometimes successful, of ruling all the land? Sounds more like a class for Louisville. 
22. Hawaii — The Rainbow Warriors (yeah, amazing name) have a bench-warming freshman named Sheriff Drammen.
Wow, just imagine the intimidation factor had they faced West Virginia in the first round.
23. Austin Peay — The Tennessee governor the school is named for was the reason for the Scopes trial.
I may be limiting my audience here, but Peay was the Tennessee governor who signed the Butler Bill which made it illegal to teach evolution in schools. That led to the ACLU's protest and John Scopes eventually becoming their defendant in one of the five or so trials of last century. Also, my niece used to have violin lessons there! (Love ya, ADB!)
24 and 25. Fresno State and Cal St. Bakersfield — Fresno and Bakersfield are among the nine biggest cities in California, but the only ones not to get a shout-out, whether specific or implicit, by 2pac and Dr. Dre in "California Love".
26. Iona — The original Iona was pillaged, pillaged real good.
The Scottish island of Iona had been a pillar of learning in the Dark Ages but barely survived constant raids by Vikings. That is a disgusting act.
27. Cal —€" Bill Walton played a glockenspiel during a game.
He was doing his part to keep Berkeley weird. Which, what? You'd think trying to keep Berkeley weird would be like keeping Krzyzewskiville dorky. Some reputations don't need maintenance. Also, lighten up, Dave Pasch. If you're going to employ Bill Walton, he needs a straight man to play off, but not one who seems to be utterly disgusted by the mere sight of the German xylophone.
28. Connecticut — The Huskies have the best Final Four winning percentage.
UConn is 8-1 in the Final Four, with the eight wins coming in their four championship seasons. The lone loss came in 2009 when eventual runner-up Michigan State dispatched the Huskies with ease.
29. Kansas — Only twice in the past 20 years has the No. 1 team in the final AP poll won the tournament.
This is pertinent information because, of course, Kansas was the No. 1 team in the final AP poll.
30. Duke — Christian Laettner's buzzer-beater over Kentucky was voted the greatest moment in the history of the NCAA tournament.
And, look, I don't care what you think about Duke, watching that shot should still give you goosebumps. It's like those Derek Jeter and Scott Brosius home runs in the 2001 World Series: awesome even if you loathe the Yankees. Oh, and the second-greatest moment in that poll:
31. UNC-Asheville — One year ago, the Bulldogs would have already made the NCAA tournament's second round.
Thankfully the NCAA came to its senses, reversing is 2011 decision to assume people are idiots by calling the First Four games the "first round," thus making the first round the second round and the second round the third round. Brutal.
32. Texas Tech — Tubby Smith (yeah, THAT Tubby Smith) won Big 12 Coach of the Year.
His team went 9-9 in the Big 12 and suffered through a 2-8 stretch in which the only victories were over the two worst teams in the conference. Meanwhile, in Lawrence, Bill Self was just winning his 12th straight regular season title with a reloaded team relying heavily on seniors. But yeah, .500 in the conference isn't bad.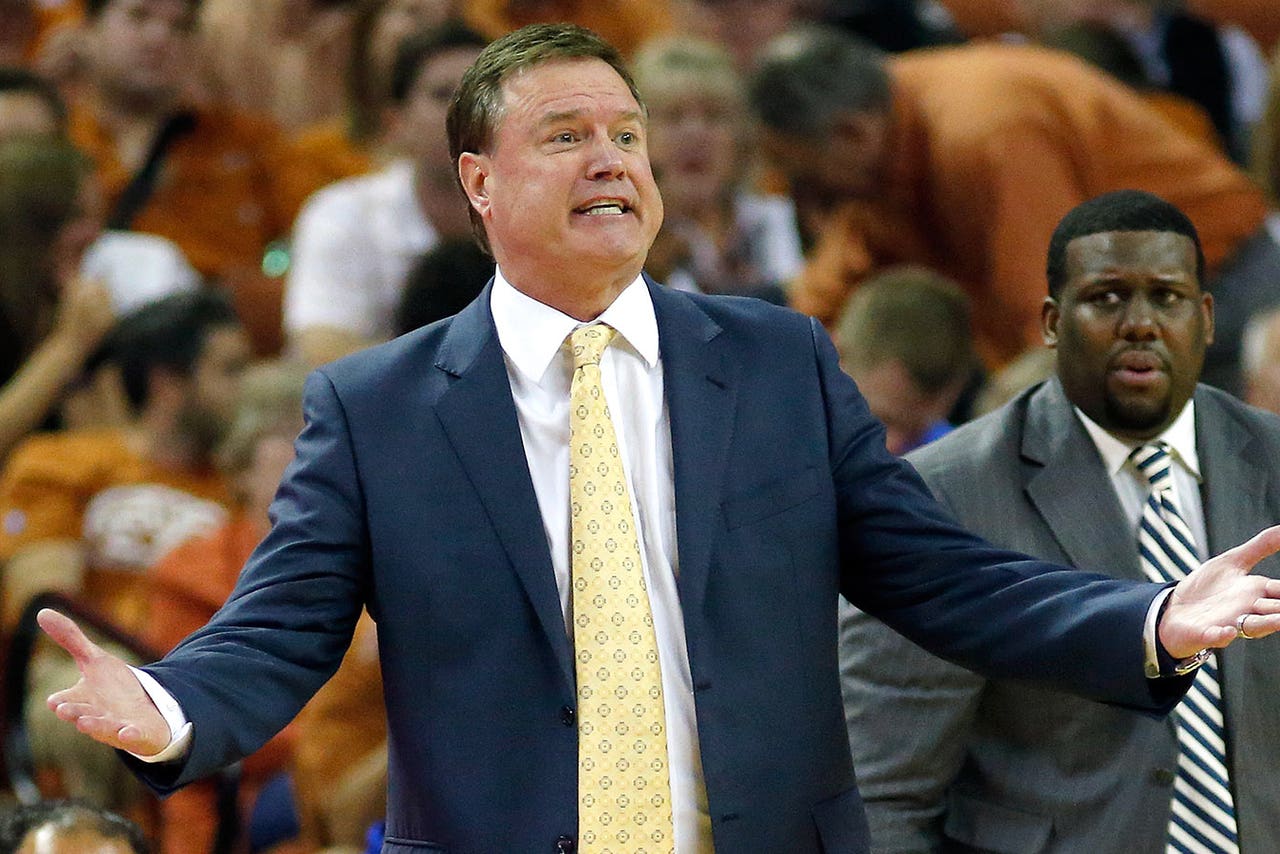 (Photo by Chris Covatta/Getty Images)
33. Buffalo — Bobby Hurley left the school after a "Price Is Right"-style bidding war.
Last year, Hurley led the school to its first NCAA tournament. In a Buffalo News article from after the tournament, it was claimed that Hurley asked to become the highest-paid coach in the conference after the successful season. The highest-paid coach was Ohio's Saul Phillips, who made $550,000. Buffalo reportedly offered Hurley $551,000, which is sort of disappointing because if you're going to slap your coach in the face, at least lean into it and go one dollar over the highest salary. Anyway, Hurley bolted to an Arizona State job that is said to pay him $1 million more than his Buffalo salary. (But yeah, if Buffalo had offered $600,000 he was going to stay? C'mon.)
34. Hampton — Last year, after a First Four win, coach Ed Joyner called Jesus on the phone to ask for help in beating his next opponent
That opponent was Kentucky, a theoretical victory that have required Lazarus playing the point. BTW, my favorite part of the whole exchange is that Joyner's phone appears to be backwards.
35. Little Rock — The school's president is named Don Bobbitt.
No, no; you're thinking of JOHN Bobbitt. 
36. North Carolina — There's a great legend, turned lesson, about Michael Jordan and his geography major from UNC.
The story goes that a UNC professor told students that the average starting salary for their major would be $100,000 (equal to about $238,000 back then). Then he explained that Michael Jordan's NBA and Nike salary skewed the mean, which is a lesson about using such statistics. Unfortunately, the story doesn't pass the smell test in any way. There'd have to be very, very few geography majors for the mean to move that little (we're talking under 25 at a huge school). And, anyway, why is a geography professor talking about statistics anyway? It just goes to show you can't believe anything you hear in regards to academics and athletics at Carolina.
37. Kentucky — The Wildcat cheerleaders have won more national titles (21) than any other school.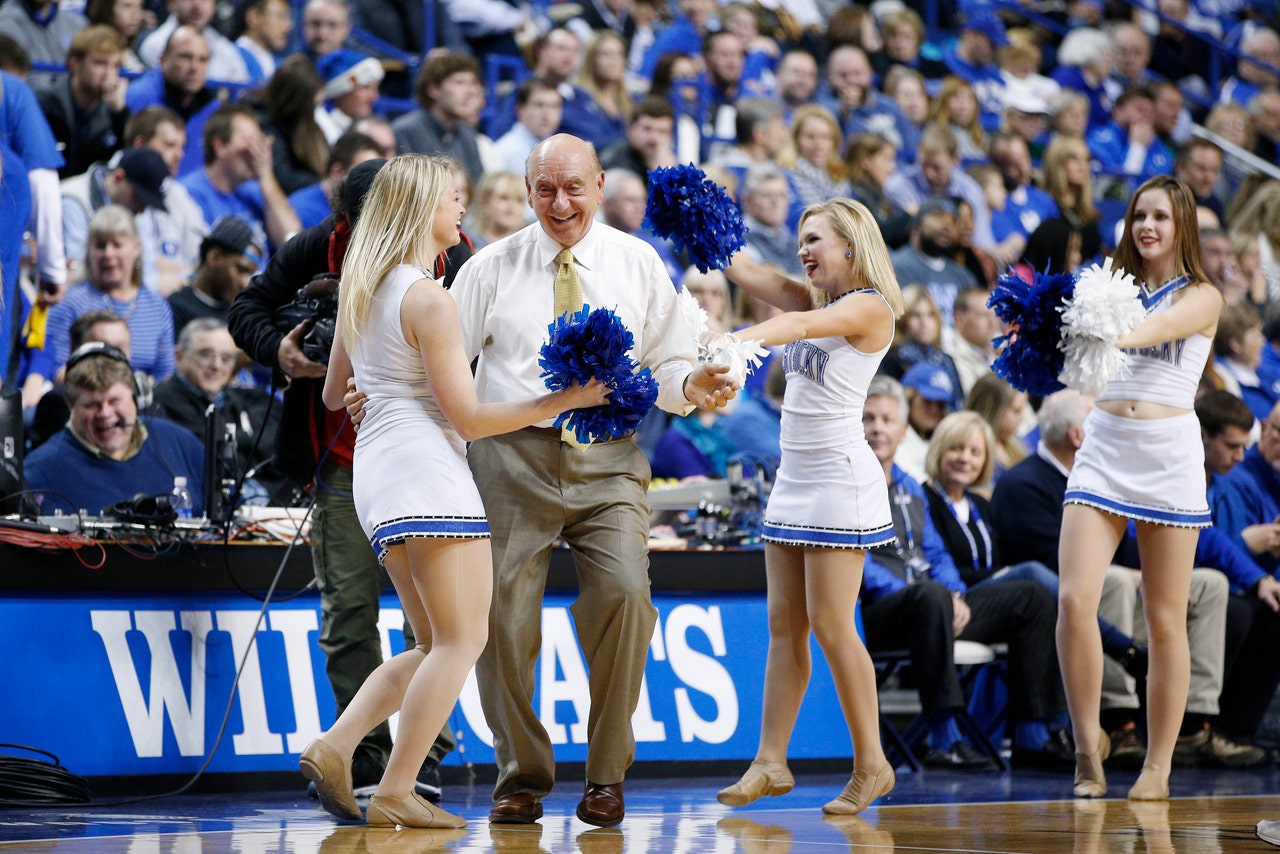 (Photo by Joe Robbins/Getty Images)
Yes, but I heard they stole their routine from an inner-city school, forcing Kirsten Dunst into an ethical and existential crisis.
38. Notre Dame — Notre Dame started the first college marching band.
The band was created in 1846, 41 years before the school's first game against Michigan, 64 years before the school's famed fight song was written, eight years before the birth of John Phillips Sousa and 156 years before Jack White penned "Seven Nation Army". Too bad Notre Dame doesn't have any dotted letter in its name or else it could have also created pretentiously dotting an "i" during performances and then acting like it's the most important thing since Maurice Clarett.
39. Middle Tennessee State — The 14th-seeded Mocs' official schedule lists games all the way to the Final Four.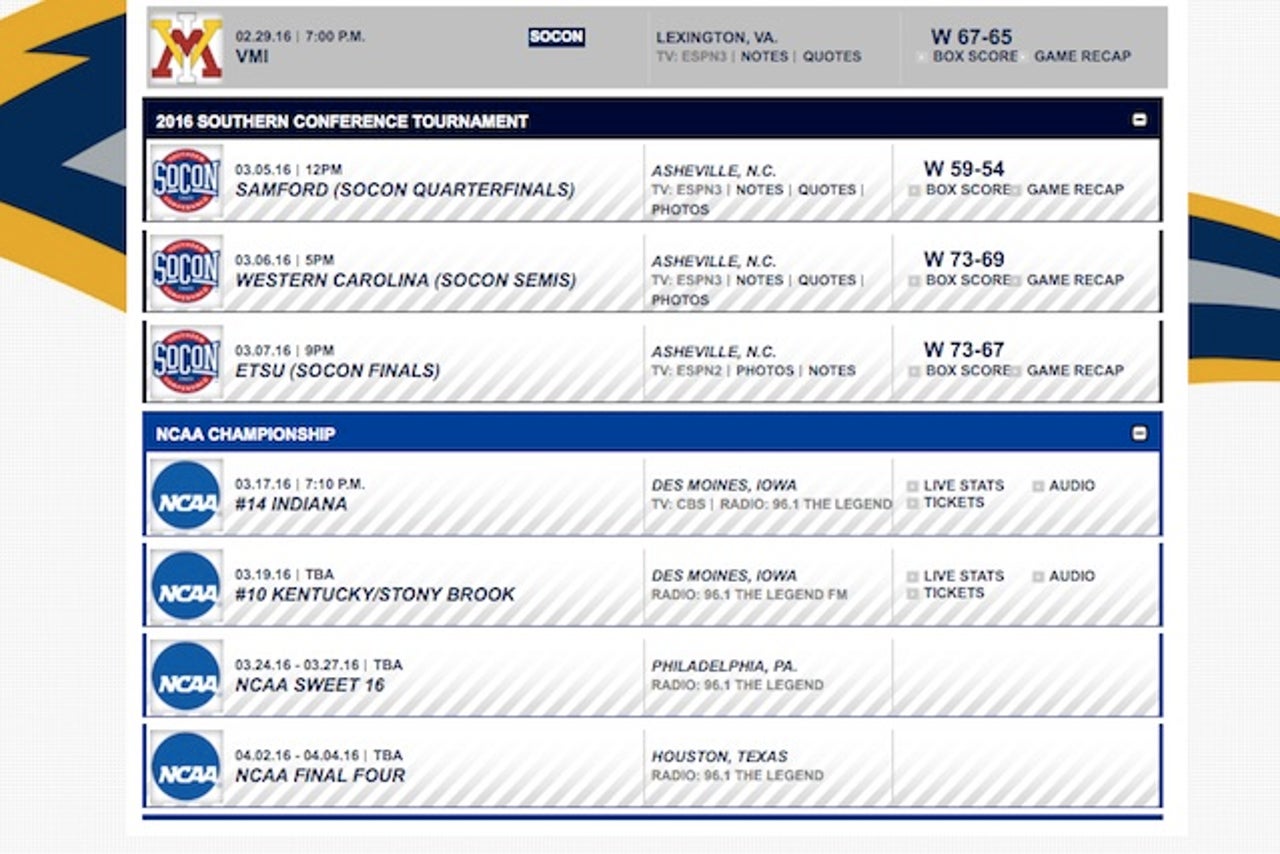 How's that for moxie? I did a spot check of about 15 other schools to see if anticipating a run to Houston was common in their scheduling and it was not. Duke didn't do it. Carolina didn't do it. Villanova didn't do it. The half-dozen lower-seeded teams I checked didn't do it either. Only Kansas did, one-upping the Mocs by listing the date of the final. Dream bigger, MTSU.
40. Texas — On its official website, Texas boasts that "Hook 'em Horns" was rated best college hand sign by Sports Illustrated.
I believe them because I subscribe to the adage that one doesn't mess with Texas. But I just spent 30 minutes on the new, improved, awesome Sports Illustrated archive and could find nothing relating to such an award. It got me thinking what the best NFL hand sign would be. Probably the one-fingered salute opponents get in Philly.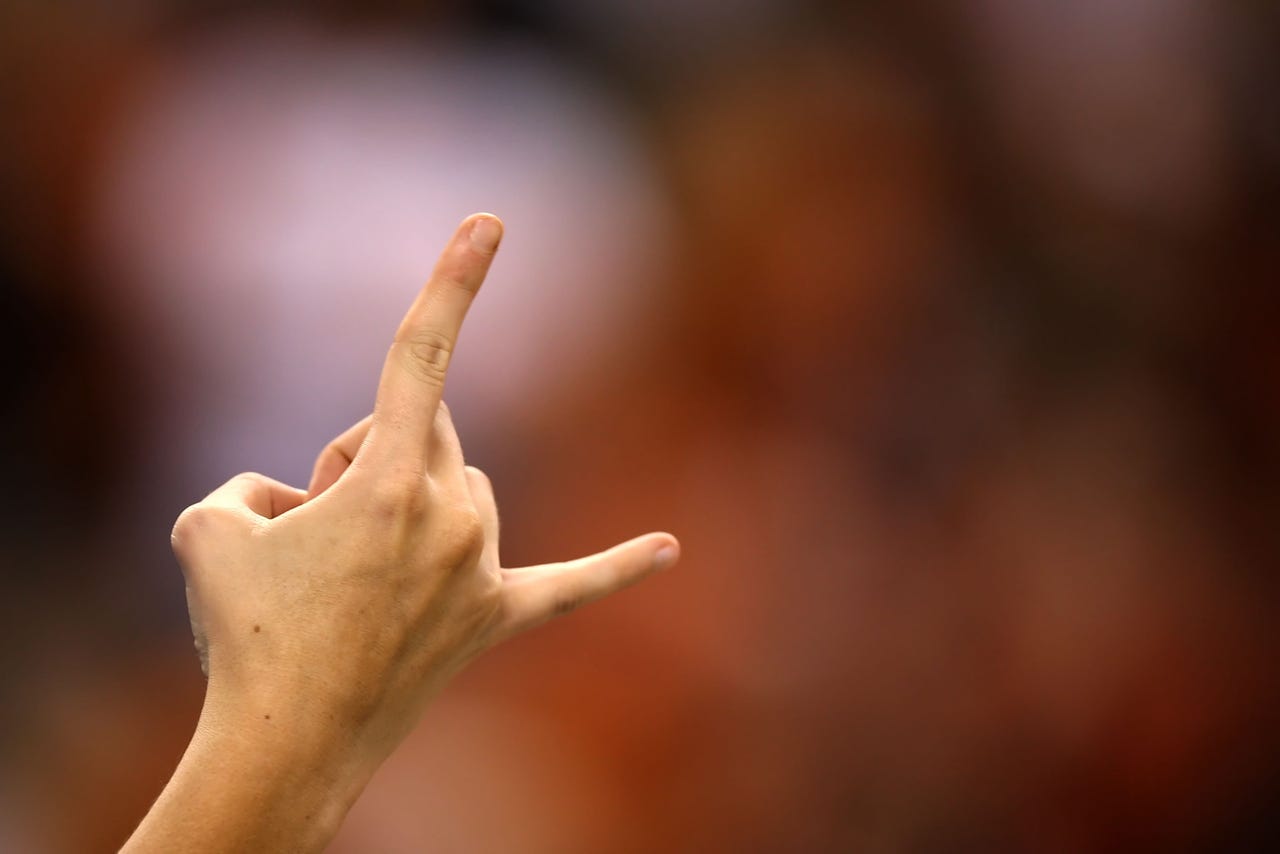 (Photo by Andy Lyons/Getty Images)
41. Gonzaga — The Zags have made the tournament every year since 1999 and lost in the first round only three times.
That's a 14-3 first-round record. Of teams who have made every tournament over the same span, Gonzaga's 14-3 record is better than Michigan State (13-4) and Wisconsin (13-4), the same as Duke's and just behind Kansas' 15-2 mark. And that's with Gonzaga consistently getting the shaft with horrible double-digit seedings! 
42. Miami — Since the 64-team bracket began, Miami has made not one, not two, not three, not four, not five, not six, not —€" no, wait, they've made seven.
The team is 6-7 overall in the tournament.
43. Temple — I'm not sure who's going to take over as Temple's No. 1 fan, but I have a suggestion: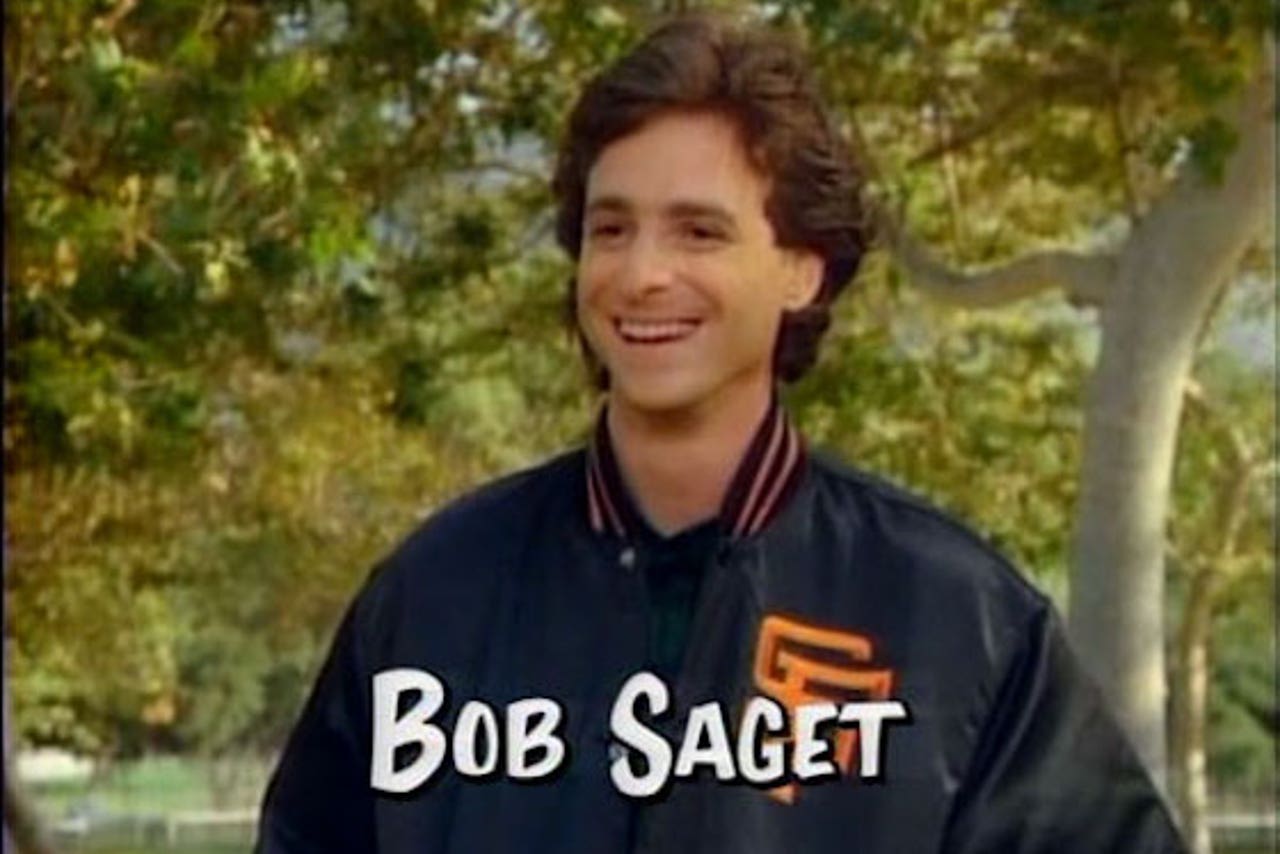 And though Bob Saget is the Temple alum, I strictly mean that Danny Tanner should be said fan.
44. Stephen F. Austin — No one seems to have any idea why he used his middle initial, so we're going to assume it was a Michael J. Fox situation.
From what I can tell, middle names were not popular back in Austin's day (George Washington, Thomas Jefferson, Benjamin Franklin and Abraham Lincoln didn't have them) so when someone did have one (usually it was upper-class folks), it was considered polite to use the full name. Rutherford B. Hayes knows what I'm puttin' down.
45. Providence — The city, which is hosting games this weekend, temporarily suspended anti-container laws on the streets.
This is necessary because the Puritans at the NCAA insist on no beer sales during the entirety of the tournament. Oh, but networks getting millions in advertising money from beer companies? Totally cool.
46. Northern Iowa — UNI, a team that would have been on the bubble, made sure it'd be dancing this week on this pop-up buzzer beater.
47. St. Joseph's — The feast day of St. Joseph is March 19, a day in which the basketball team should be wrapping up its first-round game.
By the time St. Joe's late-night Friday game ends, the clock will have gone past midnight in the East, meaning St. Joe's is playing on the feast day of St. Joe. Try to wrap it up before midnight, Cincy or else it's going to be 6-on-5.
48. Wichita State — The Shockers have the highest-rated defense in the country.
And they were made to play a Forced Four game while Syracuse got to sit back and enjoy its 13-loss season like kings. KINGS!
49. Xavier — Coach Chris Mack's favorite musical act is Kid Rock. For reals.
My old pal Matt Norlander compiled a great list of the favorite bands of every coach in the tournament. You can probably guess who showed up most: Springsteen and MJ. But it was a fairly eclectic list and fun to read, right until you got to the point where you saw Mack, who generally seemed likable, loves Rock. I never judge anybody's musical taste because beauty is in the ear of the beholder. At least, I thought I didn't. (Also, get off it, Coach K: Your favorite musician is NOT Beyonce.)
50. West Virginia — When I saw Matt's post, I was immediately excited about finding out who Bob Huggins' favorite band was.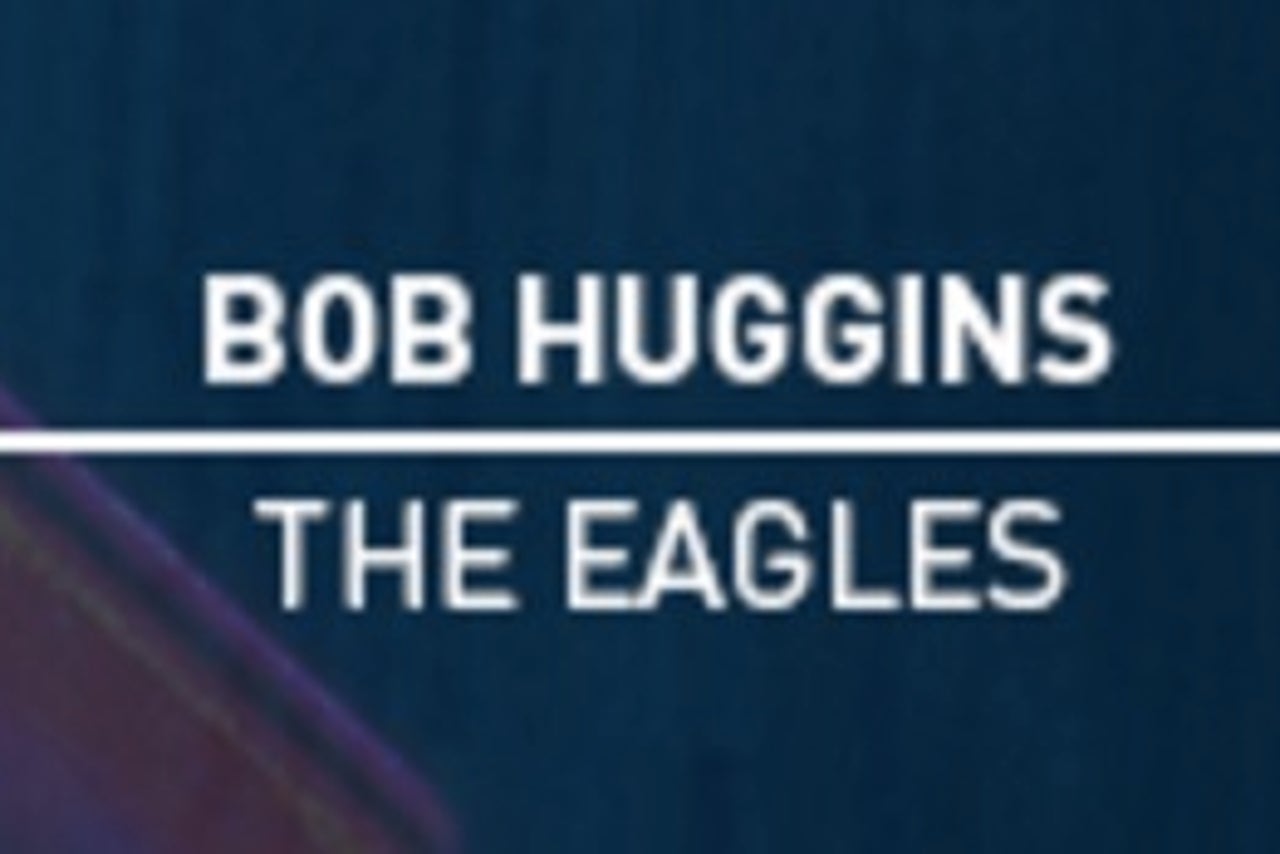 And because I like to play guessing games, I sat and thought about it for a good 6-7 minutes before finally coming up with The Eagles.
Boom. There was never a doubt. John Calipari choosing Train though? Stunner. I figured in order to maintain his recruiting bonafides he'd have asked an assistant who the hot, new music act is and then said "Kedrick Lamore." 
51. Holy Cross — Entering Wednesday's play-in, the Crusaders had the longest odds to win the tournament. 
According to kenpom.com, Holy Cross has a 1 in 325,526,540 of winning the tournament. That's unfathomable. If you played the tournament 325 million times, Holy Cross wouldn't win once. 
52. Tulsa-Michigan — Tulsa coach Frank Haith should show up to the play-in game wearing khakis.
You know, mess with the heads of Michigan fans and see if he can derive any magical powers from Dockers like Harbaugh, the Wolverines' football coach, seems to.
53. Pittsburgh — The Panthers had the easiest non-conference schedule of any power conference team in the tournament.
It makes a Syracuse usual non-con look like a murderer's row. Pitt played Detroit, Cornell, Kent State, Duquesne, Central Arkansas, Eastern Washington, Morehead State, Davidson, Western Carolina and Maryland Eastern Shore, all at home. Do you think Jamie Dixon sat down with Pitt's AD and just spun a globe and decided to play a game against the school closest to where their finger landed? Pitt also played Purdue because the Big Ten/ACC Challenge forced them to do so.
54. University of Tennessee at Chattanooga — The city of Chattanooga is, for some reason, the only American town with its own font. 
Chatype EULA from Cha Type on Vimeo.
55. Maryland — It's cute when Maryland thinks it is, or ever was, rivals with Duke.
Before Selection Sunday, chatter on Twitter and DC sports radio was that the committee might put the Terps (who were likely to be seeded No. 4 or 5) in the same pod as Duke (who was likely to be seeded No. 4 or 5, the opposite of whatever Maryland was). Since Maryland left the ACC like traitorous cowards, the assumption was that playing Duke would be like reuniting The Beatles. But Terps fans always fail to realize that Duke was never anything more than the normal rival you develop by playing teams every year like the kind Maryland has with Northwestern now.
56. Arizona — Many Wildcat fans get real mad about an incident in which coach Sean Miller got in a player's face and called him a maternal profanity.
Look, is that classy? No. Is it a bad look for Miller? Yeah. But as long as he's getting players to come to his program (and stay) and he's making the NCAA tournament, who cares? Sticks and stones, people. Sticks and stones.
57. Cincinnati — The Bearcats once made five straight Final Fours.
We all know UCLA holds the record for most consecutive Final Fours (10). But do you know which team is second on that list? Hmm, I fear I may have given away the answer. Yes, the answer is Cincinnati. The school made five straight F4s in the Big O era, 1959-63. Duke tied that mark with their run of five straight from 1988-92. Both won two titles in those five years.
58. Green Bay — The Phoenix have the fastest tempo of any tourney team.
That's because they're just like little kids out there.
59. Iowa State — The school's official athletics site is cyclones.com.
Somewhere, someone is tragically hearing about a cyclone forecast and think that buying season tickets to Iowa State's softball team will be the best preventive measure.
60. Dayton — The city of Dayton was home to a surprising amount of inventors.
These include the inventors of stepladders, cellophane, Pack and Plays, pull-top beverage cans, movie projectors, space food, lighted scoreboards, parking meters cash registers, gas masks, parachutes, microfiche and, oh yeah, just that little invention called the AIRPLANE. Dayton's newest innovation: getting used by the NCAA to host the most insulting, demeaning athletic events of the year. (In case you couldn't tell, we're not fans of the First Four.)
61. Butler — It never gets any less crazy that a) Butler made two straight NCAA finals and b) they were *thisclose* to winning one of them.
62. VCU — The team's new coach, Will Wade, is 33.
I think, but can't confirm, that that's the same age as Kansas upperclassmen Wayne Selden and Perry Ellis. 
63. Purdue — Matt Painter's hair is lacking a certain je ne sais quoi.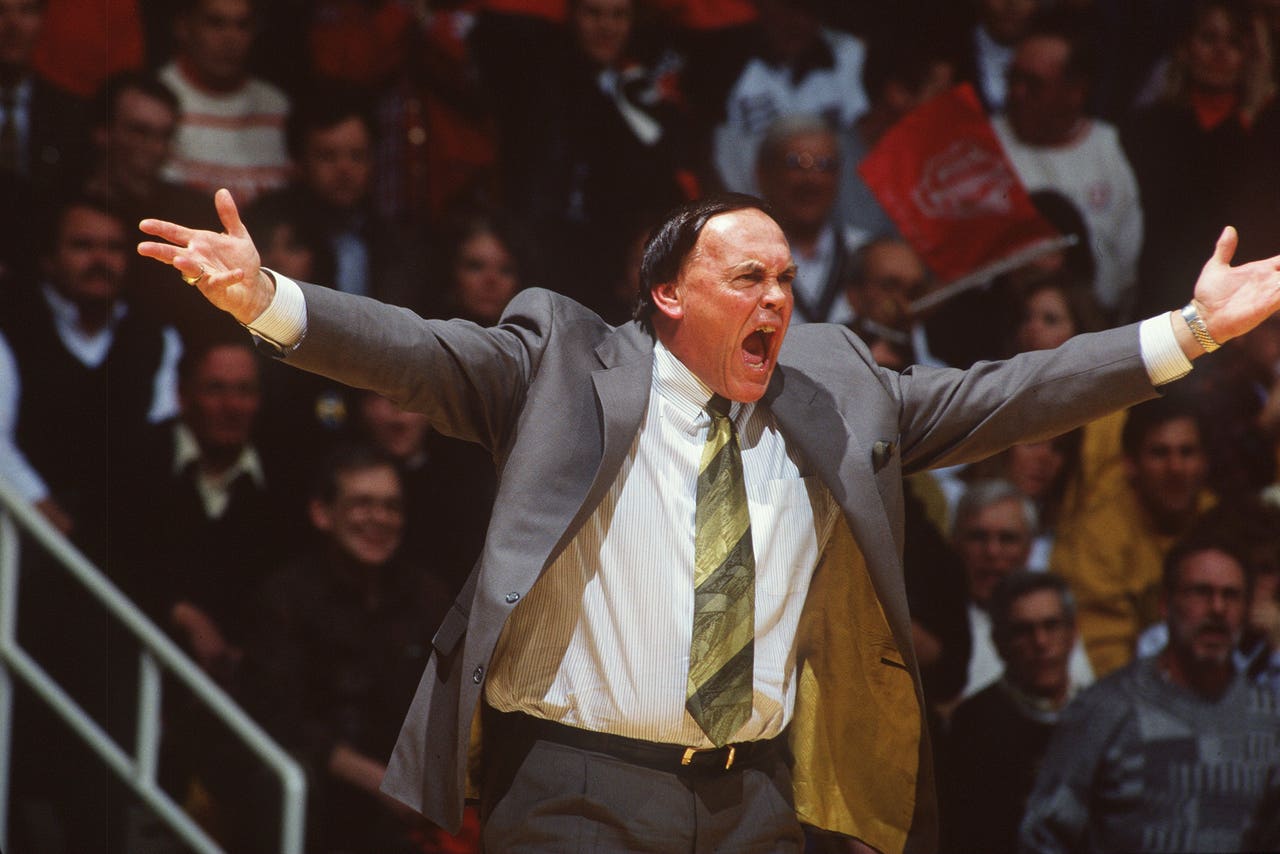 (Gary Mook/ALLSPORT)
64. Weber State — The school used to bring a live wildcat to games until it bit a cheerleader on the nose.
Story like that's gotta be true.
---
---