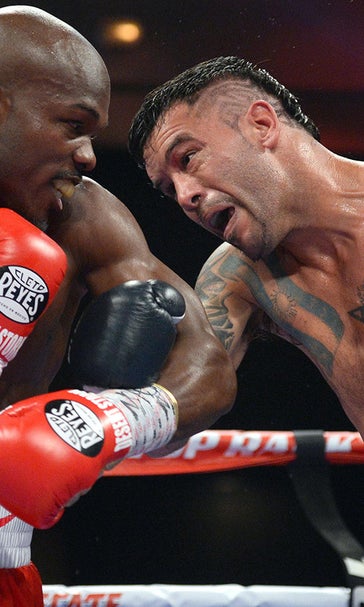 Bradley-Chaves welterweight fight ends in controversial draw
December 14, 2014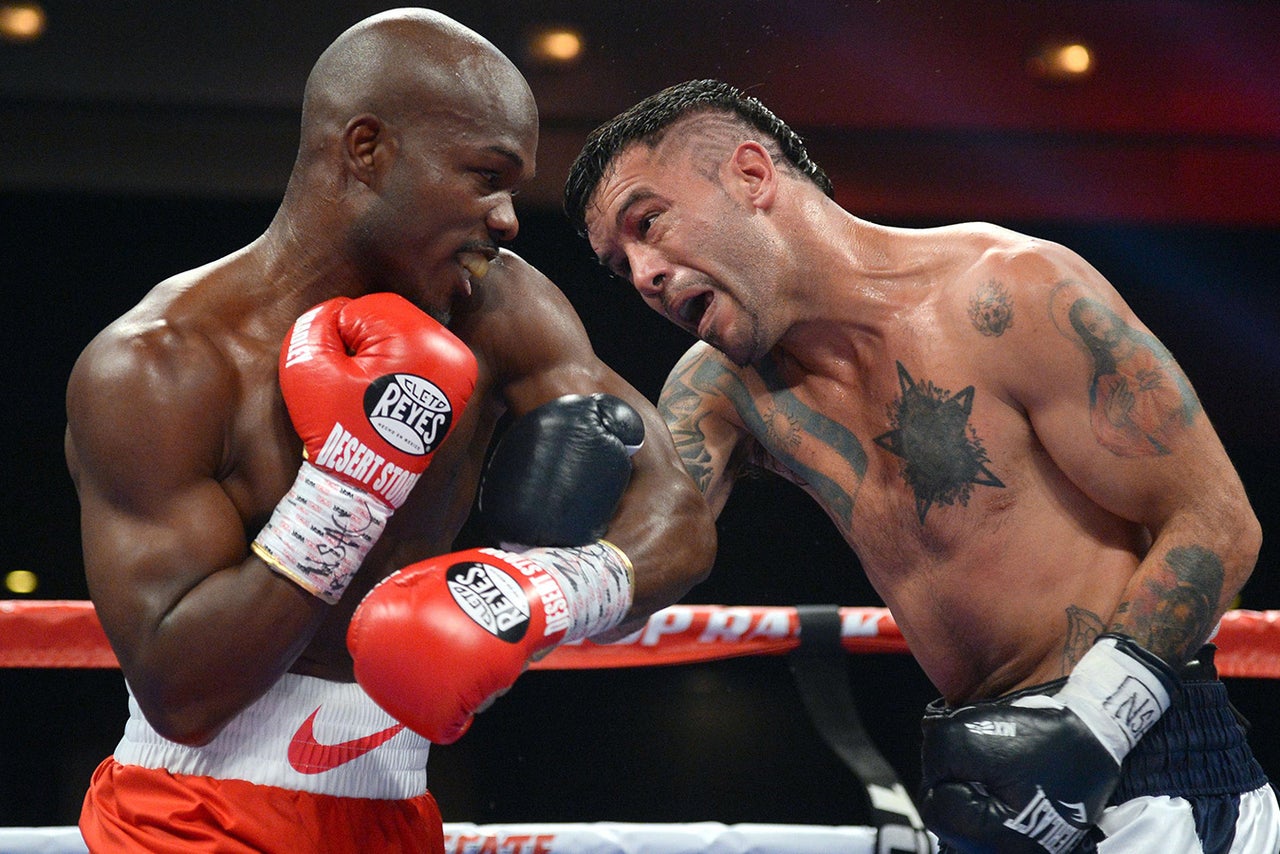 LAS VEGAS -- Timothy Bradley fought to a draw against Diego Chaves in a 12-round welterweight match on Saturday night at the Cosmopolitan. It was another disappointing night for the former welterweight and junior welterweight champion who lost for the first time in his pro career in his previous fight against Manny Pacquiao in April.
Although what happened against Chaves wasn't nearly as clear cut as that loss to Pacquiao. It was a stunning decision that left many at ringside shaking their heads in disbelief for the second time on Saturday night.
Jose Benavidez (22-0) won a unanimous decision over Mauriciao Herrera (21-5) to claim the interim WBA super lightweight belt in a preliminary bout on the undercard. But fans and media were in an uproar, feeling Herrera clearly won the fight.
Many of those same people had Bradley dominating the fight against Chaves. Bradley repeatedly landed rights against Chaves, while also eluding many of Chaves' cleaner blows. After the fight, Bradley said he thought he had won eight rounds.
Julie Lederman scored it 116-112 for Chaves, Burt Clements had it 115-113 for Bradley, and Craig Metcalfe had 114-114, a draw.
Bradley said he felt he won eight rounds and thought he won the fight handily.
''He's a strong, seasoned, crafty fighter," Bradley said. ''I thought I was in control and I thought I won the fight easily."
Bradley's promoter, Bob Arum of Top Rank, was less diplomatic.
''Julie Lederman should not be judging fights,'' Arum said. ''Her scorecard for Chaves was an absolute disgrace.''
Arum also ripped into the Nevada State Athletic Commission for allowing two major boxing cards to take place on the Las Vegas Strip on the same night. Golden Boy Promotions had a card featuring Amir Khan and Devon Alexander in a welterweight title match at the MGM Grand. Arum said there aren't enough quality officials to accommodate two championship matches on the same night.
Arum thought Bradley handily won eight of the 12 rounds. Arum said he was ''fed up'' with the judges. He made similar statements after Bradley scored a controversial decision over Pacquiao in 2012. Asked if the decision in Bradley-Chaves was as bad as the decision in Pacquiao-Bradley in 2012, Arum just said, ''It was bad.''
Lederman is the daughter of HBO's unofficial ringside judge Harold Lederman. On his unofficial scorecard for HBO, Harold Lederman scored the fight 116-112 for Bradley.
Bradley left ring and immediately went to the hospital with what he thought was a fractured left cheek bone.
Bradley and Chaves clashed heads several times during the fight, resulting in a cut above Chaves' right eye and swelling under Bradley's left eye.
Despite Bradley's disappointment, Chaves felt good about the decision.
''I think it was an even fight, but I thought I was superior,'' Chaves said during the in-ring interview.
The fight had multiple head butts. Bradley's left cheek was badly swollen
Bradley (31-1-1) landed 225 punches while Chaves (23-2-1) landed 152, according to the CompuBox statistics, and had a 146-108 advantage in power punches landed.
Chaves is fighting for the third time in America. His previous two appearances didn't go as well. He was knocked out by Keith Thurman in the 10th round last year, and was disqualified against Brandon Rios in August.
Before the fight Bradley said that Chaves is a dirty fighter, and if he referees didn't control the action that he would take matters into his own hands. He called himself an ''eye-for-an-eye'' kind of fighter.
In the other championship match on the card, Andy Lee (34-1) stunned previously undefeated Matt Korobov (24-1) with a sixth round technical knockout with 1:10 left in the sixth round to win the WBO middleweight title.
---