Alvarado focused solely on Marquez, not potential Pacquiao fight
Published
May. 14, 2014 4:31 p.m. ET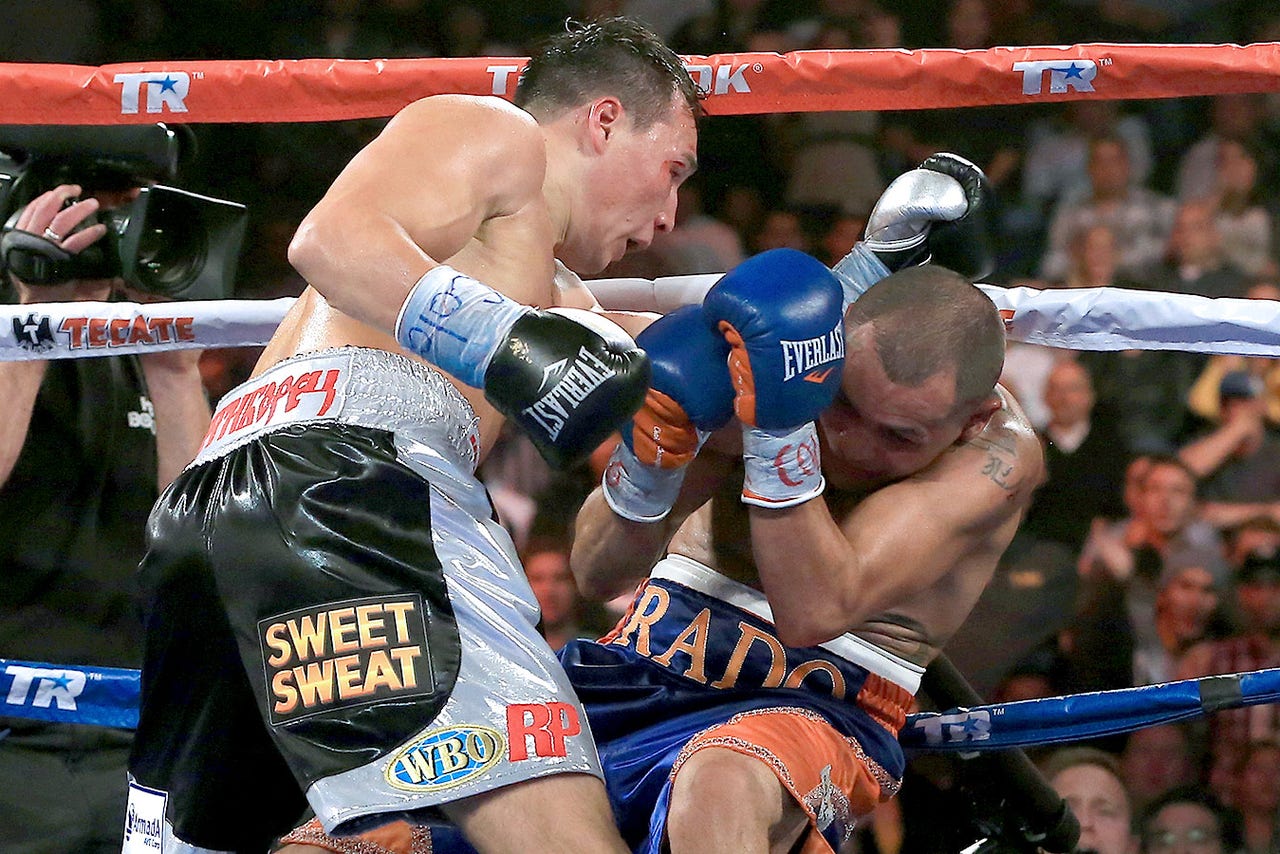 DENVER -- The punches kept landing long after Mike Alvarado lost his world junior welterweight title in his last fight.
Only, these were mental jabs being delivered as he berated himself for weeks over not taking his bout with Russian bruiser Ruslan Provodnikov more seriously last October.
When he returned to training, Alvarado placed an enormous promotional banner from the fight on a wall in the gym -- to constantly refresh his memory as to what can happen when he stops being Mike Alvarado the boxer and tries to be Mike Alvarado the brawler.
He has a chance to get his career back on track when he faces 40-year-old Juan Manuel Marquez at the Forum in Inglewood, California, on Saturday. The winner will be the mandatory challenger to World Boxing Organization welterweight champion Manny Pacquiao in the fall.
''This gives me more of a focus, knowing I have an opportunity for a bigger opportunity,'' said Alvarado, who's moving up a weight class to take on Marquez in a 12-round bout televised live on HBO. ''Just do my thing.''
He's actually surprised a bout of this magnitude happened so quickly, especially after losing to Provodnikov just seven months ago when he couldn't answer the bell late in the fight. And especially when he hardly resembled the boxer who had risen to the top.
That Provodnikov fight still haunts Alvarado. In the ring, he did everything he wasn't supposed to do as he tried to brawl with the powerful boxer instead of move around and look for an opening.
Then again, Alvarado's training leading up to the fight wasn't exactly stellar. The Denver boxer was distracted by his celebrity status around the Mile High City and didn't treat the bout with proper respect, which he and his training team readily acknowledge.
''Told him, 'See what happens when you don't take things as seriously as you should,''' said Henry Delgado, who serves as Alvarado's manager and recently moved the team to Los Angeles to train without distractions. ''That wasn't Mike Alvarado (that night). We had a long talk and said, 'Look, you got there and you let it go. But now you know when you get there, how to stay there.'''
Alvarado (34-2) insists his focus is squarely on Marquez, not down the line for a possible chance at Pacquiao.
Marquez (55-7-1) is formidable enough. He knocked out Pacquiao in the sixth round of their fourth fight in late 2012. That's the power of the veteran Mexican champion.
What's more, Marquez shines under the bright lights of the Forum, where he's undefeated in a dozen fights.
But Marquez is coming off a loss, too, dropping a split decision to Timothy Bradley Jr. last October.
''I've been watching Marquez for a long time,'' the 33-year-old Alvarado said. ''He's a legend in the sport and made his mark. I'm going to exploit every weakness and see how much he has left in him.''
Be forewarned: Marquez isn't ready for retirement anytime soon.
''In my mind, all I think about is winning and continuing my career,'' he said. ''As long as I feel well in my training, I will feel well in the fight.''
Marquez just may borrow a page from Provodnikov's playbook -- try to lure Alvarado out of his style and counter punch. Marquez knows quite a few tricks to throw a fighter off his game.
''I need to use all my experience in the ring,'' he said.
Asked if he's thinking about possibly another rematch with Pacquiao, Marquez quickly deflected the question.
''I'm concentrating on this fight,'' he said. ''The most important fight for my career is right now, because (Alvarado) is a strong fighter.''
Determined, too.
''I'm here to redeem myself and put on a better show,'' Alvarado said.
---