Would Kevin Durant really consider leaving OKC?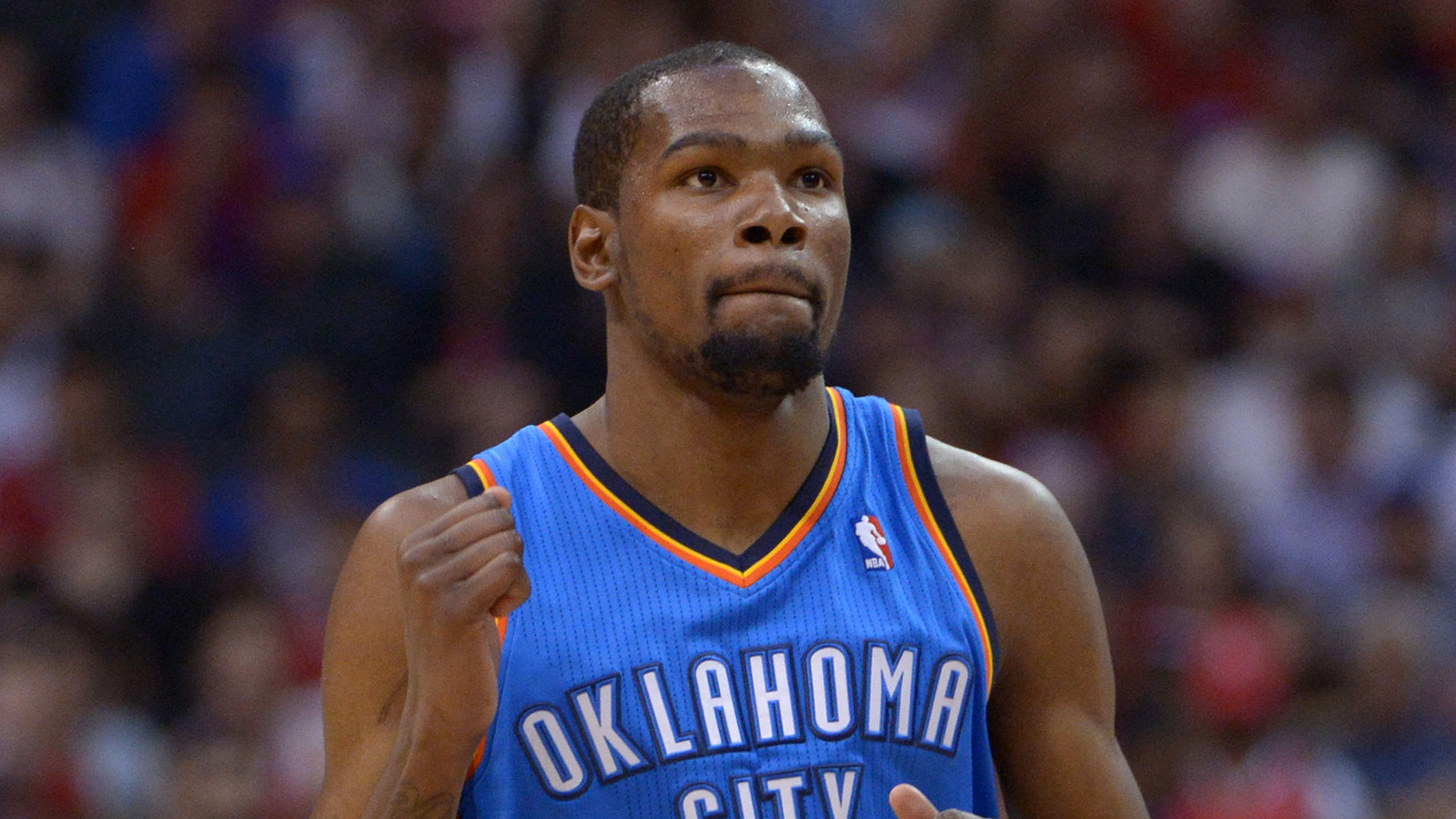 Kevin Durant decides to open another youth basketball camp in Moore, Okla., and everything feels right.
He loves us. He donated $1 million to the city last year and it feels like if we just asked nicely, he just might show up at our kid's birthday party.
Kevin Durant talks to ESPN about how he cheers on the Redskins and the Wizards and our hearts drop.
He loves us not.
For every Kevin Durant action, there will multiple, equal and opposite reactions. He scratches his nose, we scratch our head. He says he likes the beach, we wonder why not the mountains?
And it's really just getting started. There will be more. Much more. Durant's contract with Oklahoma City runs through the 2015-16 season and chances he'll sign an extension before the deal is up, like he did once already with the Thunder, are slim. This free agency game/torture/drama will play itself out slowly and painfully for most Thunder fans for the better part of the next two seasons.
And besides playing the Waiting Game, there's nothing we can do about it.
Except enjoy it.
Yeah, embrace the pain because next season is going to be a good one. You get Durant in his prime, along with Russell Westbrook, Serge Ibaka, Reggie Jackson and a sharp-shooting 3-point guy in Anthony Morrow. You get national-tv broadcasts, Christmas Day action, a sold-out arena and energy unmatched in cities all throughout the league.
Why waste all that worrying about whether Durant and Jay-Z are talking behind closed doors? Guess what? They are. So what?
Don't let it ruin your day, your month, your season. It's not worth it.
Durant in his prime is a, "remember when" kind of opportunity. One of the world's best in front of your eyes, wearing the laundry of the team you cheer for. Don't spoil it. This is a treat, not earned, but given.
Remember, Durant was drafted to Seattle and moved to Oklahoma City. He never chose to make this place his home. Now, yes, Durant may love it, treat it as God's Country and embrace the people and the lifestyle, but that doesn't mean anything more than exactly what it is.
Durant has given us everything and owes us nothing. In his time Oklahoma City, Durant has represented his team and his town and himself and family in the best way possible. He's the superstar, rare today, without baggage. He's a good teammate and involved in the community. He won the MVP and then thanked his mother.
If this season isn't enough, we get next season, too, as the Thunder will have three players in their prime for a team that has done no worse than play for the top seed in the Western Conference for the past five seasons.
Isn't that enough? It's July. It's 2014. Speculate all you want, but savor what you have because we're entitled to nothing.
Durant talked Washington and has been linked to New York. He endorses 10 brands. Ten. That's more than any other player in the NBA and he's done all that living in OKC, small market as it is.
But what if Durant gets to Los Angeles? He could endorse 15 brands and would be unmatched in a city that won't have Kobe Bryant for much longer.
Sure thing, it could happen. Don't be surprised if it does — there or New York or Washington or Chicago.
But be content for now. We have a pretty good product.
Follow Andrew Gilman on Twitter: @andrewgilmanOK