Would it be crazy for Texans to draft Sammy Watkins?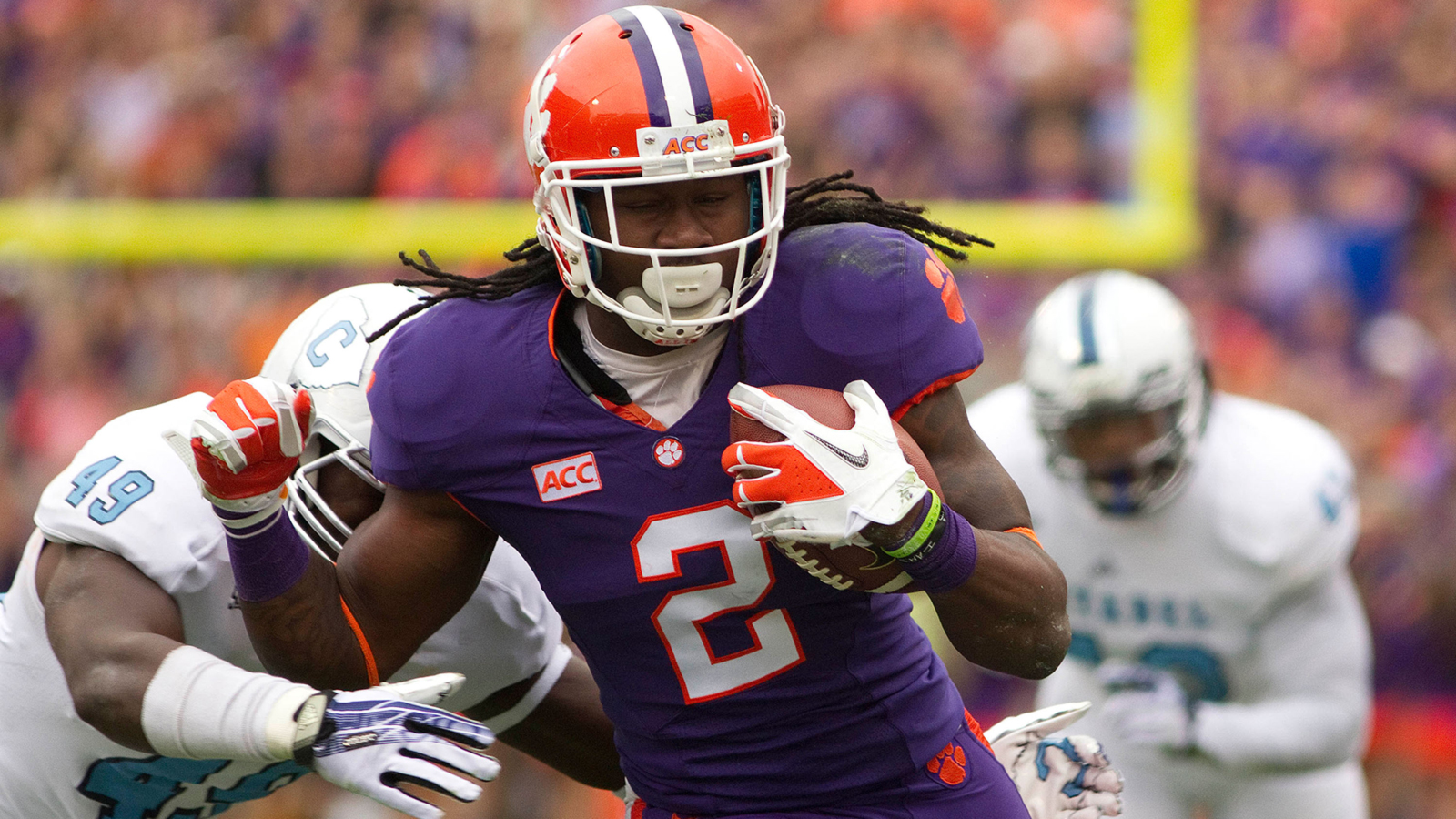 The Texans have the unenviable task of picking first in this year's NFL Draft. There are several players who you could argue are worthy of picking No. 1 overall. The most rumored name is South Carolina defensive end Jadeveon Clowney who possesses freakish athleticism and pairing him JJ Watt would be an enticing option for the Texans.
If they are scared off by reports of his motor and lack of numbers from last season then maybe the Texans will add Buffalo outside linebacker Khalil Mack to pair with Brian Cushing. Mack has been labeled as the most polished player in the draft and can fit into any scheme.
One name that hasn't been mentioned though, is Clemson wide receiver Sammy Watkins. Is it totally outrageous to dismiss the Texans picking the talented Watkins with the first pick in May's draft?
The first impression you will get from anybody with any knowledge of today's NFL would say unequivocally yes, it is indeed outrageous for the Texans to do such a thing. Why is that? While you do need a weapon for your quarterback to throw to in today's NFL, it is more important to have a quarterback who can get the ball to his weapons and a left tackle who can protect a quarterback's blind side.
Why should the Texans even entertain the thought of drafting Watkins then? First, and something fans may not be thinking about, is to replace Andre Johnson. Yes, the Texans used their first round draft choice on Watkins' former Clemson teammate in DeAndre Hopkins. Hopkins showed flashes of evolving into a really good wideout in his rookie season. Part of that is because of the attention Johnson got from opposing defenses and part of that is because of Hopkins' athletic ability.
However, Johnson is 32 years old and will start declining soon enough. After all, father time is undefeated and if the Texans can't compete in the next year or so, maybe ownership lets Johnson pursue the only thing he doesn't have on his Hall of Fame resume: a Super Bowl ring. With that in mind, wouldn't it be smart to get Johnson's replacement sooner rather than later?
Imagine pairing Watkins with former Clemson teammate DeAndre Hopkins. The two starred at Clemson and made that offense one of the most lethal units in the country. It was an aerial assault in Death Valley and college defenses were the targets. Reuniting them in Houston would make defenses sweat because both guys can work interchangeably as the No. 1 and No. 2 options in the offense. In 2011, Watkins caught 82 balls for 1,219 yards and 12 touchdowns, AS A FRESHMAN!
Meanwhile, Hopkins caught 72 passes for 978 yards and five touchdowns. In 2012, Hopkins and Watkins switched roles as Watkins caught 57 passes for 708 yards and three touchdowns while Hopkins exploded to catch 82 passes for 1,405 yards and 18 touchdowns.
Lastly, let's take a look at what it could mean for the future. There are several teams who are trending towards building a team with two really good wide receivers. The most noteworthy tandem comes from the Chicago Bears who have Brandon Marshall and Alshon Jeffrey presenting matchup problems all over the field for defenses. The Denver Broncos had a similar dynamic with Demaryius Thomas and Eric Decker over the past couple of seasons and even the Atlanta Falcons have a very nice pairing in Roddy White and Julio Jones.
Having Sammy Watkins and DeAndre Hopkins reunite in Houston would also give whatever quarterback they have on the roster, or take in the draft, a really good starting point for the future.
While, Watkins isn't the first NFL prospect to come to mind when thinking of the Texans' needs on their roster, maybe the Texans wouldn't be so crazy to have Watkins join the likes of Johnson, Hopkins and DeVier Posey.