Worst Final Four seats at AT&T Stadium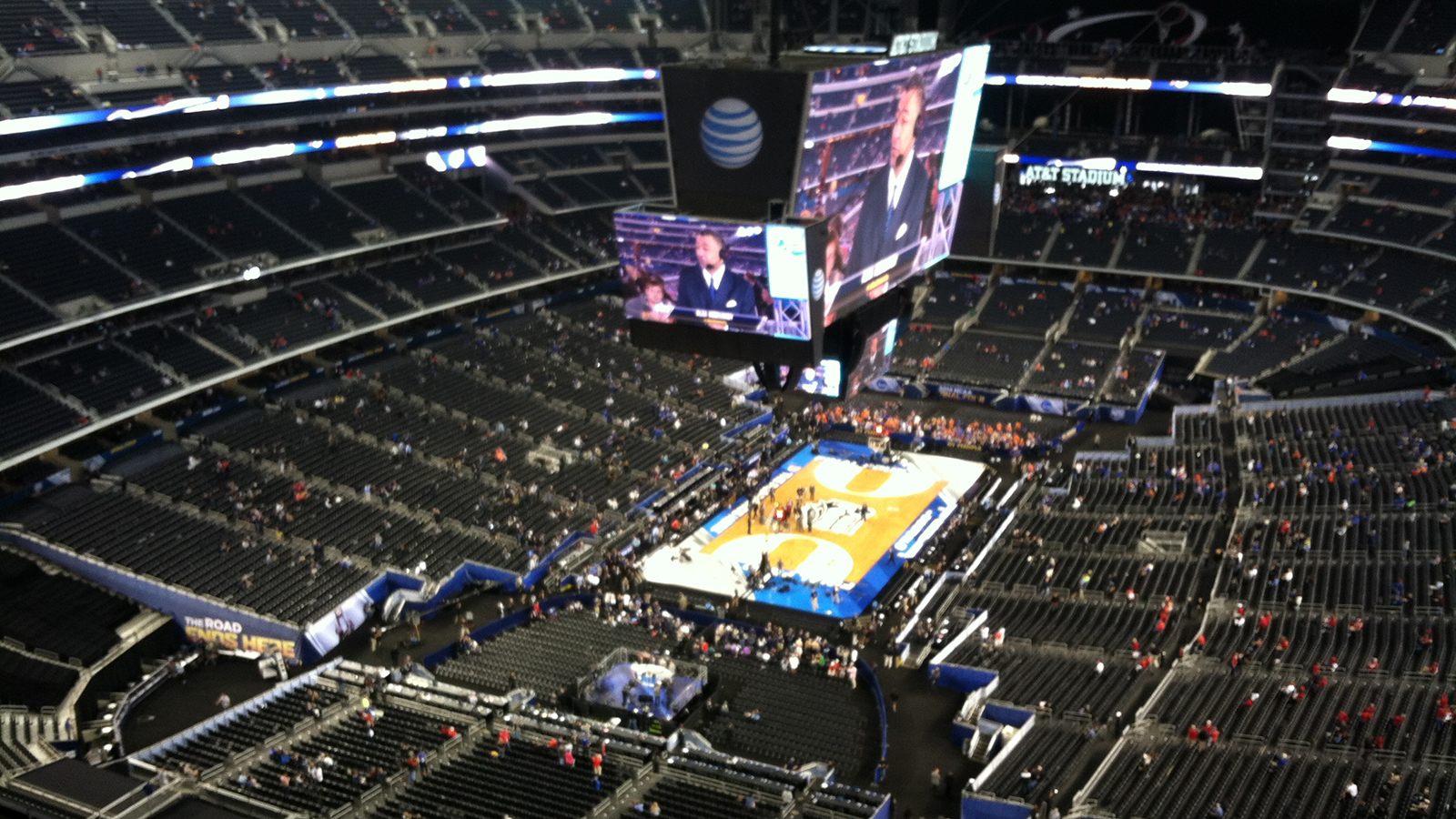 ARLINGTON, Texas – I am thankful for that extra swipe of deodorant this morning.
The climate underneath my blazer is becoming more hot and humid by the second, like New Orleans, host of the 2012 Final Four.
The evidence shows on my forehead.
"They ought to give you hazard pay for this," Dan Schwabe says.
I don't protest.
Reaching Schwabe's seat, which is the worst at AT&T Stadium by my count, is quite a climb.
Schwabe and his wife Jane, natives of St. Joseph, Mo., purchased tickets for a shade under $200 each through the NCAA lottery. Saturday night, you could find them alongside their daughter, Jenny. Jane's brother, Dallas native Jim Borneman, tagged along after one of Jane and Dan's children decided not to come.
Together, they make up Section 424, Row 22, seats 5-8.
Jane suggests the printer could have simplified its job by printing "the very freakin' top of the stadium" on the tickets.
It's the highest row in the deepest corner of the venue that will welcome over 75,000 fans on Saturday and Monday night.
"It's about what I thought it would be. I knew it was huge, and I knew we were going to be way up high," Jane says.
Will they get their money's worth after spending almost $1,000 to watch a game from a distant perch of Jerry's World?
"We'll see, but I doubt it, because Kansas isn't here," she says.
The family of diehard Jayhawks fans predictably love basketball and each year, travel to as many NCAA tournament regionals as possible. This is Jane's second Final Four. Her husband, Dan, has been to six.
"I'm glad you've got the big jumbotron there, but we've always wanted to come to the JerryDome to see what it was like," Jane says.
They made reservations at the Sheraton Dallas in the Arts District, which is also hosting the NABC coaches convention this week. On Friday, they trekked to Bracket Town at the convention center in downtown Dallas and made their way over to Reunion Park for a night of concerts being put on this week.
Saturday was the first time they made the 18-mile journey to AT&T Stadium.
"I personally think, from a fan perspective, it's going to go down as the worst Final Four ever," Dan said. "We've gone to all the other ones and we just take a cab to the hotel and everything's in easy walking distance. This is so spread out. The logistics of getting places is a lot harder."
"It's a little less convenient as an out-of-towner," Jane said.
They passed on renting binoculars for the game, but for having the worst seat in the house, the Schwabe family was in good spirits.
Just like any hike, the view at the end is the reason for the whole excursion.
"It was great once I caught my breath," Jane said.