Witten on Romo, expectations for Cowboys this upcoming season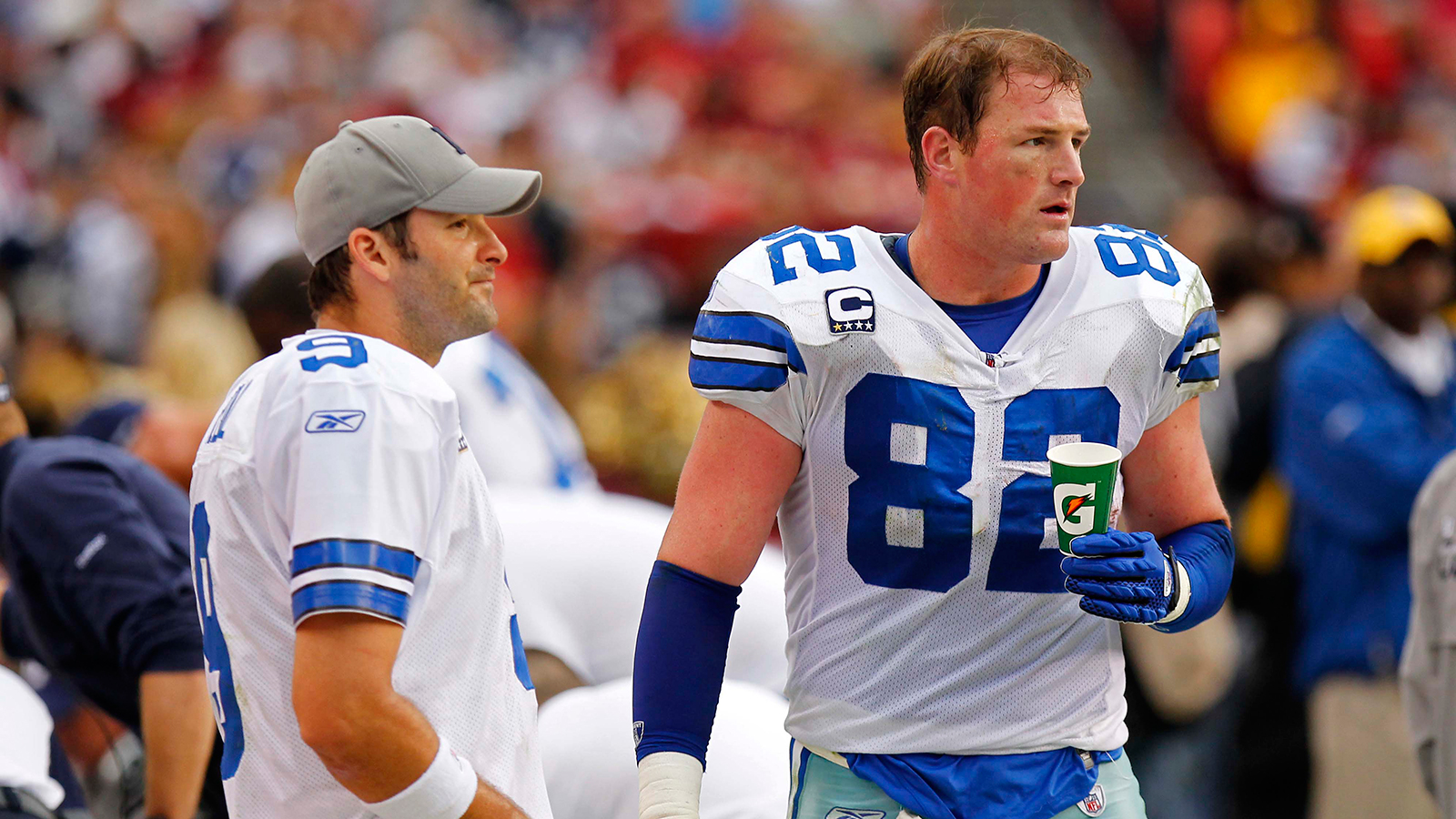 It doesn't seem possible that Jason Witten should be on the cusp of his 12th season in the NFL. Bill Parcells took him in the third round of the 2003 draft when Witten was a 20-year-old.
He quickly became a Parcells favorite his rookie season when he only missed one game with a broken jaw. Witten was already an established player in the league by the time Tony Romo became the starting quarterback six games into the 2006 season. I will never forget watching Witten get in Romo's face after the Cowboys fell behind 14-0 to the Panthers in the quarterback's first start in the league.
"I've got this," Romo shouted as he pushed Witten away.
They came into the league together in 2003 and in many ways they have a shared legacy. Witten was by Romo's side the first time he decided to go out in public following his botched snap in a playoff loss to the Seahawks. He's in the middle of putting together a Hall of Fame-caliber career, but he answers more questions about Romo than he does himself. And of course that's where the conversation turned when I had a chance to visit with Witten on Thursday via "The Afternoon Show" on KESN 103.3 FM.
"He's got an unbelievable will," Witten said of his close friend. "He's extremely tough. I understand there's a lot of criticism and until you win that big game and compete for championships, when you play that position, that's gonna come. But he's working really hard. He looks great. I know his mental mindset. I've been around him a long time. I think he's gonna come back better than he has ever before and it's going to be a great year for him and, hopefully, for our football team."
I found it interesting that Witten insisted on talking about the Cowboys as a whole before answering any questions about Romo. He doesn't mind fielding questions about the quarterback, but he wants to make it clear that no individual comes before the team.
"I just think the reality of it is 13 of 16 games, we're within one score in the fourth quarter," said Witten. "If you go back the last three years, that's the case. And we haven't executed in those situations, and good teams do. And we haven't done that and so we have to find ways to do that. There are two ways to look at that: Not making those plays in tough situations and the other way, you also say 'hey man, they're in these games.' We're just not finding ways to win them. The reality is somewhere in between those.
FOX SPORTS
DAILY
COWBOYS

EDITION
"That's the league we play in now. Seventy percent of these games are coming down to one score in the fourth. We have to execute and find ways to win. Talking about it, potential and that stuff, is really irrelevant. I think we're putting the work in so we'll be better in those situations."
The one thing that scares you about Witten's premise is that it sort of echoes Jerry Jones. The Cowboys owner loves to talk about how close the Cowboys have been to breaking through. It's true in some ways because the Cowboys have been in several win-or-go-home games in Week 17. But most successful teams aren't looking for a backdoor route into the playoffs. I'm afraid some of Jones' blind optimism has permeated this roster.
Witten also talked about new offensive coordinator Scott Linehan. Witten has played for innovative playcallers such as Sean Payton and Tony Sparano. He's also watched Jason Garrett handle those duties until Jones told him to stop. He sounded genuinely impressed by Linehan's credentials.
"I'm excited to work with Scott," Witten said. "If you look at his offenses over the last decade, they've been very productive. I think people sometimes think he gets pass-happy. I don't think that's the case. He just plays his personnel. He's added his wrinkles to our system we already had in place. Ultimately, it's about us executing better, playing better. We gotta do a much better job of keeping drives alive, converting third downs and scoring points when we're in the red zone."
Witten was quite outspoken last month in discussing the Cowboys' commitment to the running game. It sounded like he's tired of coaches simply giving it lip service. It was something I pressed him on during Thursday's interview.
"Every game is different. I think we did a much better job running the football last year than we've done in a long time," he said. "Any time you're able to run the ball and have success with it, you're going to have more attempts at it. In previous years, we had negative runs, we put ourselves in 2nd-and-12 and 3rd-and-eight. Those aren't run downs for you. You have to pass. Ideally, you're playing with the lead and if you're ahead of the chains, you're gonna run the football more. We're an aggressive offense. We're gonna attack. And you can attack in a lot of different ways."
Witten and DeMarcus Ware will likely end up in the team's famed Ring of Honor someday. I believe that Ware's departure probably caught a lot of players by surprise, but Witten may have been at the top of the list. It was a reminder that no player is assured a spot on the roster forever. And it may have heightened Witten's sense of urgency.
He and Romo can either be remembered for a bunch of lost opportunities or finally breaking through in the playoffs. All we know for sure is the clock's ticking on both accounts.