Will TCU's biggest weakness keep it from Omaha?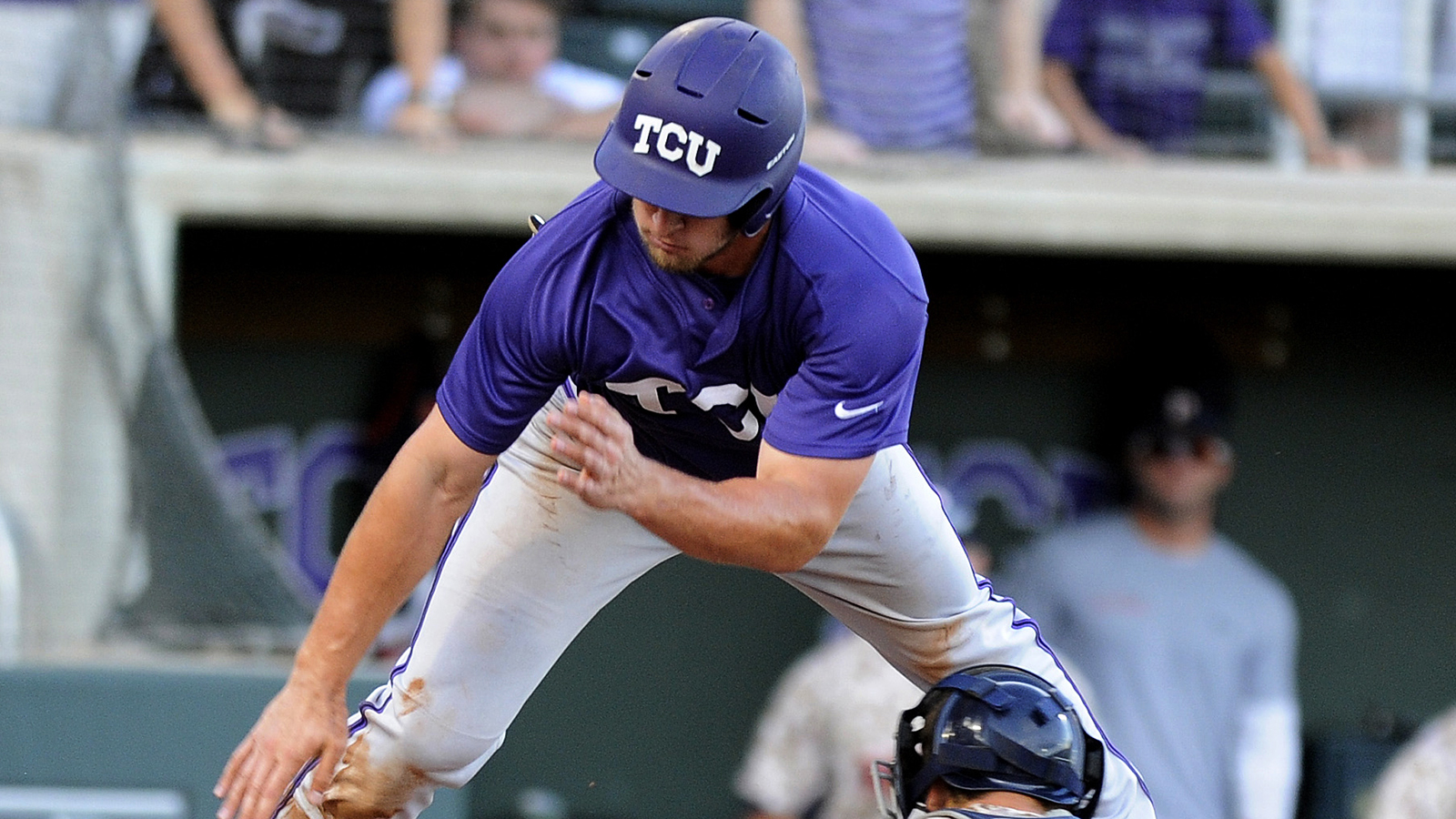 FORT WORTH, Texas – The third-largest crowd ever at Lupton Stadium played amateur podiatrist for three hours on Sunday night.
TCU's Achilles' heel was on full display for nine innings in Sunday' 3-2 loss to Pepperdine. The Frogs are who they are: A pitching-heavy team who relied on defense to carry it to 31 wins in its last 34 games before Sunday's loss snapped an eight-game winning streak in postseason play. It held opponents to two or fewer runs in 32 of 62 games this season.
Brandon Caruso's fifth-inning single put Pepperdine ahead 1-0. For seven innings, one swing could have put TCU ahead or tied the game. It didn't happen for the Frogs, who haven't hit a home run since the first inning of a win over Baylor on May 18–nine games ago.
The Frogs have just 12 home runs this year, the fewest in the Big 12. They boomed 104 in 2010, the only time TCU qualified for the College World Series.
If "chicks dig the long ball," the Frogs' dugout might as well be a monastery.
TCU's 316 runs this season were enough to finish a game behind regular season Big 12 champion Oklahoma State thanks to a stellar pitching staff headlined by first-round pick Brandon Finnegan (who won Saturday's game) and Big 12 Pitcher of the Year, Preston Morrison, who turned in a solid effort by giving up just three runs and five hits in 6.2 innings of work.
Five of the other eight Big 12 baseball teams topped TCU's run output this season.
It sure would be nice to have a few guys who might rescue a game and energize a crowd with one legendary swing. It didn't come, and its absence wasn't a surprise.
TCU has one player on its roster (first baseman Kevin Cron) with more than two home runs this season.
Pepperdine added two more runs to take a 3-0 lead in the bottom of the seventh inning, but for the offensively challenged Frogs, it might have felt like 30-0.
West Coast Conference pitcher of the year Aaron Brown allowed just five hits and no runs in seven innings.
"We had our opportunities early in the game to get a lead. Either our bats were bad or you tip your cap to the pitches Brown made," TCU manager Jim Schlossnagle said. "He's a third-round pick as an outfielder, but he looks like an awful good pitcher to me."
The Frogs loaded the bases in the top of the third inning with one out before Brown finished striking out the side in the inning.
"He pitched with better command on three pitches than we had seen on video," Schlossnagle said. "As (Texas) Coach (Augie) Garrido says, 'Sometimes when you lose, it's not your fault.' I think it's more about Aaron Brown today than it was anything else."
He secured his 13th win of the season with a laser throw from center field in the top of the eighth inning that gunned down TCU Jerrick Suiter at the plate, despite Suiter's efforts to dive over catcher Aaron Barnett's head.
"As soon as I saw it hit to center, I thought, 'We have a chance,'" Pepperdine manager Steve Rodriguez said.
Brown rewarded his coach's faith.
That ended the eighth inning and secured the Waves' 3-2 lead, but the Frogs only scored their first run of the inning because of two throwing errors on one play.
Sunday's result (and Texas Tech and Texas' already-booked tickets to Omaha) don't change the fact that TCU is the Big 12's best team, but it also offered a reminder that if TCU doesn't reach its stated annual goal, there will be one simple reason why.
The swing that could have changed the game never came. The same dirt stains on TCU's uniform that felt like glory in last week's regional and Saturday's win just felt like dirt this time.
The Frogs' lack of offense is the simple reason why.
A lackluster rendition of the alma mater had been completed. TCU's players slowly filed to the visitor's dugout, where they'll reside for Monday's decisive Game 3 after losing a Friday coin flip.
"Get 'em tomorrow!" one fan yelled.