Ubben's Big 12 Mailbag: Davis Webb vs. Trevor Knight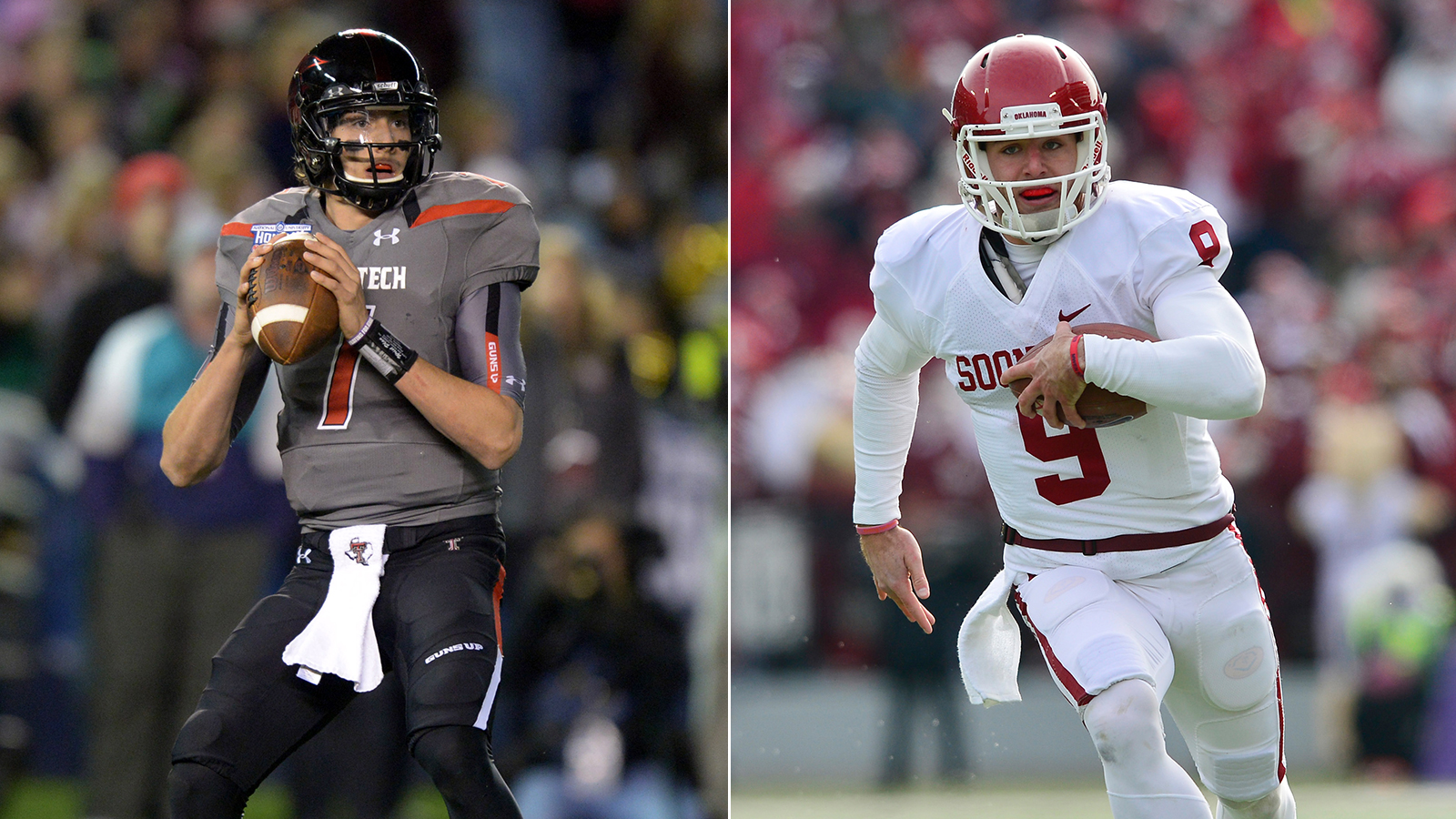 Thanks for all the questions again this week, everybody. If you want to show up in our next edition, be sure to follow me on Twitter.
This week, we're covering Oklahoma's hopes of catching the SEC, Trevor Knight vs. Davis Webb, West Virginia's future and who Paul Rhoads' next victim will be.
Let's get to your letters.
Robert Powell asks: Would you rather have Davis Webb or Trevor Knight the next 3 years? Why?
David Ubben: Good question, but at this point, I don't know how you could say anything but Davis Webb. Knight has been in college a year longer than Webb, but all Knight has over Webb was the best individual outing between the two.
Seeing him shred Alabama's defense was eye-opening, but Webb's been the more consistent talent and though he's not as mobile, we're going to see him make a big jump this year when he cuts down turnovers. Those are born much of the time out of being overambitious, but in talking with him and Kingsbury a bit this offseason, he's learned a lot from those mistakes.
Oh, and he was throwing for over 350 yards a start while he was learning. He's got a ton to build on. That's a lot more than Knight can say. Webb was overlooked a bit last offseason in part because Tech thought Michael Brewer was the clear heir to Seth Doege, but Webb earned an invite to the Elite 11 Camp for a reason.
He's my pick as the Big 12's No. 2 quarterback this season, and we're going to see a big jump from him this year because of improved decision-making. He's more accurate than Knight and if he cuts down the turnovers, don't be shocked to see him give Bryce Petty a little bit of a push as the All-Big 12 QB.
Ted Flint asks: This far out, pick which team will be the Paul Rhoads upset special?
David Ubben: I get this question every year, but last year, we didn't see the vintage Paul Rhoads upset. That broke a streak of four consecutive seasons with at least one win over a top 25 team. The most interesting part of that streak: Four of Rhoads' five wins vs. top 25 teams came on the road.
Which brings us to this year.
Two candidates jump out to me: Oklahoma State and Oklahoma.
If OSU stays somewhat competitive against Florida State, it'll have a great chance to go 3-1 before hosting Iowa State on the first weekend of October. The Cowboys could crack the top 25 if they beat Texas Tech the previous weekend, but OSU's hardly a juggernaut.
At that point in the season, Iowa State's offense under Mark Mangino may have found itself a bit more and learned to lean on Quenton Bundrage in the passing game and Aaron Wimberly in the running game. Crazier things have happened.
As for Oklahoma, the Sooners will have wrapped an emotional two-game stretch against Texas and Kansas State before a trip to Ames. Trevor Knight showed last year he's prone to inconsistency. He might fix that later in his career, but he's due for a clunker at some point this year. You could say that about almost every young quarterback not named Jameis. Oklahoma's defense will be good enough to win a lot of games on its own, but that's another spot where ISU might be able to pull a shocker.
Jordan asks: Does WVU have any real chance of competing in the Big 12 this year?
David Ubben: Well that's a little unfair, isn't it? Compete?
I don't think West Virginia will have much of a chance to "compete" for a Big 12 title, but my teams 6-9 in the Big 12 (Texas, TCU, Iowa State and WVU) aren't separated by much. Any of those four teams–perhaps all, really–are good enough to reach a bowl game.
West Virginia was 4-8 last year, but only lost two Big 12 games by 12 points or more. They were at least competitive in almost every game.
The Mountaineers are improving on defense and have a ton of weapons on offense with guys like Dreamius Smith, Wendell Smallwood, Daikiel Shorts, Mario Alford and Kevin White. That's a lot of depth at the skill positions. There's just the big question mark at quarterback.
Khaled S. asks: Who will be WVU's QB?
David Ubben: Funny you ask–what timing!
I was a little surprised that Clint Trickett stayed atop the depth chart this spring despite being out after undergoing shoulder surgery. At the very least, I thought we'd see some "OR" between him and his competition.
I was more surprised, however, at WVU's struggles and revolving door at quarterback last year. Dana Holgorsen's made his career thus far on outstanding play at quarterback, and with Geno Smith out the door, you can point to that position as the reason Holgorsen's on something of a hot seat entering the season.
You had to love Trickett's toughness last year and willingness to take a ton of hits, but all three of those guys were inaccurate. Ford Childress, who probably had the most upside, is gone. I'd expect Trickett to get the first crack against Alabama in Week 1, but juco transfer Skyler Howard will get an opportunity eventually. Neither will be the guy for 12 or 13 games.
Holgorsen doesn't want it, but I don't buy into either of those guys as somebody you can ride with. Expect both to spend time rotating at the spot this year, with a dose of Millard and Logan Moore in there, too.
Will Estel asks: What do you think of ISU's stadium expansion? In terms of facilities, where does OU need to be to compete with SEC programs?
David Ubben: I really like it. ISU has made so many upgrade in recent years, from the Jacobson building renovation to the jumbotron in the end zone. I don't have any doubt they'll be able to fill the new stadium.
One other interesting note: If that stadium does indeed end up seating 61,000 as planned, it would pass OSU, Texas Tech and West Virginia and be the Big 12's third-largest stadium, obviously behind Texas (100K) and Oklahoma (82K).
The design looks really sharp and modern, but I don't know why the mockups had to look straight out of Madden '99.
As for Oklahoma, its facilities are fine. That's not the reason why its recruiting has slipped a bit in recent years. The new Headington Hall will be a great attraction for future recruits, and so would a stadium expansion, if it is eventually approved. I do have some doubts that OU would be able to fill it for its less-attractive matchups, but it'll be outstanding for the big ones.
More competition on the recruiting trail in Texas from A&M, Baylor and SEC schools are a much bigger issue for Oklahoma than anything dealing with facilities. The best players in Texas aren't just picking between the Sooners and Longhorns anymore. That obviously shows up on the field when you've had your talent dip a little bit as Oklahoma has in the last five seasons or so.