Ubben: How I voted in Big 12 preseason poll, awards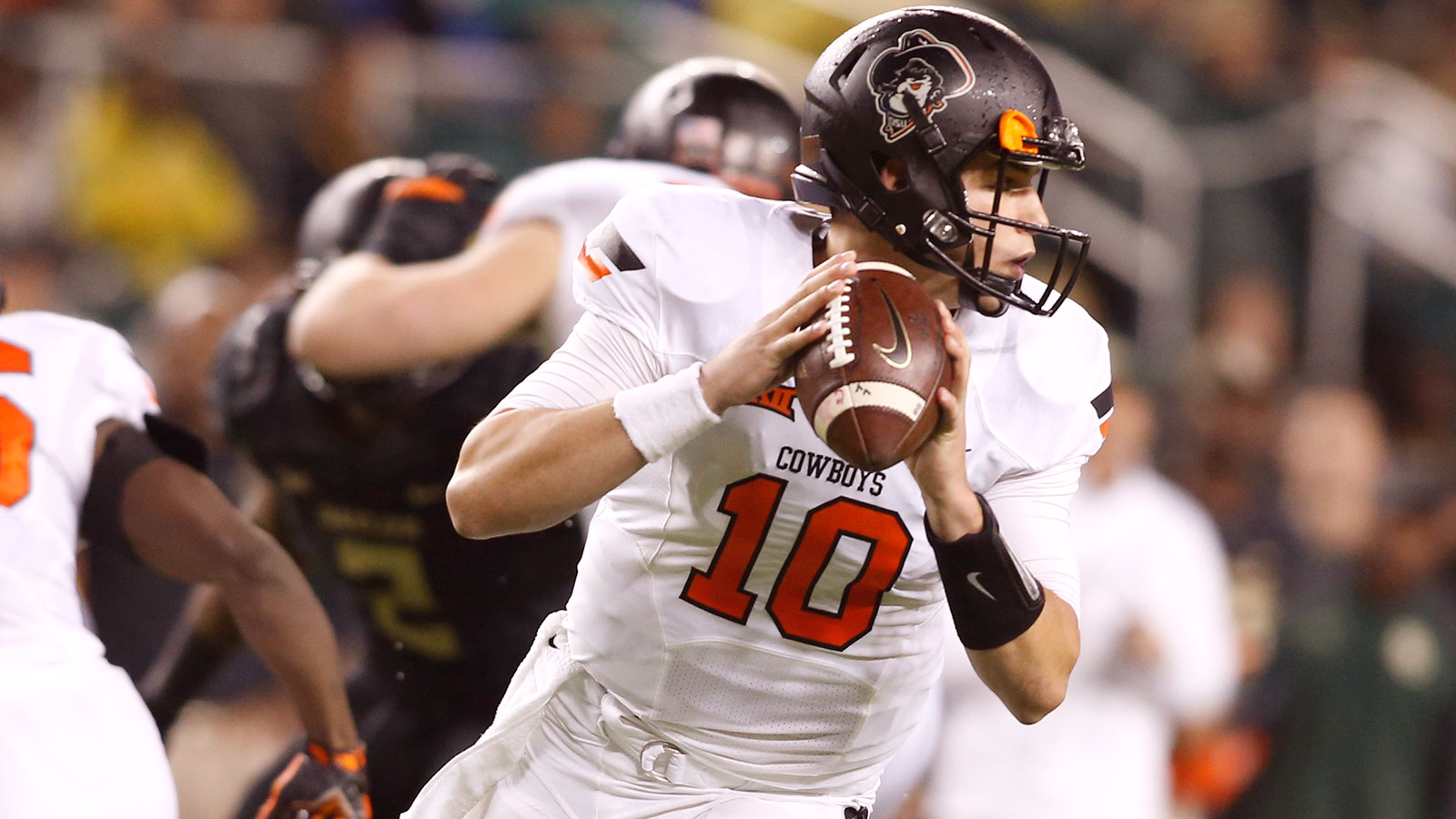 Talking season gets underway in Big 12 country on Monday, and after the Big 12 preseason poll, awards and All-Big 12 team get released, there will be plenty more to talk about.
You can see my ballot for the All-Big 12 team here, but here's how I voted for the league awards and preseason poll.
Offensive Player of the Year: Trevone Boykin, QB, TCU.
Unless you're going out on the limb with a prediction, Samaje Perine is the only other realistic option here. Still, Boykin is the clear choice. He's got a strong case as the best player in college football after accounting for 42 touchdowns last season and Vegas installed him as the Heisman favorite entering the season.
Defensive Player of the Year: Andrew Billings, DT, Baylor.
There are plenty of good candidates here. Shawn Oakman (who won this year's nod from the media), Eric Striker, Emmanuel Ogbah and Karl Joseph are all good picks, but give me Billings, who will replace Texas' Malcom Brown as the single most disruptive force for offenses across the league this year. He probably won't have the highlight hits that Striker, Oakman or Joseph will put on tape, but he gets a push up front that's even more important and his pure strength is too much for most interior linemen to handle. As he grows and develops more technique, that disruption is only going to grow.
Newcomer of the Year: Chris Carson, RB, Oklahoma State.
Talent and opportunity make up the requirements for this award. Carson or Oklahoma receiver Dede Westbrook are the two best candidates. I'm going with Carson to fill a huge void in Oklahoma State's running game without Desmond Roland and Tyreek Hill. Mike Gundy says he plans on Carson carrying the ball 15-20 times a game and unlike the undersized Hill, Carson has the frame at 6-foot, 200 pounds to handle that many touches, especially inside the tackles.
PRESEASON POLL
1. TCU: Flip a coin between the Frogs and Bears. They're both top five teams and their meeting the Friday after Thanksgiving will probably be decided by play or two. Gary Patterson's task rebuilding the Frog defense is a little tougher than what lies ahead for Baylor, but cliche as it may be, the presence of a returning quarterback with a Big 12 title ring can't be underestimated. I expect Seth Russell to be great, but could mistakes in big spots cost Baylor a game or two? I trust Boykin to make up for any of TCU's defensive lapses more than I trust Baylor's defense to make up for any mistakes Russell is bound to make at some point.
2. Baylor: The quarterbacks and receivers get all the pub, but the real reason why Baylor's program is growing and sustaining itself doesn't get enough attention. Watch the Bears' offensive and defensive lines do work some time, especially this year. It's an ugly thing of beauty.
3. Oklahoma State: The Pokes hopes the next two seasons hinge almost entirely on Mason Rudolph's development. The defense should be very good and continue its improvement from last year. The same is true of the offensive line. The receivers may lack a big-time threat, but they're deep and the running backs should be solid. If Rudolph is who we think he is, OSU will challenge Baylor and TCU for the title. If he's not, OSU may struggle to finish in the top half of the league.
4. Oklahoma: The Sooners have questions at quarterback and along the offensive line, and we'll see in 2015 how far a defense and running game can carry them. Along with Westbrook, safety Steven Parker could be a breakout player in the Big 12 this season.
5. Texas: Texas has tremendous upside if it gets solid play out of the quarterback spot. That's a big if, and putting points on the board will still be difficult with a thin offensive line and less depth at running back than Texas is used to. Year 2 for Charlie Strong should still be
6. West Virginia: Defensive coordinator Tony Gibson is Dana Holgorsen's best hire as the Mountaineers' coach. That won't change this year. The Mountaineers have to find reliable options at all the skill positions, but have the league's best secondary and one of its best linebackers in Nick Kwiatkoski. (I am hoping to be able to spell that without looking it up by November.)
7. Texas Tech: The Red Raiders can't get back into the top half of the Big 12 without major improvement from the defense. New coordinator David Gibbs will emphasize turnovers and if Tech can make a move in the right direction to fix its penalty issues, that task gets easier. The duo of Rika Levi and Breiden Fehoko should be fun to watch on the defensive line, and gives Gibbs a lot of muscle to work with up front.
8. Kansas State: It'll be very interesting to see how the league's media order teams 5-8 in the poll. Any order is defensible and I might regret this, but I don't see the pieces in place for K-State to finish in the top half of the Big 12. I do think eight Big 12 teams will earn bowl berths, but I'm not sure where the offense will come from for the Wildcats, despite an above average defense.
9. Iowa State: The Cyclones have more offensive weapons than ever under Paul Rhoads, but the defense has ranked last in the Big 12 in yards per play in each of the past two seasons. I don't know if that's changing this year and it has to for ISU to sniff a bowl game.
10. Kansas: Tom Keegan of the Lawrence Journal-World ranked the top 21 Jayhawks at the end of last season. After Andrew Bolton's departure last week, only two will be suiting up in 2015. Nothing explains the current state of Kansas football better than that. David Beaty is taking over a program in a deep hole in a league without many easily attainable wins. Here's hoping KU gives him more than two or three years to try and turn it around. This is not a program that can be thinking bowl games in less than three years.
MORE FROM FOX SPORTS SOUTHWEST:
– PHOTOS: Cowboys Cheerleaders Auditions
– Ranking NFL quarterback salaries
– Oldest player on every NBA team