Troy Aikman: Cowboys' defense 'can't possibly be as bad' as last year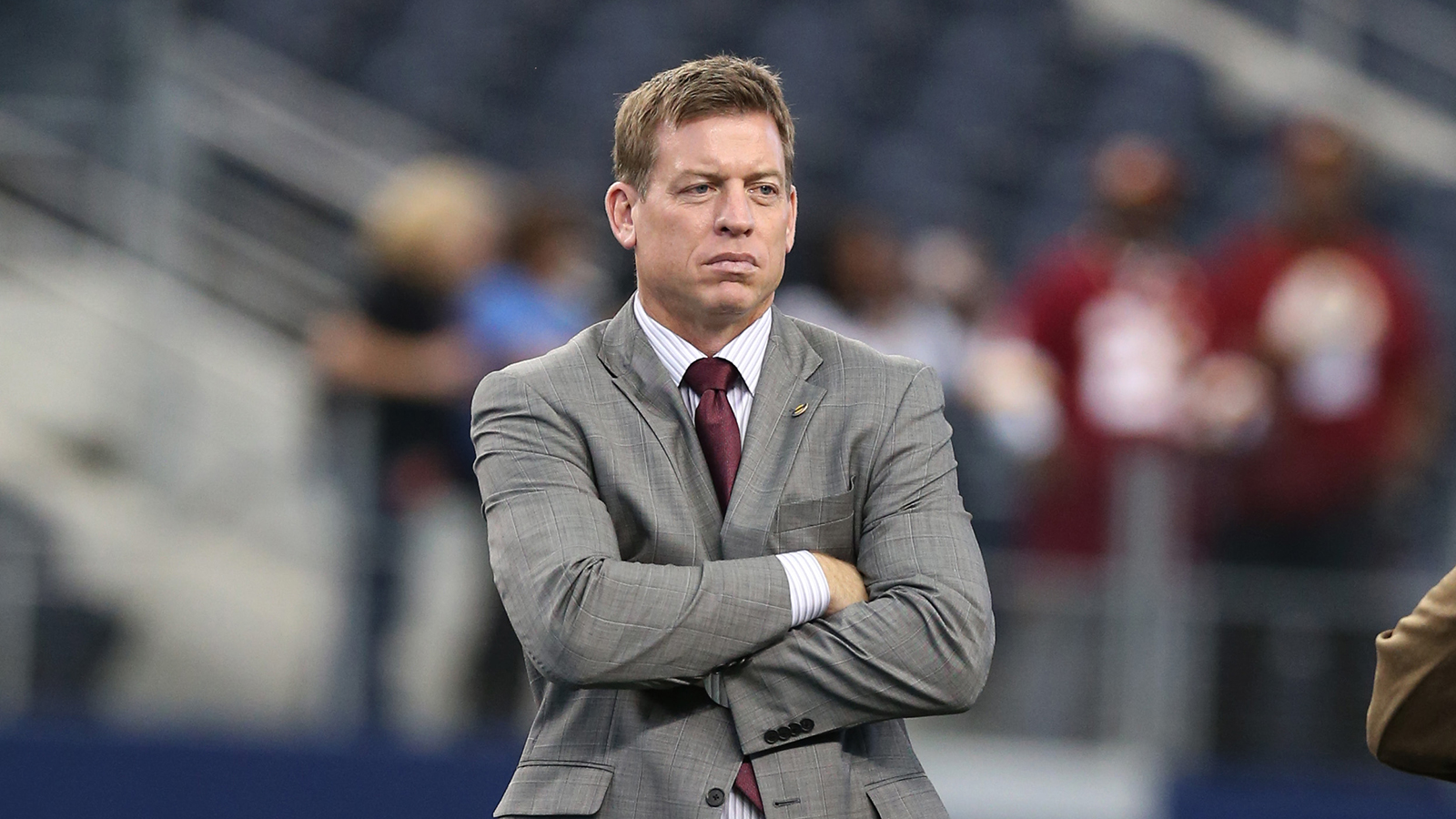 In attempting to make a positive comment on the Dallas Cowboys' defense, Hall of Fame quarterback Troy Aikman ran into a brick wall. It's hard to make a convincing argument for improvement on that side of the ball, unless you have a belief that it's impossible to be as bad as 2013.
Elevating Rod Marinelli to defensive coordinator should take care of some of the confusion that occurred last season. Monte Kiffin simply wasn't up to the task after getting his doors blown off in the college ranks for a few years.
"The defense is going to be better. They can't possibly be as bad or worse than a year ago, so it's going to be better," Aikman told me Tuesday on ESPN 103.3 FM. "Is it going to be enough? It's hard for me envisioning that to be the case with the injury Sean Lee being out for the season and DeMarcus Ware [gone]. Even though he battled through injuries and was limited last year, he's one of those guys that an offense has to concern themselves with.
"I know that as a quarterback whenever we played an opponent it was, 'OK, who do we have to focus on?' and 'Who do we have to neutralize?' either a great pass-rusher or avoiding somebody in the passing game. I don't know who that would be with Dallas right now and say, 'Wow, we have to concern ourselves with this guy.'"
The player with the most pedigree on defense, Anthony Spencer, is coming off microfracture knee surgery. There's a decent chance he won't be ready for the beginning of the season. And the player with the second-best credentials is recently signed defensive tackle Henry Melton, who missed all but three games last season in Chicago due to a knee surgery. The Cowboys' best hope for climbing above their perennial .500 status is to have one of the top offenses in the NFL. They have to hope that new offensive coordinator Scott Linehan can take what he did with Matthew Stafford and Calvin Johnson in Detroit and apply it to Tony Romo and Dez Bryant. The Cowboys have invested three first-round picks in offensive linemen, so that should be the foundation of their offense. The lack of any true identity has undermined this team for years. Making a commitment to quality offensive linemen at least gives the Cowboys a semblance of an identity.
It was Aikman who criticized the Cowboys for not having a clear direction when he was interviewed by the Dallas Morning News during Super Bowl week in New York. He compared the Cowboys to some of the top teams in the NFL.
"I think with winning organizations there are processes that are in place and there is a way to do things, a philosophy, a belief that you have, and everything is built around that," Aikman said. "If you take Seattle for instance, if you say '€˜hey, what is their philosophy?' you kind of know what that is. They're going to play great defense, they're going to run the football and they draft players who fit the mold of what they're looking for. I don't know that the Cowboys . . . the Cowboys tend to change their beliefs each year on what it is they need or what they're about. I find that to be somewhat unusual for a club that has been owned by the same owner for however long it's been."
Aikman isn't afraid to throw out an opinion, but he's normally pretty measured when discussing his friend and former boss, Jerry Jones. For him to basically allude to Jerry's inconsistencies was a pretty dramatic statement.
For now, Aikman is hoping that his close friend Jason Garrett can quickly turn things around. He would never say it publicly, but surely Aikman believes that Garrett might've been more successful had he accepted head-coaching offers in Baltimore or Atlanta. On the surface, Garrett's role has been diminished with the arrival of Linehan. He's been marginalized to the point where I've started referring him to as head coach/quality control.
"I really feel strongly in Jason Garrett and think he has done some really good things from an organizational standpoint," Aikman said. "It hasn't necessarily shown up win the wins and loss column, which is ultimately all that matters, but this organization internally is better now than it was when he took over as head coach of the Cowboys. I hope he's here for a long time. … If he's not here very long or if this is his last year, then I think the next guy coming in will benefit from the years [Garrett] had here."
It doesn't sound like Aikman believes Garrett is long for this job. And that has a lot to do with the aforementioned defense. Aikman says it has to be better this season.
I'm not so sure it has hit bottom.