Trio of Rangers adjusting to offseason changes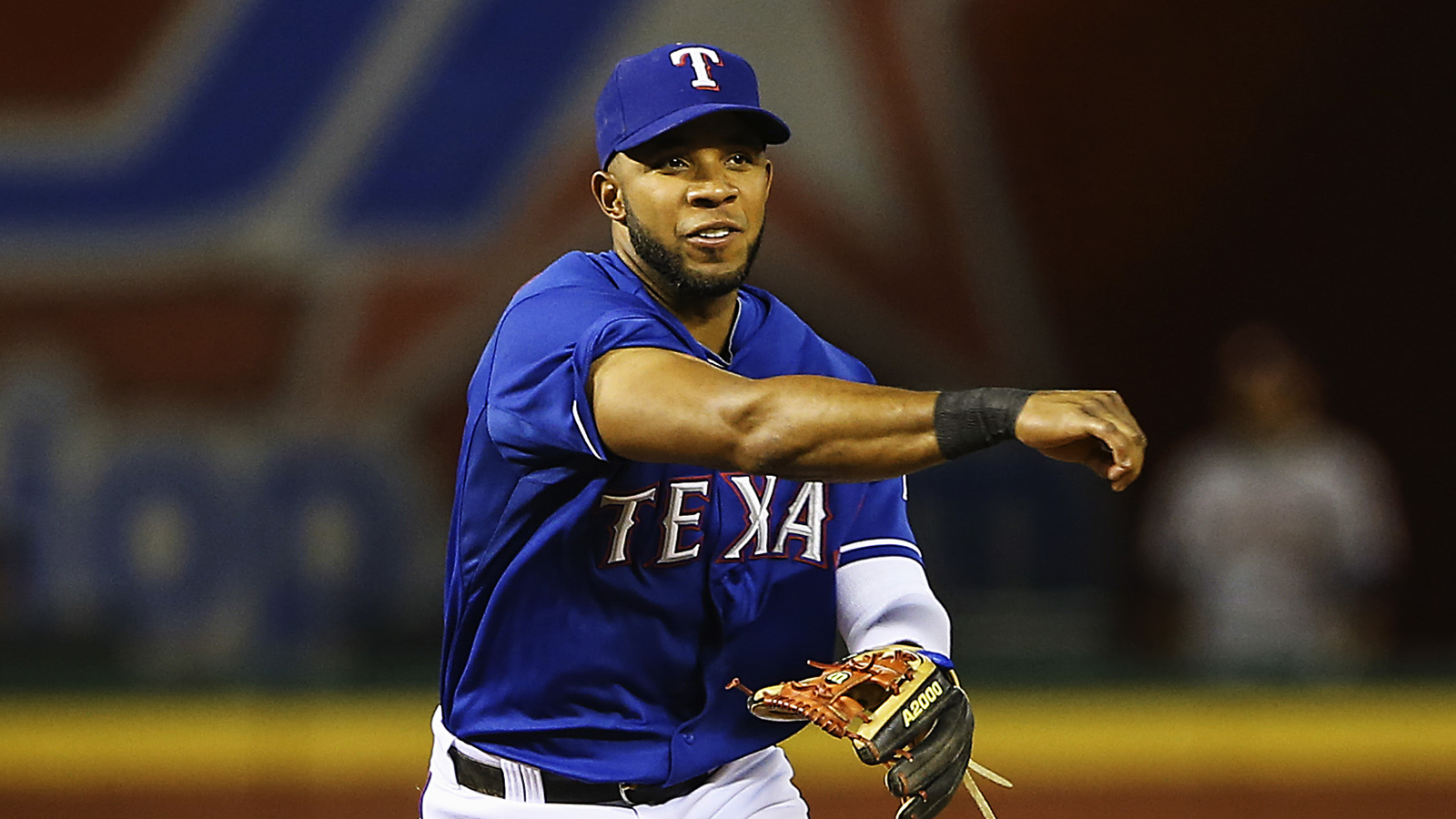 A trio of Texas Rangers are about to find out if change is good or not.
Elvis Andrus, Tanner Scheppers and Michael Choice were each in Frisco Saturday at Dr Pepper Ballpark as part of the team's winter caravan tour. And while they haven't played baseball since last season, they've each already had or could have their roles for 2014 change significantly.
Andrus has gone from the junior partner in the Texas double play combo with Ian Kinsler to the veteran of the middle infield who is preparing to work with Jurickson Profar. Choice was acquired last month from Oakland and the Texas native looked like he had a shot at being the starting left fielder. That changed when the club signed free agent Shin-Soo Choo.
Scheppers could be in for a big change too this season. He was a dominant set-up man for the Rangers last year but has been told to be prepared to start this spring.
All the change hasn't dampened the excitement for the three.
I'm pretty happy and sad at the same time," Andrus said. "With the new addition of Shin-Soo Choo that will help the whole lineup all the way around. I just can't wait for spring training."
Andrus said he's excited about working with Profar, who made 20 starts at second base for Texas last season. Andrus said having played some with Profar already will make the transition to working with him on an everyday basis easier, as will regular work in spring training.
That doesn't mean Andrus won't miss Kinsler.
It means a lot (the loss)," Andrus said. "Besides my (double play) partner, he was my buddy. He was one of the guys who gave me a huge welcome, always made me feel comfortable on the field. It's a business and you've got to keep playing."
The acquisition of Choo also impacted Choice. The Rangers appear to have a set outfield with Choo in left, Leonys Martin in center and Alex Rios in right. Instead of heading to spring looking to win a starting spot, Choice is just trying to make the roster.
If he does, his at-bats will likely come as a fourth outfielder or a right-handed hitting designated hitter. Choice, who was acquired from Craig Gentry, isn't concerned about where he fits in. He just wants to make the roster.
My job is the same, to go in and help the team win," Choice said. "Like anywhere you have to earn a job. No one is going to give it to you. Early in your career you have to go out there and prove you are worthy of it."
Scheppers proved to be worthy of his role as a set-up man last season, as he posted a 1.88 ERA in 76 games and tied the club record for most holds with 27.
As good as Scheppers was in the bullpen, he could find his way into a starting rotation that figures to be a starter short for the first half of the season because of the knee injury to Derek Holland. Of course the Rangers also have a vacancy at closer with the departure of Joe Nathan and Scheppers could fit in that mix with both Neftali Feliz and Joakim Soria.
I'm just going to go in the best shape of my life, ready to throw, whatever they need," Scheppers said. "I've been asked to possibly be ready for both (starter or closer) so I'm going to go in ready for whatever. I feel like my body is feeling good, healthy."
Scheppers isn't sure that his chances of starting have increased because of the Holland injury.
"It opens the door for someone," Scheppers said. "There's going to be an opportunity out there. There's a lot of talented guys out there. We've got Colby Lewis that we signed back. We've got Robbie Ross who went to the winter leagues and worked out. There are a lot of great candidates for that."