Top running back candidates for Sooners this season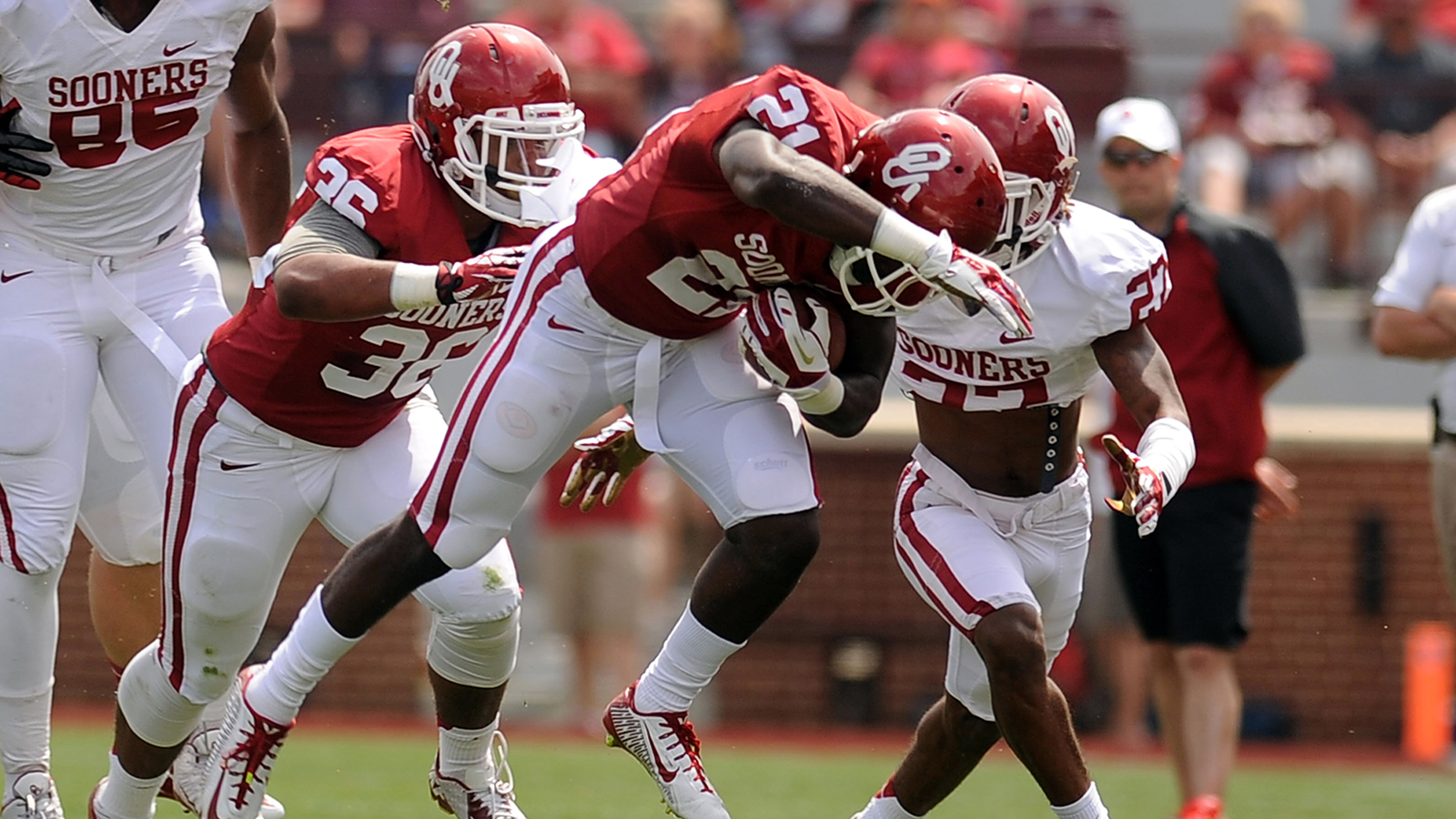 No more complaining about Roy Finch and how he doesn't get the ball enough.
He's gone.
Also gone is Brennan Clay, a consistent performer the past four seasons and Damien Williams, the team's most-explosive runner.
In their place? Well, that's to be determined.
OU has it's quarterback in place, but the running back position is still a question mark.
Wednesday, we took a look at some under the radar offensive players. It's here.
Thursday, we took a look at some of the under the radar defensive players. It's here.
Today, here's a look at the top candidates to carry the ball this season for the Sooners.
Keith Ford, So.
Ford seemed to be on a rapid ascent to the top of the running back chart last season, but was undone by fumbles. Ford also was hurt in the second half of the season.
He fumbled against Texas and again against Kansas and then didn't touch the ball until the Sugar Bowl. If Sooner coaches are convinced Ford can hold on to the ball, he'll likely be the No. 1 running back this season.
Ford had 23 carries for 134 yards and averaged more than 5 yards per carry. The 5-foot-11, 206-pound running back is the kind of runner who looks for contact. In that regard, OU hasn't had a runner like Ford since Adrian Peterson.
Alex Ross, So.
Like Ford, Ross also suffered from a lack of trust from the coaching staff. He picked up a personal foul penalty in the first game of the season and had just two carries the rest of the year. This season, things could be a lot different for the 6-1, 221-pounder from Jenks, Okla.
Ross is big and is fast and the best thing going for him is there is no one established in front of him on the roster.
Joe Mixon, Fr.
No better time for Mixon to show up than this year. The 5-star recruit will have an immediate chance to show what he's got.
After an extensive recruiting process, Mixon chose OU and has been tweeting about it ever since. Mixon is not lacking for confidence.
Mixon ran for 1,704 yards and 23 touchdowns last season in high school and had 1,443 yards the before that as a junior.
Samaje Perine, Fr.
Lots of hype for Mixon, but Perine, 5-11, 238 is more like a fullback in looks. He's aggressive and can run between the tackles like Ford and has speed to get outside as well.
If Mixon plays this season, Perine will, too. Don't be surprised to see both in the mix.