Benson: Wife to inherit control of Saints, Pelicans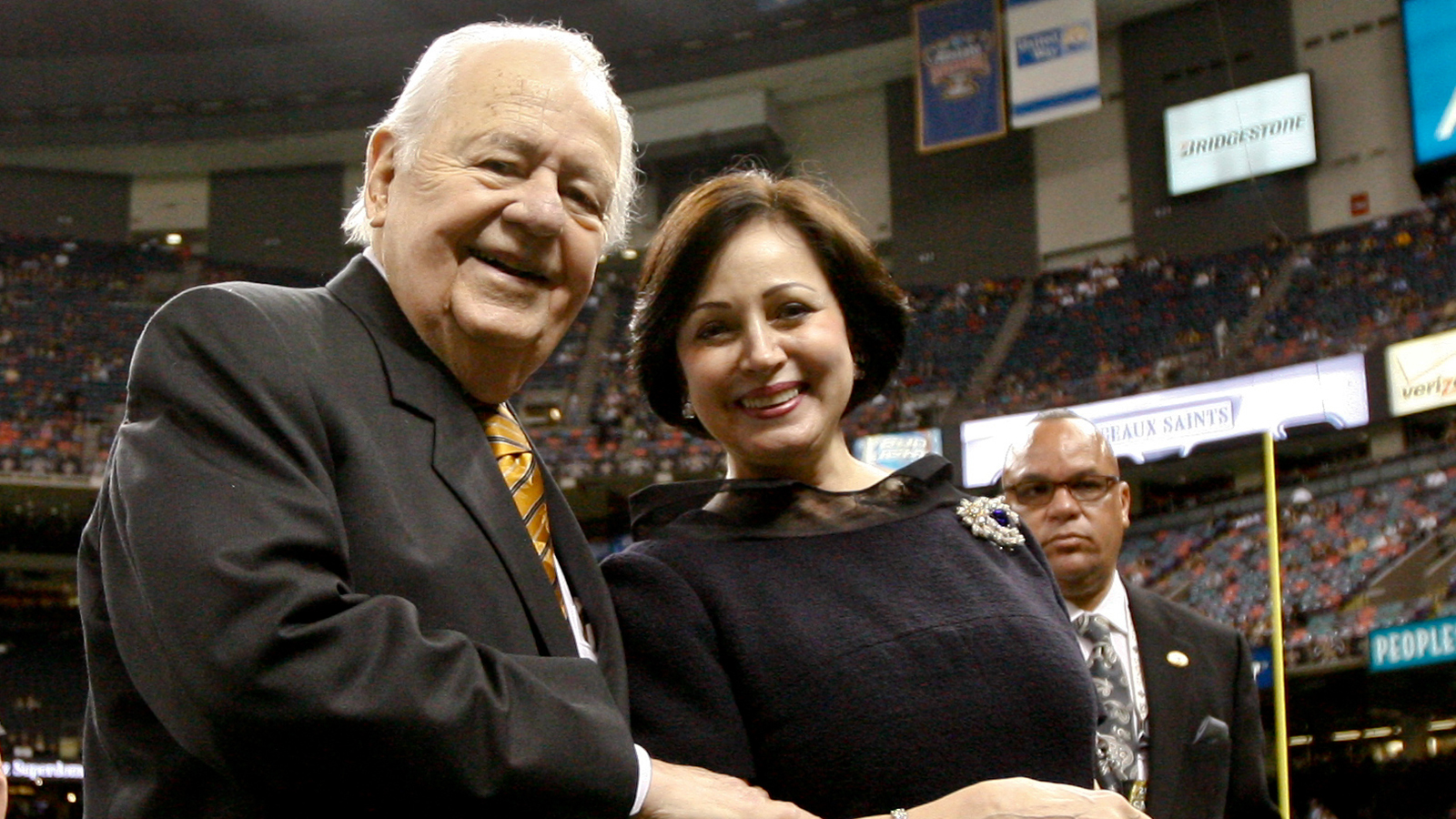 NEW ORLEANS (AP) — Tom Benson, who owns the NFL's Saints and NBA's Pelicans, said removing his daughter and grandchildren from the operation of his sports franchises — and inserting his wife of 10 years in their place — will ensure the clubs' long-term stability and future in New Orleans.
"This is based solely on doing what is right," the 87-year-old Benson said in a statement released Thursday, adding that his wife Gayle's "love for New Orleans and giving back to the community she loves is unmatched."
The changes include a new succession plan that would place both teams in trust with Gayle Benson, 67, as executor. Tom Benson said the changes are meant to promote continuity among upper management, led by Dennis Lauscha, the president of both clubs, and Mickey Loomis, the executive vice president of the two teams and general manager of the Saints.
In a companion statement, Gayle Benson said, "The most important thing to me is to continue to secure (Tom Benson's) legacy in the city he loves, New Orleans, forever and we will do that."
As a result of the move, Benson's daughter, Renee Benson, and her children, Rita Benson LeBlanc and Ryan LeBlanc, have been removed from the team's board of directors and are no longer listed as part owners on the club's website.
Rita Benson LeBlanc had been one of the Saints' premier public faces for most of the past eight-plus years since the club returned to New Orleans after damage from Hurricane Katrina had displaced the club to San Antonio in 2005. She appeared in on-field or on-court ceremonies for both clubs, at major announcements and at business and community events.
She and Ryan LeBlanc have vacated their offices at the teams' headquarters in the New Orleans suburb of Metairie.
Efforts to reach Rita Benson LeBlanc were not immediately successful. If Renee Benson, Rita Benson LeBlanc and Ryan LeBlanc chose to challenge the changes in court, it would likely be difficult — not to mention expensive — because they are not considered "forced heirs" under Louisiana law.
Benson did not cite any specific reasons why he was less confident that his daughter and grandchildren could handle running the franchises. Benson also insinuated that they still stood to profit significantly from his more than $1 billion fortune, which includes real estate holdings and auto dealerships.
"My family, including Renee, Rita and Ryan, just as they have been — will be very well taken care of after I die," Benson's statement said.
Benson has owned the Saints since 1985 and the Pelicans since 2012.
"Our football and basketball operations could not ask for a better owner in Mr. Benson," said Loomis, adding that "nothing will change" when Gayle Benson takes over. "That stability creates an environment so that players and coaches want to come here."
All of the Saints' playoff seasons — including their only Super Bowl title after the 2009 season — have come since Benson bought the club and kept it in Louisiana at a time when many feared other prospective buyers would move the team.
Likewise, the Pelicans' stay in New Orleans appeared tenuous when the NBA stepped in to buy the team from former owner George Shinn and spent more than a year trying to find an owner who would agree to purchase the club and keep it in Louisiana.
Benson agreed to pay $338 million for the basketball franchise — then called the Hornets — and entered into a long-term lease at the club's arena.
Benson currently remains actively involved in the business of his franchises but has struggled with his health increasingly in the past year.
Once known for dancing the "Benson Boogie" on the sideline after Saints victories, he now often needs help getting around, the result of recent knee surgeries.
He also was hospitalized a few times last summer in West Virginia, where the Saints held training camp. Team officials said then that Benson apparently was struggling with change in altitude from New Orleans, which is at sea level, to the mountains surrounding the Greenbrier Resort in White Sulphur Springs.
MORE FROM FOX SPORTS SOUTHWEST:
– Highest paid coaches in college football
– Ranking NFL quarterback salaries
– Oldest player on every NBA team