Thunder struggling without Westbrook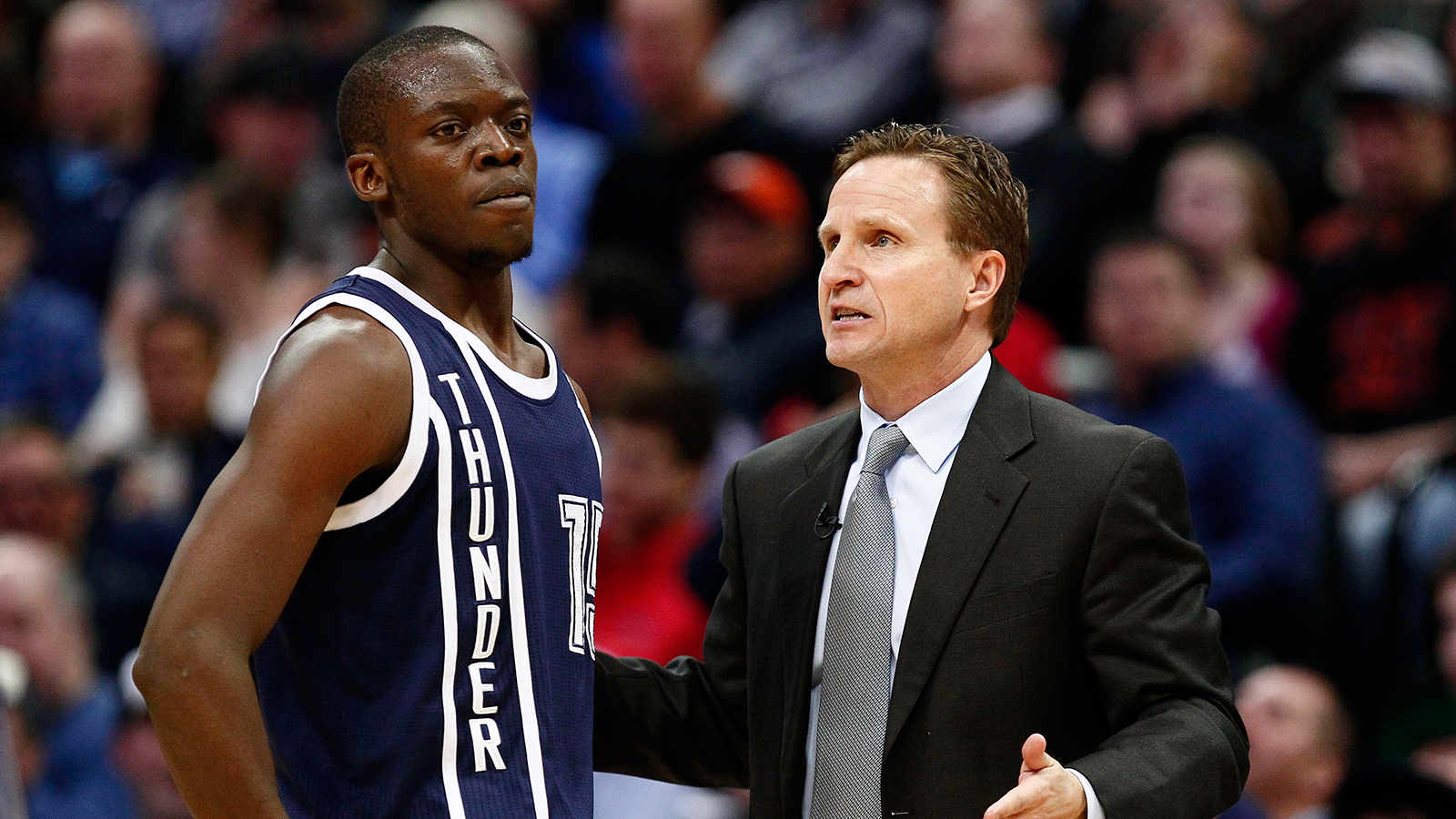 Let's make this the All-Russell Westbrook Thunder report this week.
Might as well, because as Oklahoma City continues to lose games, it's all anyone is talking about, pointing to and blaming for the mounting defeats.
So, with that in mind, here are three things to think (worry) about when it comes to Westbrook, his return date, his knee and his game:

1. Will the recent woes mean Westbrook will try to come back too soon?
Well, one thing for sure, you know the Thunder will be handling Westbrook's latest injury very, very carefully. He recently went through a third surgery in the past nine months on his right knee. And just like it did previously, the Thunder management has stayed away from setting a timetable for Westbrook's return.
Now, general manager Sam Presti did say Westbrook would be back after the All-Star break, but didn't say when. Originally, Westbrook wasn't supposed to return from last season's knee injury until about Christmas time this year, but he came back after missing just the first two games of the season.
No one has suggested Westbrook returned too soon this season, as Presti and Westbrook have both said Westbrook was playing pain-free. There was some swelling, so the team and Westbrook decided to have the surgery the day after Christmas.
The Thunder are just 6-4 without Westbrook this season and 4-4 since the recent injury. And you know, Westbrook knows that. Undoubtedly he wants to return, and despite the team saying Westbrook must pass a series of benchmarks and requirements before returning, everyone knows what he means to the team. Hopefully, Westbrook wouldn't get back on the court without being 100-percent healthy, but everyone who knows the Thunder, know exactly what happened last year in the playoffs when they faltered without him.

2. Will the recent team struggles put more pressure on Kevin Durant?
Durant picked up a technical foul in Thursday night's loss to Denver.
From the bench.
That alone, might not mean much, but the fact that Durant was on the bench in the fourth quarter of a game the Thunder were losing, and went on to lose, says there has to be some level of frustration.
We do know this, though: The longer Westbrook is out, the more opponents will gang up on Durant – like Memphis did a season ago in the second round of the playoffs. That could zap Durant of energy he would likely not be spending if Westbrook was out there.
Meanwhile, no Westbrook means it's down to Reggie Jackson and Derek Fisher as the primary point guards, but the Thunder have also shown to want Durant to bring the ball up the court, too, which could also lead to putting more pressure on Durant.
Westbrook has been out the last eight games. In the last five, Durant has averaged 34.2 points per game, and you know that is part due to feeling like he needs to pick up his game in Westbrook's absence.
Durant is good enough to win games by himself, but the longer Westbrook is out, the more Durant is going to take it upon himself – consciously or subconsciously – to prove it.
It's January, not April. Durant needs to conserve his energy for the playoffs. He shouldn't be burning it all against Denver, or Utah in the dead of winter.
3. Will Jeremy Lamb and Reggie Jackson flourish or falter
As bad as the situation is for Westbrook – a third surgery in nine months – it's an opportunity for Jackson and Lamb.
While Jackson got the start in place of Westbrook a season ago in the playoffs, Lamb has just started to get regular minutes this season.
Each has had strong games this season, and each has had strong games recently, but both have also struggled. Thursday in Denver, Lamb was 1-of-12. Jackson has drooped off a 4-of-13 against Brooklyn and was 5-of-12 with five turnovers Thursday.
Jackson's position is secure. He will be the starter until Westbrook returns. Lamb's position is shaky. He's showed glimpses of being a great shooter, going 8-of-10 against Houston, but he's just 5-for-26 the past two games. That's a lot of shots. That's too many misses.
Lamb isn't just in danger of losing minutes for poor production, he's in danger of losing some confidence. Perhaps he too feels a degree of urgency, wanting to replace Westbrook, but Lamb and Jackson are at their best when they aren't pressing.
Kevin Durant can get away from trying too much or even shooting a lot, Lamb and Jackson don't have that ability.

And one more thing to consider …
Russell Westbrook had a triple-double against the New York Knicks on Christmas Day. He had surgery the next day.

The Thunder season has changed since then. Before the surgery, the Thunder had rattled off a 10-1 stretch. Since, they are 4-4.

Before the surgery, the Thunder were the best team in the NBA. Since, they seem average. Without Westbrook this season, the Thunder are scoring nearly eight points per game less, are shooting few times and shooting worse and doing it all with fewer assists.

Oklahoma City is good enough to get back to the Finals, but it's going to take Westbrook playing to make it happen.

Of course, that's all anyone is talking about, right?

Follow Andrew Gilman on Twitter: @andrewgilmanOK