Thunder strategically select music playlist for playoffs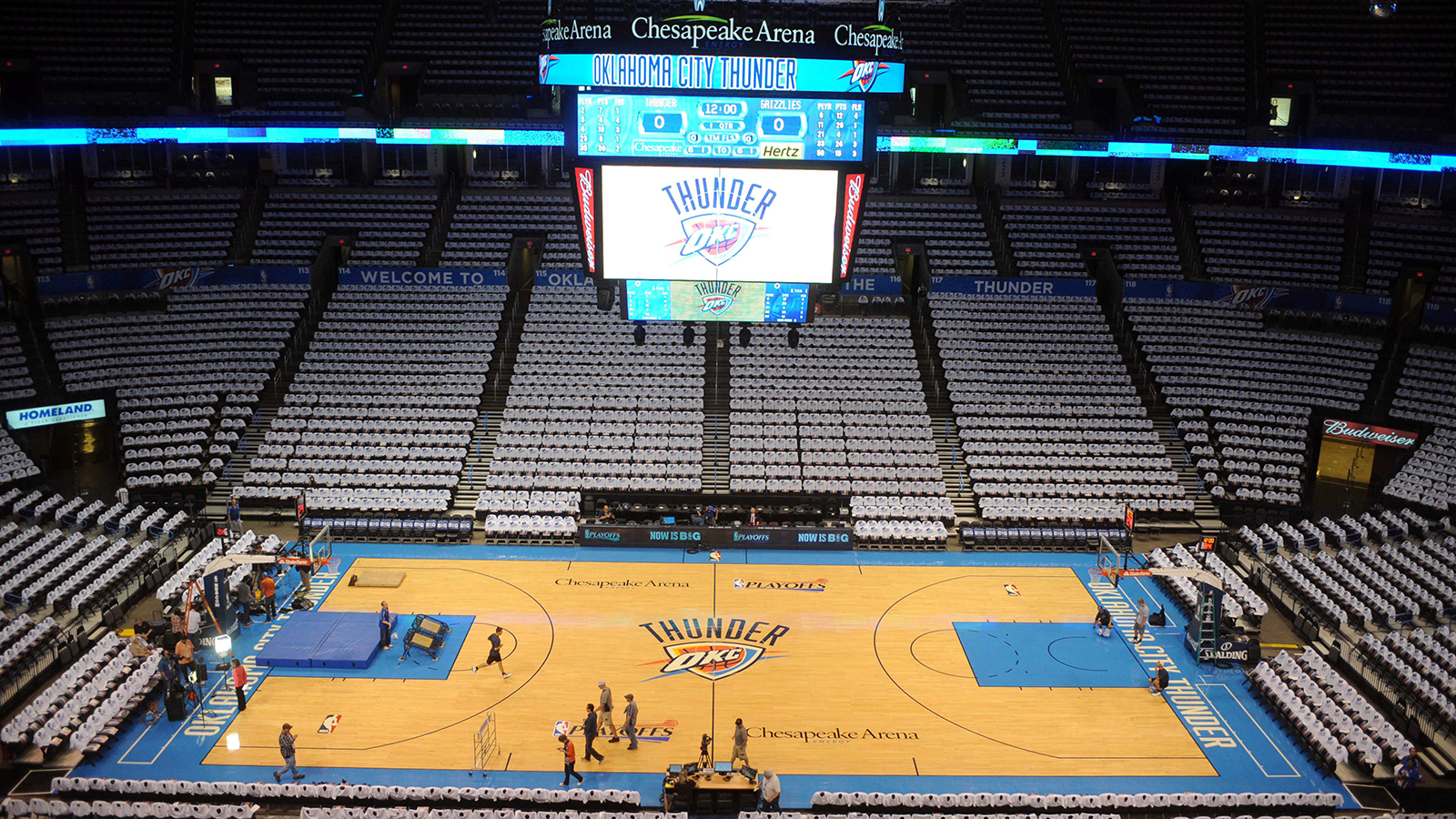 OKLAHOMA CITY – Count on it being loud Saturday night when the Grizzlies come in for the first round of the playoffs.
John Leach will make sure of it.
Obviously, the sellout crowd of more than 18,000 at Chesapeake Energy Arena for the 8:30 game Saturday night will have plenty of motivation to be noisy, but it's Leach who has his hand on the controls. He is the game operations manager for the Thunder, and despite what Memphis coach Dave Joerger might think, loud is a good thing.
"In my 18 years at this job, we've never been fined for being too loud," Leach said.
Remember, twice this season when Memphis has come to Oklahoma City, Joerger has complained like an old man at a rock concert. "We got on the plane last time and every one of our people were just like, their ears were ringing. You don't get that in a lot of places. The music is awfully loud," Joerger said back in February.
Joerger even went as far as asking the operations folks in Oklahoma City to turn down the music, pleading during the game.
"I think that's just gamesmanship on his part," Leach said. "He had a smile on his face. He just threw his hands up and walked off. I don't know if he was having a bad day or what, but I think it was just gamesmanship."
So far, Leach, who has worked with the Rockets, Bobcats and Sonics before moving to Oklahoma City, said the Thunder folks have never been contacted by the league to turn down the sound.
And it's certainly not bothering the Thunder players and coaches. At least that's what they say.
"My focus is on basketball," said Serge Ibaka.
"I don't notice it. I've never paid attention to it," coach Scott Brooks said.
"I don't really notice it," Nick Collison said.
So, why then did Joerger?
"Really?" Collison said of Joerger's interest.
Yeah, really. Now Leach didn't say he was going to turn up the sound for Saturday's game because it was Memphis, but did mention there will be some new sounds, songs and sights. Leach said the team strategically plans music throughout the game, saving songs for certain situations.
That's why he chooses between everything from The Black Eyed Peas to the Black Keys.
The Thunder went 3-1 against Memphis this season, including 2-0 in Oklahoma City. However, the Thunder lost to the Grizzlies in five games last season in the second round of the Western Conference playoffs, losing twice in Oklahoma City.
"If I cannot communicate yelling at the top of my lungs from you to me, no matter where it is, it's too loud," Joerger said after the Feb. 28 game in Oklahoma City. "If the crowd is loud that's what you love. If the crowd is into it, that's something different."
Want to do something different? Take a look at the list of songs Leach will choose from Saturday night. Maybe if it isn't quite loud enough, you could sing along.
Follow Andrew Gilman on Twitter: @andrewgilmanOK