Thunder stepping out with all the right moves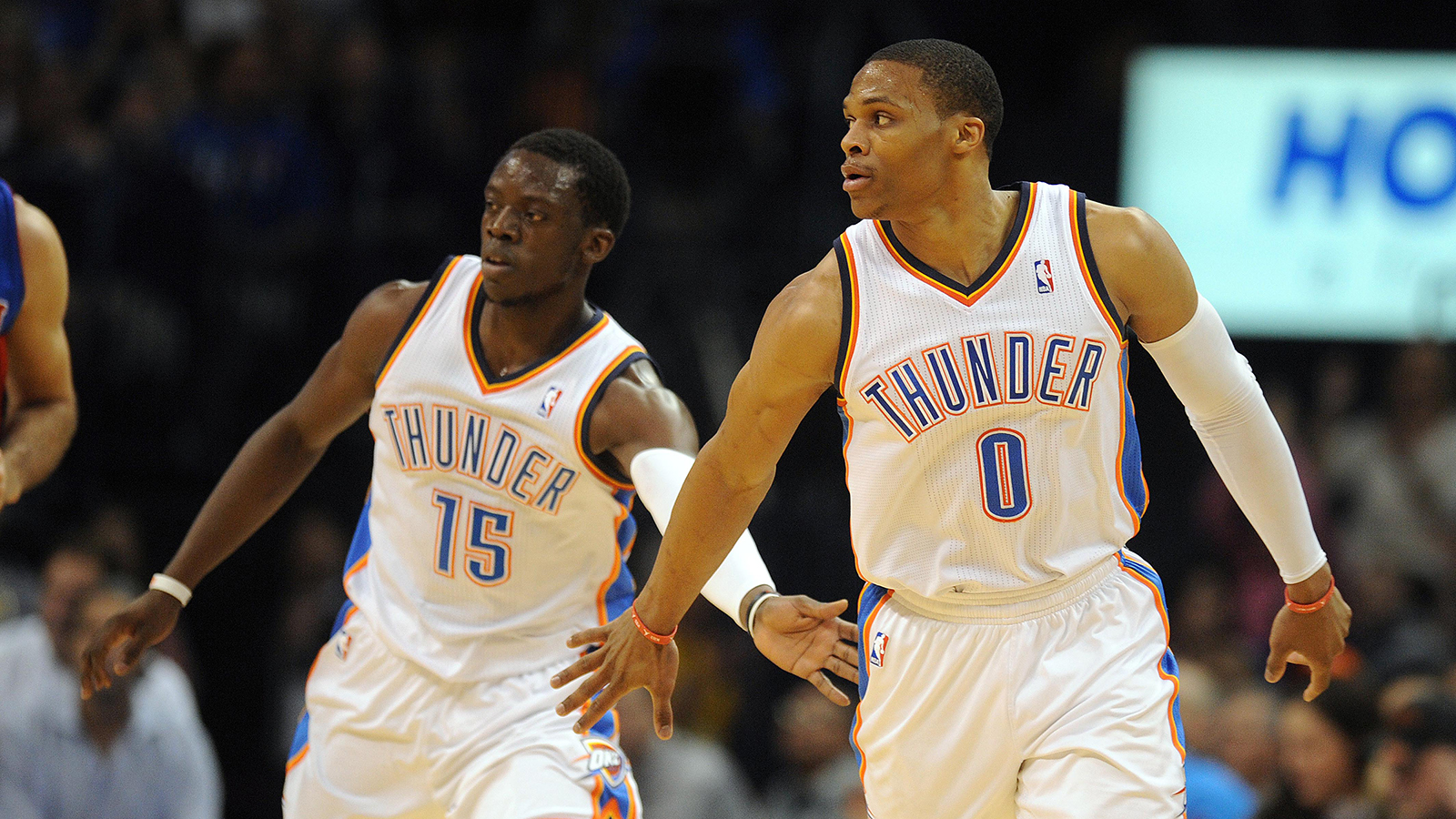 OKLAHOMA CITY — Reggie Jackson waited for the traffic to clear and saw an opening.
He spun once, then again, finding Derek Fisher and executing a perfect combination of flair and finesse.
Now only if the Thunder could do the same once the game starts.
This season has had its moments of beauty, a Russell Westbrook dunk, a Kevin Durant swish, but the precision plays that happen before every game as Jackson, Fisher and the rest of the Thunder run through a series of well-rehearsed moves more suitable for "Dancing With the Stars," is a consistent hit.
"It doesn't just happen," Jackson said.
No way it could. It might be organic and natural, but it took some doing to make it so, because Jackson has choreographed pre-game performances with at least five players and all of them have unique moves and motions. So impressive and unique you could call it The Jackson (High) 5, featuring some toe-tapping, fist-bumping and all sorts of other stuff not easy to do accomplish.
"It's based off everyone's personality," said Perry Jones. "It's just expressing yourself and being yourself out there."
Be yourself, but make it look good, too. You need timing and technique to make sure to express yourself and technique and timing takes time to put together.
"Oh, yeah," Jackson said. "We have quite a few and they're all special with each person."
The NBA made a move at the beginning of the season to get teams to speed up their introductions, even calling a technical foul on the Thunder during a preseason game for taking too long to take the floor, but that seems to have relaxed. Thunder home games allow for longer introductions, but that doesn't mean you won't see Jackson and his friends performing on the road Thursday night before Game 3 in Memphis.
"I got a lot of different routines but the younger guys usually have more to it," veteran Caron Butler said. "I like watching all of them and some of these guys can really dance."
Butler didn't admit to having all the right moves, but he did say there's some benefit from all the pre-game excitement.
"You got to realize we spend a lot of time together," Butler said. "Lunches, dinners, road trips. It's good for camaraderie and helps with team chemistry Eighty-two games I a lot of time together.."
If nothing else, it helps with memorization skills, too.
"I'm sure it does take practice," Jackson said. "Perry and Jeremy (Lamb) have the best one, so I might catch them working on it. It's pretty special. Hey, we're a touchy-feely kind of team. Handshakes, chest-bumps. Just whatever it takes to get us going for the game."
Follow Andrew Gilman on Twitter: @andrewgilmanOK