Thunder's Westbrook looking to improve defense next season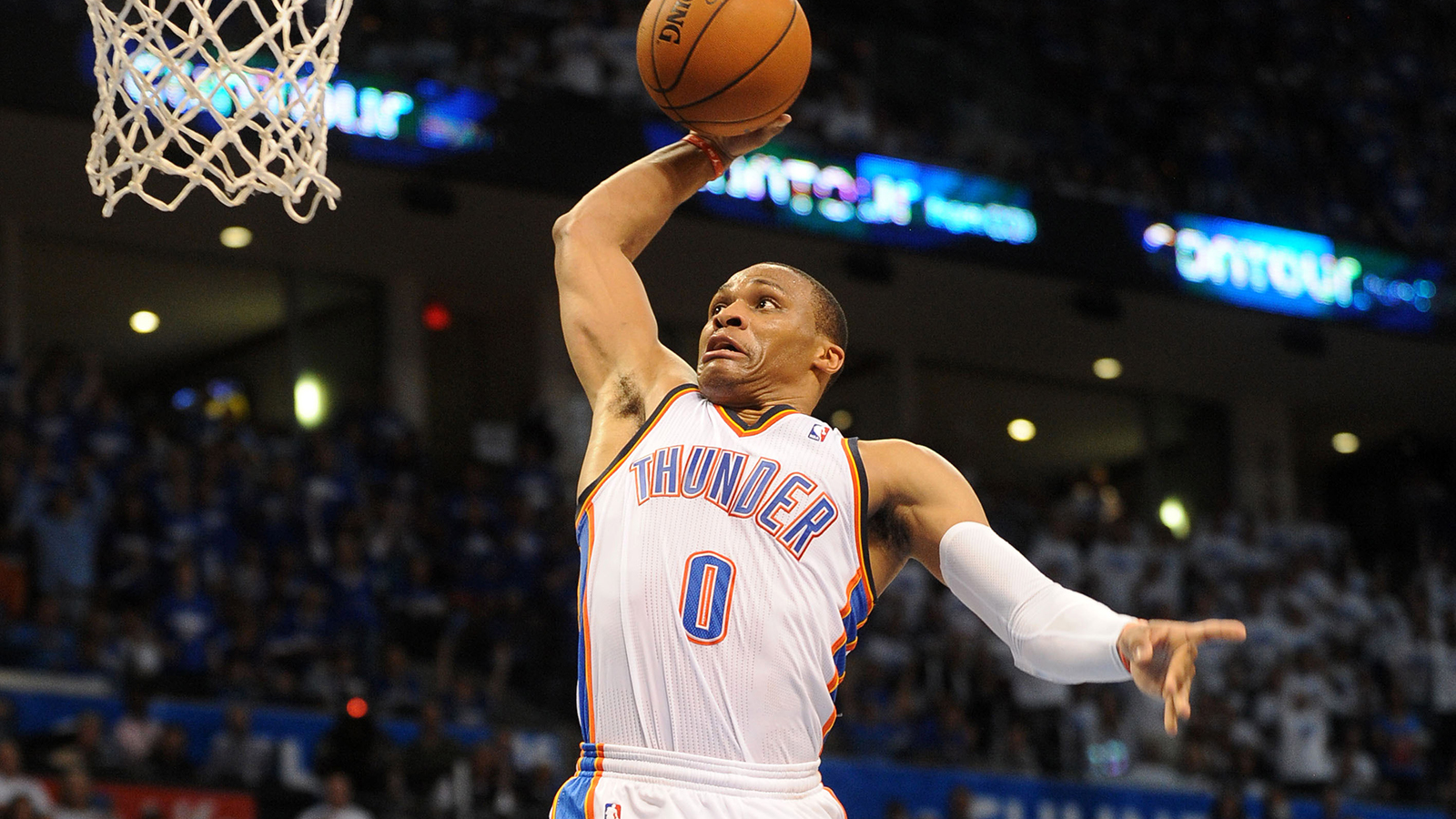 OKLAHOMA CITY – Russell Westbrook's offensive game is unmatched.
There are few less-guardable players in the league, especially from the guard position.
But as for next year, Westbrook said he's interested in getting better on defense.
And truthfully, that's what it will take for the Thunder to win a championship.
Kevin Durant and Westbrook, along with Serge Ibaka and Reggie Jackson, will all be returning next year, and there's little doubt the Thunder offense will once again be prolific.
Yet, it was the Thunder defense, from its star players, that gave a glimpse of how good OKC could be if only Westbrook and Durant could match the intensity they showed in the Game 4 win over San Antonio in the Western Conference Finals.
"Coming out of college, I take it personally, coming in and defending every night based on who I'm guarding," Westbrook said in his exit interview with the media a day after the Thunder were eliminated by the Spurs. "And obviously through the playoffs you can see it a lot more through [each] series. You can see how much it can impact the game, and I'm definitely going to make more of an effort. That has to start next year to go throughout the season."
That kind of attitude has to be welcoming and comforting words for Thunder fans. After all, Westbrook finished the year averaging 21.8 points per game, 5.7 rebounds and 6.9 assists. He improved on each of those categories in the playoffs, but seldom brought the same interest and energy on the defensive end.
Clearly, Westbrook was interested in defense, suggesting it as an area where he said he was going to work on. He also mentioned the NBA's All-Defensive team.
"The way the defensive team is made now," said Westbrook, giggling. "It's based on, I guess if you steal the ball, or, I don't know how it's made up because, to me, you know, there should be guys on the defensive team that should be on there; there's guys that should not be on it. If people watch the games, then they will know those things."
Hard to tell if Westbrook was referencing himself or not. He did get one first-team vote and had five votes total. Ibaka was named to the first team after leading the league in blocked shots. Chris Paul and Joakim Noah, along with Andre Iguodala also were on the first team.
Next year, Westbrook will likely have the benefit of playing an entire season. He only played 46 games in the regular season and had a minutes restriction when he returned in February. Next year, Westbrook could see more pressure to preform on defense, too, if the Thunder do not re-sign Thabo Sefolosha, considered the team's best perimeter defender.
Perhaps some of that pressure could be relieved if Jackson makes his way into the starting lineup, thus freeing up Westbrook from the burden of being a caretaker – a position that really doesn't suit his game. Maybe that could leave a bit more energy left over for defense.
Which is the only way the Thunder are going to be winning a title.
"The organization is putting us in position to win a championship every season," Westbrook said. "It's up to us to make it happen. You just got to come back next year better and more hungry. We've gotten better as a unit. As long as we do that each and every season, we put ourselves in position to win a championship."
Follow Andrew Gilman on Twitter: @andrewgilmanOK