Thunder routed by Spurs, drop to 3-2 in West Finals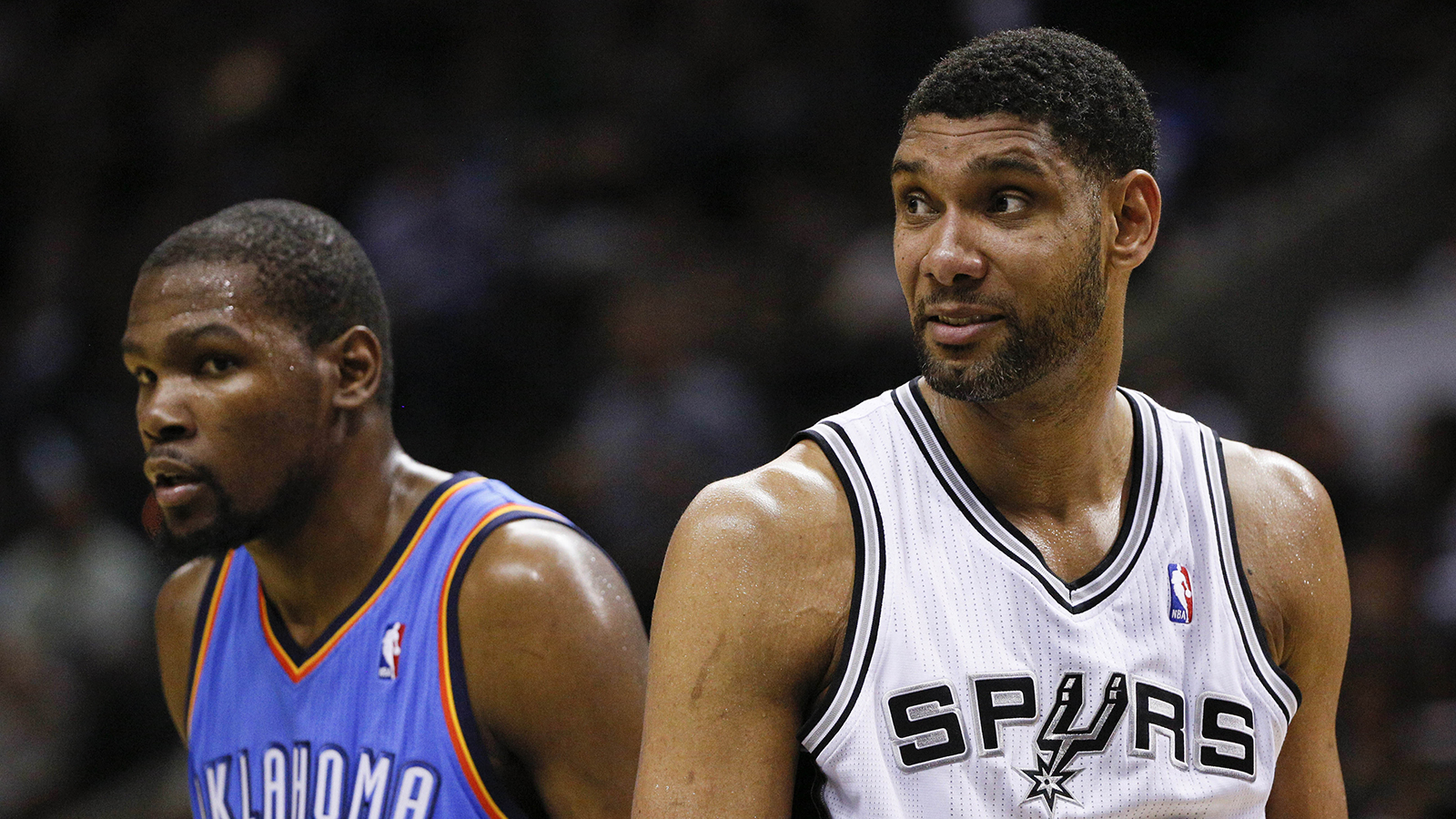 All of the effort, the intensity and urgency the Thunder had in Game 5 disappeared.
In its place? One major question.
After pulling itself even with San Antonio in this Western Conference Finals, Oklahoma City gave it all back in a disappointing combination of lack of hustle, absence of defense and an amazing San Antonio performance.
This time it was the Thunder and coach Scott Brooks who gave up early, sitting Kevin Durant, Serge Ibaka and Russell Westbrook with more than 8 minutes to go in the game and the Thunder woefully out of the game.
San Antonio won Game 5, 117-89 and now, among the questions the Thunder have to face is, can this Oklahoma City team win a Game 7 on the road at San Antonio after no-showing there three times already this series?
But that's for later. For now, Game 6 on Saturday night seems like it comes down to one thing: Will the Thunder play hard?
That's plenty to think about, and there's no way to know for sure, as the Thunder face elimination for the second time this season and the first time at home.
The Thunder were so good for a pair of games in Oklahoma City where the Spurs never shot 40 percent and looked shaken and intimidated in the face of Ibaka. But Game 5, San Antonio was never threatened after the first quarter. The Spurs shot 51 percent and Ibaka was never a factor, offensively or defensively.
"Sometimes it's not about X's and O's," Spurs guard Manu Ginobili said to TNT after the game. "It's about how hard you play."
Hard to argue with that kind of logic in a series where the Thunder have been outscored by 80 points in three games in San Antonio. Sure, the Spurs are good and deserving of the top-seed in the Western Conference, but they aren't 80 points better than the Thunder. And sure, Ibaka missed those first two games of the series in San Antonio which may have contributed to some unbalanced final scores, but no one would confuse any of these three Thunder showings in San Antonio as games played with maximum effort.
Westbrook and Durant teamed up for 71 points on Tuesday. Thursday, they didn't look effective, going for an average 46 points. Westbrook didn't have the kind of defensive intensity he flaunted in Game 4. Durant held down Kawhi Leonard in Oklahoma City. Thursday, Leonard had 14 points and Durant had just two assists and five rebounds. Ibaka was 3-of-10 with two rebounds in 27 minutes.
The Spurs surpassed their Game 4 point total in the third quarter. Tim Duncan played like he did in Game 1, going 8-of-13 and finishing with 22 points. Five other Spurs scored in double figures.
"The aggressiveness," Manu Ginobili said. We played harder, sharper. It was a fun to play game. A different story."
A different story because, for whatever reason, OKC never did get to playing like they had in Games 3 and 4. The Thunder didn't run well (four fast-break points), were out-rebounded 48-35, missed seven free throws and put San Antonio on the line 30 times. Overall, OKC shot just 43.2 percent.
The lack of offense led to an apathetic defense.
The apathetic defense led to the Spurs taking a 3-2 series lead.
"That's what happens against a skilled basketball team," coach Scott Brooks said to reporters after the game. "We gave them everything they wanted. We're a defensive-minded team that scores off of our defense. We didn't have it tonight."
And that may be the hardest thing to explain. Why wouldn't the Thunder have an edge, or have possibly learned a lesson after two horrid showings previously in San Antonio?
Why wouldn't they play with maximum effort?
There was no lesson learned. San Antonio scored 62 points in the second and third quarter and the Thunder managed just 34 total points in the second half.
"We're going to figure out ways to get better," Brooks said. "We have to regroup and come back better."
Seems simple enough. When the Thunder play hard, they win.
Follow Andrew Gilman on Twitter: @andrewgilmanOK