Thunder regrouping from Game 4 loss to Clippers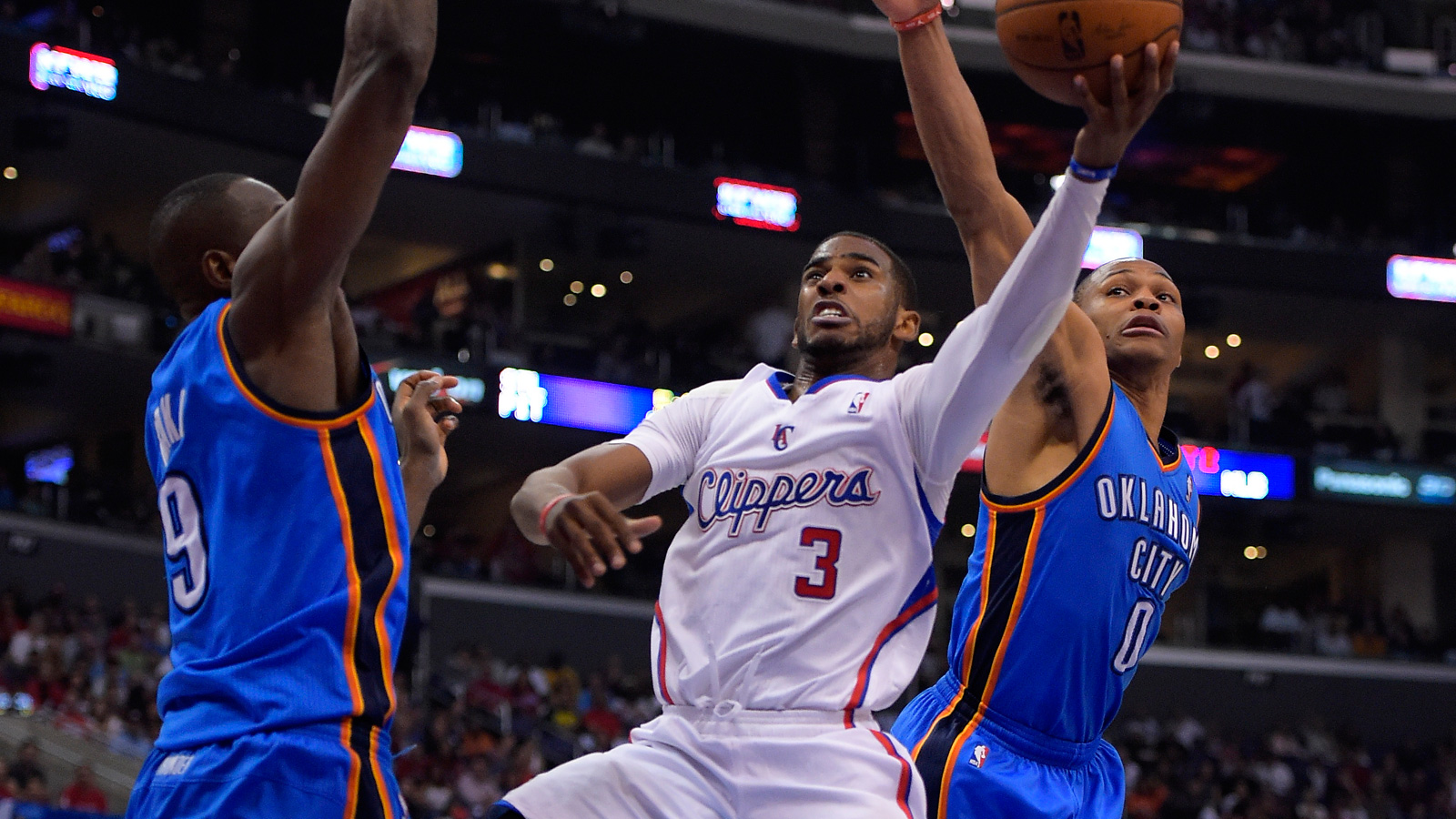 OKLAHOMA CITY – The Thunder are the perfect team to deal with this imperfect situation of the Western Conference semifinals.
Yep, it's time for some good news after what was a bad news Sunday.
Instead of a 3-1 lead, it's 2-2 because Oklahoma City came undone in the fourth quarter, giving up all of its 16-point lead and falling apart in glorious fashion, losing 101-99.
"We relaxed," Russell Westbrook said. "If you relax, it never turns out well for you."
OK, so the Thunder shouldn't relax, but you should.
Here's why:
Don't try and figure this team out, because really, is there a group that's harder to understand or read than the Thunder? Sunday afternoon showed us this team could be brilliant and baffling in the same game and reinforced what we've known all along – OKC is flawed at times and fabulous at other times.
Up 20-plus in the first quarter and 16 in the fourth, down at the end of the game.
A crushing, crippling, devastating loss like Sunday's in Los Angeles could end a season for a number of teams in the Association, but the Thunder are equal parts screwy and savvy and that, more than anything else, may help the hangover of a Sunday win that somehow turned into a Sunday loss.
Quite possibly, the Thunder are made for this type of situation, despite the fact they haven't been in it this season. Oh, they've blown big leads and lost in a number of different ways, like at the Lakers and at Orlando, maybe even home to Cleveland, too, but this is also a team that was down 22-4 at Miami. And won. They've dealt with the loss of starters Westbrook and Thabo Sefolosha and Kendrick Perkins for multiple games, handled an MVP race and sky-high expectations.
A bad loss, sure. But nothing this team can't handle.
You think Westbrook is affected by a messy, fourth-quarter melt? No one, outside of the Oklahoma starting quarterback and Obama takes more daily criticism than Westbrook does. A little bad news, doesn't sting, it soothes, especially for a guy who needs a chip on his shoulder just so his balance is just right. Westbrook missed all but two games of the playoffs last season, and had a pair of knee surgeries this season. So he missed a bunch of shots in the fourth quarter. OK, it happens. Not like he hasn't had bad finishes before.
You think Kevin Durant worries about what happened when Chris Paul guards him? This guy had Tony Allen pulling on his shorts, his shirt and was there when he woke up and went to bed for seven games. Paul isn't a worry to Durant, he's just a guy, who played well in a junk defense, thrown together out of desperation in Game 4. Yes, it worked, and yes, Durant turned the ball over eight times total, but this is Durant. Durant dealt with the first slump of this season, brought on by Allen, responding with highlight worthy performances in Game 6 and again in Game 7 when the Thunder were facing break-point. Twice.
"We have to turn the page," Durant said. "We can't keep talking about the last game. We gave it away, but we're 2-2. We got to get past it."
The series is tied at 2-2, but only because the Thunder didn't, or couldn't, close a 16-point lead in the fourth quarter. The OKC defense couldn't stop giving up layups and the offense turned sour and turned the ball over, too much. Even Scott Brooks deserves some blame for mismanaging the last half-minute badly enough it nearly overshadowed the significant offensive and defensive shortcomings.
But Brooks and the Thunder have made adjustments before (see San Antonio, 2012; Memphis 2014).
"If you worry about the last game, the next game you don't have a chance," Brooks said. "We're ready to lace it back up. I expect the guys to play a good game for 48 minutes."
Forget the X's and O's of the adjustment game. Watch for attitude and intensity instead.
OKC had one taken from them Sunday afternoon. X's and O's won't get it back, but star power and a short memory will.
Watch Durant and watch Westbrook. See if they look bothered or rattled or disengaged.
"You learn so much throughout these games," Durant said. "You rarely have the same kind of showing two games in a row."
Things will certainly be different Tuesday night in Oklahoma City's Chesapeake Arena because Durant and Westbrook are built to handle adversity, even if they haven't faced anything like this kind before.
Follow Andrew Gilman on Twitter: @andrewgilmanOK