Thunder predictions for Game 2 against Spurs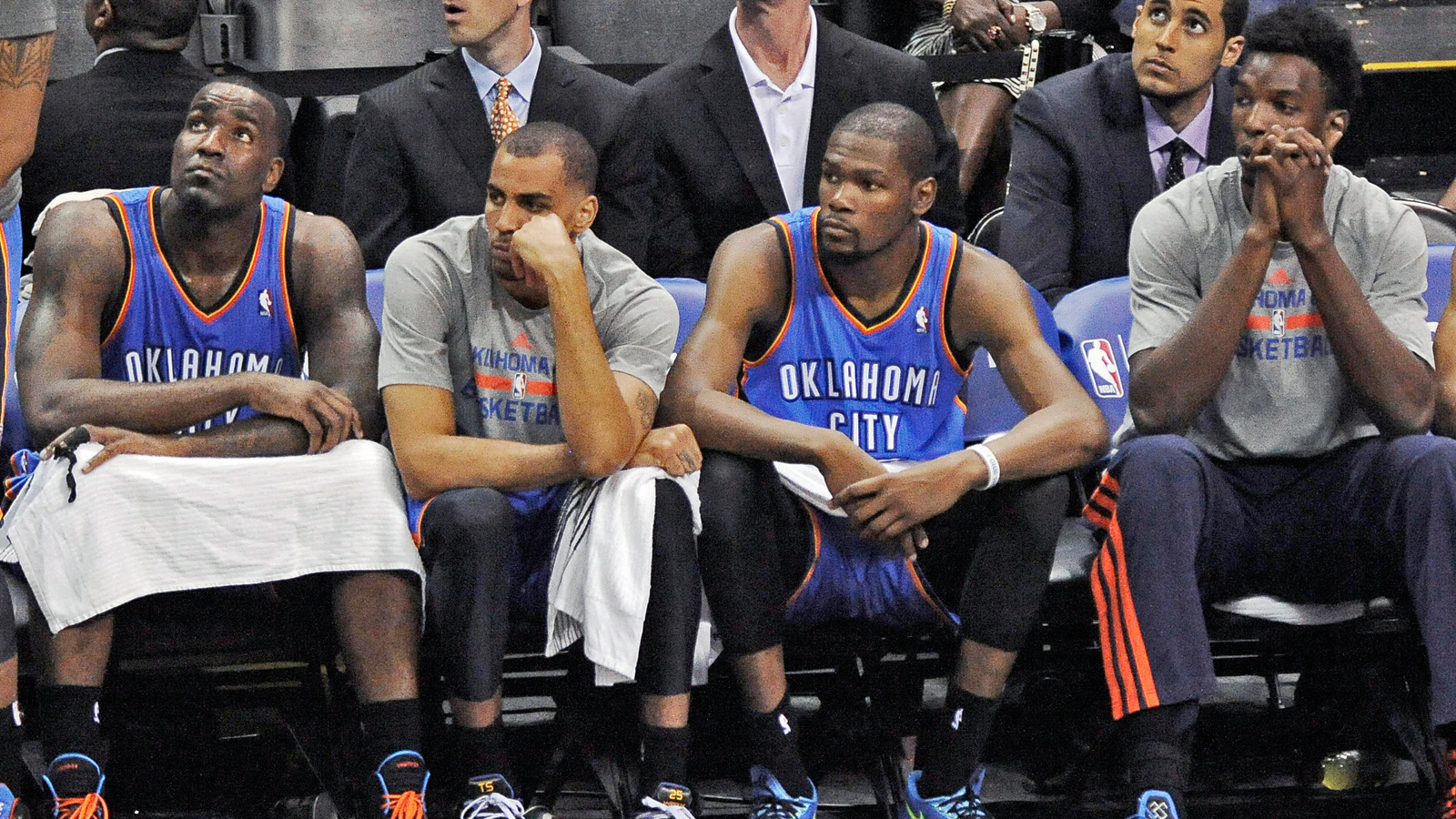 Serge Ibaka will not play in this series. That's the word out of Oklahoma City. That's the word from coach Scott Brooks and that's the word from anyone not named Serge.
Huh?
Yeah, well, Wednesday, Ibaka updated his blog and left open the possibility of making a dramatic return if the Thunder were to beat the Spurs.
Believe it or don't.
Here are a few more guesses heading into Game 2:
Perry Jones will play. In the first half.
Thabo Sefolosha makes a 3-pointer.
Manu Ginobili shoots worse than 50 percent. Marco Belinelli shoots better than 50 percent.
Andre Roberson will play. In the first half.
Tony Parker gets more than 12 shots. And makes more than six.
Mark it down: 40 points for Durant. And Westbrook.
Danny Green doesn't make more than three 3-pointers.
No chance Tim Duncan goes wild and scores 27 points again. He gets less than 20. No chance Derek Fisher goes wild and scores 16 points again. He gets six or fewer.
The Thunder could play some zone defense. Then again, they could play Hasheem Thabeet, too. Don't see either happening, though.
You Google Aaron Baynes during the first half.
Patty Mills makes a crushing, fourth-quarter field goal.
Did you realize Kendrick Perkins had nine rebounds in the first game? He won't get to half of that Wednesday. Nick Collison will, though and he'll have more than 0 made field goals, too. (I know, that's an easy one).
Tiago Splitter does a lot better than just get three rebounds.
Tim Duncan will play more than 29 minutes. Tony Parker will play more than 36.
The Thunder had 12 3-pointers on Monday. They'll get fewer than that Wednesday. The Spurs will get fewer than nine 3-pointers.
Kendrick Perkins will not get a technical foul. Hasheem Thabeet will not play.
The Thunder will not out-rebound the Spurs. They will shoot better than 45 percent and the Spurs won't come close to the 57.5 percent they shot on Monday.
But the Spurs will win.
And take a 2-0 series lead.
Game 1 series record: 9-11
Memphis series record: 58-63-5
Clippers series prediction record: 55-83-5
Follow Andrew Gilman on Twitter: @andrewgilmanOK