Thunder GM not sweating summer of 2016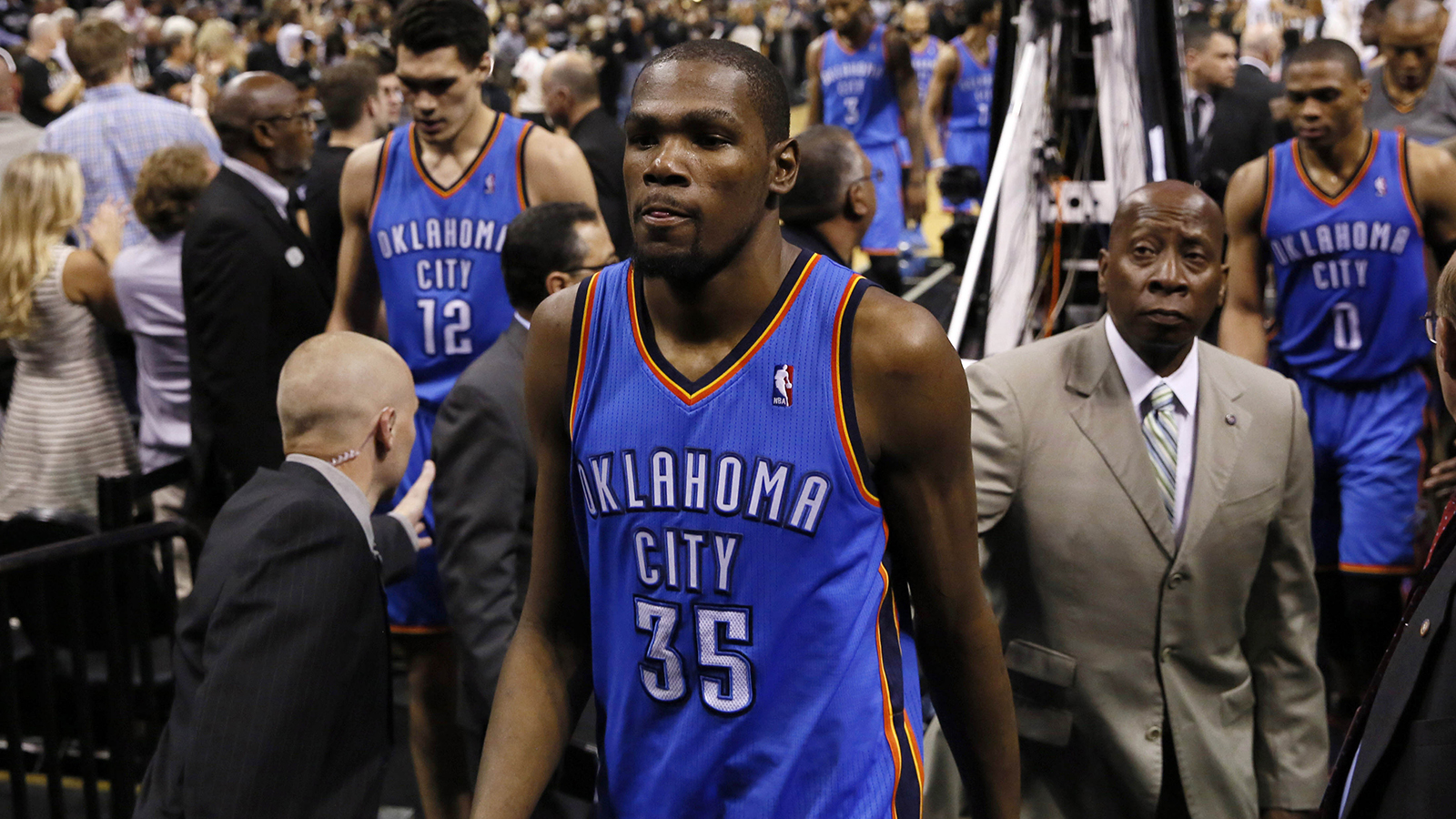 LAS VEGAS — Remember that tweet from Kevin Durant four summers announcing his contract extension with Oklahoma City? How time flies when deals are done.
Durant is the top dog on the 2016 wish list when his current contract is set expires. Franchises are already getting their ducks in a row for the chance to bid on the reigning MVP.
John Wall is lobbying for KD to consider his hometown Washington Wizards. The Brooklyn Nets have Durant in their sites. Will the presence of former-teammate-turned-coach Derek Fisher lead the four-time scoring champ to the New York Knicks?
The competition for Durant will be fierce, and that's a fact of life Thunder general manager Sam Presti deals with daily. Not that he's losing any sleep now over what could happen in two years.
"It's part of the business," Presti said from Summer League. "Part of what the new collective bargaining agreement was striving for was 365-day-a-year attention. That's part of what makes the NBA great. At the same time we're always continuously focused on our organization and the things we can control to be a sustainable championship-contending team."
Durant and All-Star teammate Russell Westbrook (potential free agent in 2017) are the backbone of the Thunder's title hopes. The goal is keeping them in the fold throughout their primes.
"Obviously, those guys are really important for us and we're looking forward to having them for a very long time," Presti said.
Unlike the potential suitors for Durant if he does intend to test free agency for the first time, the Thunder won't be recruiting. Durant knows what he has in Oklahoma City, and he's already committed to the franchise once without testing the waters elsewhere.
Remaining a championship contender is likely going to be the biggest factor for Durant remaining with the only pro franchise he's ever known. Winning a title or two wouldn't hurt.
Durant and Westbrook demonstrated this summer their sense of duty when it comes to getting the Thunder over the top. Both made personal pitches to free agent Pau Gasol, who eventually chose the Chicago Bulls.
"We've been incredibly fortunate since the day we've arrived to Oklahoma City in 2008 to have players like Kevin and Russell and Nick Collison to be the first players to wear the jersey in Oklahoma City," Presti said. "That's meaningful and has purpose.
"Those guys have set the standards that we work by on a day-to-day basis, and we're fortunate for that. Those guys should feel ownership over the environment that's been created because they truly are foundational members of the organization and not just cyclical members."
That means longevity. As for the summer of 2016, it can wait.
"It's a long ways away and we have to focus on what's in front of us," Presti said. "We've always focused on trying to do the right thing for the franchise and we're going to continue to do that."
Follow Art Garcia on Twitter @ArtGarcia92