The two sides of Texas coach Charlie Strong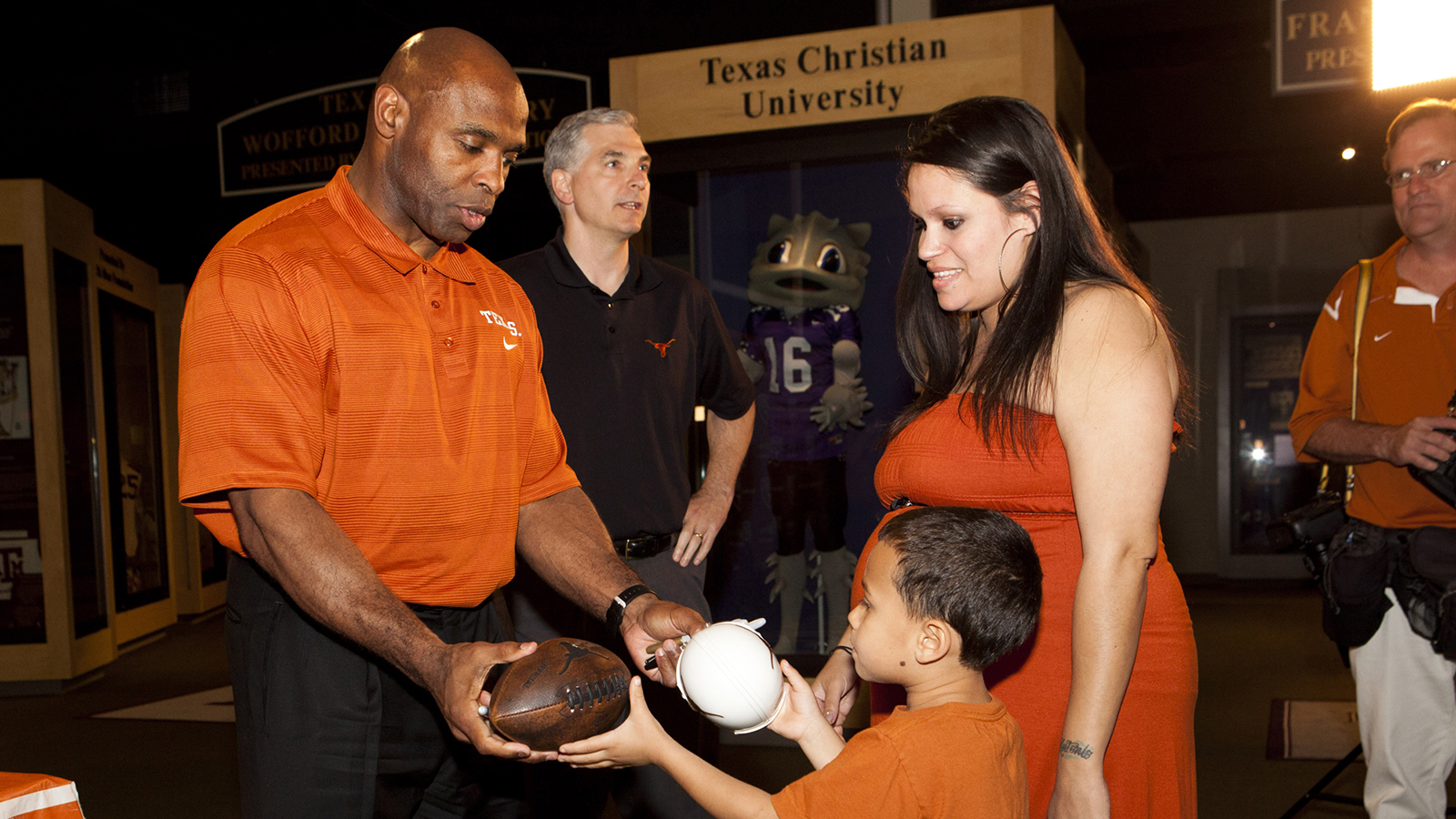 Charlie Strong spent nine months telling his team to trust him. He showed up after a 4-8 season at a program that hadn't enjoyed a season above .500 in the three years after going 12-1 in 2006 and winning the Orange Bowl.
"Where I'm from, he basically said 'You suck, and you've got a lot of work to do,'" said offensive lineman Byron Stingily, a senior on Louisville's 2010 team who now plays for the Tennessee Titans.
Strong told his team to believe, to do what he asked. If they did, it would all eventually pay off. The season opener at home against Kentucky would be the biggest crowd of the season, and most of the team eyed it as the moment they'd prove to their home state they were better than a 4-8 team.
"We just went out there and (expletive) the bed, for lack of a better term," said Adam Froman, the starting quarterback who now coaches quarterbacks at Valdosta State. "We kind of just psyched ourselves out more than anything. We were way too overamped for it. I remember the coaching staff after just being so disappointed that we did all this work all offseason and didn't get it done."
The loss wasn't a sign of things to come. It wasn't proof Strong's hiring would eventually be tossed into the "disaster" category.
It was a speed bump and a forgettable footnote to what became a four-year coaching tenure nearly as successful as any coach in Louisville history. It also thrust Strong into one of college football's best jobs: Texas.
Returning a proud program to what it once was is a tricky proposition. Strong took the job at Texas knowing the task ahead was similar to what he faced at Louisville when AD Tom Jurich gave him his first head coaching job on December 9, 2009.
The good ol' days are in the past, but not THAT far in the past.
That early loss–Remember when Nick Saban lost at home to Louisiana-Monroe in Year 1 at Alabama?–didn't define Strong's time in Louisville because he stuck to the plan.
Strong knows one way to operate a program, and one loss didn't produce a degree of digression from the plan.
What's that plan look like?
Fox Sports Southwest spoke with several former players and individuals around the Louisville program this month to get an inside look at how Strong turned the Cardinals around and glean insight into how he might do the same in Austin.
**********
Strong's first message at both places was similar.
There was a reason their old coaches weren't there anymore, and it wasn't the reason most outside the program wanted to believe.
Former coach Steve Kragthorpe's last name had become something of an expletive around Louisville after winning just 15 games in three years. He was unable to continue the success Bobby Petrino enjoyed as the head Cardinal, and his win total dwindled each year before being fired following a 4-8 campaign in 2009.
Strong made one thing clear: His team wasn't allowed to listen to what many in the community wanted to tell them.
"You guys had a great coaching staff here. You had good coaches who cared about you who knew what they were doing and put you in position to succeed. And you didn't do it. All the blame is on you guys," Froman remembers Strong telling the team.
Blaming the coaches for the 4-8 season in 2009, an abysmal team GPA and what Strong called a general lack of respect for authority wasn't acceptable.
"All the change that happens here is going to be on you guys, too," Strong told the team. "If you buy in."
The team had planned on giving Strong a standing ovation as he entered the team meeting room for the first time, but he burst through the door with plenty to say before it could happen.
New strength coach Pat Moorer lurked in a dark corner of the room and didn't say a word while Strong gave his new team a verbal blistering for around 30 minutes. As Strong closed, he ceded to Moorer for the final word by asking what time the team needed to report to the facility the following morning.
"Zero 600," Moorer said.
It was the first thing Moorer ever said to the team.
"All you see is this dark figure back there and he doesn't even seem human," linebacker Dexter Heyman said. We were all just like, 'Oh, (expletive), we better make sure we're here at zero 600.'"
Under Kragthorpe, players partook in offseason conditioning workouts as separate position units. Moorer did away with that method, making sure the team lifted weights and ran as one unit.
Linebackers did the same lifts as quarterbacks. Running backs, the same as defensive tackles. The weights were different, but the expectations were identical.
It wasn't uncommon to see the entire team cheering on one player's lift.
"It was a huge help. Everybody bonded together," said Mario Benavides, a senior offensive lineman on the 2010 team. "That was the biggest message coach Strong was trying to instill in us when he got there, was to be a team. Everything we did had us in one group. There were very, very few times when somebody would do something else."
Several mornings, players jogged the mile route between the team facilities and the track at Cardinal Park, where the real workout awaited.
Moorer tested his team's conditioning with sessions that sometimes required players to run 10 200-meter runs, 10 400-meter runs and five 800-meter runs. If one player failed to complete one run in the prescribed time, the entire team had to do it again.
The same was true when the team lined up on the goal line for each of their 35 110-yard sprints on the practice field.
At the end of one pre-spring workout, each player had to push a sled loaded with four 45-pound plates the full 100 yards down the field 10 times.
"There were literally guys who couldn't move it anymore," Froman said. "Some of us could hardly walk for three days after that."
Froman and his roommates would wake up in a house just off campus and make their way to the car with heavy eyelids to prepare for those 6 a.m. workouts. Around 5:30, they'd hear a lone set of feet running down the street with a bald head and bulging chest breathing heavy.
"He's wheezing, he sounds like he's about to die, and sure enough, it's Coach Strong," Froman said. "Every single morning."
Most mornings, he'd give Froman and his roommates a "Good morning, fellas" as he passed, and just before the team took the field for workouts, he'd show up drenched in sweat and struggling to breathe.
Then he'd join the team's workouts, running and lifting with his players.
"You'd see him running in and you'd almost want to give him a wheelchair," Froman said, "But then he'd be right there with us at 56 years old."
Added Stingily: "Nobody half-asses a workout with the head coach in there."
Strong's squeaky-clean image and stern, demanding public persona earned him the "Disciplinarian" title, but more than one player suggested Strong bridges the gap between players' coach and drill sergeant by drawing clear boundaries.
"Outside the building, he's your best friend. He cuts up like any guy in the locker room," Froman said.
He'll rib linemen for being overweight and a bit, well, jiggly. He'll trade playful verbal jabs with players when warranted.
"As soon as you step in the building, it's time to work," Froman said. "There's no gray area. Practice time, game time in the building, you're serious."
Getting players to mirror that style and submit to torturous 6 a.m. workouts is easier when he offers up evidence his win-loss record and bank account are not his only concerns.
Earl Heyman, who played defensive tackle for Louisville from 2005-08, was accompanying his brother Dexter onto the field at Papa John's Stadium for Senior Day, but spit on the turf before his portion of the ceremony began.
"I know you've got more class and respect than that!" Strong shouted in his direction.
Heyman might have mistaken him for an overzealous, power-hungry meathead if Strong hadn't been the same man who showed up to Dexter and Earl's mother's funeral a year and a half earlier.
He'd never met her and had only known Dexter a few months, but sent flowers to the family. Dexter's linebackers coach who joined Strong at Texas, Brian Jean-Mary, also attended. So did defensive line coach Clint Hurtt.
"It meant a lot to my brother and meant a lot to me," Earl said. "He didn't have to do it."
Strong's parents died six months apart in 1995 when he was in his mid-30s. He met with Dexter in his office and helped him prepare for what life without parents would be like. He excused Dexter, who had been competing for a starting strong side linebacker position from all football activities for around three weeks in the middle of fall camp.
Once he returned, his spot on the depth chart and amount of first-team reps hadn't changed. That season, he started nine games at middle linebacker and made 48 tackles.
Safety Terrence Simien's father died a few months later that season. He'd need to make periodic visits to his home in Sacramento, but flights were too expensive to make the trip as much as necessary.
Strong granted him the entire semester away from football.
**********
Before the first game against Kentucky, Strong's players didn't know what to think when he casually strolled into the training room where stone-faced Cardinals stared at the floor while their ankles and hands were being taped.
Strong found a vacant training table, climbed on top, lied on his back and closed his eyes just hours before the season's opening kick.
It wasn't as strange when he did it the next week and players began to understand it was his previously unannounced pregame ritual.
For 10 minutes, he clears his head and takes a power nap.
Players got used to listening to rap or R&B before games until Strong surprised the team again about halfway through the season. He walked over to the stereo and set Phil Collins' "In The Air Tonight" to play on repeat. Nobody dared ask why or if they could change the monotonous selection.
Louisville had a new unofficial pregame theme song.
"It was the only thing we listened to for the second half of that year," Heyman said.
*********
Early in Strong's tenure at Louisville, a photo of his five core values plastered on the wall of the facility went viral on the Internet.
1) Honesty
2) Treat Women With Respect
3) No Drugs
4) No Stealing
5) No Guns
"People tend to laugh at because they don't understand it," Benavides said. "The general public thinks it's obvious. Well, it's not that obvious to some people. When you're young, some guys do need to be reminded of those things."
Meet those expectations–or at least show a total effort to do so–or you can expect to be asked to continue your career elsewhere.
Players who didn't meet a GPA requirement–Heyman estimates it at somewhere around 2.7–were required to attend study hall during the week.
Don't show up? You run.
Don't attend class? You run.
Extra runs traditionally began at 5 a.m. with Moorer, just before a full team workout at 6 a.m. Players were expected to participate in both to atone for past mistakes.
"He didn't care if you were his best player. If you were messing around, failed a drug test, got in trouble, whatever, you were going to pay for it," Benavides said. "There were no empty threats with him."
Strong and his staff stayed in touch with players' professors. Teachers were encouraged to contact the coaching staff if players weren't paying attention or disrupting class.
Assistants or administrative staff would check to make sure players were in class, then return a half hour later to double check,
"There was no getting lucky," Stingily said. "He was on it."
Fail to show anyone respect–a teacher, a team manager, coach or otherwise–and you had a bill to pay: Three runs up and down the stadium steps and 10 hours of community service.
"He wasn't out there making wild threats. For every rule and infraction, there was a discipline and it was always consistent with what happens," Froman said. "You served it, moved on and it was no big deal. … He's very loyal, he doesn't forget any of his guys. If you do things right and you're good to him, he'll be good to you forever."
Strong was one of the people who made a call to get Froman an interview at Valdosta State that led to his coaching job.
Former players are invited to work out with the team and use the facilities, provided they abide by his rules. That was one welcome departure from Kragthorpe's method of running the program.
No word means more in Strong's program than accountability. Players learn quickly who and what they are accountable to and for.
That means more than just winning games at Louisville. Strong and his staff weren't above calling a player's parent or grandparent if a player wasn't adhering to team rules.
"He played into your name," Stingily said. "If you're on a full ride, you don't want to go home and embarrass your family."
He constantly reminded players that every time they disappointed a coach with a poor effort in the facility or a bad decision outside of it, the entire team suffered.
If Strong didn't like even a few players' effort during a practice, he'd bellow the three most feared words in the program across the practice field.
"Start it over!"
That meant it was time to get back in stretching lines as if practice had just begun, no matter how far the team had gotten in the first go-around. Strong admitted publicly to employing the strategy a couple times this spring at Texas, but in Year 1 at Louisville, it was a near-weekly occurrence.
The accountability was a two-way street.
"There's no wishy-wash to him. Everything that comes out of his mouth is the truth or will be the truth because he's accountable to who hears it," Froman said. "Guys know he's on the same page."
For Strong, Year 1 was about instituting his rules. By Year 2, knowing he'd earned his team's respect, the disciplinarian facade further faded. He began opening his home to players. Before Thanksgiving, he invited any players who couldn't make it home (or didn't want to go home) to celebrate the holiday at his home.
That season, after a 38-35 upset win over West Virginia, Strong crowdsurfed in the locker room.
"I've never seen another coach do that," Heyman said.
Winning at nearly every coaching stop over the past three decades has given Strong ultimate confidence in "his way." Buy in or get out. Nothing's going to get him to change. He's had too much success to make any significant changes.
"He honestly doesn't care what outsiders think. In house, I feel like a lot of coaches say they don't care, but he really doesn't," Stingily said. "He's just concerned with what's going on in the building."
Added Benavides: "He's already got critics at Texas. He doesn't care. His only concern is changing the culture and winning games."
Will Strong resurrect Texas? Only the future knows, but if he does, he won't be deviating far from the blueprint that helped him turn Louisville from a sudden afterthought to a program that can win 23 games and a BCS bowl in two seasons.
"The reason he's been successful is he doesn't care–He's going to do it his way." Benavides said. "As long as he keeps winning, he's going to do it his way."